Avast is one of them of the largest security companies in the world with over 400 million users. The company was founded in Prague in 1988 and specializes in antivirus products. Every internet user has heard of Avast Antivirus. Both the Free so that too paid Version offer all the important features to protect the computer, the home network and its data.
Avast offers effective security on the Internet for every end user and has made a very good name for itself in the field of virus protection over the years. We took a close look at Avast Antivirus and asked ourselves the following questions: What actually is Avast? What functions does the software offer? Which Advantages and disadvantages is there? And does Avast really do what it promises? We put Avast to the test and show you what it is Anti-virus software really can.
Contents
What is Avast Antivirus?
avast Antivirus is one of the famous antivirus programsthat are on the market. With worldwide over 400 million users this program is one of the software giants when it comes to antivirus protection. Avast Antivirus is known to most users as a free antivirus program, although there is a paid version. Avast Antivirus is also cross-platform. The software for Windows, MacOS, iOS and Android. So you can protect all your devices.
Free vs. Paid version
Avast Antivirus has one for all operating systems free version on. With this variant, however, you only get the basic function of the anti-virus software: a virus scanner. In the free version, Avast blocks viruses, spyware, and other threats in real time. However, if you want all-round protection, you should use the paid version. Even if you get a virus scanner for free, you are not protected against ransomware and phishing websites.
In short: The free version is ideal for testing the virus scanner. However, if you want to completely protect your device or network, you should use the premium version.
Avast Antivirus - the packages
Before choosing Avast Antivirus, you should consider which features you need. Avast offers a large number of products - individually or in a bundle. The only disadvantage here is that the package selection is initiallyh a little confusing appears. To make the purchase easier for you, we have the Premium security and avast ultimate looked closer.
Features of Avast Antivirus Premium Security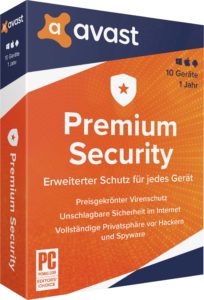 Avast Premium Security already offers comprehensive online security. In addition to the virus scanner, you are well protected against ransomware with this package. Avast Premium Security warns you before you click on fake websites, blocks dubious connections thanks to its strong firewall and also prevents you from being spied on through your webcam.
Blocks viruses, spyware, and other threats in real time
The functions of Premium Security are already very extensive and offer you enough security to protect your devices. In the premium version you get one advanced virus protectionthat protects your devices from viruses, spyware and other malware in real time.
Excellent protection against ransomware
Ransomware is a type of virus in which intruders lock your device and you blackmail. You will be asked to pay money in order to be able to use your device again. Avast protects you from all types of ransomware to prevent this from happening in the first place.
Advanced web protection
Avast web protection gives you protection when shopping, surfing or banking online. Through the Real site technology blocks fake websites that are used to steal passwords or money. Avast's advanced web protection also blocks dangerous downloads and warns you if files are infected. If this is the case, they are immediately isolated.
Advanced firewall and WLAN inspector
Avast Antivirus' firewall helps keep hackers away from your PC or network. The firewall monitors and controls the traffic in and out of your computer. You can configure these as you wish, close certain ports and not allow connections at all. The WLAN inspector also detects weak points in your home WLAN as well as in public networks.
Sandbox technology
When downloading certain files, if you are not sure whether they are infected or not, you can fall back on the Avast sandbox. This allows you to open suspicious files in a safe (virtual) environment to protect your device. If the file is infected, this has no effect on your operating system.
Protection for sensitive data
Avast Antivirus stops spyware from accessing sensitive data and documents on your device. This means that your passwords, data and other sensitive documents are safe from third parties.
Webcam protection
If you use a laptop, Avast Antivirus also protects you from spying on third parties through your webcam. Dubious access to your webcam will be blocked.
Data shredder
The included data shredder helps you to permanently delete sensitive data. This means that these cannot be restored.
Automatic software updater
Another feature of Avast Antivirus Premium Security is the automatic software updater. Gone are the days when you had to check every single software for updates. Thanks to this function, programs and apps are automatically updated to rule out security gaps.
Passive and do not disturb modes
The passive mode allows the safe use of another antivirus program on your device without affecting Avast. Do not disturb mode also suppresses notifications from Windows and other programs. This mode is particularly suitable for gaming or working if you don't want to be disturbed.

Real-time updates
Avast Antivirus Premium Security provides automatic security updates. The software updates automatically without your intervention. So you always stay optimally protected.
Avast Premium Security costs
While the virus scanner from Avast Antivirus is available free of charge, you can choose between two packages for Premium Security. That depends entirely on whether you only need the protection for 1 device or cross-platform for multiple devices. With the more expensive version you get protection for Windows, MacOS, Android and iOS - and that up to 10 devices with just one license.

Features of Avast Ultimate
Avast Ultimate is a bundle that includes everything to protect you and your devices. Avast Ultimate brings everything you need to take care of your devices together in one easy-to-use premium suite. Get the most advanced antivirus to block Malware, included Ransomware, a VPN for complete privacy, our best-in-class cleaning and optimization tools, and a password manager.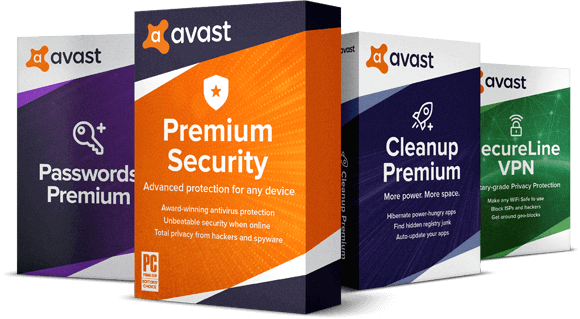 Here, the Avast PremiumSecurity already included. The following packages are also added:
Avast SecureLine VPN
Thanks to the integrated VPN, all your activities on the Internet remain encrypted. Thus you protect yourself and your privacy. Your identity remains secret. You always leave traces on the internet without a VPN. But with Avast Antivirus Secureline VPN you no longer have to worry about surfing, online banking or shopping. If you want to learn more about VPNs, we have here written a detailed report for you.
Avast Cleanup Premium
Avast Cleanup Premium is the ultimate tool for cleaning up your computer. With this tool you can easily delete junk data from your PC or smartphone. This makes your devices faster and more efficient. With 1-click maintenance, you can delete junk files in no time and get rid of bloatware.
Avast Passwords Premium
With Avast Passwords Premium, your accounts and passwords are always protected. You can protect all your accounts with a single master password. This means that all of your login details are automatically filled in and synchronized across platforms - from smartphones to PCs. If a password is compromised, you will be notified automatically.
Avast Ultimate cost
With this bundle, you get 3 additional packages that you could buy individually in addition to Premium Security. However, Avast Ultimate saves you a lot.

Compatibility
Avast Antivirus is available for the following operating systems:
PC: Windows 10, 8.1, 8, 7 (SP2) (32 or 64-bit), 1 GB RAM, 2 GB free hard disk space.
Mac: macOS 10.10 (Yosemite) or higher with 500 MB hard disk space.
Android: Android 4.1 (Jelly Bean) or higher.
iPhone / iPad: iOS 10.0 or higher
It should be noted that it Avast Ultimate for PC only gives. However, Premium Security is available for all operating systems.
Setup and installation
Avast Antivirus can easily be downloaded from the Website from the manufacturer. For Android you can use the app in Google Play Store, for iOS in AppStore download. First you select the desired package, download it to your device and log in with your user data. For the free version, however, you can try the virus scanner right away.
In the Premium versions one has accordingly more functions, but the smart scan is already available in the free version. After the installation you can make further settings, such as rules for the firewall, which folders should be checked, when a scan should be carried out, and much more. With Avast Antivirus, you can set a lot the way you want it. This antivirus is definitely worthwhile, especially for technically savvy users, because you can use the Can configure protection to meet your own needs.
For beginners:
Avast Antivirus is also suitable for those who have not previously installed an antivirus. Installation and activation is very quick and you usually don't have to change any configurations to have good protection. However, if you want to deal more with the topic, you can go to the
Support website
from Avast to see what options are available to you.
Customer Support
Avast's customer support is mostly about theirs Website available. First of all you get a lot there FAQswho can help you with questions. Avast Antivirus also offers its customers one Forum where they can exchange ideas. For other concerns, however, you have to fill out a form and thus create a ticket. In our test, however, Avast responded within 24 hours and is therefore average. Unfortunately at the time of our test there is no live chat and also no telephone advice.
Nevertheless, our questions could be answered. The clear support website should provide help in all matters.
Our rating
Avast Antivirus is intended for beginners as well as advanced users. Everything went smoothly in our test. The interface is easy to use, protection is always guaranteed and we are also impressed by the extra features. The only disadvantage: the RAM suffers during a scan. As a result, the computer reacts more slowly than usual. In this case, for example, are good alternatives Total AV or Bitdefenderthat require significantly fewer resources.
Find more Pluses are:
Avast Secure Browser: Avast Antivirus offers a free browser for Windows, Mac and Android. This makes surfing safer and faster than in comparison to Chrome, as this is more resource-efficient. In addition, you can calm down without advertisement surfing.
Avast Family Space: Thanks to this app, parents can control what their children are doing on the Internet. Here you have the option of blocking websites from the outset. With this app, which is available for Android and iOS, you can always see where your child is.
Conclusion
Avast antivirus review & experience 2020
In our test, Avast was able to convince us above all with its large variety of products. A virus scanner is already available in the free version, but if you don't want to do without all-round protection, you should fall back on the premium version. There are also several Avast products that can make you and your computer even more secure. The Ultimate Package also includes a VPN, a password manager and a system cleanup tool.
Protection against ransomware
10
Price-Performance Ratio
9.5
Benefits
Secure protection against malware and viruses
Reliable protection against ransomware
A lot of configuration settings
Very good spam filter
User friendly interface
Protection for all common operating systems as well as the home network
Large number of other tools
Disadvantages
Package selection is a bit confusing
The virus scanner requires a lot of memory
Most of the features are not available in the free version