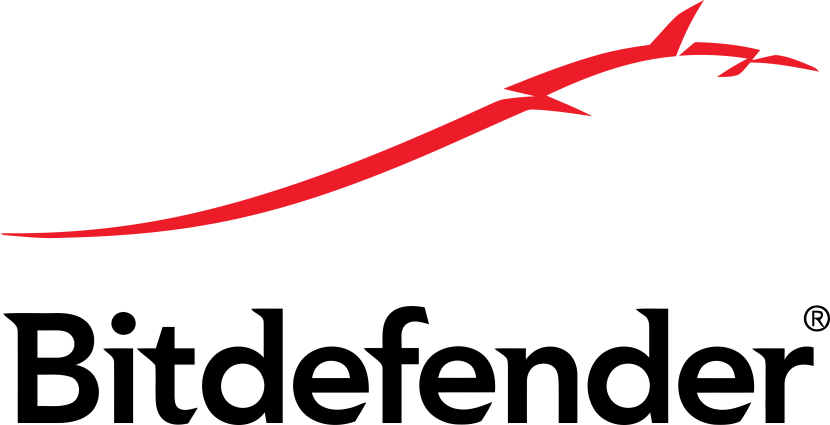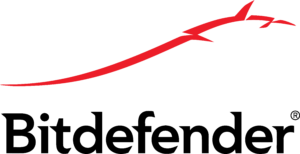 Bitdefender is a very well known and popular one worldwide virus protectionwhich deals with major antivirus programs like Norton or Kaspersky can measure. With more than 18 years of experience in matters Internet security and over 500 million users worldwide, Bitdefender is one of the best virus programs out there.
The provider describes itself as a world leader when it comes to Cybersecurity goes. But the provider keeps what he promises. We tested Bitdefender for you and asked ourselves the following questions: What is Bitdefender actually? How sure is the virus protection? What functions does the software offer? Is the free version enough? Let's take a closer look at the antivirus software!
Contents
What is Bitdefender?
Bitdefender is one Anti virus software, which was founded in 2001 and competes with big names. Bitdefender is used on over 500 million systems in more than 150 countries. Virus protection is available for home consumers as well as for companies. With the motto: "Continuous tests. Continuous excellence. Continuous innovation. Consistent and reliable. "Bitdefender is already setting the bar high.
Bitdefender Antivirus is available for all major operating systems such as Windows, macOS, Android and iOS. In addition, you can protect your entire home network with this virus protection. The virus protection is available in different versions, as a free virus protection and as a paid version. But what can you expect from the free version?
Free vs. chargeable
Bitdefender offers, similar to Avast, a free virus protection for Windows. This means that primarily only Windows computers can be equipped with the free virus scanner. The free version is easy to install and use, but really only offers the absolutely necessary security functions. Although the free version is without advertising and also saves resources, it has very limited functions compared to the paid version.
The free variant offers following features to:
On-demand & on-access scans in the background
Solid basic computer security
No ads
The Disadvantages of the free variant however, predominate:
No protection for Mac, Android and iOS
No integrated VPN
No complete protection against viruses (e.g. ransomware or rootkits)
No protection against phishing Webseiten
No firewall and no settings for the home network
No extra features
The In our opinion, the free version is well suited for testing the antivirus program. This means that you can already familiarize yourself with the user interface of the virus protection. To ensure all-round protection, however, you should use one of the chargeable variants. Depending on how many devices you want to protect, which functions you need and which security standards you value - there is no getting around the premium versions.
In short: The free version is ideal for testing the program. However, if you want to completely protect your device or network, you should use the premium version.
Bitdefender - the packages
In addition to the free version, Bitdefender offers various paid packages at different prices. For all-round protection for all operating systems, we have Bitdefender Total Security 2020 and Bitdefender Premium Security 2020 viewed and tested. Here is a brief overview of the basic functions the packages and the current prices: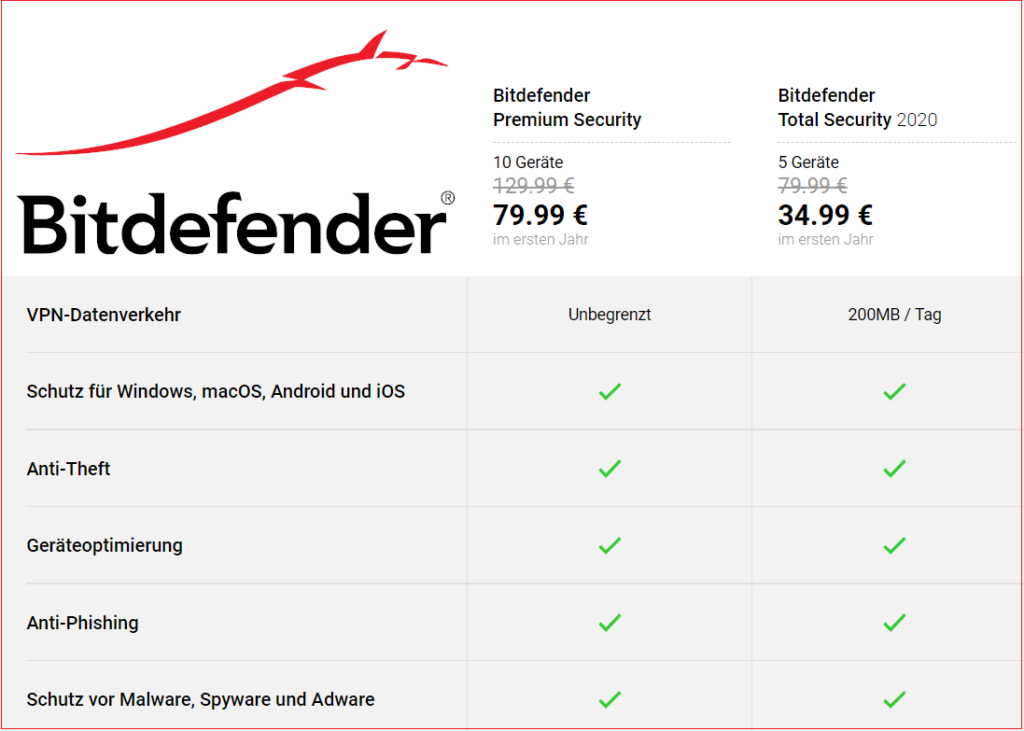 Features of Bitdefender Total Security 2020
The Total Security package already offers extensive online protection for all common operating systems. With this package you can protect up to 5 devices at the same time. The following features are included in this package:
Protect your devices
Bitdefender Total Security 2020 protection protects your devices from new and existing threats. A comprehensive one counts here Real-time protection, Network protection, Protection against ransomware, Anti-Phishing, Anti-fraud, Spam protection, Rescue mode and Firewall.
PC performance
Bitdefender security software responds immediately to malware. This also does not affect the performance of the device. Through the Autopilot you can optimize your system, there is also another one Game, movie and work mode, a One click optimization and battery.
Privacy
When it comes to privacy, Bitdefender Total Security 2020 protects you against public hotspots, offers you one Anti-tracker, Microphone monitoring, Webcam protection, Encryption, secure online banking, childlock, Anti-Theft, Data shredder and a Vulnerability assessment
Features of Bitdefender Premium Security 2020
additionally In addition to the functions of Total Security, this package offers the following Features to:
Advanced web protection
Premium web protection with layered security to protect all your files, photos and documents. Otherwise, Premium Security 2020 contains all other features to protect your devices, such as Total Security 2020.
PC performance
Bitdefender Premium Security 2020 is as well cross-platform. The big difference to Total Security 2020 is that you only have one license up to 10 devices can protect at the same time.
Privacy
Unlike Total Security 2020, this version offers you a unlimited VPN connection on. This means that you can surf the Internet securely and anonymously without leaving any traces. In contrast to Total Security 2020, you have unlimited data volume here, which means that you can easily stream and watch videos. A big plus point that speaks in favor of Premium Security 2020.
Compatibility
PC: Windows 7 with Service Pack 1, Windows 8, Windows 8.1 and Windows 10. 2 GB Ram, 2,5 GB memory
Mac: macOS X Yosemite (10.10) and higher, 1 GB hard disk space
Android: Android 4.1 (Jelly Bean) or higher.
iPhone / iPad: iOS 11.2 and higher
Costs
At the time of the test there was Total Security 2020 for € 34,99 while the Premium Security 2020 for € 79,99 is available. Thus the price-performance ratio is excellent.
Bonus: You can try both Bitdefender Total Security 2020 and Bitdefender Premium Security 2020 for 30 days free of charge. So you can get familiar with the program before you finally decide to buy it.
Performance
During our test, we found Bitdefender to be extremely positive. The virus protection worked perfectly on all devices. The CPU and the RAM were also not put under enormous strain.
However, we have that as positive felt:

Reliability
Like other anti-virus programs, Bitdefender is always checked for reliability. Pages like AV test use their experts to check programs for their Detection rates and Reliabilitywhen it comes to protection. Bitdefender could clearly achieve full marks here
Virus scanner speed
The performance of the virus scanner is definitely still in need of improvement. During one Quick tests took Bitdefender around 6 minuteswhich is very fast. For one a complete scan of our computer took us just under 27 minutes - a very good result.
User interface and installation
Norton Antivirus has a very simple user interface and installation is suitable for both beginners and advanced users.
We have that as negative felt:
Speed ​​during a scan
In our test, we noticed that we had to accept significant speed losses during an antivirus scan. Pages opened very slowly and files were downloaded at very slow speeds. We cannot clearly determine why this is because, according to Task Manager, the load was very low.
Customer Support
Customer support can be either telephone or by E-mail to contact. There is also a Expert communitywho deals with all questions and concerns. There is also a very comprehensive one Support website, where you can find not only FAQs, but also videos on setting up, installing and configuring the antivirus program.
In the test: We asked Bitdefender about configuration via email. We received an answer the next working day, but it was definitely generated automatically. We received short instructions and links to the provider's support website.
Conclusion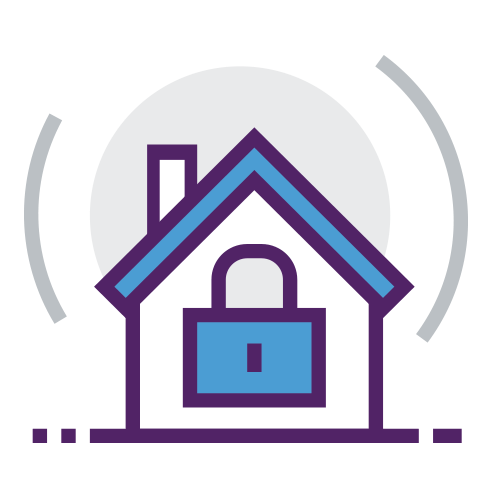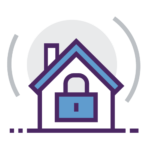 In our test we could Bitdefender convince primarily thanks to its extensive functions. This antivirus is ideally suited as all-round virus protection for all common operating systems as well as the home network. Already with the Total Security 2020 offers all functions for a very affordable price use - and that on up to 5 devices at the same time. However, who one VPN needed for this can be accessed on the Premium Security 2020 with which you can protect up to 10 devices. The clear advantage of the VPN is the guarantee of privacy and anonymity on the Internet.
Bitdefender review & experience 2020
In our test, Bitdefender was able to impress with its simple user interface, good virus protection and the very good price-performance ratio. A virus scanner is already available in the free version, but if you don't want to do without all-round protection, you should fall back on the premium version. Bitdefender protects you and your device from viruses and all kinds of malware, but occasionally overlooked a phishing website in our test. In terms of privacy, you should use Bitdefender Premium Security, as it includes an unlimited VPN. However, it is very good value for money and all in all Bitdefender is a solid antivirus.
Protection against ransomware
10
Price-Performance Ratio
10
Benefits
Safe protection against viruses and malware
Reliable protection against ransomware
Device optimization tools
Anti-theft protection for mobile devices
User friendly interface
Cross-platform
Good value for money
Disadvantages
In the Total Security package, the VPN connection is limited to up to 200MB / day
The free version only offers virus protection