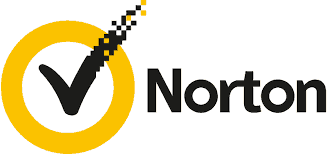 Norton Antivirus is one of the giants on the market of Antivirus programs. The software was developed in 1991 and has been an absolute must for many users ever since. However, you have to consider that Norton has to fight against other antivirus programs. The standards for security and privacy on the Internet are set high - and more and more virus scanners are competing with Norton. While Norton was already pre-installed with almost every computer 15 years ago, it looks different today. The claims for good Antivirus software have increased and users are more and more aware of the dangers posed by the Internet. Accordingly, they want to protect themselves and their devices.
Norton Antivirus has held up bravely in the market for years and now offers very good packages at affordable prices. Norton has also clearly caught up in terms of privacy. But what can Norton do actually? What packages is there? How good is the protection? We have tested Norton Antivirus for you and put it to the test. Does the anti-virus protection keep what it promises? Let's find out!
Content
What is Norton Antivirus?
Norton has been part of the group of anti-virus programs for 29 years and has already made a very big name for itself worldwide. A few years ago, however, the provider fell into disrepute. Due to some problems with the software, such as constant notifications, an extremely complicated user interface and mediocre performance, Norton was avoided by some users. Above all, the software caused problems on Windows computers: virus scans and other activities put enormous strain on the RAM, which made it almost impossible to run the computer alongside the scan. Norton also used a lot of resources in general. The price-performance ratio was also exaggerated. Norton Internet Security Package was priced at a whopping $ 2010 in 69,99, according to Cnet.com. At this point Norton had already improved its performance, but the memory and CPU were still under enormous strain. Virus detection rates were also relatively mediocre.
With the rapidly developing technology in the market and extremely strong competition like Total AV, Intego and Avira, Norton had to follow suit. In the meantime, Norton can definitely be seen. The provider has not only expanded its range, but has also improved security and privacy clearly improved.
Free vs. Chargeable
First of all: the well-known packages Norton Antivirus Basic and Norton Security Standard There is no longer. They were available as free trial versions, but are no longer available. Norton has renewed its packages and now offers no free trial versions for his antivirus protection for the PC or for a macOS device
What's new: Although there are no longer any free versions for computers, the provider is offering Norton Mobile Security for Android and iOS free of charge for 30 days. So you can first test the app on your smartphone before deciding on a package or subscription. With an existing package, you can also use Norton Family for 6 months free of charge.
In short: Virus protection for the PC or for a Mac is no longer free at Norton. The manufacturer offers a money-back guarantee for this so that you can test the desired package risk-free. If you want to test Norton on your smartphone first, you can do this for 30 days.
Norton Antivirus - the offer
Norton Antivirus has expanded its range a lot over the past few years. As I said, there are no longer any stand-alone products that can be tested. Similar to Microsoft's range of products, the antivirus is now in Subscriptions and Apps available. The Norton Security programs have been replaced by the respective Norton 360 subscriptions.
The subscriptions
Norton currently offers 3 standard subscription plans. Depending on your needs, you can apply for one 1 year subscription or a 2 year subscription decide. Depending on the subscription you get following features, which we will then go into in more detail: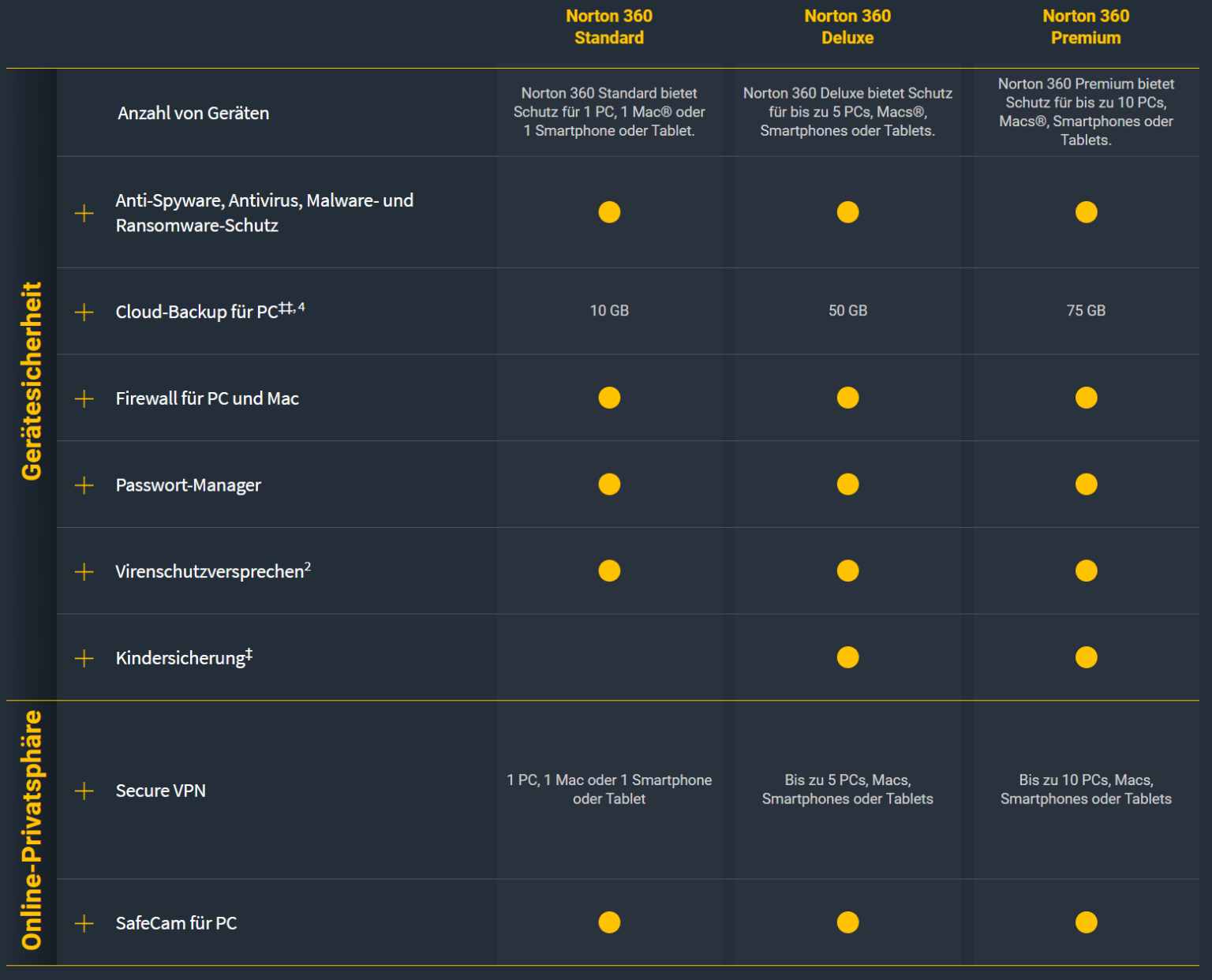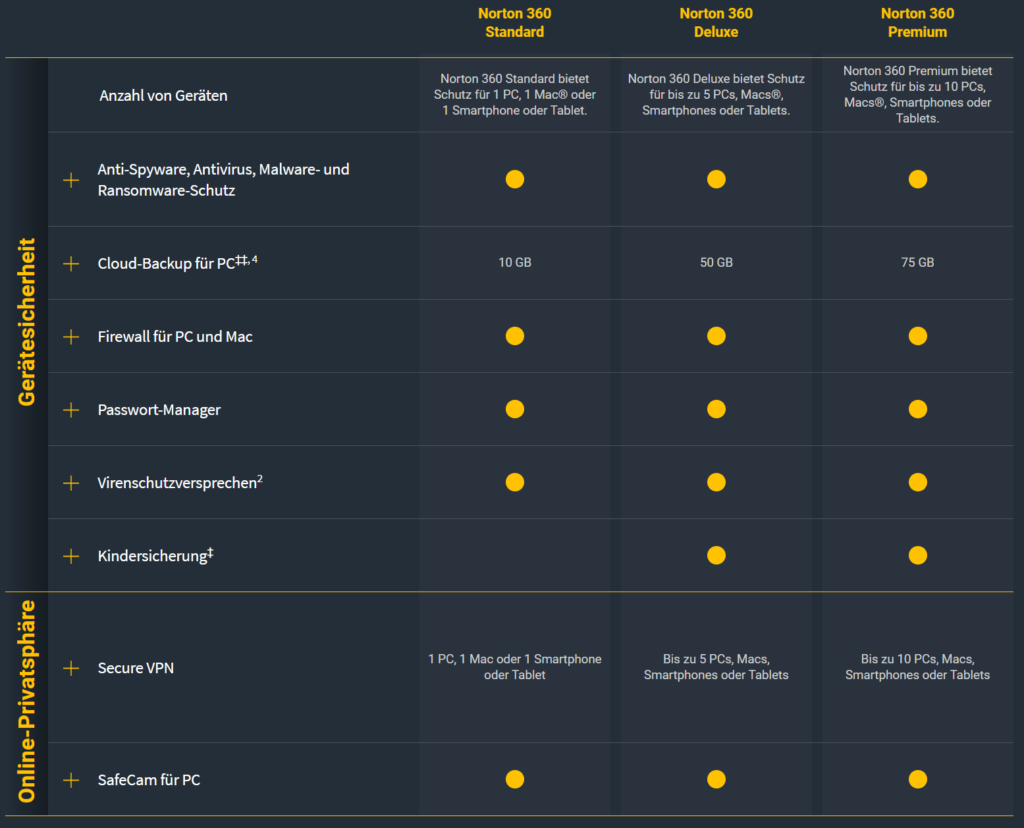 Features
virus protection
Thanks to innovative security technology based on artificial intelligence and machine learning, Norton offers sufficient virus protection. So you are against spyware, Malware and Ransomware protected. There is also threat protection in real time. Once you've connected to the internet, your device is protected. In the event of a virus, Norton will warn you immediately.

Cloud backup for PC
Windows users also have the option of creating a cloud backup. Depending on the package, the size of the Cloud storage. Standard package is 10GB included in the Deluxe version 50 GB and in the Premium version 75 GB. This is very useful if it is lost or defective. Even in cases of Ransomware you can restore your computer thanks to the use of cloud backup. The cloud can also be used to store important data.

Firewall
Norton has redesigned its firewall to help you check incoming and outgoing network traffic. Suspicious connections are also blocked. Thus you can protect yourself, your devices or your network from attacks and data theft. The firewall is also easy to configure. This gives you the option of blocking websites and closing certain ports.

Password manager
The password manager helps you to store all your passwords. Nowadays you have to be very careful on the Internet and many websites require passwords that are almost impossible to remember. It is important that you never use the same password for different websites. With the Password Manager you can generate strong passwords and store and retrieve them in the encrypted cloud storage. This means that third parties cannot access your passwords either.

Money-back refund with virus protection promise
What makes Norton quite unique is theirs Virus protection promise. If your device gets infected with a virus despite Norton, an expert is available directly from Nortonto help you keep your device virus free. This expert will also help you remove existing viruses. If you are not satisfied despite the help of an expert, you will be refunded the full purchase price.

childlock
Parental controls are available to you in Norton 360 Standard subscription not available. You can only do this with Norton 360 Deluxe and Norton 360 Premium receive. With the help of parental controls, you can set filters, block websites and content and also download an app for mobile security. Thanks to GPS, you know where the children are and whether they are safe.

Online privacy
In terms of privacy and anonymity, Norton has caught up a lot in recent years. The provider now offers a secure VPN service with which you can surf the Internet undisturbed and anonymously. You can read about the advantages of a VPN here. Furthermore, with all subscriptions there is also the possibility of protecting the webcam from unauthorized access thanks to the SafeCam function.
Compatibility

Mac: Current version of macOS
Android: From Android 4.1 (Jelly Bean)
iPhone / iPad: From iOS 11.2
Norton Antivirus cost
At the time of testing, the cost of one was 1 year commitment as follows:

In addition to the standard subscriptions, Norton also offers that Norton Anti Virus Plus Subscription for € 14,99. That would be the optimal entry-level virus protection solution for a PC or Mac. If you need more functions and want to protect several devices, you should use the subscriptions shown above. However, if you need good basic protection for a PC, you can rely on Norton Antivirus Plus. However, this does not contain VPN or other features. If you are interested in VPN providers separately, we have the best ones for you here VPN provider tested.
If its about your safety you should of course not pay close attention to the price, but rather to ensure that the provider of your choice meets your needs.
Performance
During our test, we tested Norton 360 Standard and were generally quite satisfied. It's safe to say that Norton has improved in terms of speed, but there is still room for improvement here.
However, we have that as positive felt:

Reliability
Like other antivirus programs, Norton is always checked for reliability. Pages like AV test use their experts to check programs for their Detection rates and Reliabilitywhen it comes to protection. Norton is clearly ahead here. In terms of false reports, we couldn't find any ourselves.
Speed ​​during a scan
In our test, we did not experience any speed losses during a virus scan. We were able to download files at normal speed.
User interface and installation
Norton Antivirus has a very simple user interface and installation is suitable for both beginners and advanced users.
We have that as negative felt:
Virus scanner speed
The performance of the virus scanner is definitely still in need of improvement. During one Rapid tests took Norton around 16 minutes, with other antivirus programs being significantly faster. For one a complete scan of our computer took us just under 59 minutes - which is well above the norm.
Customer Support
The support from Norton is very good. He can be reached around the clock, either via live chat, by phone or online. Norton also has the option of contacting the provider via their social networks. However, if you have an important concern, it is advisable to resort to the chat or a call.
In the test: We contacted Norton through live chat. After about 5 minutes we were put through to an employee. The conversation went very well, initially we did not get any standard answers and were served in a friendly manner. For more detailed questions, however, we were referred to the provider's support page.
Summary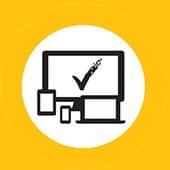 Our test showed that Norton Antivirus has improved significantly in recent years. Especially when it comes to To conserve resources and Identify viruses better. Norton has also caught up in terms of privacy and offers its Premium subscriptions a VPN and other tools for anonymity on the internet. However, the clear disadvantage is that there are no longer any free trials. Because of this, Norton now only offers a 60-day money-back guarantee.
Norton Antivirus review & experience 2020
Norton has been in the market for decades and has been significantly improved after a number of problems and security holes and the previous versions. In the meantime, Norton is not only more resource-efficient, but also easier to use and install. The other functions such as VPN or webcam protection also offer more security.
Protection against ransomware
10
Price-performance ratio
10
Benefits
Solid protection against viruses and malware
Reliable protection against ransomware
Cloud backup
User friendly interface
Cross-platform
Good value for money
Disadvantages
No more free trial packages
Slow virus scan
You pay extra for other tools