Total AV and almost all IT security companies preach it again and again: The question is not if, but when a cyber attack is carried out. In any case, it is advisable to install an antivirus program on the laptop, computer, cell phone or laptop. But right now during the Corona crisis cyber attacks are taking place increasingly, because we work from home, shop online and communicate with our family members via the Internet. It's like Christmas for burglars.

The desire for security is therefore particularly great at the moment. The only question is whether you have to spend money to protect yourself from hackers and cybercriminals, or whether free antivirus programs are enough. We have Total AV put under the microscope and our Total AV experiences documented. In the following paragraphs we compare the free version with the paid version, take a look at the functions and discuss the advantages and disadvantages of the software.
Here is an overview of the Total AV rating that will make the purchase decision easier.
Content
What is Total AV?
Total AV is - as the name suggests - one antivirus Software. The program not only protects against known viruses, but also against Ad, spy and ransomware.
In the anti-spyware area in particular, Total AV offers many functions that we also know from the well-known antivirus giants. Total AV also works with the VPN provider Windscribe together to ensure safe surfing.
Properties
Result
Overall rating:
Operating system:
Windows, macOS, Android, iOS
Firewall:
Ja
Fraud protection:
Ja
Parental control:
Ja
Safe browser:
Ja
Cost:
from 29.- €
And finally ...
✅ Reliable protection
✅ Ideal spam filter
✅ Intuitive user interface
✅ Large number of other tools

❌ Relatively high price
❌ Requires a lot of memory
Free or paid version?
Total AV offers many features, but those that really create indispensable added value are of course not available for free. The user receives a virus scan free of charge, and that is practically all. Other free antivirus programs can do more. In addition, the many disturb Pop-ups very much, who keep advising the user to upgrade to a premium version.
If you really care about safety, Total AV will not care about it paid version get around.
What functions does Total AV offer with the paid version?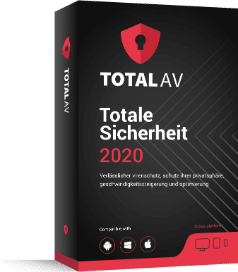 If you choose the purchase version of Total AV, you get a program that:
increases the efficiency of the device,
Protection against harmful websites and
Provides protection against data and passwords.
In Premium version has a number of features such as real-time protection, virus scan, system tune-up, password vault and secure browsing thanks to a virtual private network (VPN) and web shield.
Here are the functions at a glance.
Real-time protection
Total AV's real-time protection always runs in the background and constantly monitors the device. If the user opens a document or downloads something, the antivirus program immediately checks whether the download is safe.
The system does not consume too much computing power and does not limit computer performance.
virus scan
The Total AV Scan offers one Quick scan and a system scan. These two scans also run in the background and have no major impact on computer performance.
The quick scan doesn't go too deep, but the system scan offers a thorough check and tells the user how to deal with the threats found:
You can delete the files
quarantine,
ignore them or
put on a white list.

System tune-up
Total AV's Tune-Up system is more efficient thanks to start-up programs, a disk cleaner, browser manager and applications for uninstalling programs.
The start program can help if the computer starts up slowly if certain apps are the reason. This is possible because the launcher finds out which program is responsible for it. How important it is to remove the annoying apps shouldn't be underestimated. Such applications can also cause uncertainty in the system. The uninstall application can be used to clean up and remove old or other slowing down apps.
That is also practical Disk cleaner functionwhich ensures order in the system and deletes junk or duplicate files.
That too Browser Manager tool makes sense. It ensures that you always surf privately. Many websites use cookies that are saved by the browser. If you do not want to reveal too much about yourself, you can use the Browser Manager to permanently delete precisely those cookies.
It is worthwhile to use automated processes for these functions and to choose the time period so that you can build a secure system.
PasswordVault
Saving passwords on your smartphone or computer is not particularly smart - unless you have special protection such as Password Vault. For the security of the login data, you log into a password vault Master password firmly.
Then you can easily import all the passwords that the browser has saved. You can also use Total AV generate secure passwords to let. Thanks to the small icons with which you can recognize the websites, you always have an overview of the passwords.
For a complete use of Password Vault it is necessary for Google Chrome or Firefox to have a Browser extension to download. You no longer have to switch between the browser and the app when you want to log in online.
Password Vault is currently only available in the desktop version; Total AV first has to integrate this function for smartphones.
Safe Browsing - Safe surfing with VPN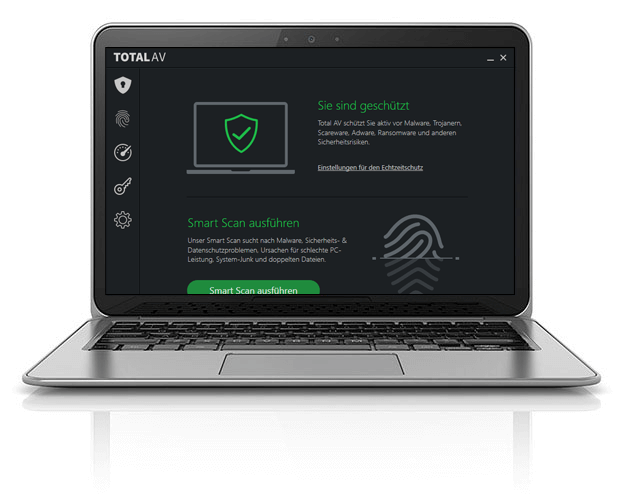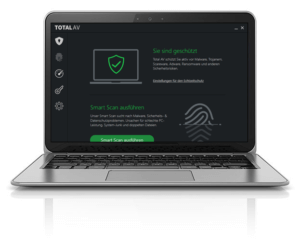 As a rather unknown provider, Total AV decided not to provide its own VPN and instead relies on the market leader Windscribe. Since Total AV has integrated the VPN client directly from Windscribe, VPN customers can count on one of the best offers on the VPN market.
It is also helpful that the users unlimited data be available. Users can surf the net without having to worry about the data volume. Total AV's VPN offers 60 locations around the world and connects to the location chosen by the user within seconds. For example, streaming on Netflix is ​​possible where Country closures cannot be bypassed without a VPN.
Web Shield
With Web Shield you protect yourself against Data theft; For example, before phishing websites that are only interested in the user's personal data. If you understandably have a queasy feeling when sending your personal data to any third party, you should activate the Web Shield function.
This tool also has a feature called Safe Search integrated with which Total AV redirects the user to their own search engine. Safe Search then ensures that the user is always on safe websites while surfing.
What are the pros and cons of Total AV?
Let's take a look at all the advantages, but also disadvantages, in summary:
Benefits
Total AV has a number of advantages:
First of all, they can ease and the clear user interface. The black design may seem a bit gloomy, but the menus are well structured. The user can easily find his way around and does not have to search long for a function. The names in the menus are also really clear for everyone.
The software can set up quickly and offers powerful protection against malware.
Total AV finds duplicate files and does not overload the system.
In addition to a free one, there are also three paid versions. With each version, the user can choose from a free 7-day trial period benefit and still make use of the 30-day money-back guarantee afterwards if the program is not convincing.
Also the many extra functions like the firewall and child safety, care has been taken to ensure that operation is always user-friendly.
In addition, the manual and automatic Total AV scans, the additional functions such as Password Vault, the Customer support as well as the video instructions Total AV an interesting provider.
The Price-performance ratio is good. New customers can benefit from discounts again and again and existing customers can also benefit from bonuses or other discounts every now and then when functions or tools are added.
The application is for iOS and Android devices available. All versions can be used on Windows and iOS computers. In addition, apps for mobile devices with Android and iOS are also available to the user.
Disadvantages
As with everything, there are also a few points that still have room for improvement:
What is annoying is that even in the most expensive version of Total AV not all functions included are. Sometimes the user is also asked to pay.
Next, that is not very beneficial the scans cannot be configured and they take a while.
In Advertising can be a nuisance and the help texts are not always of high quality.
From which smartphone versions can Total AV be used?
Total AV offers from iOS 11.3 and Android Orea 8.1 mobile protection. For this, the user must have the appropriate Total AV app, through which he can use both the free and the paid version.
The user has access to all useful functions and settings. The scans also run in the background on the mobile phone so that it is not restricted. If necessary, the user can activate real-time protection or manually choose a cleaner, which is already practical when it comes to cleaning up the memory.

Which paid versions does Total AV offer?
In addition to the free version, Total AV offers the following three paid versions:
Essential antivirus
Pro antivirus
Ultimate Antivirus
Total AV Essential antivirus offers all the necessary functions from virus scans to real-time protection. The essential version also includes the system scan and the tune-up tool. Those who do not need a password manager are well served with this basic configuration. The essential version only costs around 17 euros.
The other two versions are more expensive, and unfortunately the Ultimate Antivirus version also works not all inclusive. Most of the tools are activated there, but Safe Browsing via the VPN, the Premium Ad Blocker and Ad Block Pro must also be shelled out.
Ad blockers are of course free on the Internet, but not necessarily with customer support like Total AV.
Those who exercise patience can sometimes go from Discounts and bonuses benefit and secure certain expansions for less that will only be added later.
How do you reach customer support at Total AV?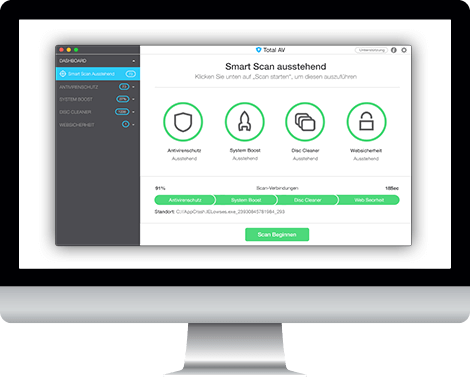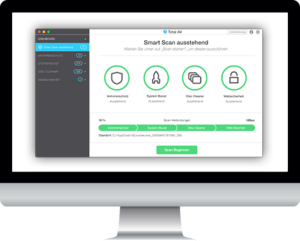 If you have any questions or problems, you can contact the competent support staff who via live chat are available and questions too by email or phone answer. Total AV has customer hotlines in Germany, France, Spain and Great Britain as well as in the USA, Canada and Australia. There is also a general number for Europe and an international hotline.
You can also contact the FAQ section be smart or watch video instructions with which you can answer simple questions yourself.
The Pro Antivirus package gives you access to one VIP supportwhich is available around the clock, seven days a week.
So it can be spoken of an easily accessible customer support.
What conclusions can be drawn?
After initial shortcomings, Total AV has done a lot to improve its antivirus software - with success. Total AV has eliminated the previous weaknesses; we couldn't find them in our test anymore. We are pleased that the company has taken user feedback to heart, and Total AV too great antivirus program made it today.
In user interface is clearer and the customer service model is good.
Total AV is now offering a complete internet security packagebased on Avira's anti-malware technology.
The paid version protects reliably from viruses and other unwanted intruders.
Also the fact that Total AV works with the market leader Windscribe and one VPN service that meets the highest demands in terms of security speaks for Total AV.
Many functions are really impressive. Unfortunately, the full package is a bit expensive. Of the $ 80 discount can hide the proud price a bit.
But we still find that Total AV is a very good product and the price / performance ratio is overall right.
Total AV test report & experience 2020
In our test, Total AV was able to compensate for the historical weaknesses and can rightly call itself one of the leading anti virus software providers today. Excellent customer service and the VPN connection from Windscrube speak for themselves.
Protection against ransomware
9.9
Price-performance ratio
9.5
Benefits
Secure protection against malware and viruses
Reliable protection against ransomware
Clear user interface
Very good spam filter
User friendly interface
Protection for all common operating systems as well as the home network
Large number of other tools
Disadvantages
High price
The virus scanner requires a lot of memory
Most of the features are not available in the free version
What do you think of Total AV? Have you been won over by the company's improvements, or do you prefer Norton or McAfee? Leave us a comment or send us an email. You are also welcome to share this article on social media.