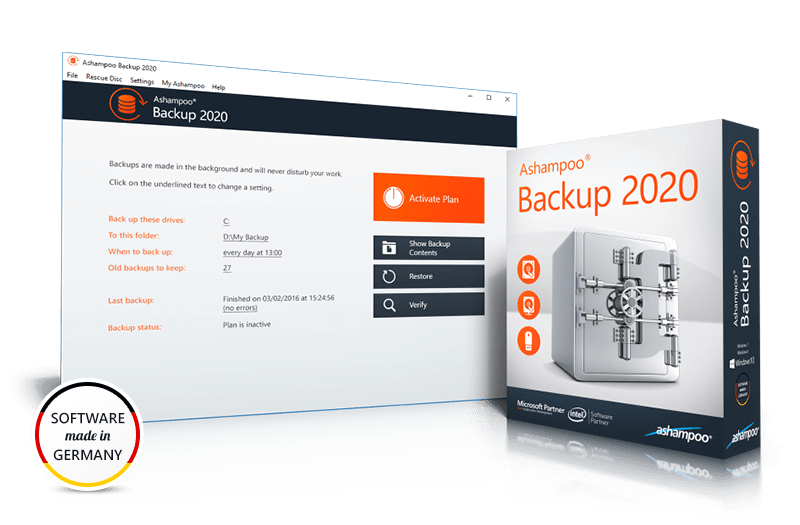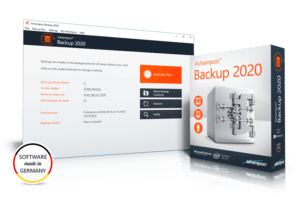 Everyone knows this: Suddenly the screen is dark and Windows no longer starts. Panic sets in - what happens to my data now? How do I get my data back? Anyone who has ever been in such a situation knows how important it is to create a backup of their data. A data backup is the only salvation in a situation where the computer has really given up the ghost and may have to be completely restarted. Even with ransomware, viruses, defective operating systems or hard drives, a backup is the only way to safely restore your data later. That is why there is the Ashampoo Backup 2020 software, which guarantees the easy recovery of your data. With the help of Ashampoo Backup 2020 you can back up and restore from entire Windows systems to local hard drives, removable media and more with just a few clicks.
The little brother of Ashampoo Pro 12 and Pro 14 is, in contrast to the other programs, easier and faster - and therefore very suitable for beginners. But how good is the handling? How good are the backups? How fast is the program? And which version is better, the free or paid version? We put the backup program through its paces.
Content
About Ashampoo
The company has over 21 years of experience in software development and has received enough test wins, awards and worldwide recommendations in the process. Ashampoo currently has over 20 million customers from all over the world and its software is downloaded an average of 500.000 times per month. This means that their software is also available in over 50 languages. Ashampoo's range of programs is quite impressive. The company offers software from the areas of multimedia, office, security, system tools and CAD. There are also apps, e-books and various other tools. Ashampoo Backup Pro is probably one of the manufacturer's best-known programs.
About Ashampoo Backup 2020
The latest Ashampoo Backup is also available this year with a revised user interface, easier handling and additional features. To a certain extent, Ashampoo Backup 2020 can be seen as the little brother of Ashampoo Pro 12 or Ashampoo Pro 14, as the operation and user interface have been simplified and are also ideal for beginners. The program ensures data backup with just one click.
What is backup software?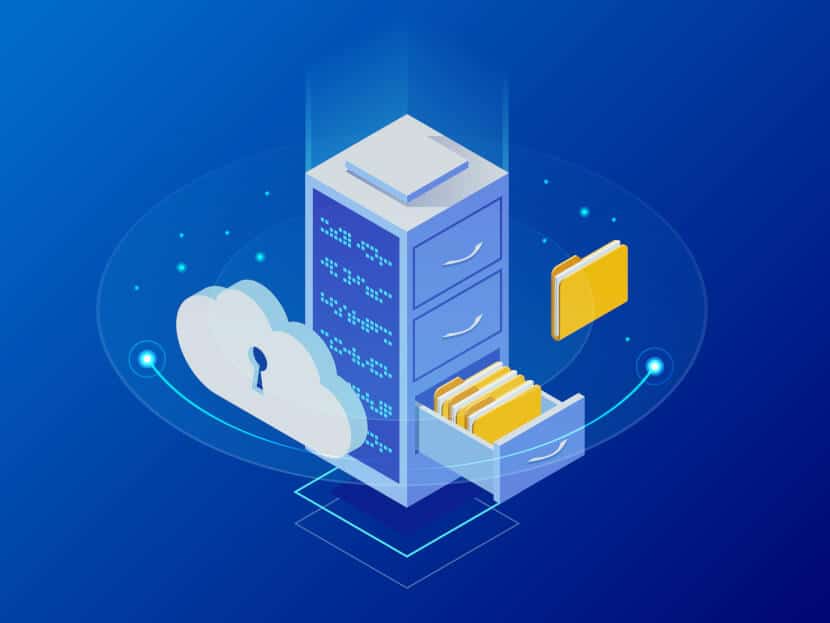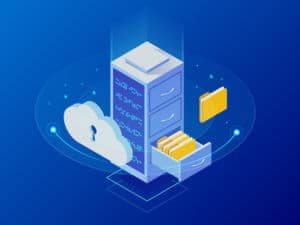 Backup software enables you to back up your data in case your computer is damaged. This can happen for different reasons: Either by one virus attack, Ransomware, One defective operating system or Hard drive problems. So this is a Backup softwarethat back up your data, your hard drives, or even your entire system. If you lose data, you can restore the original content later thanks to the backup software.
When it comes to backup software, certain functions are important, such as backing up entire systems, automatic backups, possible cloud storage and much more. Backup software should be used to ensure that your own data is always protected. So you don't have to rely on (sometimes very overpriced) recovery programs that can only recover a fraction of the data that you have lost.
Why do you need backup software?
The most important reasons to have backup software are as follows:
Protection against data loss
Probably the most important reason is the protection against data loss. Especially when the system no longer cooperates or the hard drives are defective.
Fast recovery
We all make mistakes - once you clicked a dubious link and caught ransomware or deleted important data that you actually didn't want to delete. This is precisely why it is so important to have a data backup.
Archiving
With a backup software you can also archive your files and data and know that they are safe. So you can have your data archived and protected at the same time.
Ashampoo Backup 2020 - The most important functions
When using backup software, you should ask yourself the following questions in advance: the Wohler can I backup my data?
location

With Ashampoo Backup 2020 you can easily back up your data with just a few clicks on local hard drives, removable media (e.g. USB drives, external hard drives) and network drives (NAS) and restore them if necessary.
Note: Ashampoo Backup 2020 focuses on its core competence - data backup. Simply set which partition of your computer should be saved where and when - and the data backup is done.
Data Backup
Now of course the question arises: What can you back up everything with Ashampoo Backup 2020? As I said before, this program focuses on the bare minimum, which is very good especially for beginners.

With the program you have the possibility partitions, complete hard drives or even entire Windows systems to backup and restore. Ashampoo advertises that this data backup - once set up - is done easily and automatically by hand.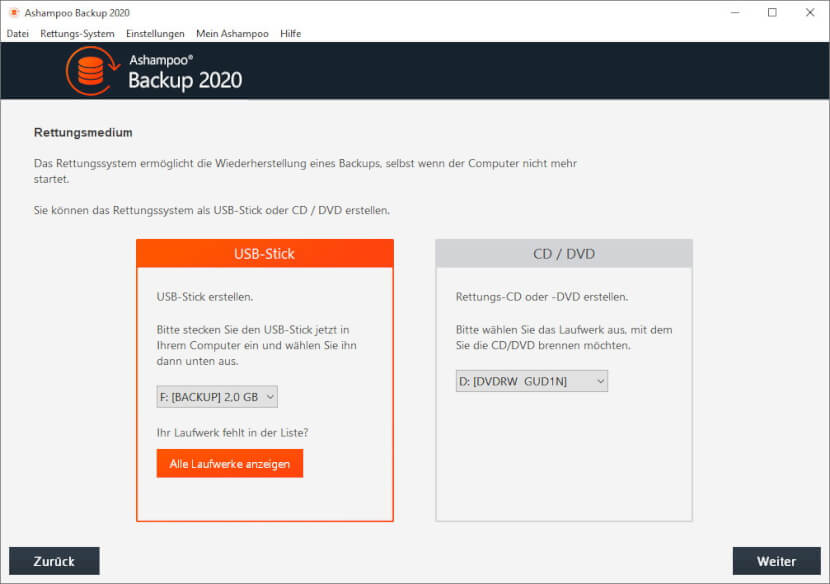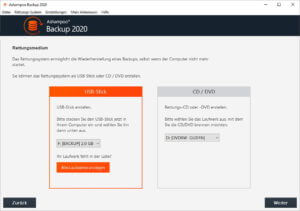 How the data is backed up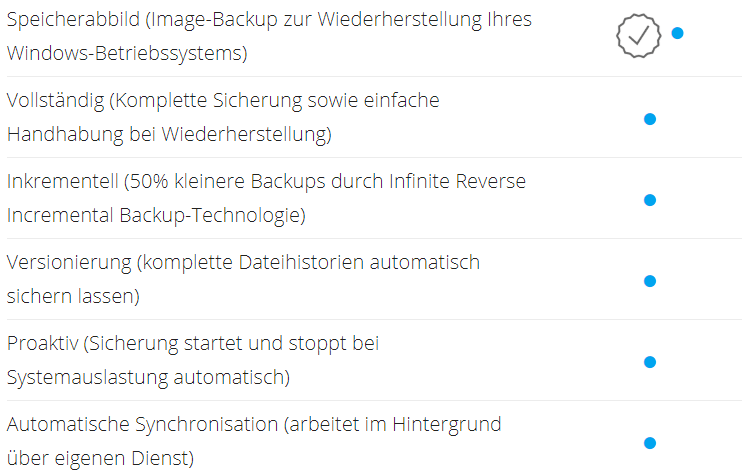 Ashampoo Backup 2020 offers several options for backing up your data. This is done either through a memory dump, a full backup, parts of a backup, through versioning and also automatically. Just that automatic synchronization is of great advantage. You can work on your computer as usual while a backup is being created in the background without affecting system performance. You only have to configure the data backup beforehand and determine when and where data should be backed up.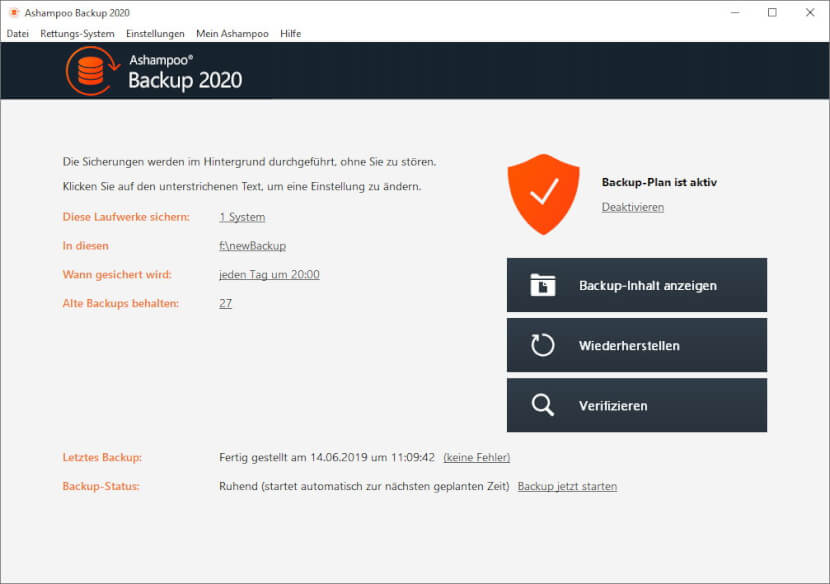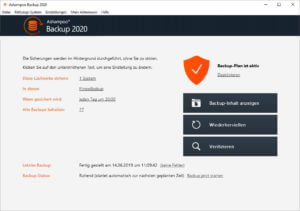 Other functions
The most important thing about one Backup software is of course reliability when it comes to how and where data is stored and secured. Ashampoo Backup 2020 convinced in all respects here. With just a few clicks, you can back up either your entire system or just parts of it on different storage locations. The program also offers the following functions: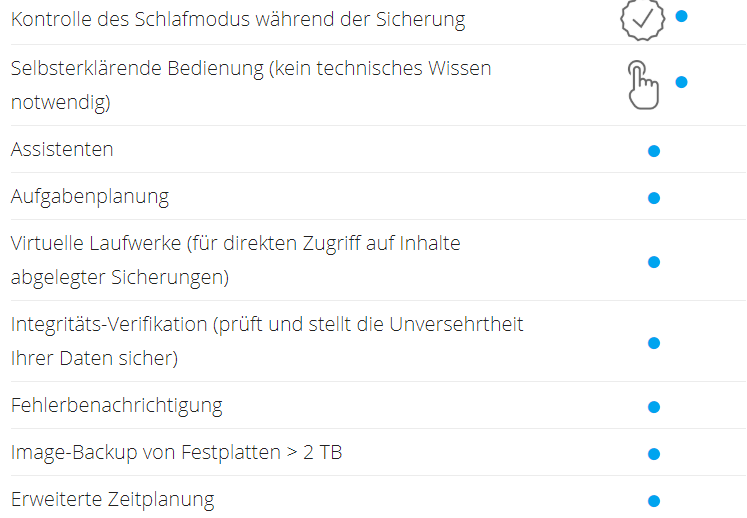 This is how the computer, for example not set to standby mode while a backup is in progress. Thanks to the wizard, the software is also ideal for those who are not that technically savvy. You can do various Plan tasks, virtual drives put on a Timetable set and total a Image backup in the size of 2 TB. A lot of functions for a small program!
Ashampoo Backup 2020 - requirements
Operating system: Windows® 10, Windows® 8, Windows® 7
computer: Any computer that supports the operating systems listed above.
Other: An internet connection is required to activate the program. The program license is checked at regular intervals. Administration rights are required on the system in order to use the program. So you should install and run the program as an administrator.
Ashampoo Backup 2020 prices
The program is available for a one-time price of € 16 (at the time of the test). However, you have the option of first testing the program for 10 days without risk or restrictions. Then you can decide on a license. In this case, a purchase is definitely worthwhile, as powerful backup software can be acquired with little money.
Ashampoo Backup 2020 - advantages and disadvantages
Like any software, this backup software also has its advantages and disadvantages.
Advantages
Easy to use
User friendly interface
Good options for backing up partitions, hard drives or entire Windows systems (up to 2 TB)
Automatic backups in the background
Conserving resources
Very good value for money
The disadvantages
Fewer functions than Ashampoo Backup Pro 14
No cloud backup
No backup of emails, calendars, etc.
No encryption
No compression
Conclusion and evaluation
Ashampoo Backup 2020 is the perfect backup software for beginners and advanced users. It is also suitable for all those who need a resource-saving backup software that automatically creates backups in the background. This means that your data is always backed up and you don't need to worry about it in the event of a defect. The price-performance ratio is also right. You can first test this for 10 days free of charge and risk-free via the manufacturer's website.
FAQ
Is Ashampoo Backup 2020 also available for free?
You can first download and test the program free of charge and in full for 10 days. After that, however, a license is required. In our opinion, this is a great advantage: you can familiarize yourself with the software and see whether you like it.
What is an incremental backup and does Ashampoo Backup 2020 have it?
An incremental backup means that in addition to the existing backup, only all data that has changed or has been added since the last backup is backed up. So the whole system doesn't have to be backed up again.
What alternatives are there to Ashampoo Backup 2020?
If you want even more protection and value encryption, compression and cloud storage, you can confidently rely on Ashampoo Backup Pro 14. With a current price of € 25, the Pro program offers everything that Backup 2020 is missing.