A wireless gaming headset. Finally good sound and that without constantly rolling his chair over the stupid cable. But how good are wireless gaming headsets really? We've tested the best wireless gaming headsets and tell you which ones offer great battery life, flawless wireless connectivity and excellent audio quality. Don't worry, of course, we also paid attention to the price.
Content
Gaming headsets are essentially just headphones with built-in microphones. They allow you to both speak and hear. However, a good gaming headset is of crucial importance for online games and at least as important as a good one graphic card. However, the market for gaming headsets is correspondingly large. There are countless headsets available, with and without cables. In this comparison, we'll focus on the best wireless gaming headsets. While these tend to cost a little more than their wired equivalents, believe me, the convenience is well worth it. Once wireless, always wireless.
How to choose the right wireless gaming headset
Compatibility is first of all the most important consideration when buying a wireless gaming headset, especially if you are a console gamer. Wired gaming headsets usually have a 3,5mm connector and can be used with pretty much anything. With wireless gaming headsets, it's a bit more complicated. You generally use a USB transmitter, which is not necessarily always compatible with the system of your choice.
Most wireless gaming headsets work with PCs, but compatibility with PlayStation 4 and Xbox One is usually an either / or issue. So make sure to check the product page and packaging to see whether the wireless gaming headset of your choice is compatible with the PS4 or Xbox One.
Bluetooth gaming headsets
Some gaming headsets offer the connection via Bluetooth. Bluetooth can be a good backup for a gaming headset, but it is better not to be the primary method of wireless connection. With Bluetooth you can establish a connection to your mobile phone as well as to your PC. The advantage is that you can use wireless gaming headsets that use Bluetooth as headphones on the go.
However, it is important that Bluetooth is really only a second option for wireless connection. Why? Bluetooth does not offer the same audio quality and latency performance as a 2,4 GHz connection.
Wireless headset microphones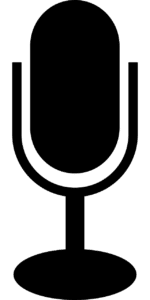 Many people make the mistake of only looking at the audio quality when buying a wireless gaming headset, not the quality of the microphone. In general, all gaming headsets have a microphone, but not all microphones work the same. A good headset microphone should at least allow clear voice communication. Some of the gaming headsets we tested have great microphones that you can use for streaming and even podcasting. Others are just enough to be heard in voice chat. With these gaming headsets, you might hear noise artifacts, sibilance, or your voice just isn't very clear.
One tip: If you're really serious about streaming, you should consider a special USB microphone in addition to your gaming headset. Good microphones are already available for 50 to 150 euros and offer far better audio quality than almost any gaming headset microphone.
The best wireless gaming headsets in comparison
Okay, enough of the foreword, now it's time to compare the best gaming headsets. I would like to emphasize that all of the wireless gaming headsets we have listed here are good choices. Some offer sound quality benefits, while others have better battery life. So what is most important to you in the end, you alone decide.
1st place - Steelseries Arctis 7
The best wireless gaming headset
driver: 40mm neodymium
Battery life: Up to 24 hours
frequency: 20Hz-20.000Hz
Special features: Retractable noise-canceling microphone, adjustable ear cups, exceptionally good battery life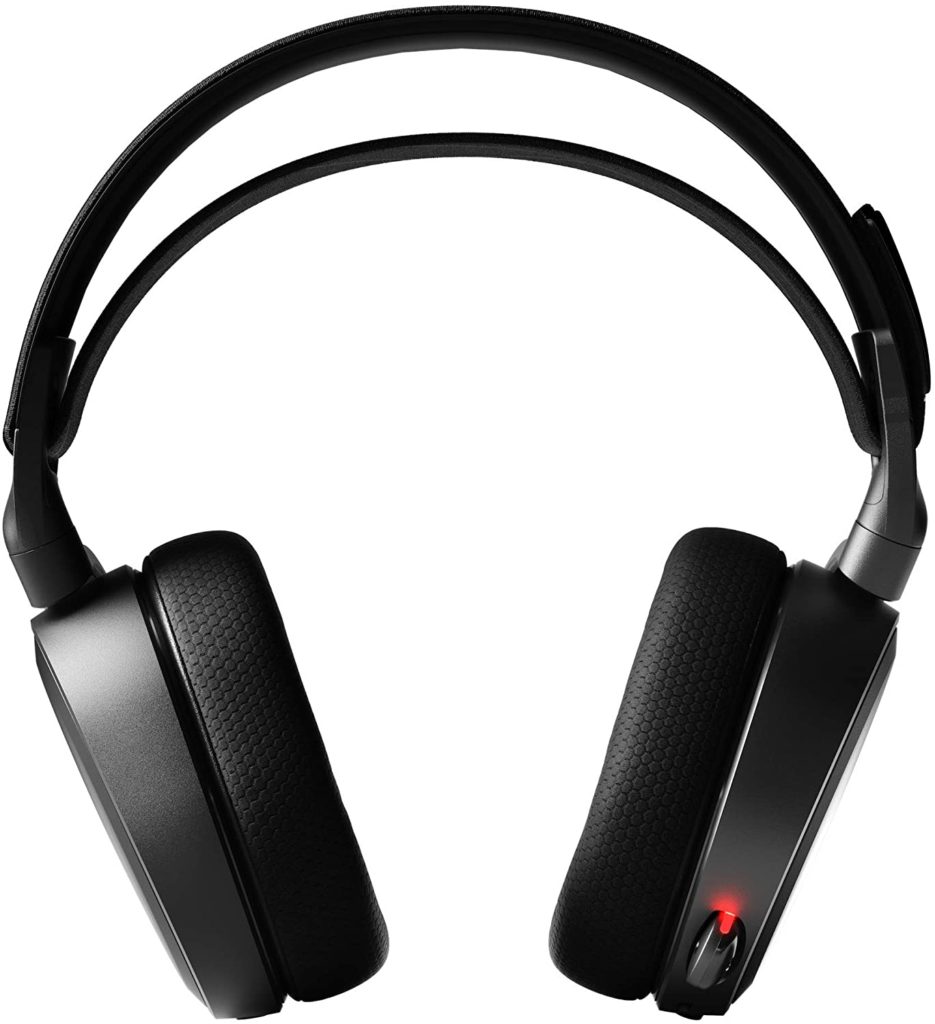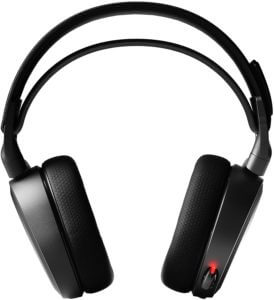 One of the reasons many gamers have opposed wireless gaming headsets is because of the audio artifacts found in many wireless headsets. But this is over since the Steelseries Arctis 7 at the latest. To me it sounds just as good as the best wired headset (priced at € 150). The second reason many people still went against a wireless gaming headset was because of the limited battery life. Of course, a wireless headset has to be able to last a whole day of gaming. But here, too, you can rest assured that the Arctis 7 has an exceptionally good battery life of more than 20 hours. So do you want a great sounding, wireless gaming headset with no audio artifacts and good battery life and at an acceptable price? Then look no further.
The characteristic ski goggle-like headband of the Arctis series ensures that the headset does not weigh too much on your head. I'm also a big fan of the button positioning on the back of the headset: volume controls and microphone mute on the left, chat / game mix and headset on / off on the right. The only small flaw about the headset is that the retractable microphone is a bit quiet. But don't worry, it's enough for voice chat.
Sale
SteelSeries Arctis 7 - Gaming Headset - Lossless and Wireless - DTS Headphone: X v2.0 Surround - for PC, Playstation 5 and PlayStation 4 - Black
Designed for gaming, the 2.4G connection delivers rock-solid, lossless, wireless audio with ultra-low latency and zero interference.
Widely recognized as the best microphone for gaming, the Discord-certified ClearCast microphone delivers studio-quality voice sound and suppresses background noise.
Sound is your competitive advantage - with S1 speaker drivers, engineered to have ultra-low audio distortion so you can hear every detail.
360 ° Precision Audio with Next Generation Surround Sound from DTS Headphone: X v2.0
24 hours of battery life provide enough permanent gaming time for even the longest gaming sessions.
2nd place - Corsair HS70
The wireless gaming headset with the best price-performance ratio
driver: 50mm
Battery life: Up to 16 hours
frequency: 20Hz-20.000Hz
Special features: Available in black or white, detachable microphone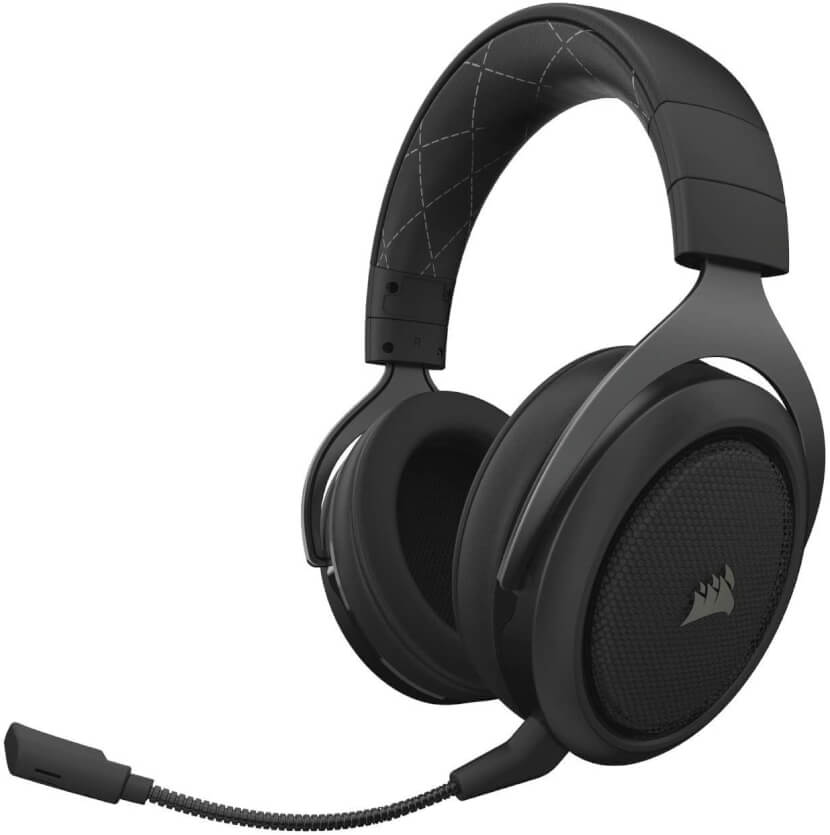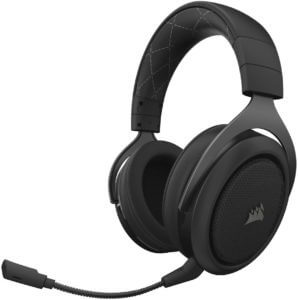 Personally, I'm a big fan of the Crosair HS70. In my opinion, it is an impressive achievement from Corsair how they somehow managed to pool all their know-how from high-end models, put it in the Crosair HS70 and charge so little money for it. In fact, the Crosir HS70 can compete with gaming headsets with a price level of € 150, and that for just over € 100.
A highlight of the Crosair HS70 is definitely its sound. The drivers are tuned to the modern trend towards flatter EQs, so they offer better versatility when you close Valorant and go to the heavy metal playlist you're working on in Spotify.
What really amazed me, however, is the very good build quality, which is really unbeatable for the price. The headset feels tough enough to take you through a few games for years to come. But it lies slightly on the head and is well padded. So if you are looking for a solid wireless gaming headset with a very good price-performance ratio, you have come to the right place with the HS70!
Corsair HS70 wireless gaming headset (7.1 surround sound, with detachable microphone, for PC / PS4) black (refurbished)
Ultimate comfort: Soft memory foam and adjustable ear cups ensure exceptional comfort
Precise gaming audio: the specially tuned 50 mm neodymium speaker drivers deliver exceptional sound quality with a wide range of sound and precision
Outstanding wireless performance: low-latency 2,4 GHz wireless audio, improved range of up to 12 meters and up to 16 hours of battery life
Captivating surround sound: Virtual 7.1 surround sound offers gripping multi-channel audio and spatial acoustics on the PC that puts you right in the middle of the action
Compatible with the Sony PlayStation 4: The plug-and-play compatibility with the Sony PlayStation 4 ensures wireless stereo sound in your living room
3rd place - Sennheiser GSP 670
The best sounding wireless gaming headset
driver: Neodymium magnet
Battery life: Up to 18 hours
frequency: 10Hz-23.000Hz
Special Features: Real 7.1 surround, detachable microphone, controls on the headset, Bluetooth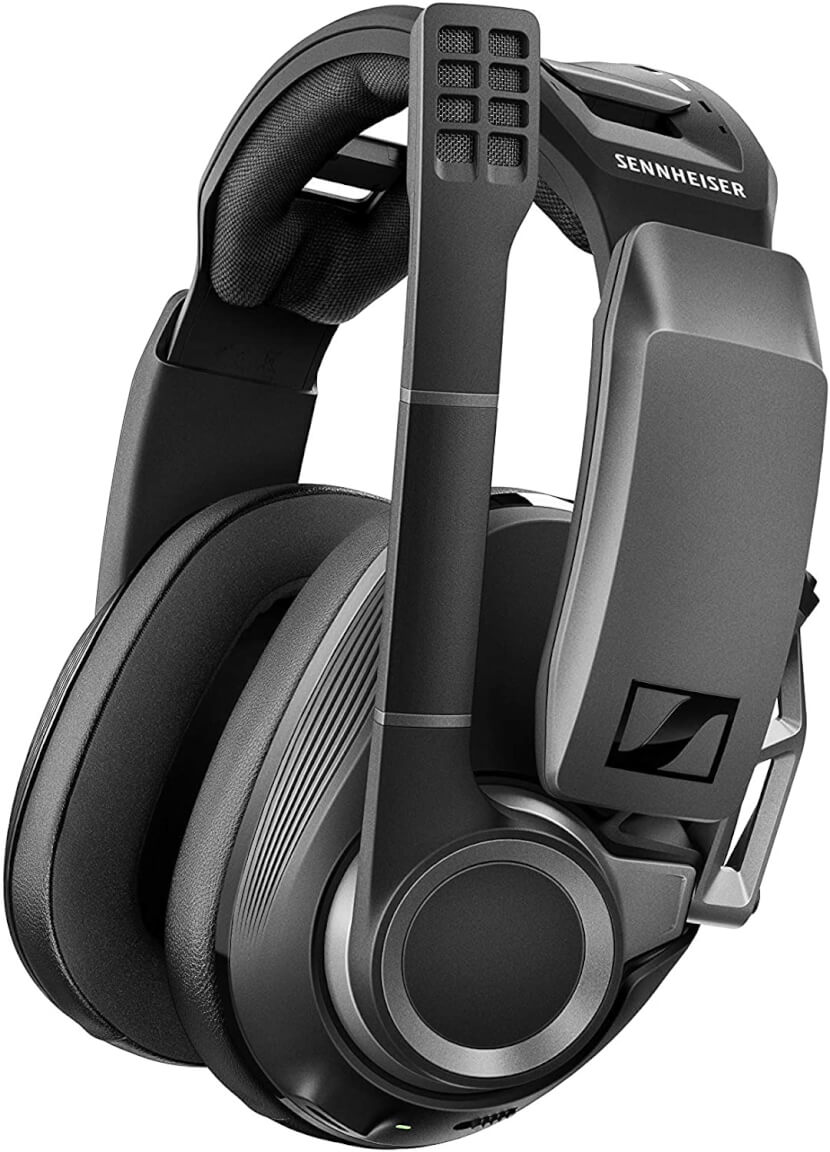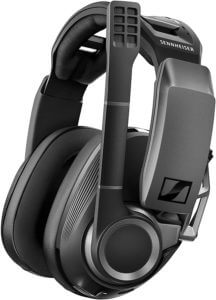 Most people know Sennheiser for its premium audio hardware. However, at the latest since the wired GSP 600 gaming headset, the company has also made a name for itself with gamers. The GSP 670 is the long awaited wireless version of this headset. The gaming headset offers additional connectivity via Bluetooth or a supplied 2,4 GHz WLAN adapter. Thus, the headset is suitable for gaming as well as for going to work, especially since you can remove the microphone. The GSP 670 is capable of maintaining a stable connection for around 18 hours on a single charge, a really good value!
What you will notice right away with the GSP 670: It is huge! But there is a good reason for this: the headset from Sennheiser embodies a bold, uncompromising sound for audiophiles. Of all the gaming headsets I've ever tested, I liked the sound of the GSP 670 the most. Admittedly, the gaming headset is not cheap, but the quality is right!
The unique shape and design of the gaming headset are definitely not for everyone, as it tends to be significantly bulkier than most gaming headsets.
Sale
EPOS I Sennheiser GSP 670 Bluetooth headphones, wireless headphones, 20 h battery, lag-free microphone against noise, flip-to-mute, ear pads, 7.1 surround sound, for PC, Mac, PS5, PS4 & mobile phones
EPOS ENGINEERED SOUND - The closed, acoustic, wireless gaming headset GSP 670 is the ideal addition to your gaming PC or laptop and offers players who do not want to compromise on sound performance, first-class high-fidelity in-game audio .
LOW LATENCY DONGLE - The Bluetooth headset has sophisticated wireless technology. This ensures stable, lag-free transmission and better sound performance.
BLUETOOTH DUAL COMPATABILITY - Via Bluetooth 5.0 connectivity, you can wirelessly pair the headphones with microphone with all compatible consoles and devices. By pairing them at the same time, you can switch seamlessly between your game and phone calls. Range: 10 m.
EFFICIENT BATTERY - Depending on the connection type, you have a battery life of up to 20 hours. The headset with microphone has an integrated, intelligent battery management system that switches off the headphones when they are not in use. *
PERSONALIZE YOUR SOUND - Customize your audio experience with a full equalizer, noise reduction settings, microphone tuning and 7.1 surround sound processing ** - all in the EPOS Gaming Suite for Windows 10. The wireless headphones are therefore essential for gaming Equipment.
4th place - Corsair Virtuoso RGB Wireless SE
The stylish wireless gaming headset
driver: Custom 50mm
Battery life: Up to 20 hours
frequency: 20Hz-40.000Hz
Special Features: RGB lighting, 7.1 surround sound, detachable microphone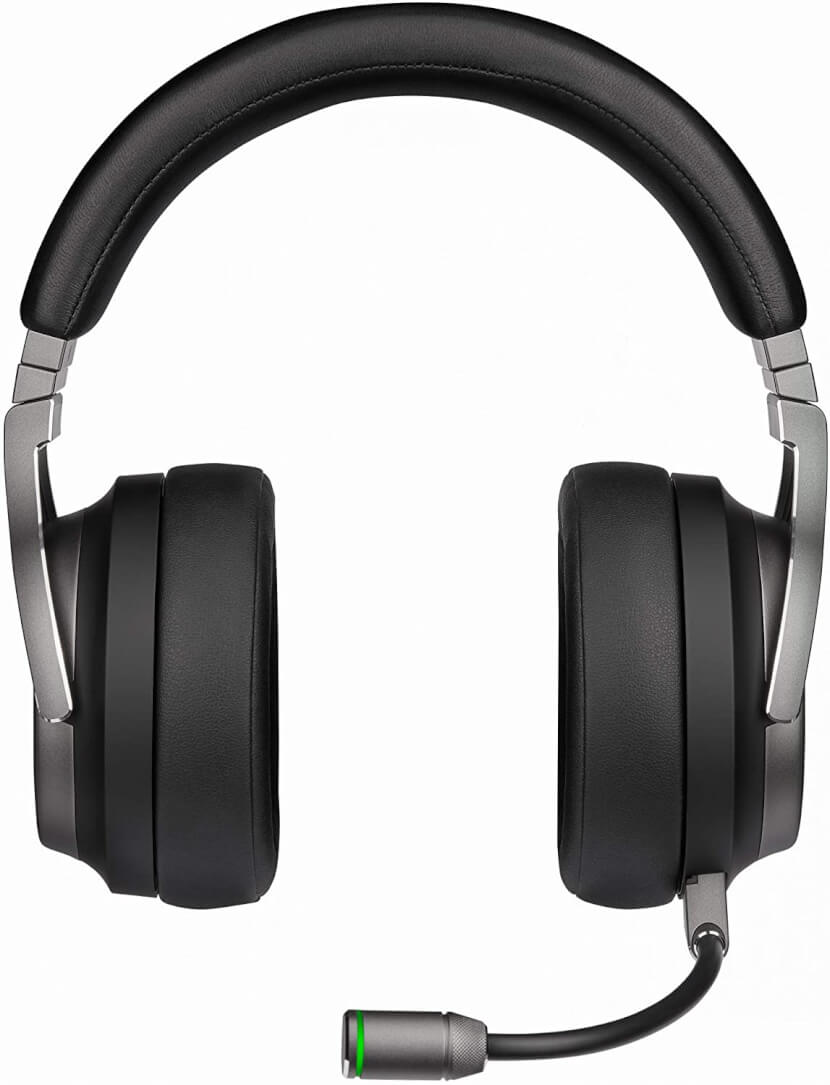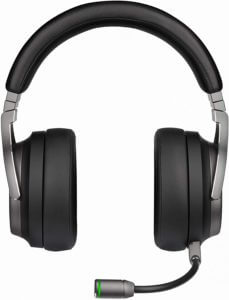 Okay, let's face it, most gaming headsets - no matter how good they sound - often look a bit silly. Or at least they look like they're designed for my 13-year-old nephew, who wants to look extra cool while he's streaming Fortnite. Unfortunately, gaming headsets are often simply acknowledged that they are gaming headsets. But if you want to use your headset to listen to music on the go, you might want to avoid that. The Virtuoso RGB Wireless SE does exactly that better. It just looks like a fancy, classy wireless headset. This impression is reinforced by the detachable microphone.
In my test of the Virtuoso, I really liked this timeless, classic design. The battery life of more than 20 hours is also very positive. But don't worry, the Crosair Virtuoso RGB Wireless SE is still a gaming headset. The 7.1 surround sound is particularly suitable for FPS games and has saved my life a few times in Valorant as well as in PUBG. By the way, the Virtuoso's microphone, although detachable, is also very good!
Sale
Corsair Virtuoso RGB Wireless SE High-Fidelity Gaming Headset (Slipstream Technology, 7.1 Surround Sound, iCUE RGB, for PC, Xbox One, PS4, Switch and mobile devices) Gunmetal
Uncompromising sound quality: A precisely matched pair of high-density 50 mm neodymium speakers delivers immersive 7.1 surround sound in a frequency range of 20 to 40.000 Hz
Maximum comfort: Premium ear pads with memory foam that adapts to the shape of the head and a light, soft headband ensure long-lasting wearing comfort
Super-fast wireless connection for gaming: Hi-Fi audio sound with extremely low latency and an impressive signal range of 18m thanks to super-fast Slipstream Corsair wireless technology
High-quality, detachable microphone in broadcast quality: the omnidirectional, high-bandwidth 9,5 mm microphone impresses with its high dynamic range and particularly clear speech reproduction
Intelligent control, unlimited possibilities: The Corsair iCUE software offers predefined audio profiles and enables personalized audio equalizer settings
5th place - Razer Nari Ultimate
Wireless gaming headset with haptic feedback
driver: 50mm neodymium
Battery life: Up to 20 hours
frequency: 20Hz-20.000Hz
Special Features: Retractable microphone, haptic LoFelt L5 drivers, game / chat balance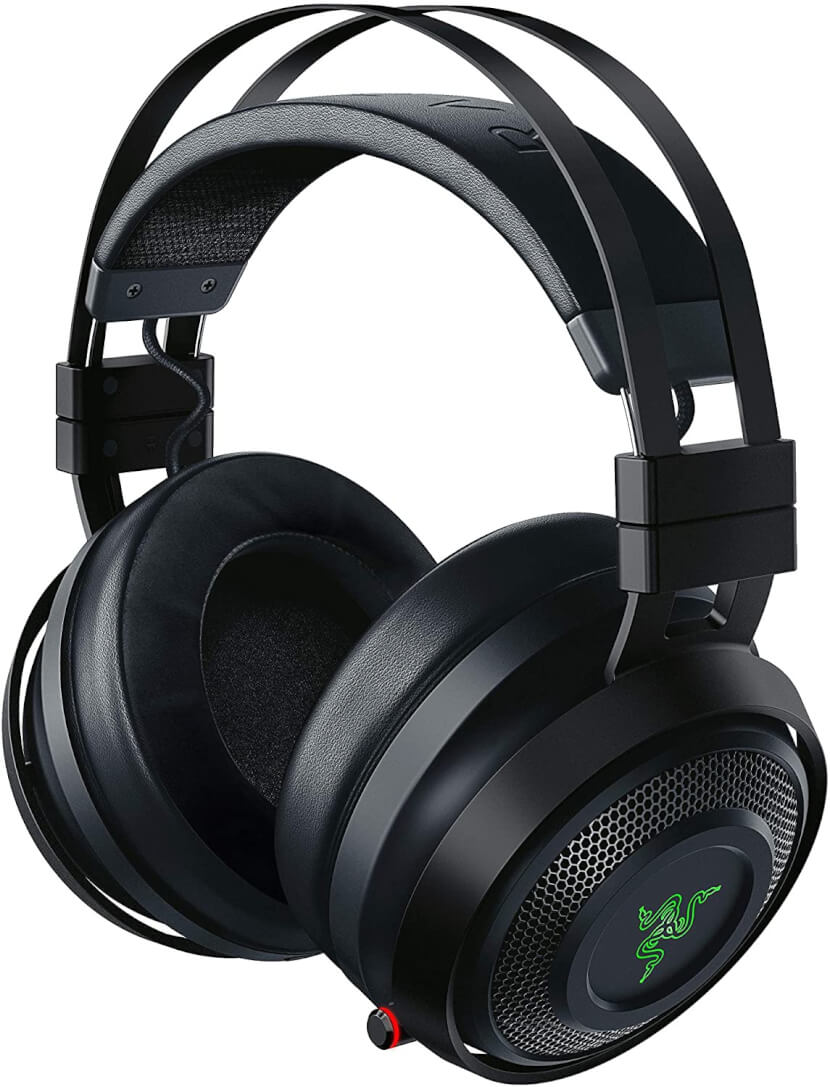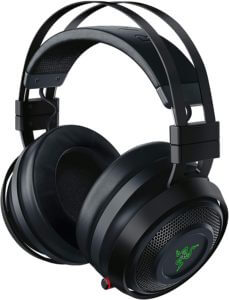 Ok i'm honest When I first heard about the Razer Nari Ultimate and the haptic feedback, I was skeptical. But: it's really good. Because the vibration effect technology - called HyperSense - covers a wide range of frequencies, the headset doesn't simply emit a static rumble in your ears, much like the vibration of a controller. No! Instead, the short bursts of pulse ensure that the Nari Ultimate feels natural and inconspicuous. In fact, the haptic feedback is hardly noticeable, but these small, minimal vibrations allow you to immerse yourself better in the game, which is why I particularly liked the gaming headset from Razer for story-rich single player games.
But the wireless gaming headset is also suitable for multiplayer. All important functions and buttons are easy to reach. On the left side you will find a button to mute the microphone and a steering wheel for balance control. There is a volume control behind your right ear. Otherwise, both the sound and the microphone are okay and the battery life is also very good at 20 hours. So if you want to try something new, the Razer Nari Ultimate is recommended.
Razer Nari Ultimate - Wireless Gaming Headset (wireless HyperSense headphones, ear pads with cold gel, THX Spatial Audio & RGB Chroma lighting for PC, Xbox One, PS & Switch) black
HYPERSENSE TECHNOLOGY: The Razer Nari Ultimate relies fully on HyperSense technology, which detects certain sound frequencies and uses vibrations to generate tactile feedback that makes the action tangible.
THX SPATIAL AUDIO: THX Spatial Audio breaks the limitations of 5.1 and 7.1 surround sound and offers seamless positional sound in 360 ° for even more natural and lifelike sound. The sound experience gains depth through the simulation of sounds above and below the gamer and inspires through even more immersion.
EAR PADS WITH COLD CONE: Unlike conventional headsets, ear cushions with cold gel prevent heat from building up in the first place, and the dense foam with synthetic leather on the edges of the ear cushions ensures the perfect combination of comfort and sound insulation.
WIRELESS SOUND WITH 2,4 GHZ TECHNOLOGY: Latency-free gaming sound in hi-fi quality thanks to wireless 2,4 GHz technology. A wireless plug-and-play USB adapter enables a range of up to 12 meters without breaking the connection.
GAME / CHAT BALANCE: The sound of the game will never again disrupt communication within the team. Thanks to the game / chat balance option in wireless mode, the sound can be easily fine-tuned, or in the standard mix everything stays the same.
6rd place - Sennheiser GSP 370
The wireless gaming headset with the best battery life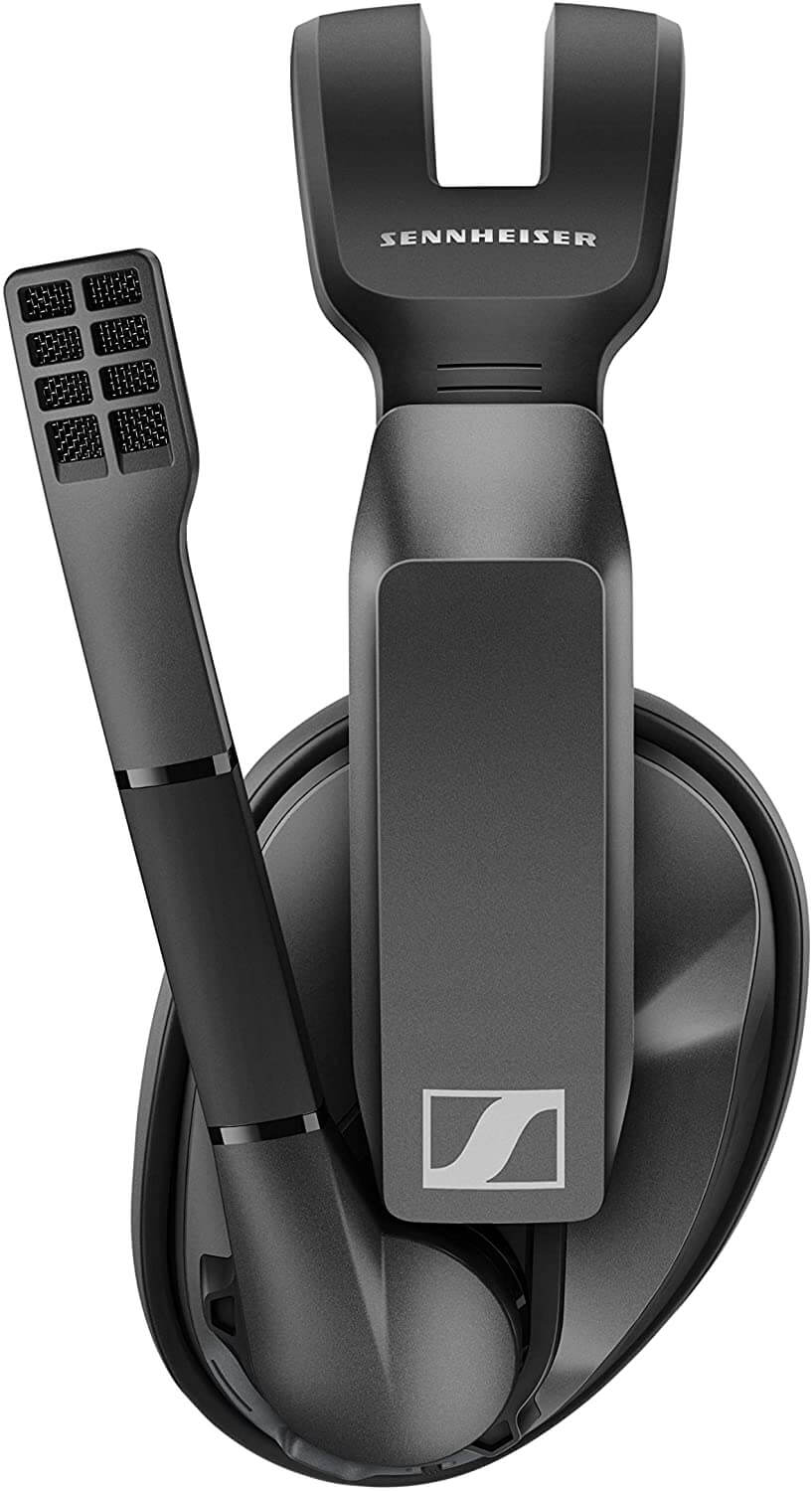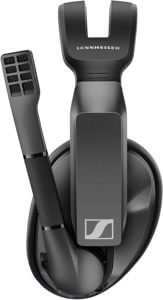 driver: 50mm neodymium
Battery life: Up to 100 hours
frequency: 20Hz-20.000Hz
Special Features: Brilliant battery life, very good built-in microphone
The Sennheiser GSP 370 is the conservative little cousin of the bombastic GSP 670. Although the GSP 370 doesn't offer the same sound, it still has deep bass in a lighter, cheaper wireless gaming headset.
The best that the GSP 370 has to offer, however, is the incredible 100-hour battery life. Yes, you read that right - 100 hours. That's almost five times longer than anything else on our list. Honestly? It's a nice feeling to only have to charge a headset a few times a month and not every night.
The only really big flaw with the GSP 370 is that the microphone doesn't sound very good. So if you choose the GSP 370, we advise you to invest in a decent separate microphone.
Sale
EPOS | Sennheiser GSP 370 wireless gaming headset headphones, 100 h battery, lag-free noise-canceling microphone flip-to-mute, ear pads digital 7.1 surround sound for PC Mac PS5 & PS4
EPOS ENGINEERED SOUND - The closed acoustic headphones GSP 370 offer players the audio experience they are longing for with integrated digital sound processing for exceptional bass performance and acoustic clarity.
WIRELESS FREEDOM - Play wherever you want with the gaming headset! With wireless mobility and independent of noisy environments.
LOW LATENCY CONNECTION - The sophisticated wireless technology of the headset ensures stable, lag-free transmission for instant feedback and better gaming performance. Range: 10 m.
LONG LIFE BATTERY - Play 'up to 100 hours on a single charge and keep playing' while you charge the headphones with microphone with the included headset USB A cable.
PERSONALIZE YOUR SOUND - This gaming headset lets you customize your audio experience with a full equalizer, noise reduction settings, microphone tuning and 7.1 surround sound processing * - all in the EPOS Gaming Suite.
Common questions about wireless gaming headsets
Is a wireless gaming headset worth it?
Yes and no. It always depends on what you need it for. A good gaming headset is often worthwhile as an investment, as you can often use it for a few years. However, if you want to listen to a headset for music alone, you should buy a headset designed for this purpose instead.
Does a gaming headset improve my skill?
It is quite possible. Your aim in an FPS will certainly not improve with a gaming headset, but for many games such as PUBG, Valorant and CS: GO the sound and the ability to hear sounds in stereo are very important. Therefore, a good gaming headset can actually improve your skill a bit.
Which wireless gaming headset is the best?
It's a difficult question to answer. First of all, it depends on what is important to you. Do you want a gaming headset with long battery life? Then the Sennheiser GSP 370 is a good choice. Is a good sound important to you? Then I advise you to go for the Sennheiser GSP 670. Would you like a very good price-performance ratio? Then the Crosair HS70 is ideal. The current test winner on our best list is the SteelSeries Arctis 7.
How long does a gaming headset last?
Most gaming headsets have an approximate lifespan of 2 years. If you treat your headset well, it can last up to 5 years. In my experience, wireless headsets last longer because there is no risk of a cable break.
How expensive is a good wireless gaming headset?
On average, wireless gaming headsets cost a little more than wired headsets. You should expect at least € 60-80 for a good headset. Real high-end devices often cost € 300 and more.