The Demand for cryptocurrencies has never been as big as it is today. While a few years ago it was not so easy for the average consumer to get hold of Bitcoin, Riple, Ethereum, Litecoin and Co., nowadays there are a large number of digital trading exchanges on which the acquisition of stocks, CFDs or crypto currencies is almost the same is as easy as signing up on a social platform.
There are already many good bitcoin exchanges on the market - but as with all other things, the details are important here, because not all crypto exchanges are the same. Just like there are differences between banks, every Bitcoin exchange has its unique selling point. For example, each platform has a different range, different fees and there are a few things to consider when it comes to user-friendliness.
For example, the question arises whether it makes sense to use real digital currencies to invest or whether it is not enough to use CFDs to participate in the increase in value of Bitcoin and Co. In order to create a little clarity here and to separate the wheat from the chaff, we have taken a close look at the largest Bitcoin exchanges in our comparison so that every trader can find exactly the trading platform that meets his needs.
Content
An overview of our crypto exchanges and CFD broker test winners
eToro
Plus500
Coinbase
Rating

4,9

/5

4,8

/5

4,6

/5

Buy crypto via
Crypto CFDs and
Real coins
Crypto CFDs
Real coins
Headquarters
Cyprus
Israel
USA
minimum deposit
200 Euros
100 Euros
25 Euros
fees
Variable spreads
Variable spreads
Fixed spreads + fees depending on the purchase price
Peculiarity
Social Trading
Intuitive, proprietary platform
Buying, selling & exchanging coins
Suitable for beginners
Ja
conditionally
Yes (Coinbase Pro only for advanced users)

To eToro

To Plus500

To Coinbase
CFDs are complex instruments and, because of the leverage they provide, there is a high risk of losing money quickly. Between 74% and 89% of retail investor accounts lose money when trading CFDs. You should consider whether you understand how CFDs work and whether you can afford to take the high risk of losing your money.
* Cryptocurrencies are highly volatile, unregulated investment products. No EU investor protection. Your capital is at risk.
# 3: Coinbase
Coinbase: Overview of the trading platform


Coinbase, Inc. is a US company that operates both a Crypto exchange, as well as a wallet operates. Since it was founded in 2012, Coinbase has been on the market for a relatively long time compared to other crypto exchanges. The company was founded by entrepreneurs Brian Armstrong and Fred Ehrsam and has a number of well-known investors, including the New York Stock Exchange (NYSE). At this point in time, Coinbase is only available to users in the US and Europe. The number of users worldwide is 30 million.
The Coinbase app is both a wallet and a trading platform. The Coinbase app for iOS and Android enables users to send and receive cryptocurrencies or even have price signals sent to them. In order to be able to carry out a trade, European users can make a bank transfer, which is usually done within a few working days. Purchases can also be made using a 3D Secure Card.
Coinbase allows users to trade the crypto currencies Bitcoin, Ethereum, Ethereum Classic, Bitcoin Cash, XRP and Litecoin and to exchange them for official currencies. Fiat currencies are used here to purchase digital currencies or to pay out to your own bank account. Coinbase not only allows different crypto currencies to buy or sell, but also to exchange with each other. The purchase menu is very clear, so that you have a good overview of the value of the crypto currency, the costs to be paid and the fees before buying.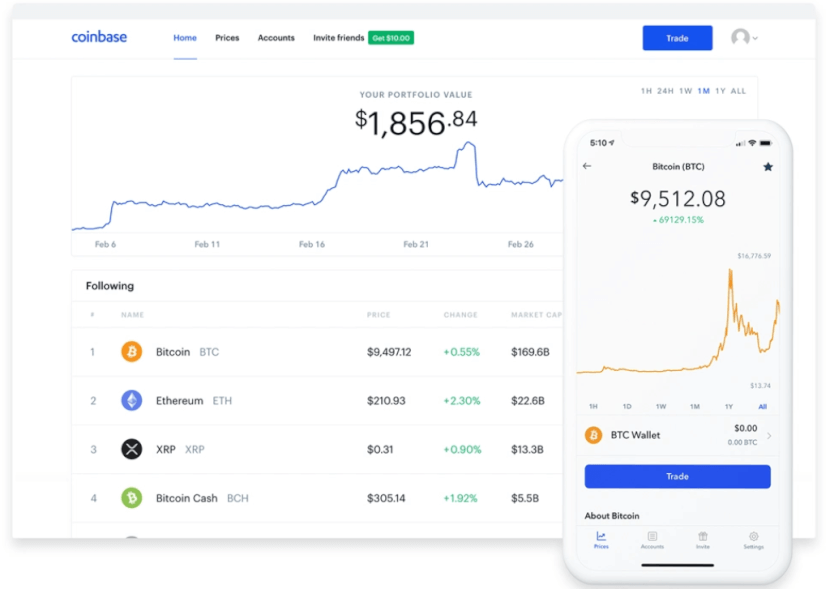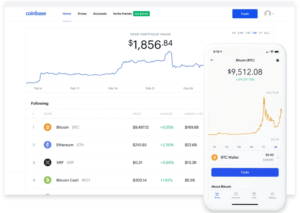 Coinbase can be accessed either directly from the browser or from the smartphone using its own app for iOS and Android. Basically, Coinbase can distinguish between two different offer models:
The normal platform with its clear menu is primarily aimed at Beginner,
whereas Coinbase Pro experienced dealers with an extended functionality. Coinbase Pro's fees are cheaper than the basic version.
Coinbase: fees
While the use of the Coinbase account is free, a fee must be paid to the operator for every trade. First of all, fall here € 5 in fees when paying by bank transfer. Additional implementation costs may arise.
In addition to the Spread, which is around half a percent there are additional fees depending on the purchase price. These are made up of a flat rate or variable rate. The following is an overview of the flat rate:
| Purchase price | fees |
| --- | --- |
| <10 € | 0,99€ |
| € 10 - € 25 | 1,49€ |
| € 25 - € 50 | 1,99€ |
| € 50 - € 200 | 2,99€ |
When traders exchange cryptocurrencies with one another, Coinbase charges a fee of 1% of the trading volume.
Coinbase Pro
Anyone who wants to use the advantages of the digital currency and trade effectively is in good hands with the Pro platform. This is primarily aimed at investors who are planning to trade a large amount of Bitcoins or other currencies via Coinbase Pro.
Anyone who has already had experience with trading cryptocurrencies and, in addition to a functional menu, also has extra security in the form of Deposit insurance preferred, which is better off with Coinbase Pro. The credit that is stored in a US amount on the provider side is covered by the FDIC insurance up to $ 250.000 per customer. Long-term investors can be sure that their money is in good hands.
Furthermore, depending on the trading volume, the conditions are significantly cheaper than the basic variant and can be used when purchasing 0.04% up to 0.50% rich.

Coinbase: experiences and conclusion
Our Coinbase experiences are more than just positive: Coinbase offers new investors a good introduction to trading in cryptocurrencies and provides the necessary support that turns beginners into professionals.
Anyone who is already a professional or advanced should also consider Coinbase Pro as a provider, as this is actually the one same service with more functionality at a lower price is offered. However, the more cumbersome menu is not recommended for beginners.
In addition to the positive aspects, there are unfortunately a number of disadvantages that Coinbase only brings to third place behind Plus500 and eToro.
First of all is that Number of currencies is relatively limited. Since Coinbase is a pure crypto trader, you should really only get involved with the platform if you know that you will not deviate from the limited selection and, for example, want to include other cryptocurrencies in your portfolio.
It is precisely here that the difference becomes clear: Coinbase's offer is only aimed at a small group of crypto investors - namely, all those who want to own the currency themselves. However, the majority of investors are not interested in ownership, but only in value speculation, for which reason CFDs are better suited as they allow leverage and do not require cumbersome storage.
The last point of criticism has to be the Fee structure To be received. Unfortunately, the fee structure is not regulated in a particularly transparent way, so it is difficult to calculate all the necessary expenses in advance. In general, the fees at Coinbase are higher than with the other providers.
Place # 2: Plus500
Plus500: Overview of the trading platform


While Coinbase is really just a pure crypto broker, Plus500 is primarily a CFD broker, whose services are offered in Asia as well as in Europe. Founded in 500, Plus2008 is headquartered in Isreal and has offices in Australia and the UK. Plus500 offers CFDs for digital currencies such as Bitcoin, Bitcoin Cash, Ethereum, Dash, Litecoin, Ada, Ethereum Classic, Stellar, Ripple, EOS and NEO. You can also trade with currency pairs consisting of virtual money and traditional currencies, such as "Bitcoin-Euro".
It should be noted that, unlike Coinbase, trading at Plus500 is exclusively in CFDs. The main focus here is on the type of investors who want to speculate on the basis of price developments alone and who are not interested in owning the actual coins. So if you want to own the real currency, you are better off with other providers. If you only want to speculate on the increase in value, Plus500 offers a sufficient range.
What are CFDs?
CFD means Contract for Difference, or in German: Contract for difference or contract for difference. CFDs are
derivatives
that enable traders to speculate on a variety of financial instruments, including cryptocurrencies, based on rising or falling price developments. CFDs have developed into one of the most popular forms of investment in the crypto scene in recent years, so that nowadays the majority of investments are no longer made via real digital currencies, but only via CFDs.
The reasons for this are simple: While initially Bitcoin supporters in particular wanted to actively support a new and decentralized financial means, after the great Bitcoin hype, it is mainly the latecomers who focus on the profitability of the currency. There are also derivatives easier to use than real coins: In contrast to real cryptocurrencies, CFDs do not require a wallet and you do not have to worry about losing the coins, for example through hacker attacks.
The Plus500's security standards are very high: If you open an account with Plus500 and deposit your first money, it will be kept in a separate bank account, separate from business assets, in accordance with the rules for the protection of customer funds of the UK Financial Conduct Authority. With a statutory deposit insurance through the CySEC (Cyprus Securities and Exchange Commission), the broker offers enough security that should be completely sufficient for most investors. Plus500UK Ltd is also authorized and regulated by the FCA. (License no. #509909)
Just like Coinbase, Plus500 has a user interface very intuitive designed so that you can easily find your way around here.
Easily manageable presentation of various price developments, on the basis of which trades can be analyzed, are a valuable support and can be helpful in choosing the right crypto currency. Various guides and how-to videos also help you find your way around.
The platform gives investors one large number of payment options one, such as the most common credit cards or PayPal.
Plus500: fees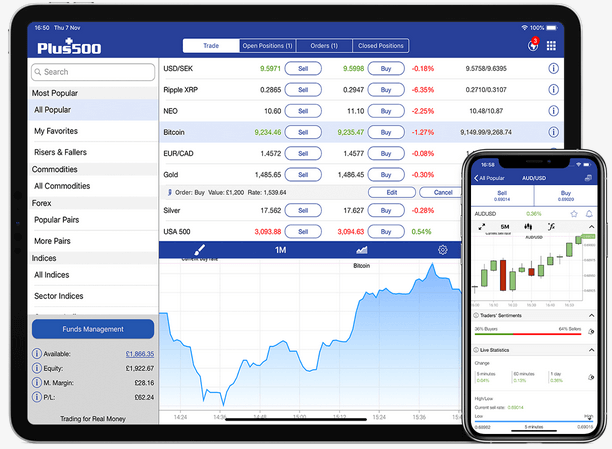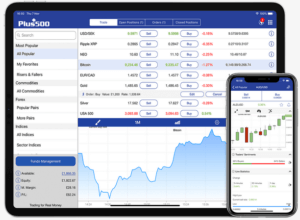 Compared to trading with real cryptocurrencies, it is above all the attractive offer that sets the broker apart from Coinbase when trading CFDs with Plus500. With Plus500 there are no commissions because the broker solely through the spread financed. In addition, these are variable spreads, which can affect prices. How these stand can be seen here: Cryptocurrency prices live.
Furthermore, with Plus500 it is possible to use to leverage to trade so that it is possible to move a multiple trading volume, even with lower stakes. This is not possible when buying real coins. The minimum deposit of € 100 is also very low here. Another plus is the free demo account with which you can calmly test the broker without running the risk of losing your own money.
Plus500: experience and conclusion
Plus500 is a CFD broker. Plus500 is particularly suitable for experienced investors and the type of investors who want to speculate on digital currencies with the help of fluctuations in value.
If, on the other hand, you want to buy real coins, you have to look for another provider, as Plus500 only trades with CFDs. CFD's are complex financial products and should only be used with sufficient experience or prior knowledge.
76,4% of retail CFD accounts lose money.
Place # 1: eToro
eToro: Overview of the trading platform

eToro was founded in 2007 in Tel Aviv, Israel by Yoni Assia, Ronen Assia and David Ring. eToro is now one of the better known providers, even if this platform has only really picked up speed in recent years. The most popular digital currencies are available to eToro users as crypto currencies: Bitcoin, Riple, Ethereum, Litecoin, Dash, NEO, EOS, IOTA, TRON, Zcash, Tezos and Stellar. The platform has coined the term "social trading" through its use.
To put it simply, social trading means that trading in financial resources such as CFDs is linked to a social component, similar to what one is used to from other social media. In addition, it is possible to copy the trading behavior of successful investors with just a few clicks in order to benefit yourself.
In addition to social trading, unlike other platforms such as Coinbase or Plus500, eToro has another unique selling point:
Overall, eToro offers more than 1000 different investment options , of which cryptocurrencies make up only a small part. While Coinbase specializes in trading real coins and Plus500 only offers CFDs, eToro offers both options.
The platform is mostly based on that Trading CFDs specialized, which makes up the main business share of the company. In addition, the provider has specialized more and more in the needs of crypto investors, especially in recent years, and has expanded its range accordingly. Thus it is also possible with eToro that the real coins to acquire - with all the advantages and disadvantages that the acquisition entails. Users who want everything from a single source can secure the right eToro wallet, which is specially designed for the needs of beginners. For users with small amounts of digital currencies and for those for whom a hardware wallet is too cumbersome, the eToro Wallet offers the best conditions.

A list of the differences between owning real coins and CFDs has been provided by eToro as follows:
| | Cryptocurrencies | Crypto CFDs |
| --- | --- | --- |
| Do you have the currency? | Ja | No |
| Can you use leverage to increase profits? | No | Yes, up to X2 depending on the crypto currency |
| Can stop-loss limits be set up? | No | Ja |
| Can CFD positions be converted into real cryptocurrencies? | N/A | No |
eToro: Social Trading
What makes social trading so special? What sets eToro apart from other Bitcoin brokers because of the social component is the fact that investors are simple and easily exchange with each other to find the best possible investment option. But that's not all:
You can as an investor other investors copy. Accordingly, you invest part of your investment in the portfolio of other experienced investors in order to generate profits. To do this, you can take a close look at the trader's profile and make your own judgment based on factors such as risk, profitability over a longer period and the investments themselves.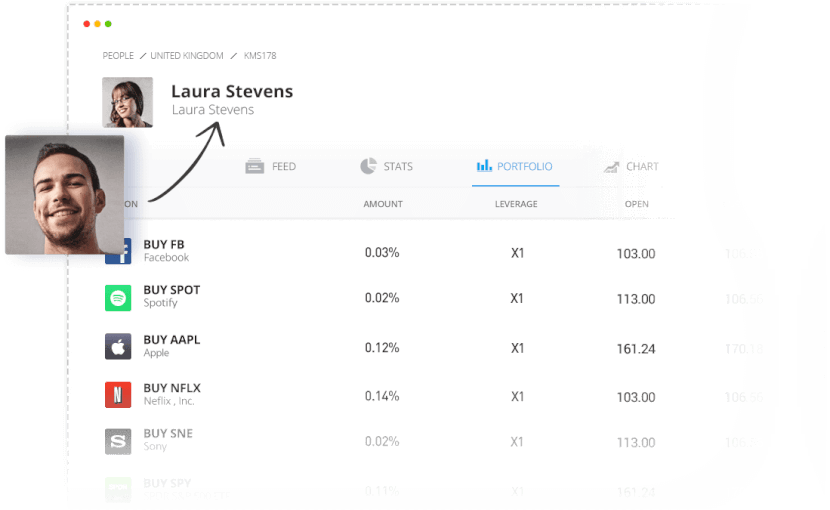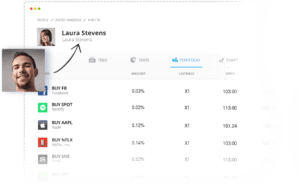 So traders have a variety of investment opportunities on eToro: In addition to CFDs and real coins, investors also have access to the crypto portfolio of experienced investors. This is Highly recommended, especially for beginnersbecause they do not have the necessary specialist knowledge to be able to participate effectively in trading themselves. However, not only beginners benefit here, but also experienced investors can think outside the box in order to expand their portfolio intelligently and sensibly.
eToro can not only be accessed through the browser, but also via the smartphone apps for iOS and Android. The application takes shape dead easy And here, too, users are provided with valuable instructions on various topics, for example how to receive or send digital currencies.
eToro: Fees
The minimum amount for entry at eToro is 200 €, this is higher than with Coinbase or Plus500, but generally even less than with comparable brokers.
eToro also offers a free trial account, which has no limited duration. Users have play money of $ 100.000 at their disposal, which can be spent without obligation and at will. Here, users are introduced to real trading in a playful way with high virtual amounts without the risk of having to spend real money.
The exact fees vary per currency and can be found on the provider's website viewed transparently become. It should also be taken into account that there is a flat fee of $ 5 for all withdrawals and the minimum withdrawal amount is $ 30. In addition, eToro charges overnight and weekend fees for CFD positions.
eToro: experience and conclusion
After our extensive testing, we can use eToro crown the test winner without reservation. In contrast to the competition, the provider offers a larger range at a better price-performance ratio. In addition to CFDs and real coins, you can also invest in the portfolio of other investors - with this, eToro has not only expanded its range in a meaningful way, but also created a new term with social trading that enriches traditional trading with social components.
Unfortunately, there is also some catching up to do at eToro. For example, there is customer service no telephone contact option - This is particularly disadvantageous for those users who want to clarify an urgent matter quickly.
The best trading platform
Provider Website

Real Coins & CFDs: Extensive trading in cryptocurrencies
Demo account: Free and unlimited in time
Social trading: Follow and copy by professional traders
* Cryptocurrencies are highly volatile, unregulated investment products. No EU investor protection. Your capital is at risk.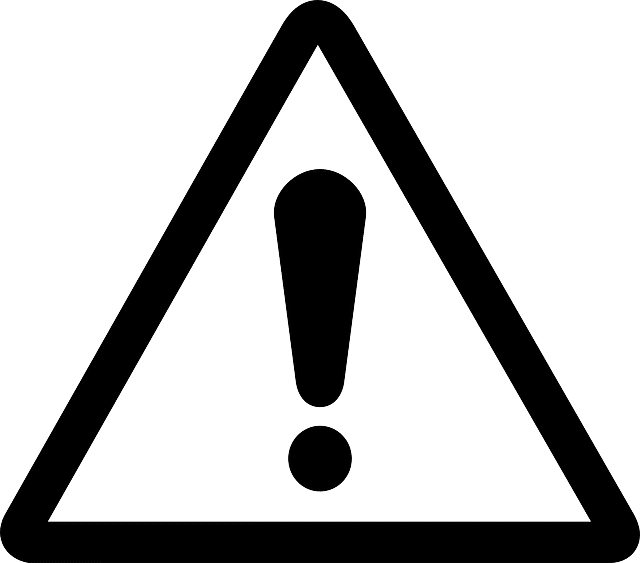 Finally, a note to all future investors: No matter which type of provider you choose, only the money should really be invested, what is freely available and which can also be dispensed with in an emergency.