Malware lurks everywhere on the internet. No PC, Mac or smartphone is safe from her. Unless you protect yourself effectively and professionally. Malware captures many types of annoying and threatening applicationswhich, in the best case scenario, merely annoy us with advertising and in the worst case steal our sensitive data or even block files or entire systems.
In principle, you should have a effective security solution how to install anti-virus or internet security on the system. But maybe it is already too late, the malware is nested in the PC. What can you do now? The aim is to remove malware; this is where special anti-malware programs come into play.
However, there are different approaches to removing malicious programs. You can find out in this article whether you should rely on simple malware removal tools or more extensive software for protection against malware. We also have the best Malware Removal Tools 2020 in the test.
Content
What is malware
Malware is a collective term for any kind of malicious softwarethat can affect your PC. Viruses and spyware are examples of malware. But it also includes adware that attacks your PC and shows you annoying advertisements. Ransomware, which encrypts data or your entire system in order to extort ransom, is also classified as malware.
Because the term malware is so extensive, we need to briefly take a look at each type of malware below. Otherwise, it is easy to misunderstand malware removal.
Types of malware
There are a total of 5 different types of malware: viruses, spyware, adware, ransomware and rootkits. What are they exactly and how do they threaten your computer?
virusspywareAdwareRansomwareRootkits
virus
These pests reproduce on your PC as much as they can. How exactly this happens also depends on the virus. There are certain viruses that attack a specific file type - such as Word files, PDF files or image files - and thus attack them to make something useless. Viruses can damage your system by infecting essential data and, unless you have a backup, rendering it unusable.
spyware
spyware is a kind of spy on your device that steals sensitive files, for example via a keylogger that records your keystrokes, and transmits them to third parties. May concern credit card data, online banking data and more.
Adware
Annoying commercial spam that you with on your device Advertising showered. By displaying the advertisements, the adware developer earns advertising revenue. This is often accompanied by annoying ones Toolbars.
Ransomware
The latest and most nasty kind of malware attacks your PC and encrypts sensitive files or folders so that you can no longer access them. Can also encrypt your entire Windows installation. Then you will be blackmailed ransom (= "Ransom") so that you can get access again after decryption.
Rootkits
The hardest thing to detect and remove are rootkits that nestle deep in your PC's system and an abundance of illegal activities can perform. They use your system resources and internet connection to send spam emails, carry out DDoS attacks on websites or mine cryptocurrencies. They can also allow hackers to access your system remotely.
Is your PC infected with malware?
Perhaps you suspect that your PC is infected with malware and now you want to know whether your suspicions are true. There are several signs that indicate a malware infection.
If your PC suddenly much slower it could indicate malware. Such pests are active in the background and thus strain the main memory.
If your homepage has been changed in the browser ("Hijacking") or yourself unwanted advertising banners or pop-ups open on your PC, it indicates adware.
If the Your device's battery suddenly drains significantly faster it can also indicate additional exposure to malware execution.
You see one new extensionthat you have not installed in your web browser.
Your Internet connection is slower than usual.
The Fan your computer starts up even when your computer is in sleep mode.
Applications crash much more often. Possibly because malware wants to access this program.
Unknown apps on your desktop or in the program list. If you discover programs here that you don't even know, they may have installed themselves automatically.
You don't have to guess, though. With a Malware scanner you can search specifically for pests on your PC. The program scans your entire system and lists all types of malware found. Most of these can also be removed with a few clicks of the mouse. However, this can be a little more complex with viruses, ransomware and, above all, rootkits.
How can you remove malware?
First of all, it is important which Windows version you have installed on your PC. If you have Windows Vista, Windows 8 or Windows 9, then you can skip this next step. In Windows 10 Microsoft has already provided its own malware scanner, which offers relatively good detection and removal of malware (but unfortunately not anymore). We'll show you how to start and run it in the next section.
After that we will get paid malware scanners and Anti virus solutions view from third-party providers. These are the best way to remove malware.
Use malware scanner in Windows 10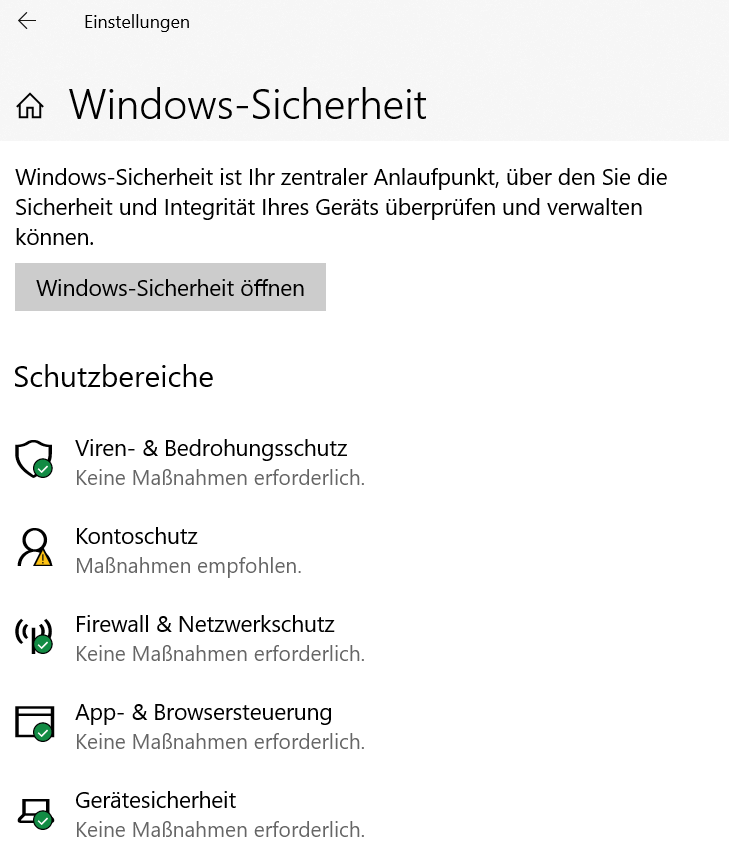 Your Windows 10 computer has an integrated malware scanner that is simply called "Windows Security" and is part of the "Windows Defender Antivirus" antivirus program. Malware scanner is relatively easy to navigate and install. Here's how you can check for malware on your Windows 1 PC:
Click on the Home-Button (or press the Windows key on the keyboard).
Then click on Settings.
Now click on Update and security.
Then click on Windows Security.
Now click on Virus & threat protection.
Now click on the Quick Scan option in the pop-up window. The scan may take a few minutes to complete.
You can also do one more thorough malware scan by clicking on Scan Options, which is located just below the Quick Find button. Then select one of the options as needed.
Just like malware scanners that you need to install, the Windows 10 built-in tool runs constantly in the background. You don't have to do it manually every time you want to look for malware on your computer; it actively protects your system from the start of Windows 10.
Paid malware remover or antivirus solution
In addition to the integrated malware scanner in Windows 10, there are also malware and virus removers from third-partythat you can use to protect your computer and your data. Note, however, that the Windows Security feature is automatically turned off when you install such a malware scanner.
The premium versions of most third-party antivirus applications cost between 20 and almost 100 euros per year. There are even some advanced protection packages you can buy that include anti-virus protection for multiple computers and mobile devices.
Some packages also offer Cloud backup for your data, credit card activity alerts, parental controls, and other features that keep you and your family safe.

Anti virus vs. Malware Remover: Which Is Better?
To be able to remove malware, you basically have two options:
You can either do one special malware remover download that just does this job. The main advantage of this lies in the small file download of a simple application that only loads your system during the scan and can find and in most cases remove existing malware. The problem with a simple malware scanner, however, is that it usually does not offer any protection against new threats. So you could quickly catch new malware and start over.
It can therefore make more sense to start with a comprehensive antivirus and security solution that can not only remove malware, but also protect your device from new malware. That is why we strongly advocate an Internet security solution that can always detect malware and remove it effectively. After the installation you can run a scan, remove any malware that has been detected and you are protected from new dangers in the future. Such security solutions are a bit more expensive, but they will soon be worth the money.
The best malware removers at a glance
Malwarebytes Anti-Malware
Avast PremiumSecurity
Bitdefender Total Security
Advanced System Protector
McAfee Total Protection
Operating Systems
Windows
Windows
MacOS
iOS
Android
Windows
MacOS
Linux
iOS
Android
Windows
Windows
MacOS
iOS
Android
Daily updates
√
√
√
-
√
Quick Scan
√
√
-
√
√
System scan
√
√
√
-
√
Drive scan
√
√
√
√
√
Supported devices
1
10
5
1
5
Price / year
€ 39,99
$ 89,99
€ 79,99
€ 64,95
€ 89,95
The best malware removers tested
In our test, we took a closer look at both pure malware removers and entire security solutions.
1st place: Malwarebytes Anti-Malware


If you want to remove malware, we recommend Malwarebytes Anti-Malware. The daily database updates ensure that even the latest malware threats are detected in real time.
We particularly like the numerous Scan functions, which you can initially explore in a 14-day trial version of Malwarebytes Anti-Malware Premium. For example the deep system scan, in which all directories and data carriers as well as the system registry are searched. The software protects against all types of malware in real time; the AV test showed a detection rate of 100. Even complex rootkits and ransomware are detected and effectively eliminated.
Despite the real-time monitoring, it is advisable to run a scan of the entire system once a week. Ideally, you will take a break on your PC, but you can even continue to work because Malwarebytes Anti-Malware is relative system-friendly is in progress. The scanner is suitable as a special malware removal tool as a supplement to a classic antivirus program.
Price: 39,99 € / 1 year for 1 device
2nd place: Avast Premium Security

Avast is one of the best known names in internet security, It is therefore not surprising that Avast Premium Security also offers an effective malware removal tool.
In fact, as the name suggests, the product is a comprehensive security package that protects against all types of malware threats and, with a behavior monitoring function, can also proactively detect and block new, as yet unknown types of malware. In the AV-Test laboratory you have 100% recognition rate reached.
Suit you multiple scanning options to choose from, you can scan individual directories, volumes or the entire system for malware. With Avast Premium Security you are sometimes also protected against rootkits and ransomware.
The program can be used on Windows, Mac, iOS and Android devices, with a premium license you can up to 10 devices at the same time protect by software. Another practical additional function is the monitoring of open websites, whereby phishing, fake and other dangerous websites are filtered and blocked.
Price: $ 89,99 / year for 10 devices
3rd place: Bitdefender Total Security

Bitdefender Total Security is one of the leading security suites and offers malware protection with numerous additional functions. The software is available for Windows, macOS, Linux, iOS and Android. With AV-Test you have one 100% recognition rate convinced.
It will multiple scanning options offered, in addition to directory, drive and system scans, also a user-defined scan; only a quick scan is missing. The virus database is updated daily with the latest updates. Behavioral monitoring is also included, which can even ward off complex malware and ransomware.
All Additional functions count next to one VPN service (limited to 200 MB / day), child protection (password protection for websites on a blacklist and logging of visited websites) and a secured browser that can be used for online banking or other financial transactions. In spite of all the functions, the system performance is not burdened any more than with competing providers.
Price: € 79,99 / year for 5 devices
Advanced System Protector


The Advanced System Protector software of the American manufacturer SysTweak is a special malware removal tool that can provide protection against spyware, adware, Trojans and also rootkits.
The software offers several granular scan options, with which you can carry out individual directories, data carriers, simple or complete system scans. The system is thoroughly searched without overloading the main memory of your device. You can continue working on the side.
Found malware can be deleted without exception, sent to quarantine or, in case of doubt, even ignored. You will be shown the list of results and can then decide manually how to proceed with each entry found. Besides, will also Adware, such as hijacking your browser homepage or Potentially Unwanted Programs (PUP) recognized and blocked.
We are very impressed with Advanced System Protector as a malware removal tool, but it does not offer the same full protection as a complete Internet security suite. So For example, there is no real-time protection of the system. That is why we would advise you to combine the Advanced System Protector with an Internet Security Suite so that all malware threats can be detected and prevented.
Price: € 64,95 / year for 1 device
McAfee Total Protection


With McAfee Total Protection, you don't just get a malware removal tool, but a comprehensive virus protection software and security suite from the American security experts. The program offers protection against all types of malware, including rootkits and ransomware. AV-Test offers an industry standard Recognition rate of 97,8% reached.
In addition to Windows, the software can also be used on macOS, iOS and Android devices. We like the numerous scan options that can be selected from a quick scan or system scan to customized scans. The databases are updated daily so that the latest threats can be identified and blocked. A behavior recognition function also helps proactively identify and repel pests.
Are practical too Additional functions like an optimization suite to increase the performance of your PC and remove redundant system entries or rarely used software. A password manager and a firewall are also integrated.
Price: regular price € 89,95 / year for 5 devices
Summary
If you want to remove malware, we advise you to do one right away extensive security packagethat goes beyond a simple malware remover. All major antivirus solutions are now also equipped with malware detection, so you are best advised to buy a comprehensive solution that can not only prevent existing malware but also future infections.
Even if all of the tested providers leave a good impression, above all we can Malwarebytes Anti-Malware, Bitdefender Total Security and Avast Premium Security particularly recommend.
Best malware removal tool
Rating
Features
Provider Website

4,9/5

Numerous scan functions
14-day trial version
100% recognition rate

4,8/5

Popular internet security provider
Protection of up to 10 devices
Incl. Monitoring of open websites

4,6/5

Supports a variety of operating systems
Incl. VPN service
Very little system load