Avira is probably one of the best known companies when it comes to internet security. Most users are particularly familiar with the Avira Free Security antivirus program. In addition, the provider, based in Germany, also offers a number of other security products, including VPN services and a password manager.


Password manager help to create secure passwords, save passwords, synchronize them across multiple devices and automatically insert them into the input field when logging in - they not only increase security, but also make surfing easier.
In the following we will deal with the Avira Password Manager, which is considered to be one of the most secure and trustworthy. What exactly is a password manager and whether Avira's version lives up to the reputation of the antivirus program is shown below Review.
Contents
Why are password managers becoming more and more important?
Während Antivirus programs have become a proven security standard, the use of a password manager is less common. Brute force attacks take place daily, with hackers using arbitrary password combinations unauthorized access to user accounts gain.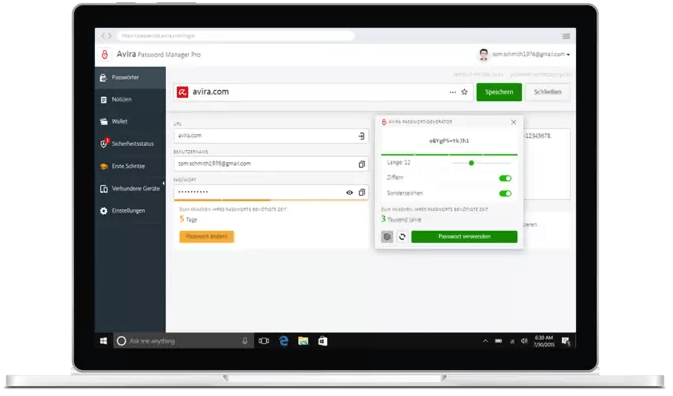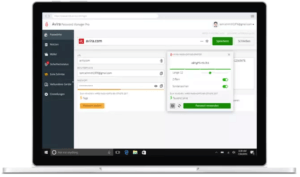 As the number of Internet accounts increases, so does the risk. Some users have hundreds of active accounts spread across email, social media, e-commerce, online banking, or cloud services. To keep passwords really secure, you actually have to every single password look different - It is best to use a long alphanumeric string including special characters. It is also important to have the passwords as well to change regularly.
With the large number of accounts, this is of course not feasible at all - quite apart from the fact that you are yourself don't remember all passwords can. To remedy this situation, password managers, like antivirus programs, should become a security standard, as the risk of data misuse can be significantly reduced.
The Password manager is primarily a program that helps users create secure passwords without having to memorize the complicated sequence of numbers.
The passwords for all user accounts are stored in a database, which in most cases is located on the provider's servers. This enables users to change their passwords using the cloud service across multiple devices, like the smartphone or tablet, can be easily synchronized.
If you don't trust a cloud service, you can easily use a password manager completely on the local PC without having to rely on the Internet. The problem with local password managers, however, is that they cannot be synchronized across multiple devices.
What is the Avira Password Manager?
Company background
Avira Operations GmbH & Co. KG is a German company based in Tettnang and has additional locations in Europe and the USA. Avira Antivirus has been around since 1988, then under the name AntiVir. The company now specializes in a range of online security products for businesses and consumers, with the antivirus program then and now the Flagship product the company represents. Avira also offers a number of other freemium security products, all of which can be downloaded from the company website.
Packages
Avira Password Manager is a web-based password manager. This means that the user accounts, the associated passwords, other data and documents are stored on the company servers and can be accessed from several devices using a master password.
Avira's offer follows one Freemium model, which means that the basic program can be downloaded and used free of charge. If you want even more features, the paid version Avira Password Manager Pro is available.
Device support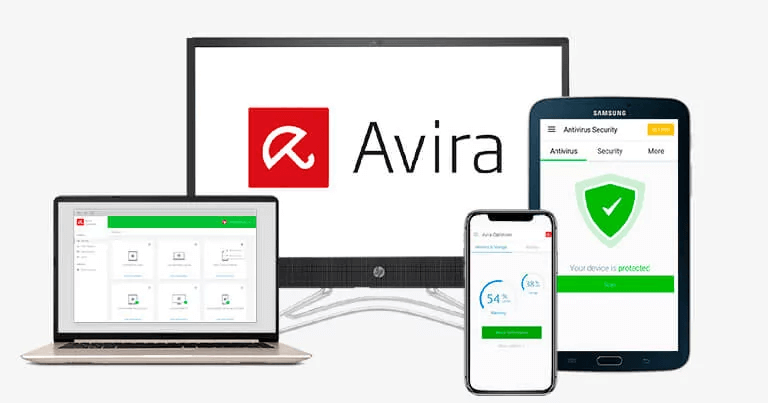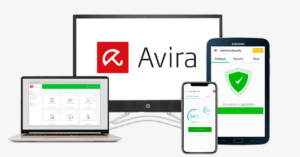 Since Avira is a SaaS model, the password manager works on almost all devices. The password manager is both Browser extension for Windows and macOS, as well as for mobile use via Android and iOS suitable. Unfortunately, there is only a very limited selection of browsers available for the extension: Mozilla Firefox, Google Chrome and Opera are the only compatible browsers.
The password manager is not with Microsoft Edge or Safari compatible.
Safety
Since Avira is a SaaS password manager, the passwords are stored in an encrypted, digital safe that can only be accessed via the Master password can be achieved. In contrast to local password managers, the data must therefore be sufficiently encrypted to prevent unauthorized access by third parties.
For this purpose, the data is encrypted with the AES 256-bit standard, which is considered to be one of the safest and by many VPN services is being used.
In addition, Avira relies on the Zero knowledge security - That means in plain language that the data stored on the server cannot be viewed even by employees of the company.
Avira also offers a 2-factor authentication on, which further increases the safety standard. This means that you also have to have a PIN sent to your smartphone in order to access the dashboard. This step is optional but should be implemented urgently.
What happens if you forget the master password? For this it is a prerequisite to have a device with biometric authentication to register. Anyone who has a smartphone with face or fingerprint recognition can use this to restore the master password. This is the only option because Avira itself does not know the master password. Since the loss of the master password is a lot of trouble, you should definitely pay attention to this functionality.

How does the Avira Password Manager work?
ease
If you want to use the password manager primarily on the desktop, you can either access the Web dashboard or the browser extensions To fall back on. The web dashboard is the first point of contact with the password manager, as the browser extensions can be downloaded from here:
Im Web dashboard all accounts and passwords can be accessed. The dashboard is kept simple and intuitive: the left column allows users to navigate between different menu items while in the middle more details and configuration options for the various menu items can be called up. In the menu item "Passwords" you have access to all accounts and can configure them or simply add new accounts by clicking on the plus sign.
The Browser extensions basically work like the web dashboard. If you have installed a browser extension, account and input fields are recognized automatically so that passwords can be saved and inserted using the autofill function. The password generator can be called up here with just one click, so that you can create secure passwords directly in the extension.
The Avira Password Manager convinces with a user-friendly and easily manageable user interface, in which beginners can find their way quickly and easily. A relatively small number of setting options can, however, deter experienced users who want to set up their program individually according to their own wishes. The Avira Password Manager does not offer much leeway here.
Features Avira Password Manager
The Avira Password Manager has a limited number of featureswhich, however, cover all the essential components of a solid password manager. We list some of these features below:
2-factor authenticationRestoration of the master passwordUnlimited number of devices
A clear plus for the manager! Since unauthorized access to the user account of a password manager harbors a very high security risk, the 2FA offers a further level of security. If you want to access the dashboard, you have to confirm the login again with a PIN on your smartphone. This makes unwanted access less likely.
It is less dangerous, but at least as annoying, if you have forgotten your master password yourself and thus lock your access to all other user accounts at once. It is all the more gratifying that Avira has taken precautions here and allows users to restore their passwords using a smartphone that can capture biometric data. This feature should be used in any case in order to rule out future trouble in advance.
Unlimited number of devices: Regardless of whether it is a free or a pro version, Avira allows users to use an unlimited number of devices and to create an unlimited number of passwords. Thus the free version of Avira can compete with many paid password managers from other providers.
What is a bit of a shame is the fact that you can use the Avira Don't send passwords to close friends or family members can. This is the case with many other providers, such as LastPass, Standard, but completely missing here. In addition, advanced features that are known from other providers, such as a digital will that allows other users to access in the event of an emergency, are also not included.
Avira has put together a unique package with its selection of features: While other providers limit the number of devices or passwords, Avira enables unrestricted use even with the free version. However, Avira does not offer any extended features that are not absolutely necessary, but some users would certainly be happy. Avira restricts itself to the essentials here - but does this better than many other providers.
Avira Password Manager Pro
If you don't want to be satisfied with the basic functions of the free password manager, Avira offers one Pro variant with extended functionality. The extended functions can be summarized as follows:
Password checkAccounts checkWebsite checkExtended customer service
The Avira Password Manager Pro analyzes existing passwords. If passwords are used twice or if they are weak, the program informs the user.
The account check shows whether there has already been illegal access by third parties to one of the user accounts. The security status shows whether data was stolen in a cyber attack. This is not only a useful feature, but also gives users a feeling of security, as the account check ensures a good overview of the status of all accounts.
What use is a secure password if the website on which you are using it is classified as untrustworthy? This is exactly where the website check comes into play. The website check can check the security status of the website and verify whether one of the pages used must be classified as unsafe.
Unlimited customer support via phone and email.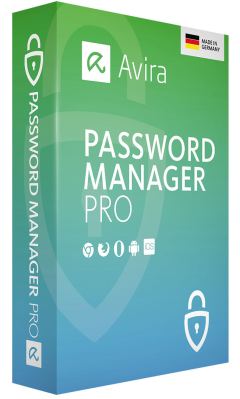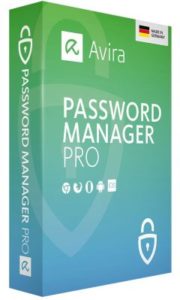 Even if the number of features of the Pro version seems relatively small at first glance, the quality of these features is more than worth the extra charge. The website check and the password check are essential features that Increase the security status of the user accounts.
The costs of the annual license of the Pro version amount to here 24,95 €, which is just a little more than € 2 per month. Anyone who buys the Password Manager can, thanks to the 30-day money-back guarantee Test the software in advance without any obligation and decide for yourself whether the additional security features justify the small amount.
Who is the Avira Password Manager suitable for?
As mentioned at the beginning, is a strong password is essentialto prevent data misuse. The high number of user accounts of most users make manual password management across multiple devices almost impossible. In addition, passwords should be changed at regular intervals. A good password manager is needed here to actually put this process into practice.
In general, it can therefore be said that the Pro version of Avira really benefits every user. In addition to the increased security level, the password manager also increases the convenience of surfing. Of course, the more user accounts there are, the more important a password manager becomes. Furthermore, it is even more urgent to take increased security measures, especially with sensitive data such as credit card information, bank details and user accounts.
How to set up Avira Password Manager - instructions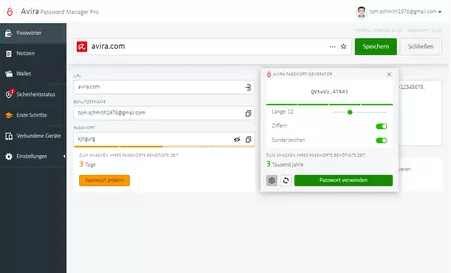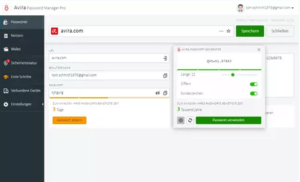 Downloading and setting up Avira Password Manager is not that different from regular programs and can be done within just a few minutes be carried out. The password manager for the PC can be downloaded from the provider's website. The mobile versions are available on Google Play or the App Store.
Since the Password Manager is just one security program among many, one must first of all parent Avira account to be created. As soon as this step has been completed, the creation of a master password can begin. As already mentioned, you should choose a password that is as strong as possible. It is also particularly recommended for users whose smartphone does not have the ability to read biometric data, write down the master password and keep it in a safe place.
Avira recommends 2 different methods for creating the master password:
Method 1: Passphrase Method
Be here 4 random words chosen that are easy to remember. These are connected to one another by special characters. In addition, you should use upper and lower case characters. An example could look like this: GeBirge] RaseN * Gelb§zebrA
Method 2: sentence method
Here will be a long but memorable sentence noted, from whose first letter the password is created. In addition, upper and lower case letters as well as numbers and special characters should be used. According to Avira, an example could look like this: The car is green - it has two doors and four wheels = dAig-eh # 2T & vierR
After the master password has been created, you go to the web dashboard, from where the setup can be continued. The browser extensions for Chrome, Firefox or Opera can be installed here.
Advantages and disadvantages of the Avira Password Manager
Avira offers an affordable service package that more than fulfills all security measures and includes one very good price-performance ratio convinced. In addition, Avira offers an intuitive and easy-to-understand user menu that enables even beginners to get started easily. Access to the account can be doubly protected with 2-factor authentication and in the event of loss, Avira offers a secure option to restore the password. The Pro version also offers other features that complete the already good service with an all-encompassing security package.
On the negative side, it can only be stated that Avira has some admittedly not relevant, but at least nice features like that Sharing passwords with other users, does not allow. In addition, the number of browser extensions is limited to just a few versions, which is likely to annoy Microsoft Edge and Safari users in particular. They have to switch to other browsers in order to be able to use the Avira Password Manager.
Product presentation but outweigh the positive aspectsso that the negative aspects do not weigh too much.
Advantages
High security standard with AES-256 and 2FA
Master password can be restored
The free version offers an unlimited number of devices and passwords
Extended features such as website and account checks for the Pro version
Very good price-performance ratio of the Pro version
An intuitive user interface for all versions
The disadvantages
Browser extensions are limited to Mozilla Firefox, Google Chrome and Opera
Passwords cannot be shared
Our experiences with Avira Password Manager
With the password manager, Avira offers a completely solid security package which is reduced to the essential properties of a password manager, but does everything right.
The Security standards are fully developed: 256-bit, zero-knowledge security and 2-factor authentication offer enough protection to make it almost impossible for hackers to gain unauthorized access to user accounts. Furthermore, it can be positively stated that the master password can be restored with the help of biometric data - a real plus, which is often not available with other companies.
In addition, offer the Pro version very good price-performance ratio, which prompts us to unreservedly recommend this instead of the free version. The fact that passwords can be checked for their security and the security status of individual Internet pages can be assessed completes the security aspect.
Small flaws can really only be found in the details. For example, it is a pity that some Extra featureshow to send passwords to people you trust is not possible here. Hopefully Avira will add a few more features in the future.
Apart from that, Avira really offers everything you can expect from a good and secure password manager and even outperforms the competition in terms of user-friendliness and application. We can therefore use the Avira Password Manager Recommend without reservation.
Top value for money!

High security measures: Zero-Knowledge Security & AES-256 encryption standard
Extensive functions: Website and account check, password check, recovery of the master password and much more.
High usability: Fast setup, intuitive user interface & unlimited number of devices