Should it now be 4 GB of main memory for a graphics card, or maybe 8 GB? In all the hustle and bustle surrounding the GTX 970 scandal, some board partners from AMD are now encountering and presenting 8 GByte variants of the Radeon R9 290X. One of the favorites in the scene is Sapphire, which also comes with a revised circuit board layout and fan concept. Our test shows how well you are armed with a Sapphire R9 290X Tri-X OC with 8 GB.
Intro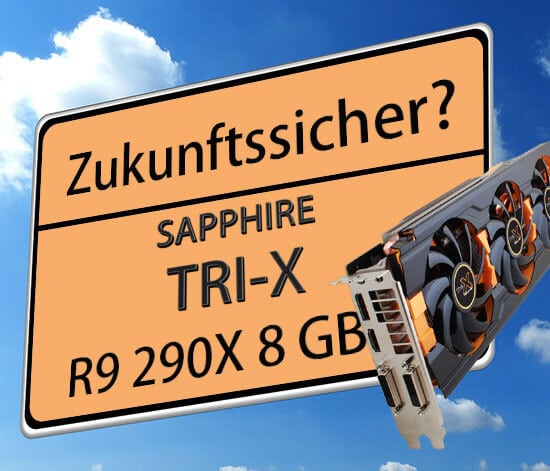 There were times when graphics card manufacturers were completely free to attract buyers with great pack prints regarding memory expansion. Especially with small graphics cards, we were always able to clear turn outthat upgrading from 2 to 4 GB of memory offers no advantages. In particular, the window dressing represented there in the choice of memory chips - 4 GB DDR3 to 2 GB GDDR5 - we repeatedly stopped with tests.
At the moment, however, users in the forums are a little worried. This is once new game titles owed, which as offshoots of the new consoles (PlayStation 4 and Xbox One) rely on massively higher graphics card memory. Memory-hungry titles appear here, which is due to the lavish memory configuration on the new consoles - but not only, because again simple porting to the PC poses problems here GeForce GTX 970 debate which is about 3,5 instead of 4 GB of main memory (and how this is used). But even here the current ports in the young status shine into it.
So be it: The market smells like 8 GB of storage space, the market offers 8 GB. Sapphire has now sent us their latest offspring in the form of the R9 290X Tri-X OC including 8 GB of memory. In the second step, Sapphire, as the largest AMD board partner, also ensures that you can make your own optimizations. The Tri-X cooler design was revised, but the board was also updated, according to the manufacturer.
Today's article clarifies what users can actually expect from the Sapphire R9 290X Tri-X OC with 8 GB of main memory.
Bookmarks
Test environment
Hardware: graphics cards
The test candidate
Sapphire Radeon R9 290X Tri-X OC 8GB
Firmware test pattern
Monitor resolutions and boost clock rates
Resolutions
We are currently testing in the resolutions 1.680 x 1.050, 1.920 x 1.080 and 2.560 x 1.440. While the former resolution is still the most widespread, the resolution of 1.920 x 1.080 pixels is currently emerging to permanently replace the lower resolution. The highest resolution of 2.560 x 1.440 pixels is currently only used by enthusiasts. Corresponding monitors that support this are still quite expensive. On the other hand, screens with 4K resolutions are slowly becoming affordable, but these are still not mainstream.
However, the resolutions have a demanding effect on the performance of the graphics cards. The higher the resolution, the slower the graphics cards are in displaying their images per second, and of course there are some representatives of the above graphics cards that are not able to display games in the highest resolution.
We have therefore divided the test candidates into three groups:
Ultra High Quality (up to 3840 x 2160)
High Quality (up to 2560 x 1440)
Quality (up to 1920 x 1080)
Low Quality (up to 1680 x 1050)
Only in the ultra and high quality group do we also allow runs with supersampling and / or eightfold anti-aliasing in the quality settings. These are mostly missing in the smaller groups. There are still a few exceptions.
In the ultra-high group, however, there are only absolute high-end graphics cards. So far, this segment has primarily been reserved for dual GPU solutions.
4K resolution and monitor
So far, there has always been talk of Full HD, which means the resolution of 1920 x 1080 pixels on a display. 4K or Ultra HD gets its name from the pixels of the monitor's horizontal resolution of almost 4.000 pixels. An Ultra HD monitor correctly displays 3840 x 2160 pixels - 4.000 pixels horizontally are therefore a little rounded up.
While the technology is still quite new and has usually been launched with IPS displays so far, a few manufacturers are currently following in the PC sector, who rely on the cheaper TN panels, making this technology more affordable. However, some of the offers have their pitfalls! So we had ours Dell P2815Q* Discarded again very quickly, as only 30 Hertz operation was possible here, which can very quickly lead to symptoms of fatigue during daily work. It finally followed Samsung U28D59P*, which is able to guarantee operation at 60 Hz via a DisplayPort connection.
In addition, all common smaller resolutions are supported, which appeared to be ideal for our test purposes. Due to the panel used, this monitor (and others) can hardly be used by professional users in the graphics sector. The viewing angle, but especially the color accuracy, leave a lot to be desired in this area.
In the TV sector there are some expensive offers that rely on 4K, but so far there is no suitable image material on DVD or Blu-ray disc, let alone suitable devices among the players. Some boast upscale features, but that's just a consolation. In the PC area, the whole thing looks a little different. The 4K resolution brings - if the image material supports it - a significantly sharper image. Artifacts at edges should also be significantly reduced or even approach zero. We cannot fully confirm the latter. Our own tests in games show that the formation of stairs is significantly reduced, but not completely eliminated.
Tomb Raider at 4K resolution
However, with this resolution on the PC - at least with games - there is the unpleasant side effect that a really powerful graphics card has to be used. In our test runs, we found that even high-end single GPU graphics cards like the Radeon HD 290X or GeForce GTX 780 Ti are in principle overwhelmed if you want to play top titles with the maximum level of detail and anti-aliasing.
At that point the crux arises. Either cut corners, despite the expensive graphics card, or rely on a dual team that can overcome the hurdles. The current status quo is definitely that 4K monitors like dual GPU graphics cards fall into the absolute high-end segment, where they have their right to exist, but also have to struggle with certain weaknesses.
GPU clock
On the GPU boost gadgetswhich appear more and more and falsify benchmark results, we have so far gone into it often enough. We normally counteract this by intervening in the driver. In the current case, however, all test candidates run without any intervention on our part. For enthusiast products of this class, we assume that the user is familiar with topics such as PowerTune (AMD) or temperature and power limits (NVIDIA) and that the driver settings are made manually anyway.
Hardware: test system
Closed housing
A closed computer case is not representative, and we will go into this again in the following lines. In some cases, however, it is essential to be able to judge certain things. And these cases were almost exclusively triggered by new technologies such as Boost 2.0 from NVIDIA or AMD's new edition of PowerTune.
That is why we carried out additional measurements in a closed housing for this test. We decided on a player case from Cooler Master, namely that CM Storm Enforcer. The Enforcer showed its volume as the biggest drawback in our test. That is why we have the two rear fans with Silent Wings from be quiet! replaced (one in the back, one in the lid) and this together with the 200 mm fan in the front is connected to a fan control and operated at the lowest control level.
200 mm fan on the front
The case fans, including the CPU cooler, work as quiet as a whisper, and we also place our test candidates in such an image. At this point you can complain as you like, because in the end the background noise remains something subjective. The environment we have chosen can be accepted as whisper-quiet.
In addition, we have attached two quickly reacting temperature sensors. The first sensor is located in front of the housing at the height of the front fan and monitors the sucked in room temperature. The second sensor was attached directly below the graphics card fan and used it to monitor the fan intake temperature of the graphics card.
The measurements in the housing are made at the usual 21 ° C room temperature.
Typical test station
Here, too, we would like to add a few additional words to the following lists. We deliberately used the processor Intel Core i7 3820* the turbo function, but also hyper-threading deactivated. This is basically impractical, but it allows us to rule out possible sources of error in the tests. In our cases, the CPU or its clock rate usually only plays a very subordinate role, since the selected game scenes are very GPU-limiting and therefore the processor is usually only rarely used. It is therefore sufficient to use a smaller cooler model from Scythe* to be set as this is practically never required. In our tests, the processor's fan works practically inaudibly.
A word also applies to our open test stand. Since there is practically no PC case that could be representative of the home user in any way, we rely on an open test stand. Depending on the housing used at home, this can be an advantage or a disadvantage. In well thought-out case ventilation, some graphics card coolers should show themselves better in terms of noise behavior, in average concepts probably on the level of the open test stand, and in poorly ventilated cases with clear disadvantages. But that, in turn, is all dependent on many factors, which is why we see a sensible and reproducible way in our test stand. The aforementioned exception naturally applies in special cases that we know how to weigh.
Test station:
ASUS motherboard P9X79 Pro
Other hardware:
be quiet! Dark Power Pro power supply
Picture gallery Lian Li T60
Hardware: measuring devices
We like to use high-quality measuring devices in our tests. Volume measuring stations, thermographic cameras, infrared thermometers, clamp ammeters or simply voltage measuring devices (voltmeters) are used.
Depending on the area and purpose, we sometimes rely on well-known manufacturers such as Fluke or Tenma, in other cases also on Conrad's own Voltcraft brand. When it comes to noise emissions, we use special equipment from ulteaudiotechnikwhich enable us to carry out sone measurements in addition to dB (A). Further details on the measurement technology we use can be found here.
Software: driver
Windows 7 64-bit, including all updates up to February 2014
Intel chipset driver 9.2.3.1022
Intel LAN Driver V. 16.6.0.0
Audio driver: Realtek (Windows 7 integrated)
Marvell SATA 6GB / s V. 1.2.0.1014
ASMedia USB 3.0 V1.14.3.0
ASUS AI Center II driver for Marvell caching function
Graphics card driver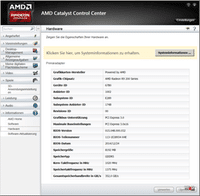 Driver under test
AMD Catalyst 14.12/XNUMX Omega
NVIDIA GeForce / ION driver version 344.11 WHQL
Software: testing philosophy
Of course we revise our test course here and there. New game titles are added and some benchmarks are dropped. New additions are, for example:
While Thief is a typically new PC title with a DirectX 11 interface, we see Wolfenstein as a rarer title that uses an OpenGL API.
When selecting the titles, one of our ambitions is that we can offer a healthy mix of DirectX 9, DirectX 10 and DirectX 11 titles as well as OpenGL, which covers different game genres or game engines. However, the past 18 months have shown us more than clearly that the graphic tidbits meanwhile appear almost exclusively with DirectX 11 API - a fact that will probably continue to progress.
What remains to be said is that you can work as hard as you want: no benchmark course is consistently fair. There are far too many applications on the market for that, which turn out to one side or the other. And if we were to follow AMD or NVIDIA with the recommendations in the selection, one or the other product from the respective manufacturer would always win in every test. This means that the status quo remains that we derive our conclusions and findings from the applications that we consulted in these tests.
Software: the benchmarks
Game benchmarks
The two new titles Thief and Wolfenstein: The New Order had to give way to two older representatives. The choice fell on Alan Wake and Sleeping Dogs.
The revised benchmark course is geared towards new blockbusters, but remains with popular titles or representatives of their genre. Under no circumstances should one assume, however, that a strategy game like Anno 2070 may be considered representative of this genre. In most cases, for example, strategy games are mostly designed to be CPU-heavy. Anno and our chosen game sequence represent the opposite. This also applies to other applications. While Sleeping Dogs may show great similarities with GTA, this should not mean that the results of the game can be transferred to GTA.
We are only making a cut over the selected applications and the scenes used for them. We try to make sure that the selected scene corresponds to what the game entails. If we encounter worst-case scenarios, we prefer to choose such a scene, because that is what makes the game flow.
Further software in the test:
Tom Clancy's HAWX (Power Consumption Games)
Furmark 1.6.5 (power consumption simulated full load)
PowerDVD 9 Ultra V. 9.0.4105.51 (power consumption Blu-ray playback)
MSI Afterburner
The test candidate at a glance
Key data and scope of delivery
Sapphire has also made changes to the previous Tri-X variant in the course of the 8 GB variant. According to the manufacturer, there have been optimizations in the area of ​​the fans used, but also in the components on the PCB. However, these effects can be determined using the key data for original variant hardly matter. The slightly higher weight of a few grams is simply due to the number of memory chips, which now provide a total of 8 GB of main memory.
We didn't meet any surprises with the I / O shield either. There are also two DVI connections, one full HDMI and one DisplayPort connection. That is also enough to control all current monitors. The manufacturer has not included an analog adapter for older monitors - it can hardly be assumed that a user will purchase this product in order to then operate it on an old monitor.
There is also a mouse pad and an HDMI extension cable, so that the Sapphire is relatively clean when it comes to the scope of delivery. Power adapters for the second 8-pin connection would have been desirable at best.
The price surcharge for the 8 GB version is steep. If the normal version with 4 GB is already available at prices of just under 350 euros, 420 euros are immediately required for the four GB of additional memory. Our benchmarks have to show whether this surcharge makes sense.
Impressions
Sapphire's R9 290X Tri-X is and will remain a heavyweight that weighs over 1.000 grams. There are initially no visual differences in the new variant - apart from the power connections. Two 8-pin sockets are used here, which means that the graphics card is theoretically equipped for a power consumption of 375 watts.
The cooler housing has remained the same, made of plastic and offers space for the three fans that are used. According to Sapphire, the fans have been revised. These should now work a little quieter.
Otherwise there is still a dual BIOS, which is available from Sapphire as a push button. The two BIOS versions are identical in terms of clock rates, but Sapphire has stored a UEFI BIOS which, in conjunction with Windows 8, should contribute to a faster boot behavior.
The cooler itself is the highlight of this Sapphire work and was praised by us in its first presentation. It relies on a two-part radiator, which houses a total of five heat pipes. One of them is kept in the rare 10 mm standard, two are 8 mm in diameter and the last two are based on the usual 6 mm standard. The main cooling surface is implemented by a copper base plate in which the five tubes are soldered. We have not yet come across a better cooling solution on a Radeon R9-290X graphics card.
It remains at 18 memory chips, despite the larger memory expansion. For this purpose, chips with a higher storage density had to be produced - in the case of the Sapphire Tri-X 8 GB, Elpidia chips are used, which are approved for up to 1.500 MHz clock frequency.
There are now also changes to the internal power supply. Our current test candidate still only uses a 1-phase power supply for the memory, but a 6-phase power supply for the GPU. Sapphire also used other chokes for this, whereby those of the GPU power supply leave a higher quality impression than in the last design. For the GPU, however, and some other additional components, cheaper material is used.
Practical experience
Voltages and clock rates
As is well known, essential details of our articles consist in the use special measuring equipment from different areas. Especially when there is tension, the past has taught us that monitoring tools can provide clues, but their display often does not correspond to reality. So we make sure of this at this point. Different devices are used - depending on the area of ​​application.
In the case of this test area, we primarily rely on our MS-9160 measuring station or the Fluke Clampmeter 345. The Voltcraft measuring station was adjusted to the six-digit voltmeter slot of a calibrated Hewlett-Packard HP5328B and a calibrated BBC-MA5D voltmeter - the measured values ​​of our devices were then identical to those of the references to two decimal places. With the appropriate software, we are of course also able to create recordings of the measurements.
We see typical clock rates for AMD in load-free operation: 300 MHz for the GPU and 150 MHz for the memory. 3 MHz and 1.020 MHz result in the same sequence under full 1.375D load. Our "OC version" clocks just 20 MHz higher with the GPU.
We have determined the other clock stages and the voltages applied as follows (real measured values, no tool readout):
The voltage fluctuations in idle mode were immediately noticeable, which we also found confirmed when observing the actual power consumption. The Sapphire card didn't rest here. When connecting a second monitor, however, the "fidgeting" set in - we couldn't clarify where it came from.
An interesting phenomenon: when connecting our two identical 27-inch Dell monitors via DVI, in connection with our 4k monitor from Samsung, the clock rates (and power consumption) remained in idle mode. We have not yet received any feedback from AMD on our request. The connection of three different displays, however, led to the usual power intermediate stage.
There are no other special features in this chapter.
References
Temperature behavior
The inventory is taken here using monitoring tools such as the MSI Afterburner or GPU-Z. The idle values ​​are recorded after a certain load and cooling phase, which can result in measurement tolerances.
We emulate 3D gaming load using Tom Clancy's HAWX, which behaves similarly to aliens vs. Predator or The Witcher 2. We understand this measurement as a worst-case scenario for games, although our test scene from Anno 2070 currently puts more load on the graphics cards.
Finally, in this chapter it should be pointed out that, at the request of many readers, we have thinned out the comparison tables in order to provide a better overview. More comprehensive comparisons can be found in the appendix of the article.
Idle desktop
We do not experience any real surprises here. Whether 39 or 25 ° C in idle mode is of little importance here. In this case, the background noise remains more interesting. And this is absolutely convincing. We experience a whisper-quiet graphics card, which cannot be perceived from a closed system.
Games (HAWX)
Sapphire is also impressive in the next comparison. The revision of the cooler / fan structure, in connection with the new PCB, seems to have certain effects. We only see 74 ° C here, which is a clearly better value than the early first sample of the Tri-X R9 290X delivered 4 GB. Of course, the quality of the GPU used also plays a role.
However, the background noise is not so commendable in this state. The Sapphire representative is clearly perceptible from a closed case, but there can be no talk of noise here.
Furmark as a worst-case scenario demands even higher temperatures and speeds of the fans. Here we reach 77 ° C and a further increase in the background noise, which we will deal with in detail in the following chapter.
Converter temperatures
We determine the possible critical areas on the PCB using a thermal imaging camera. We use it to scan the back of the circuit board and take a closer look at possible hotspots, which usually occur primarily in the area of ​​the power supply components. Previous empirical values ​​for comparisons with internal temperature diodes, which are possible in some cases, show measurement differences in the range of 5 to 10 °C - in particularly "hot" situations even less. However, this procedure also gives us an insight into the entire heat distribution, especially on the surrounding component groups, which is not possible by reading out internal diodes or laser thermometers.
Here, too, the test candidate surprised us. At just 80 ° C, the new board creation is 10 ° C lower than the 4 GB version of the Tri-X, which we tested months ago. The values ​​determined can be described as absolutely harmless.
background noise
Loudness measurement – ​​How to measure HT4U. Net
Anyone who has read our articles for a while knows that we do not take the issue of volume lightly, but rather investigate this area very intensively. We have currently expanded our previous test station to include another current device from ulteeaudiotechnik in the form of the new DAASUSB, which has also been expanded with a subsonic function to meet our needs.
The calibrated device allows us to take measurements in the dB (A) and sone range and, as usual, we give the measurement results standardized, which corresponds to a distance of 1 meter. The spectral analyzes also give an impression of the fan behavior of the individual test candidates.
After we have just looked at the temperature behavior, in the next step we of course want to take a closer look at the background noise, because after all, both go hand in hand in behavior.
As usual, let's start with load-free operation on the dormant desktop. Sapphire has stated that the fans have been optimized, and they also work here, because we only see 12,5 dBA in idle mode. This is another improvement over the first Tri-X solution, which we measured at around 14 dBA. This value can be described as absolutely quiet and can no longer be perceived from a closed case.
However, another circumstance welcomed us with this silence, because under low load we could hear slight coil whine here and there - not very loud, not really annoying, but on the open test stand it was noticeable, but not from the case.
Even under load, the results are slightly better than we recorded 9 GB with the Tri-X R290 4X OC at the time. However, our worst-case gaming scenario still produces a sound pressure level of 32,1 dBA. This does not represent any real noise, but the three fans can now be clearly heard from the closed housing.
We then reached almost 35 dBA under Furmark load, which can be described as annoying for our taste, but is of course miles away from the presentation of a reference cooling by AMD.
In view of the temperatures (74 ° C maximum while playing games in our case / 77 ° C under Furmark), Sapphire would have had options in the area of ​​the fan curve to improve the noise behavior.
Brief comparison [dBA]
Since we have recently received repeated comments about the length of our comparison diagrams, we have now put the complete comparison, also with older graphics cards, at the end of the article in the appendix and show "thinned out" comparisons below.
Brief comparison [sone]
PowerTune limits, zero core power and abnormalities
There has been news about PowerTune since the introduction of the R9 290 and 290X, which also applies to the R9 285 because the Tonga GPU uses the same techniqueswho also use the Hawaii chips. According to AMD, in addition to the typical PowerTune technologies, there is now also a temperature target, which should be set to 94 ° C, which we did not find on any graphics card in our R9-285 tests.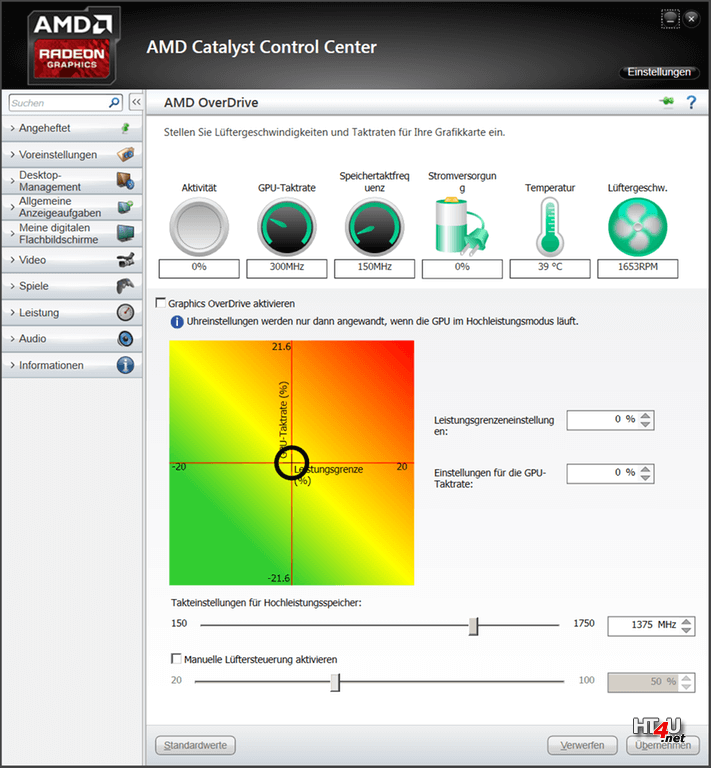 However, the AMD board partners also have leeway, and so we have not yet found such high preselected temperatures in the custom solutions of an R9 290X. The better coolers that are used by the partners prevent the GPU from even getting close to such temperatures. Of course, this also has a positive effect on power consumption.
This is the next chapter, in which Sapphire surprised us with the revised version of the R9 290X with Tri-X cooling and 8 GB of main memory.
AMD PowerTune limits
We could not find out the maximum power consumption of the Sapphire Tri-X R9 290X OC 8 GB. Even in the massively overclocked state and at "PT 0", the card did not throttle its clock either in games or in Furmark, and under Furmark the values ​​were a maximum of 280 watts in the overclocked state and with added voltage!
In the normal operating state, the test candidate reached a maximum of 251 watts in games and thus again clearly separates itself from the presentation of the previous version of the Tri-X graphics card. This also applies to the Furmark load, which increased to a maximum of 262 watts - we were able to tease out up to a maximum of 350 watts from the Sapphire Tri-X R9 290X OC in the test at that time.
So it seems clear that Sapphire's optimizations to the PCB and cooler have taken hold. To what extent the GPU quality of the currently manufactured R9-290X chips plays a role here, we cannot finally answer; However, this factor is not unlikely.
AMD zero-core power
With the introduction of the Radeon HD 7000 series, AMD advertises the Zero core power technology - a praiseworthy feature, which should significantly reduce the power consumption of PCs when idle. As soon as the Windows power options send the monitor to sleep, the graphics card deactivates itself except for the necessary standby voltages and should therefore consume less than 3 watts of power.
The highly praised AMD feature, however, has its quirks and pitfalls and continues to function our experiences currently not if the monitor is connected directly via HDMI or DisplayPort. Unfortunately, AMD has so far failed to provide us with answers to the problems.
The problems outlined were repeated in today's test. After a restart, zero-core power on the DVI connection unfortunately did not work either, which in this case we attribute to the driver.
Power consumption: idle - games - full load
Graphics card power consumption - How to measure HT4U. Net
We determine the power consumption of the graphics card using a PCI Express adapter modified for this purpose in our laboratory. The values ​​determined therefore only correspond to the consumption of the graphics card itself and not to the power consumption of the overall system. The power consumption via the PCI Express slot, as well as that via the 12-volt power supply cables, are measured at the same time using a clamp ammeter. The (constant) power consumption of the 3,3 volt rail is determined separately and is included in the overall result shown. Further details and background information on the measurements can be found in our initial article on the subject of power consumption of graphics cards.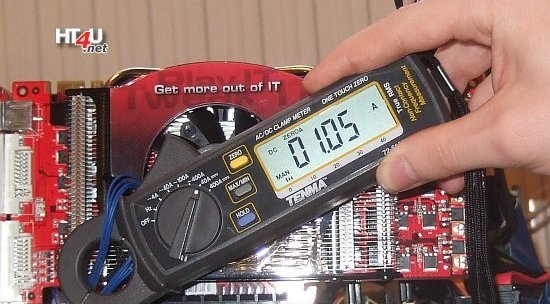 As described in the chapter on voltages and clock rates, the GPU voltage floundered up and down in idle desktop mode for unclear reasons. This resulted in a power consumption of almost 15 watts, which is not a bad value and at least represents a considerable improvement compared to the predecessor version from Sapphire and the reference solutions from AMD.
The new Sapphire R9 290X Tri-X OC 8 GB also clearly stands out from its classmates with the same GPU under gaming load. We only see 251 watts - this corresponds to the TDP that AMD actually intended for this GPU, but only through limitations through PowerTune. We see the first 290X graphics card unchecked, which is in this area when it comes to games.
Using Furmark, we were able to increase the power consumption to a worst case of 262 watts. That is also a very moderate value.
Power consumption: Blu-ray playback - multi-monitor operation
Blu-ray playback
For these measurements we use the Blu-ray "Die Hard 4.0" from Twentieth Century Fox Home Entertainment. The Blu-ray uses the H.264 codec, also known as MPEG4-AVC, which is now used in most films. PowerDVD from Cyberlink is used as the software; for version details, please refer to the article's test environment.
No question about it: In this test area even NVIDIA's high-end graphics cards outclass the mainstream segment from AMD. The reason for this is simple: AMD obviously doesn't bother itself at this point and keeps clock rates and voltages higher, which leads to such results.
We see no innovation here in Tonga either. As already announced in the chapter "Voltage and Clock Rates", the new PowerTune 2.0 causes jittery clock and voltages. This of course increases the power consumption so that the new GPU even looks worse in this test.
Multi-monitor operation
While the GPU manufacturers are now very careful to reduce the power consumption in idle mode as much as possible, the operation of multiple screens is often left out of these optimizations. According to the manufacturers, the clock drop in the memory in particular can lead to picture flickering, which is why a drop is often omitted there and a separate power level with different voltages and clock rates is used.
We noticed at least one minor change with NVIDIA's GTX 600 family. If only two monitors are operated (even with different resolutions), the card works with the idle power level, and only when using three monitors you switch to a multi-monitor power level. With three monitors, the power consumption of NVIDIA is very similar to that of the AMD models.
Editor's note: In this case we have again simulated a third identical monitor (connection of the same monitor with a different connection point). AMD's Catalyst Control Center also reacts by indicating that another monitor has been detected. But the clock rates stayed at idle level here as well. AMD continues to provide no clear information on the connection constellations. So far they have only confirmed the low clock rates with two identical monitors or similar monitors with the same resolution and the same timings.
An innovation in AMD graphics cards has now appeared with the R series. If two (or, according to our tests, three) the same devices with the same resolution and the same timing are used, the new GPUs can keep the clock rates and voltages at the idle level and thus clearly require less energy than before.
NVIDIA had already presented something similar with the GTX 500 series, but has since refined it. Since the GTX 600 series, NVIDIA has been able to control two different displays with idle clock levels and voltages, which has certain advantages in this test. Only with three monitors then does NVIDIA also switch to a different power level and require more energy.
With the Sapphire Tri-X R9 290X 8 GB, however, we also experienced a little surprise here. The use of our two identical Dell monitors with 1440p resolution in conjunction with our Samsung 4K monitor did not result in any change in the clock rates - we saw the idle clock and could only measure idle voltages. So we brought in a third monitor - a 1080p device - and replaced one of the two Dell monitors. Then the system automatically jumped to the intermediate power level and showed a not inconsiderable increase in power consumption.
overclocking
Overclocking doesn't just depend on cooling solutions. You have to realize that the overclockability of graphics cards - be it GPU or memory - depends on many factors and the individual components. In addition, of course, there is the fact that manual intervention in the clock rates immediately occurs Loss of warranty could lead.
Experience with today's test candidate basically proves that the R9-290X GPU with 1.000 MHz is already operating relatively close to the edge of its possibilities. Here, too, we managed to increase the GPU clock steadily by 100 MHz. An increase to 1.150 MHz immediately caused image errors, which we couldn't get under control by increasing the voltage.
We reached 1.450 MHz with the memory clock without any image errors. In principle, we were also able to perform benchmarks at 1.500 MHz. In between, however, errors flashed in the picture again and again, which is why we reduced the clock.
The manual overclocking leads - depending on the application - to an increase in performance of 4 to 8 percent. The power consumption increased moderately, from 251 watts to 259 watts (without adding voltage).
Game benchmarks (OpenGL)
BRINK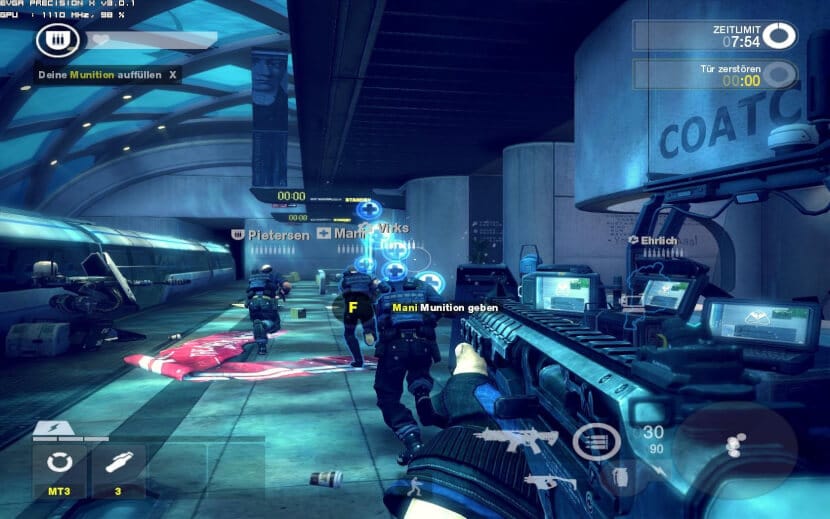 Wolfenstein: The new order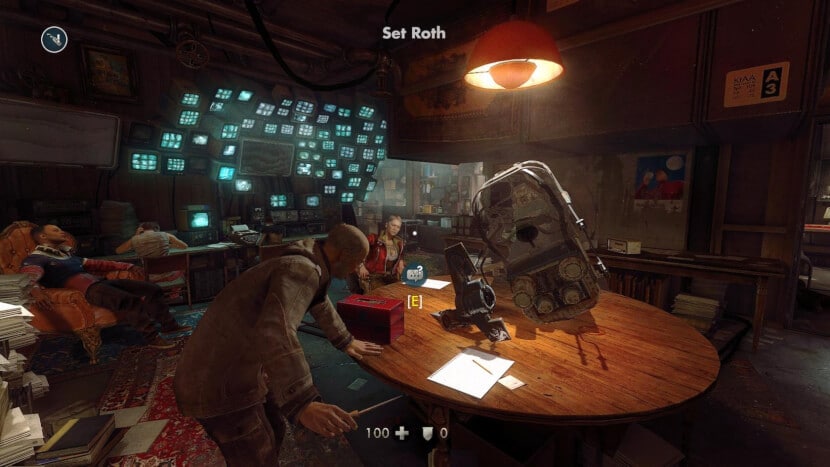 Test scene of the game
Game benchmarks (DirectX 9)
The Elder Scrolls: Skyrim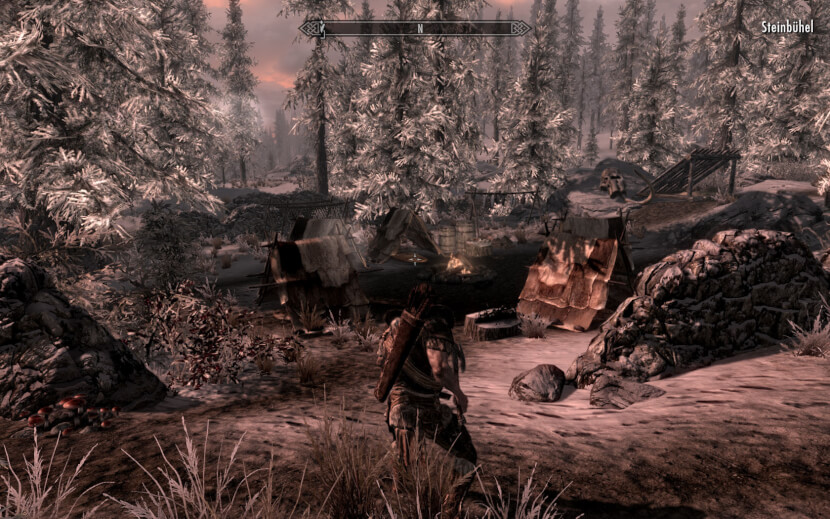 Benchmark scene in the test
The Witcher 2 - Assassins of Kings
| | |
| --- | --- |
| Game | The Witcher 2 - Assassins of Kings |
| Developer | CD Projekt RED |
| Publisher | CD project, Atari |
| publication | 17 May 2011 |
| Genre | RPG, fantasy |
| Graphics engine | RED engine |
| DirectX path | DirectX 9 |
| Age rating USK | 16 years |
| Benchmark measurement | Fraps / savegame |
| Test area | barricade |
| Runtime benchmark | 10 seconds |
| Benchmark settings | Highest levels of detail |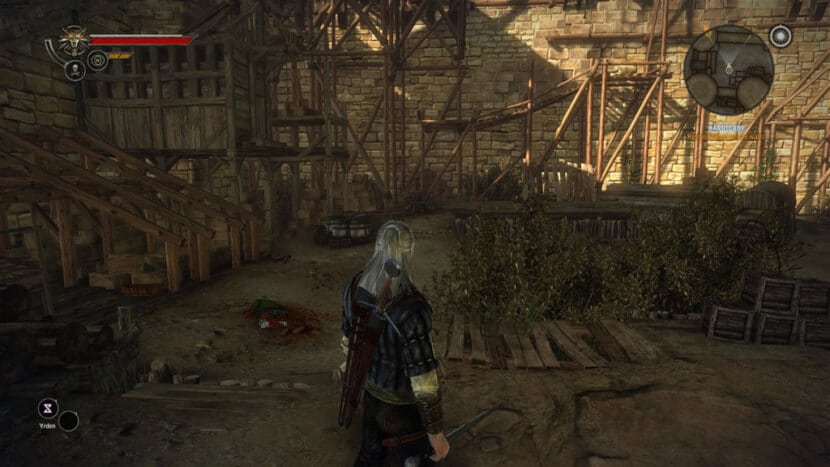 Game benchmarks (DirectX 11)
CE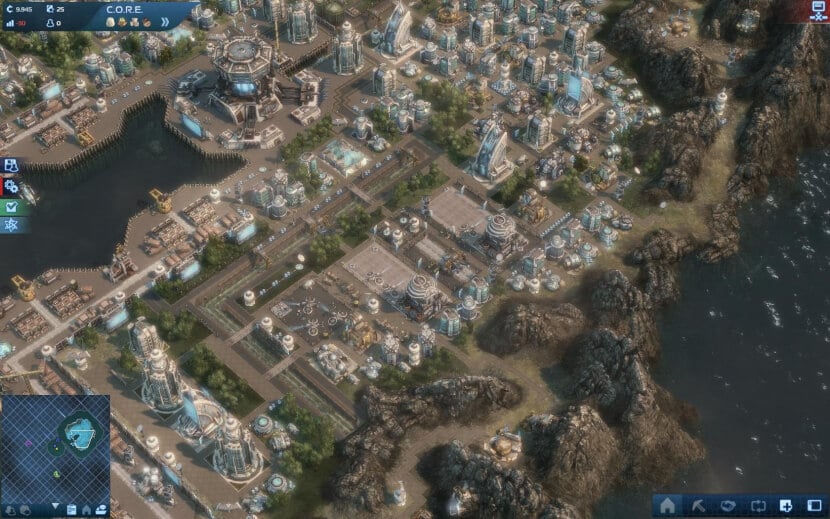 Assassin's Creed IV: Black Flag
| | |
| --- | --- |
| Game | Assassin's Creed IV: Black Flag |
| Developer | Ubisoft |
| Publisher | Ubisoft |
| publication | Nov 2013 (PC) |
| Genre | Action adventure |
| Age rating | USK: 16 years |
| Graphics engine | AnvilNext |
| DirectX path | DirectX 9, 11 |
| Benchmark measurement | Fraps / savegame |
| Test area | Sequence 4 - Reminder 2 |
| Runtime benchmark | 10 seconds |
| Benchmark settings | Highest level of detail, DirectX 11; PhysX: Off |
| HT4U-Test | Order from Amazon* |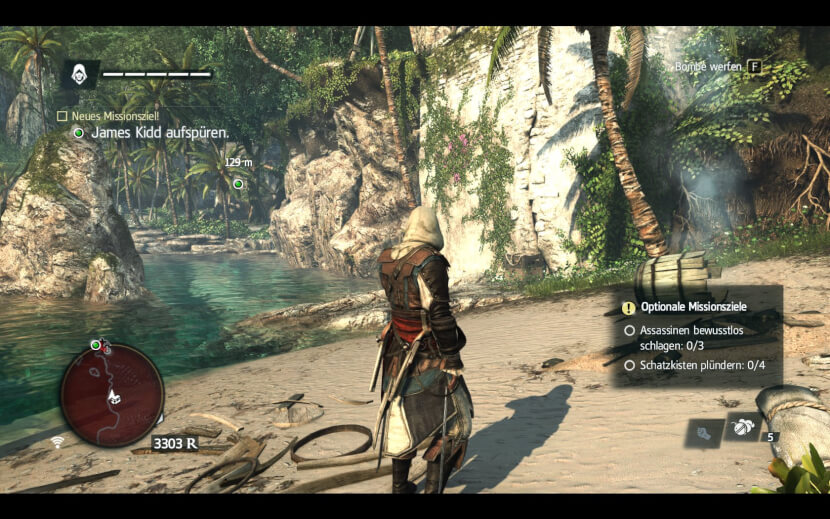 In-game test scene
Battlefield 4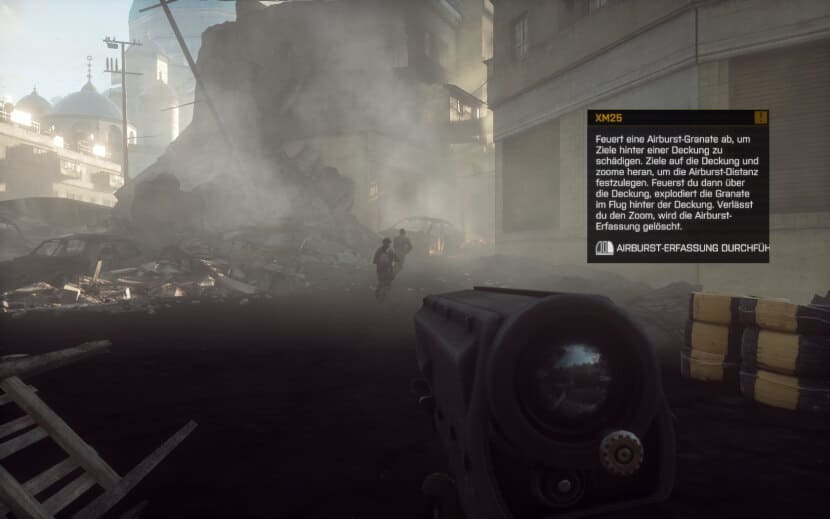 In-game test scene
Bioshock: Infinite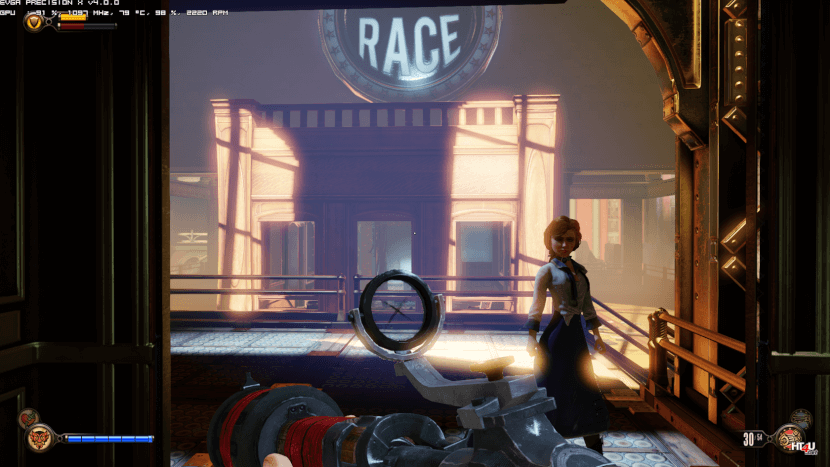 Benchmark scene in the test
Call of Duty: Ghosts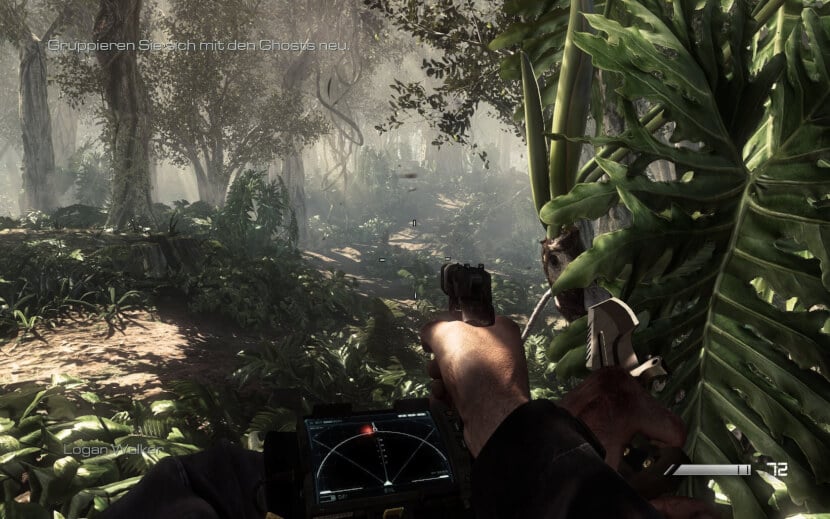 In-game test scene
Crysis 3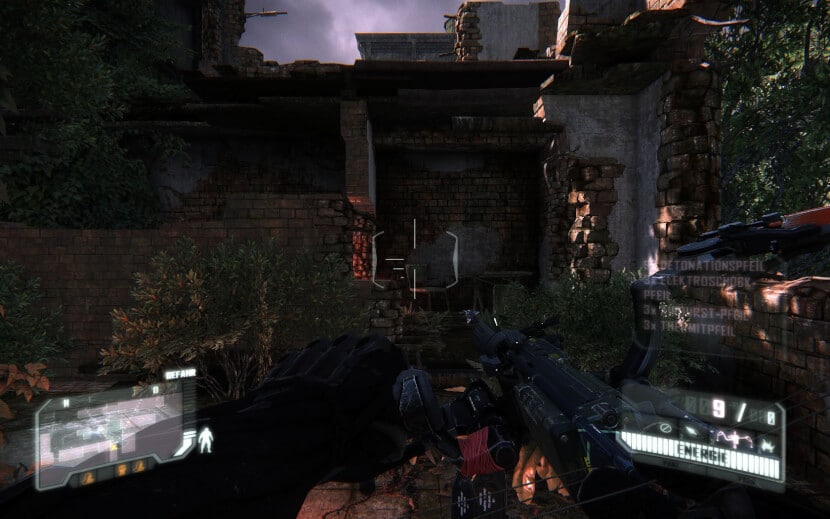 In-game test scene
In the following diagrams, 1 x AA stands for deactivated antialiasing and the post-processing filter FXAA. 2 x AA stands for the special level 4 x SMAA. The game relies on double, regular anti-aliasing (MSAA) and additional filters. The designation 4 x AA corresponds to the usual quadruple anti-aliasing (MSAA).
Far Cry 3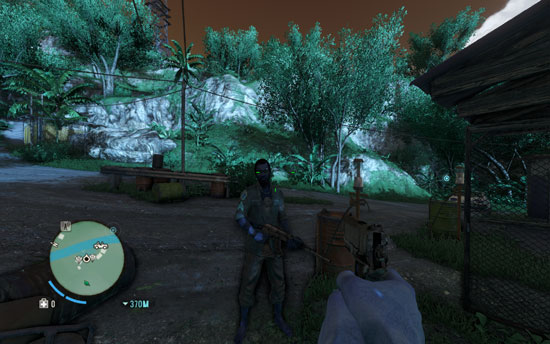 DiRT: Showdown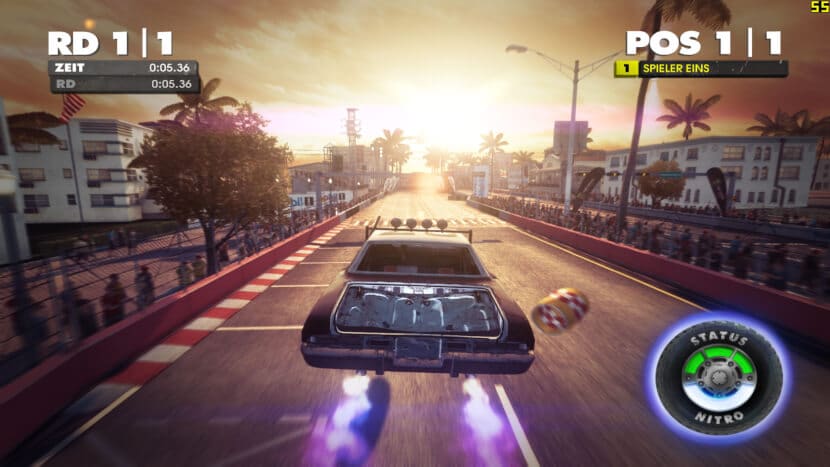 Hitman: Absolution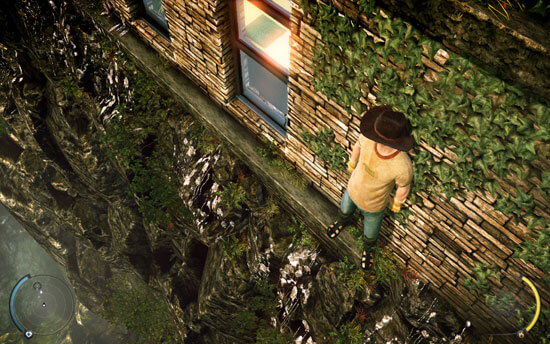 In-game test scene