AMD can look back on a successful 2017 in the processors sector and would like to do even more in 2018. "Ryzen 2000" is supposed to appear, but first the manufacturer will launch its new APUs with an integrated Vega 11 graphics unit, which should provide new impetus in the mainstream. The prices start at around 100 US dollars, and for that there is a new graphic, which is also supported by sufficient CPU power. Our test clarifies the questions.
Intro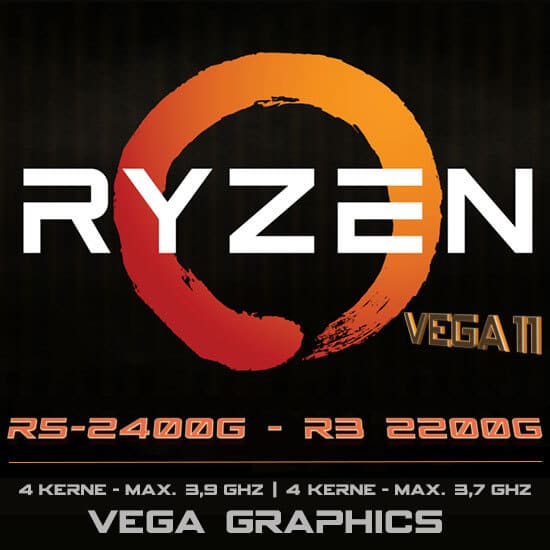 The code names should remain confusing for most users - Raven Ridge definitely stands for the ZEN architecture from AMD, as it was introduced with Ryzen, and not only relies on a new graphics unit based on the Vega graphics architecture from AMD, but also on the processor performance of Ryzen, as found in the CPUs presented in 2017. This means that AMD no longer has to fool around with its APUs and explain why they have a massively powerful graphics unit to offer, but poor CPU performance. So the new APUs should do everything right in 2018. And since Ryzen 2000 is also planned for this year, the new APUs for the desktop are starting with a new nomenclature and the first two models are called Ryzen 5 2400G and Ryzen 3 2200G.
The "2" stands for the Ryzen 2000 series, the "G" for integrated graphics unit. So far, the new APUs have already been on the market, but only intended for use in notebooks, and there is still relatively little news about the new AMD models in this area. Only three notebook manufacturers offer products with these APUs. Time, then, to make a fuss about the new product. And for Ryzen 5 2400G and Ryzen 3 2200G, which only want to be placed in the entry-level segment in the desktop segment. We are thus encountering CPUs in the price range of 100 to 160 US dollars - the euro exchange rate should also be in this range.
The following pages explain what the new AMD APUs have to offer.
Test environment
Hardware: AMD systems
To test the AMD Ryzen 7 1800X, AMD sent a test kit into the house. In addition to the processor, this included 16 GB of Corsair DDR4-3000 memory, an MSI-AM4 motherboard, water cooling and a CPU cooler from Noctua. The latter corresponds to our previously favored model of the manufacturer, but in revision 2. We have nevertheless opted for the usual NH-U12S for comparison.
Mainboards in the test
In the meantime, however, AMD has submitted additional hardware, including various motherboards with the X370 chipset from ASUS and Gigabyte. For the test of Ryzen 5, however, there were mainboards with a B350 chipset and the urgent note that the R5 CPUs must definitely be tested with the B350 mainboard, since the revised new BIOS versions on AGESA 350a only for the B1004 boards to provide.

AMD Socket AM4
Memory under test
With the Ryzen 5 test kits, AMD also sent GeIL DDR4-3200 memory - single-ranked - and announced that DDR4-3200 clock speed could be achieved on almost all test samples, but only DDR4-2933 on some . In any case, it was recommended to test the Ryzen 5 processors on DDR4-2933 clock. We did not follow this advice at the time. AMD's official and clear statement about the memory controller in the processor is that a maximum of DDR4-2667 is supported, and that with a maximum of two memory modules that are single-ranked.
But now there is a change, because the new Raven Ridge APUs officially support DDR4-2933 memory clocks for the first time. A suitable test kit from G.Skill was included with the review kit and was also used. It also bears the designation "AMD-compatible", which simply means that G.Skill has tested these memory modules on various motherboards with AMD Ryzen CPUs. As with the other test runs, the Cas latency is 14. The other Ryzen processors remain at a DDR4-2667 clock.
If you are interested in how Ryzen reacts with memory clock rates up to DDR4-3200, our first Ryzen article found it.
AMD Socket AM3 +
AMD FX-9590: (Amazon / caseking)
Bulldozer / Vishera architecture, 32 nm production, 4 modules / 8 threads, 5,0 GHz, DDR3-1866 MHz
The MSI 970 Gaming is used as the motherboard, which was also recently used in the tests of AMD's E processors.
Hardware: Intel systems
Intel socket LGA-1151
Eighth generation Intel Core processors
Intel Core i7-8700K: Amazon / Caseking)
Coffee Lake architecture, 14 nm production, 4,7 GHz, 6 cores / 12 threads, turbo mode active, HTT active, DDR4-2666 memory
With the eighth generation of Intel Core processors, the manufacturer has once again increased the memory clock. DDR4-2667 is now officially supported, which we also use in the corresponding test. Although it is also an LGA1151 socket compared to the sixth and seventh generation, Intel has made the processors artificially incompatible with previous chipsets and mainboards. Until now, the Z370 chipset was required to use these CPUs. Corresponding motherboards are currently still very expensive. Further chipsets and cheaper boards are only expected in the course of 2018. As a suitable motherboard platform for this, we have the MSI Z370 Gaming Pro Carbon placed.
Sixth and seventh generation Intel Core processors
While Skylake's memory controller only officially supports DDR4-2133 memory, Intel has relaxed the restrictions on Kaby Lake. The new CPU generation or its memory controller officially supports DDR4-2400. These are then also the corresponding clock rates with which we operate the memory. The CAS latency is 16 clock cycles each.

Manufacturer product page
Amazon / Caseking
There has been another innovation since the Kaby Lake processors. Intel has revised the Turbo, which should work much more aggressively from the Kaby Lake models. The i7-7700K, for example, has a core clock of a maximum of 4,5 GHz, from which single-threaded applications should benefit. Of course, this also applies to the later generations of core processors.
Intel socket LGA-1150
Fourth and fifth generation Intel Core processors
Up to now we had used different motherboards (Z5 and Z4 chipset) and different memory for Broadwell (generation 87) and Haswell processors (generation 97), but we have now remedied this problem. From now on, both CPU generations from Intel will be measured on the MSI Z97 Gaming 5 as a test platform.

Kingston KVR13N9K2 / 16
* DDR3-1600 CL9.
Intel socket LGA-1155
Second and third generation Intel Core processors
Core i7 3770K:
Ivy Bridge architecture, 3,5 GHz, 4 cores, turbo mode active, HTT active, 4 x DDR3-1600
Intel Core i5-3570K:
Ivy Bridge architecture, 3,4 GHz, 4 cores, turbo mode active, 2 x DDR3-1600
Intel Core i5-3550:
Ivy Bridge architecture, 3,3 GHz, 4 cores, turbo mode active, 2 x DDR3-1600
Intel Core i3-3220:
Ivy Bridge architecture, 3,3 GHz, 2 cores, turbo mode active, 2 x DDR3-1600
Intel Core i7-2600K:
Sandy Bridge architecture, 3,4 GHz, 4 cores, turbo mode active, HTT active, 4 x DDR3-1333
Core i5 2500K:
Sandy Bridge architecture, 3,3 GHz, 4 cores, turbo mode active, 2 x DDR3-1333
Intel Core i5-2300:
Sandy Bridge architecture, 3,1 GHz, 4 cores, turbo mode active, 2 x DDR3-1333
Intel Core i3-2120:
Sandy Bridge architecture, 3,3 GHz, 2 cores, turbo mode active, 2 x DDR3-1333
The old, but still widespread processors of the Sandy Bridge and Ivy Bridge series both fit in motherboards with the LGA1155 socket. That comes as the motherboard MSI Z77A-GD65 with the BIOS version 7751vP0, which we had used for the tests from the start. All energy saving mechanisms are activated in the BIOS.

Intel socket LGA-2066 and the Core-X family
Intel Core i7-7740X:(Amazon / Caseking)
Kaby Lake X architecture, 14 nm production, 4,5 GHz, 4 cores / 8 threads, turbo mode active, HTT active, 4x DDR4-2666 memory
Intel Core i9-7900X:(Amazon / Caseking)
Skylake-X architecture, 14 nm production, 4,3 GHz, 10 cores / 20 threads, turbo mode active, HTT active, 4x DDR4-2666 memory
The Core-X family is more or less Intel's answer to the AMD Ryzen processors launched last year. They use the new LGA2066 socket and are therefore no longer compatible with the previous high-end sockets 2011 and 2011 -3. On the memory side, DDR4-2666 is now officially supported here, while Intel's X299, the new high-end model, has to serve as the chipset. This comes as the basis for this ASUS ROG STRIX X299-XE GAMING for use. As usual with Intel's high-end platforms, the prices for mainboards, processors and quad-channel memory are very expensive, although Intel has since corrected the price structure downwards due to the existing competition.

Intel socket LGA-2011 and LGA-2011-3
Intel Core i7-6950X:(Amazon / Caseking)
Broadwell-E (server) architecture, 14 nm production, 3,0 GHz, 10 cores, turbo mode active, HTT active, 4x DDR4-2400 memory
Intel Core i7-6900K: (Amazon / Caseking)
Broadwell-E (server) architecture, 14 nm production, 3,2 GHz, 8 cores, turbo mode active, HTT active, 4 x DDR4-2400 memory
Core i7-5960X (Amazon / Caseking)
Haswell-E (server) architecture, 3,0 GHz, 8 cores, turbo mode active, HTT active, 4 x DDR4-2133 memory
Intel Core i7-5930K:(Amazon / Caseking)
Haswell-E (server) architecture, 3,0 GHz, 8 cores, turbo mode active, HTT active, 4 x DDR4-2133 memory
Core i7-4960X
Ivy Bridge E architecture, 3,6 GHz, 6 cores, turbo mode active, HTT active, 4 x DDR3-1600 memory
Intel Core i7-4820K:
Ivy Bridge E architecture, 3,7 GHz, 4 cores, turbo mode active, HTT active, 4 x DDR3-1600 memory
Core i7-3960X
Sandy Bridge E (server) architecture, 3,3 GHz, 6 cores, turbo mode active, HTT active, 4 x DDR3-1600
Intel Core i7-3820:
Sandy Bridge E (server) architecture, 3,6 GHz, 4 cores, turbo mode active, HTT active, 4 x DDR3-1600
Fundamentally, a lot has happened in the LGA 2011 base over the years. While Intel initially relied on models from the six- and four-core CPU range for these server offshoots, the Core i7-5960X increased the number of CPU cores to eight cores for the first time and changed the memory base to DDR4 memory. With the later introduced models of the Broadwell-E series, the battleship of the series looks at ten CPU cores, and the memory clock has been increased from DDR4-2133 to DDR4-2400. The 2011 and 2011-3 sockets are a thing of the past for Intel with the introduction of the Core X processors and the LGA2066 socket.

MSI X99S Gaming 7
represented with the last BIOS update. The four 3 GBytes G.Skill Ripjaws Z DDR4-3, which work with a CAS latency of 1600, are used as memory modules in the DDR9 platform. In the DDR4 board there are four times 4 GB of Corsair Vengeance LPX DDR4-2666, of course operated with the respective permissible clock rates and timings of 15-15-15-36.
More hardware
Graphic card:
geforce_gtx_1080-150 × 150.jpg
More hardware
As part of the conversion of our test station, we also have a current graphics card in the form of the NVIDIA GeForce GTX 1080 changed. However, since we were confronted with massive clock changes under load, which falsified the measurement results, we manually reduced the boost clock of the graphics card to 1.493 MHz, since otherwise we would have seen excessive outliers in games. We made this reduction via the MSI Afterburner and increased the power limit to ensure that the clock rate was kept in the benchmarks.

Memory:
Power adapter:
When it comes to the power supply, we rely on what appears to be a small be-quiet! model. However, you have to keep in mind that we are dealing with CPUs with a maximum TDP of 140 watts and graphics cards, which should also not consume more than 180 watts. This shows at first glance a "lightness of being". For enthusiast systems, which are also massively overclocked and on which power consumption limits are overridden by tool or BIOS interventions, such a power supply unit might then be too weak. In our case it fits.

Hard disk:
In the course of changing the current test course, we had to overcome a few hurdles. Added to this was the fact that some of the test suites were also blatantly dependent on the loading times of the hard disk. While this could still be compensated for with applications by running it twice or three times, we then absolutely reached the limits of inaccuracy in the games. For example, the "non-flagship game" Batman: Arkham Knight almost drove us insane during the evaluation, until we just noticed that the displayed loads were significantly dependent on the hard drive loading times. We were able to simply eliminate this circumstance by using an SSD - other problems encountered as well.

Cooler:
We use the Noctua NH-U12S as a cooler on all mainboards, and we use thermal paste in all cases Noctua's NT-H1. This is due, among other things, to the cooler's exemplary mounting options, the broad base compatibility (also for new sockets) and the fact that Noctua does not overdo things like the contact pressure.

From the small to the high-end CPUs, the Noctua tower cooler is easily able to keep them in check. By using the same cooler and thermal paste, we can draw a good comparison picture for the temperatures and thus also for the development of the power consumption.
Measurement:
Driver software under test
Operating system and driver
Windows 10 supplied drivers for the chipset and network card
AMD Ryzen systems: Crimson 17.4
AMD Ryzen 2400G / -2200G: Crimson 17.7
Test options and history
Multi-core platforms are commonplace today. When they came up and you looked at them, dug up their details and options and presented their benefits, you were practically stoned for them. Released in 2002, Intel's Hyper-Threading Technology was the first to show new ways in which the market is headed could develop. At this point, apparently nobody could follow, because two years later Intel was more or less at zero despite all its possibilities and influences in the software desktop scene. Only professional and mathematical applications were already suitable for several processor cores - server technology should establish itself in the private desktop segment.

Ported back to the present, we are currently seeing ten-core processors from Intel on the enthusiast market, such as the Core i7-6950X. But 14 years later things are still not looking so rosy in software support that it really needs that many computing cores. Some applications are still single-threaded, but most programs can now use two CPU cores. In the desktop end applications, most audio programs are designed to support two-core to a maximum of four-core processors and can therefore benefit from them. In image processing, professional applications also support more than four cores, while private applications often only have two to four cores. It looks a little better with video editing. Most of the most popular programs already support four or more threads.
Real profit from more than four CPU cores is currently only made by professional applications, and there mainly from the mathematical-scientific area, so that it seems rather uninteresting for desktop users to rely on more than four cores. This development is also the reason for the decline in the PC business for years, because the two-core processors that have been sold over the years, sometimes even with Hyper-Threading (i.e. four threads supported at the same time), are often powerful enough for all tasks of the daily desktop activity.

In the last two years, one can observe a steady increase in the hardware requirements for games, owing to the last console generations, in which one relies on PC hardware and processors with several cores. This not only resulted in a greater hardware hunger for PC ports for graphics cards, but also for processors. The introduction of 4K screens did the rest, and the emerging hype regarding virtual reality is also set to fuel this once again. This is also the reason why most manufacturers of PC peripherals are now producing and marketing their products with a focus on the "gaming area", because there is still a certain boom and the margins are right.
The test course
The consequence of the lines previously written is therefore open. We still need a balanced content of test applications for our reviews, which should grasp and represent the desktop area in all its facets.

Applications such as Maxon's Cinebench (based on 3D Studio Max), Euler 3D or POV-Ray should then cover the professional, scientific or mathematical area. And in addition, we use the usual applications from the area of ​​image, music and video editing, as well as packers, which are common in the desktop segment.
Incidentally, we did not receive any support from Microsoft for this conversion of the test course - be it with the operating system or the Office applications - or Adobe. A sad picture from our point of view, since it definitely means advertising for the manufacturers, but not entirely insignificant investments for us.
CPU benchmarks
Synthetic benchmarks
Audio editing
image editing
video editing
Packer and Encryption
Rendering
Office software
Microsoft Office 365
MS Excel
MS PowerPoint
MS Word
Adobe CS6 masters
Adobe Photoshop
Adobe InDesign
Adobe After Effects
In the games we had previously bet on fewer and mostly older titles. In addition, it has been rather difficult over the last few years to display practical CPU benchmarks in games, which is why people like to use lower resolutions and the lowest levels of detail so that the graphics load is pushed down and the CPU load is pushed up.

We then use the same games in the tests for the integrated graphics solution, but reduced the resolution to 1.366x768 pixels. We have reduced the graphic details to the lowest possible level. This corresponds to the higher quality desktop displays of entry-level solutions, because only there integrated graphics solutions have lost anything at all.
What exactly we test in the games is described in more detail in the individual test chapters.
Other tools
Test methodology
Apart from the remarks already made on this and on the previous page regarding our test philosophy, we want to briefly summarize the essential points again. Unless otherwise stated in the direct test description, the following points always apply:
All available energy saving mechanisms are activated.
If the CPU has a turbo mode, this is activated.
If the CPU supports Hyper-Threading / Core-Multithreading (CMT), this is activated.
Technical consideration
Comparison of the processors
We have already presented a complete architecture analysis of the new AMD Zen generation here. We limit ourselves today to the consideration of the new Ryzen models and their special features.
| | | | | |
| --- | --- | --- | --- | --- |
| | Ryzen 5 1400 | Ryzen 3 1300X | Ryzen 5 2400G | Ryzen 3 2200G |
| Codename | Summit Ridge | Summit Ridge | Raven Ridge | Raven Ridge |
| Production | 14 nm FinFet | 14 nm FinFet | 14 nm FinFet | 14 nm FinFet |
| CCX modules | 2 | 2 | 2 | 2 |
| Seeds | 4 (2 + 2) | 4 (2 + 2) | 4 (2 + 2) | 4 (2 + 2) |
| SMT | ja | no | ja | no |
| L2 cache | 2 MB (4 x 512 KB) | 2 MB (4 x 512 KB) | 2 MB (4 x 512 KB) | 2 MB (4 x 512 KB) |
| L3 cache | 8 Mbytes | 8 Mbytes | 4 Mbytes | 4 Mbytes |
| Base rate | 3,2 GHz | 3,4 GHz | 3,6 GHz | 3,5 GHz |
| boost max | 3,45 GHz | 3,7 GHz | 3,9 GHz | 3,7 GHz |
| memory channels | 2 (dual-channel) | 2 (dual-channel) | 2 (dual-channel) | 2 (dual-channel) |
| Storage speed max. | DDR4-2666 | DDR4-2666 | DDR4-2933 | DDR4-2933 |
| TDP | 65 watts, | 65 watts, | 65 watts, | 65 watts, |
| Unlocked | ja | ja | ja | ja |
| Integrated graphics | No | No | Ja | Ja |
| Type | - | - | Vega 11 | Vega 8 |
| Shader units | - | - | 704 | 512 |
| Clock GPU | - | - | 1.250 MHz | 1.126 MHz |
| Prices (as of 09.02.2018/XNUMX/XNUMX) | from € 140 | from € 112 | - | - |
| List price AMD | | | 160 US Dollars | 100 US Dollars |
In principle, AMD is based on the two new Raven Ridge models on the previous Ryzen CPUs of the R5 and R3 series. However, the company has continued to slim down. The L3 cache was shortened from 8 to 4 MB, but the official memory support was increased from DDR4-2667 to DDR4-2933. This is definitely important when it comes to the integrated graphics solution, because it benefits from it.
The actual innovation lies in the integrated graphics unit, which is a slimmed-down version of the new AMD Vega solution. In the case of Ryzen 5 2400G we are talking about Vega 11 and in the case of Ryzen 3 2200G we are talking about Vega 8. These are both shrunk variants of the Vega Radeon RX-64 graphics chip.
New BIOS versions
Of course, the new Ryzen 2000 processors need new BIOS updates so that they can be used on previous mainboards - there is no socket incompatibility, such as Intel often generates artificially. However, it must be noted that the processors presented today only bear the name Ryzen 2000, but are not really the successor to Ryzen 1000. Nevertheless, it should be noted that ASUS and MSI have already announced compatibility with the next generation. ASRock, Biostar and Gigabyte are sure to follow.
Price structure
The new APUs from AMD are clearly based on the Ryzen 5 1400 and Ryzen 3 1300 models and offer only minor changes in CPU performance, which on the other hand should be compensated for by the added integrated graphics. Ultimately, it remains a tough calculation for AMD, because the added graphics unit is of course not compensated for by a shortened L3 cache.
We want to present a more detailed look at the new AMD APUs on the following page.
What is Raven Ridge?
"Raven Ridge" refers to AMD's latest APU generation, i.e. a processor with an integrated graphics unit (iGPU). The processor cores are based on those introduced last year Zen architecture, and the iGPU builds on Vega. So all old friends? Not quite …
The processor side
As mentioned, the processor side is based on the Zen architecture. Depending on the model, the "normal" processors from the Ryzen 1xxx series use up to 8 cores, which are distributed over two compute clusters (CCX), each consisting of four physical cores. However, since the APU models only have a maximum of 4 cores (8 threads with active simultaneous multithreading, SMT), they only have one CCX.
At first glance, this is very impressive when you consider that an iGPU has also been added. However, it is quite conceivable that the turbo clock frequencies can no longer be used as effectively when the iGPU is active. It will therefore be interesting to see how the new APU models fare against the older Ryzen offshoots, which also have 4 cores (but distributed over 2 CCX).
| | | | | |
| --- | --- | --- | --- | --- |
| | Ryzen 5 2400G | Ryzen 5 1400 | Ryzen 3 2200G | Ryzen 3 1200 |
| Seeds | 4 (1CCX) | 4 (2CCX) | 4 (1CCX) | 4 (2CCX) |
| Threads | 8 | 8 | 4 | 4 |
| Base rate | 3,6 GHz | 3,2 GHz | 3,5 GHz | 3,1 GHz |
| Max. Turbo clock | 3,9 GHz | 3,45 GHz | 3,7 GHz | 3,4 GHz |
| L3 cache | 4 Mbytes | 8 Mbytes | 4 Mbytes | 8 Mbytes |
| iGPU | ja | no | ja | no |
| GPU PCIe lanes | 8 | 16 | 8 | 16 |
| TDP | 65 watts, | 65 watts, | 65 watts, | 65 watts, |
In order to increase the performance a bit, AMD also has the turbo mode (Precision Boost called) slightly revised. While the first generation of the Ryzen offshoots only knows three turbo levels (off, max. 2 cores under load, more than 2 cores under load), AMD allows a finer adjustment with the APU models. With the APUs, algorithms calculate how high the clock may be so that the APU remains within the set TDP limit and the temperature limits. In practice, this should simply mean that when the limit values ​​are reached, the clock rate is gradually reduced by 25 MHz until all values ​​are in the permitted zones again. According to AMD, up to 1.000 adjustments per second are possible. Nevertheless, more effective turbo clock frequencies should be possible in practice than with the Ryzen 1xxx models.
Finally, it should be noted that discrete graphics cards can only be connected to the APU models via a PCIe x8 connector. The other eight lines are probably used internally for the iGPU. However, this should not make a noticeable difference, so that AMD's decision to discontinue the Ryzen 5 1400 and Ryzen 3 1200 or replace them with the APUs is quite understandable.
The graphics page
In principle, AMD also relies on what is already tried and tested for the integrated graphics unit. AMD uses Vega offshoots, which are of course not quite as potent as their "big" relatives Vega 56 and Vega 64. However, they are identical in terms of the underlying technology. However, this does not mean that the new iGPUs are suitable for 4K and "Very High" detail level. The key data alone indicate a performance that is approx. 7 to 10 times lower than that offered by Vega 64. Nonetheless, many low-end cards are likely to struggle with the new iGPU.
| | | | |
| --- | --- | --- | --- |
| | Ryzen 5 2400G | Ryzen 3 2200G | Vega 64 |
| GPU clock | Max. 1.250 MHz | Max. 1.100 MHz | Max. 1.546 MHz |
| Graphics cores | 11 (704 ALUs) | 8 (512 ALUs) | 64 (4.096 ALUs) |
| TMU's | 44 | 32 | 256 |
| ROPs | 16 | 16 | 64 |
| HWS | 2 | 2 | 2 |
| ACE | 4 | 4 | 4 |
| Throughput @ SP | 1,76 TFLOPS | 1,126 TFLOPS | 12,6 TFLOPS |
| TDP | 65 watts [with CPU] | 65 watts [with CPU] | 295 watts [alone] |
The connection
AMD uses the proven "Infinity Fabric" for communication between the processor side and the iGPU, which was already responsible for communication between the compute clusters in the first Ryzen models. Given the reduced PCIe lanes, we currently assume that the iGPU is attached to the interconnect via the equivalent of eight PCIe lanes.
In total, AMD, or rather Globalfoundries, needs around 4,94 billion transistors for the APUs, which, thanks to a particularly dense manufacturing process, leads to a die size of almost 210 mm².

Practical tests
Storage support
There has been an innovation in storage support. The new Ryzen APUs now support up to DDR4-2933 - the previous Ryzen models could, according to the specification, address a maximum of two single-ranked modules up to DDR4-2667. In terms of memory support in particular, a lot has changed in the BIOS versions of the motherboard manufacturers over the past few months.

You should keep certain limitations of the memory controller in mind when purchasing and make sure that you use single-ranked modules if you want high clock rates.
overclocking
The two new AMD APUs based on Ryzen technology can of course still be overclocked using the free CPU multiplier. But we didn't take much time at this point and only devoted ourselves to the Ryzen 5 2400G in a short phase. We expected a possible 4 GHz on all four CPU cores - but that was definitely not possible with standard voltage. Our system started neither at 4,0 GHz nor at 3,9 GHz for all CPU cores. A start was only possible at 3,8 GHz on all processor cores at standard voltage. Stable work under maximum load wasn't possible - Prime95 caused the system to crash. Fine-tuning seems appropriate here, and our comments on cooling in the next chapter should of course also be observed at this point.
Temperature behavior
After the Ryzen 7 presentations, AMD mentioned that the Ryzen 7 1800X and 1700X have an additional temperature offset - a surcharge of 20 ° C. AMD did not explain the reasons in detail, but pointed out that it was related to the XFR feature. Ryzen 5 1600X also has this temperature offset, but a corrected value has been supplied since the new BIOS versions.

Another peculiarity came with Ryzen 2000, however, because AMD no longer uses solder to connect the CPU dies to the heatspreader, but takes the cheaper route and uses thermal paste. Of course, this means that the CPU temperatures rise despite the low power consumption. If you use the included Wraith-Cooler (boxed model), the cooling performance is still just sufficient, but the temperatures jump in regions of 80 ° C. Overclocking will not be crowned with much success with this cooling solution. With our Noctua cooler, we still achieve reasonable and unproblematic values ​​with whisper-quiet cooling, but these are of course now significantly higher than those of the previous Ryzen-based models. However, we have our frown on the offset corrections of the previous Ryzen models have already been noted and explained.
Overall comparison
We also assume three points of view in this comparison: Idle (which can be neglected in principle from our point of view), Core2MaxPerf as the load scenario, which should simulate video encoding, and Prime95 as the theoretical full load. While our temperature information in idle and video encoding represents the mean of the temperatures of all existing CPU cores, we show the highest value determined in the full load scenario, since a value that is significantly too high can lead to protective measures for the system.
We have now also taken the temperature values ​​with HWiNFO64, as we had the impression that it leads to significantly fewer fluctuations compared to the "Ryzen Master Tool" - a subjective finding.