Thermalright added another model to its True Spirit range last year. The True Spirit 120 Direct looks quite compact and is aimed at areas where good cooling performance but less space is required. In addition, one tries to be attractive with the price of less than 40 euros. Our test shows the strengths and weaknesses of the Thermalright cooler.
Intro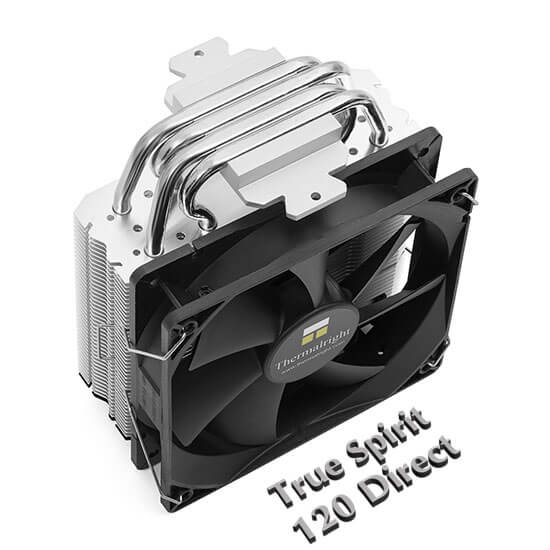 Thermal Right's True Spirit 120 Direct appears relatively inconspicuous and hardly stands out from the mass of tower coolers on the market. This applies to its four 6 mm heat pipes as well as to the materials used - copper and aluminum represent the typical basic structure.
However, with its low weight of 460 grams and dimensions of 120 x 77 x 141 mm (L x W x H) including fan, the True Spirit wants to shine with its relatively small space requirements and cool processors with a power loss of up to 160 watts. The maximum volume should be around 25 dB (A), which is a reasonable value.
Added to this is the fact that the former high-end cooler manufacturer Thermalright is now trying to score points with the price. The True Spirit 120 Direct is available for around 35 euros.
So let's take a closer look at strengths and weaknesses.
Bookmark (CPU) cooler: Know-how:
Reference cooler being tested
Hardware components:
We left the fan control curve of the MSI mainboard - preset in the BIOS - in the delivery state. This applies to the speed behavior and the volume shown later.

Other hardware:
Power adapter: be quiet! Straight power 680 watts
Hard disk: Seagate Barracuda 7200.10 SATA 500 GB
Drive: Samsung USB DVD Burner Model SE-S084
Housing: Cooler Master LAB (Benchtable)
One last word applies to our open test stand. Since there is practically no PC case that could be representative of the home user in any way, we rely on an open test stand. Depending on the housing used at home, this can be an advantage or a disadvantage. With well thought-out case ventilation, some coolers should show themselves better in terms of noise behavior, in average concepts probably on the level of the open test stand and in poorly ventilated cases with clear disadvantages. But that, in turn, is all dependent on many factors, and since this is so, we see a reasonable and reproducible way of doing these tests with our test stand.
However, we can currently attest that with the hardware used, the temperatures are usually driven into those areas where the fans have to reach their limits. Only carefully ventilated cases could optimize the cooling behavior here.
Software and test procedures
Windows 7 32-Bit - SP1 including all updates up to February 2014
NVIDIA GeForce / ION driver version 314.07 WHQL
Tools
AIDA Extreme
Core2MaxPerf
CoreTemp
LinX
TES V: Skyrim
In addition to major changes in the hardware, we have also made fundamental adjustments to the software and the determination of the CPU core temperatures.
Load conditions:
We have now decided to work with a total of four instead of three scenarios, which - apart from load-free operation - each represent worst-case scenarios for the CPU.
The applied load times are 15 minutes in idle and in LinX, and the last 60 seconds are averaged over all values. The load absorption with Skyrim and Core2MaxPerf is held for 30 minutes and the last five minutes are averaged. To do this, we log the temperatures completely over the running time via AIDA Extreme and at the end only give a temperature of the four processor cores. Under Idle, C2MP and Skyrim we give the averaged value of the recorded average temperatures, under LinX the average value of the maximum temperature values.
Why four scenarios?
The Idle value is obvious. If the PC has nothing to do or if it is only lightly loaded with office applications or surfing, it is less important to know how warm the processor is, but rather how loud the cooler's fan is. We cover this area with this recording, which is taken 15 minutes after the system start.
This represents another category of daily PC use 3D games A large part of the younger generation likes to use the PC as a basis for gaming, as it can potentially offer better picture quality compared to consoles. But at this point you have to differentiate between the applications. There are games that are very graphics card-heavy and not very demanding on the processor. However, there are also games that paint the opposite picture, and those that require both components in the course of the gameplay. To this end, we have once again tried to get hold of a suitable worst-case scenario. By this one should understand that this is only the worst case of the cases, which is permanently not to be found in the game. For this we have chosen a position in Skyrim where we can generate a lot of load on all four CPU cores and which runs over a period of 30 minutes.
This is followed by the use of Core2MaxPerf as the next level of difficulty. Our measurements have shown that this synthetic load tool behaves in roughly the same way as when you ask the PC to Videos using handbrake to convert. From our point of view, this represents another common area of ​​everyday PC life and is more or less perfectly emulated by this procedure. There are actually no harder applications in everyday life today.

Core2MaxPerf and Core Temp in use
Finally, there are still special programs from the
scientific field
which can use the main processor of a system powerfully and excessively; even higher than the previously mentioned applications. One such case is LinX, which performs such calculations as an example. In our comparison, LinX represents the worst case for a CPU - and actually the best explanation for why you might need a very powerful CPU cooler.
A bit of office processing, surfing the Internet and reading e-mails also fall out of a meaningful consideration, as one moves in these areas practically on load-free operation for processors, which with their sophisticated energy saving measures usually work at the lowest clock frequency .
Benchmark scene Skyrim
However, there is certainly another area of ​​application that many users indulge in every day:
Computer Games
. In most cases it is precisely this area - the gaming scene - that manufacturers of accessories from the cooler sector want to address in particular. We have therefore also selected a game title for today's test, which is supposed to cover this practical test as an example. We chose a representative through the previous selection who loads the processor sufficiently without being completely CPU-heavy. A large number of the current game titles should not demand the (quad-core) processor as much as we do in our test.
Note: The results of the newly selected test scene in Skyrim are of course not comparable with the results of the earlier tests.
Fan control:
On today's motherboards, all manufacturers offer fan controls for the fan connections. However, these usually have nothing in common, and so the fan control on our MSI mainboard is certainly different from, for example, on ASUS, ASRock or Gigabyte. There are no specifications from the CPU manufacturer, and therefore each manufacturer cooks its own soup.
Modern fans are primarily only equipped with 4-pin PWM fans. In a few cases, however, you come across 3-pin models that do not support pulse width modulation. While earlier motherboards offered the option of being able to regulate 3-pin models, we had to find out with the MSI Z87-GD65 Gaming that apparently only 4-pin fans are regulated here.
The control curve is kept very flat up to 40 ° C and then rises steeply in the range between 40 and 70 ° C. From a CPU temperature of 70 ° C, the control system tries to counteract these temperatures by means of maximum speed. In view of the variety of coolers on the market, we think the settings made make sense. In individual cases manual interventions - adapted to your own case cooling system and the CPU cooler - could have a positive effect on the noise behavior. Of course, our test cannot cover these situations.
temperature fluctuations
Our tests are carried out at a room temperature of 20 to 21 ° C. Of course, there are temperature fluctuations in the immediate area of ​​the test station due to the hardware's own heat generation. Fluctuations in room temperature, even in midsummer, are not to be feared in our measurements because we are working with an air conditioning system.
Hardware: special features
Meters
We like to use high-quality measuring devices in our tests. Volume measuring stations, thermographic cameras, infrared thermometers, clamp ammeters or simply voltage measuring devices (voltmeters) are used.
Depending on the area and purpose, we sometimes rely on well-known manufacturers such as Fluke or Tenma, in other cases also on Conrad's own brand Voltcraft. When it comes to noise emissions, special devices come from ulteaudiotechnik which enable us to take sone measurements in addition to dB (A) measurements. Further details on the measurement technology we use can be found here .
Recording of the background noise
In addition to the cooling behavior, the background noise from the combination of cooler and fan is an essential criterion for assessing such a product. Regular readers should know that we have specialized in this segment. As a rule, our measurements can hardly be compared with the results of most other publications, because they mostly use inexpensive hand-held measuring devices in the 100 to 200 euro price range, whose microphone noise is already around 30 dB (A) begins. In this respect, it is hardly surprising why quiet values ​​are given as 30 dB (A) in such comparisons, although a standardized 30 dB (A) value is anything but quiet.
In addition, in order to meet or at least approximate the norm, such measurements lack a low-reflection room and all too often information on the distance is missing. A dB (A) value without specifying the distance to the test subject must be understood as a standard value, and this corresponds to a distance of one meter.
Our current device DAASUSB from the house ulteaudiotechnik is in a much higher price segment and offers us the opportunity to take much more precise measurements.
The spectral analyzes also allow an impression of the spectral distribution of the level of a fan in combination with the radiator of the individual test candidates and show how the combinations behave in the different frequency ranges.
Spectral analysis of a test candidate
In order to be able to see the essential values ​​quickly during the spectral analysis, we have marked the detailed field information here with red arrows. The measured value in dB (A) and sone is shown at the top right and the information on the load condition at the bottom - in the middle. Next to it on the right, we list the test subject's fan speed.
In addition, of course, the actual graph provides die-hard connoisseurs with clear clues. Stochastic signals (random signals according to the definition in the acoustic range) in the range up to approx. 700 Hz are less misperceived by most people than in the more sensitive range (approx. 1.000 to 4.000 Hz). In addition, tonal signals in the range from around 200 Hz upwards can significantly impair subjective perception and be perceived as unpleasant (a so-called whistling tone as an example).
However, experience in this sector in recent years has taught us that larger CPU fans are much more gentle on our hearing in those areas. The age of the booming 40, 60 and 80 mm fans is over. Nowadays, hardly any cooler manufacturer starts developing with a diameter of less than 92 mm.
The test candidate at a glance
Key data and scope of delivery
| | |
| --- | --- |
| Key data | Thermalright True Spirit 120 Direct |
| Cooler type | Tower cooler |
| Dimensions (W x H x D) | 77 x 141 x 120 mm |
| Length of tubing | - |
| Total weight | 460 grams |
| Heat pipes | 4 heat pipes - 6mm standard |
| Material | Hybrid: nickel-plated copper and aluminum |
| Fan | 4-pin PWM |
| Fan dimensions | 120 x 120 x 25 mm |
| Fan speed | 600-1.300 RPM |
| Airflow | maximum 78,5 m³ / h |
| Noise behavior (manufacturer information) | maximum 25,4 dB (A) |
| Features | - |
| Pump | - |
| Socket Compatibility - AMD | FM1 / FM2 / FM2 + / AM2 / AM2 + / AM3 / AM3 + / AM4 |
| Socket Compatibility - Intel | LGA775 / 1150/1151/1155/1156/1366/2011 / 2011-3 / 2066 |
| What's in the box | Cooler, fan, instructions, thermal paste |
| Cheapest offer (as of June 24.02.2018, XNUMX) | from approx. 34 euros |
| Amazon (as of June 24.02.2018, XNUMX) | from approx. 37 euros |
| Caseking (as of June 24.02.2018, XNUMX) | - |
The scope of delivery of the Thermalright candidate is more or less common. You won't find any tools, but all you need is a Phillips screwdriver, which the manufacturer requires as a typical home tool and therefore does not include it.
Thermal paste is also included in the scope of delivery, so that the buyer can finally assemble the cooler with the enclosures and put it into operation.
The dimensions and weights mentioned in the table are manufacturer specifications and also include the fan supplied.

Impressions
The direct in the name of the cooler indicates that the heat pipes on the bottom surface offer direct contact with the cooling surface - this is also the case here. In this case, the pipes were incorporated as part of the cooler base surface and ground flat, which should lead to better heat dissipation.

To decouple the fan from the heat sink, small rubber tubes are included in the scope of delivery. These are to be inserted into the existing recesses in the slats. The attachment is a bit tricky, and if you take the wrong approach, these spacer tubes tend to be lost. From our point of view, a clear minus in terms of assembly and processing. That could / should be solved more elegantly.
By the way: If you do not insert these tubes, the pressure on the clamps with which the cooler is to be attached is too low, and the fan attachment is wobbly.
Editing
The installation should therefore be possible at least with the main board removed or installed.

A special feature is also the application of the thermal paste. The direct version (contact of the heatpipe tubes with the cooling surface of the CPU) results in grooves. Applying thermal paste as a blot method is less advisable in this case. Due to the existing grooves, the thermal paste is not pressed and displaced sufficiently on the heat spreader and is therefore not sufficiently distributed on the cooling surface. In the case of such a cooler design, one should rather use the credit card method for evenly thin distribution of the WLP.

Test results
Speed ​​behavior
Particular attention is paid to the speed behavior and thus the PWM control (pulse width modulation). For several years, the CPU fan has been controlled by the motherboard, depending on the temperature in a "curve" programmed by the manufacturer. Depending on the design, the finally measured temperature or volume differ significantly. There are no specifications on the part of Intel or AMD, so that every mainboard manufacturer can implement its own ideas, which is also being done diligently. In some cases, changes can only occur from one BIOS version to another, but at least from one model to another.
Many manufacturers have also integrated the option of adapting the PWM control to their own parameters. In this constellation, we typically only use two of the parameters: Fan control deactivated or activated. Some modern motherboards are currently no longer able to control 3-pin fans - this effort has been abandoned in favor of the common 4-pin fans.
The following table gives us an overview of the behavior of the test candidates consulted today (in alphabetical order):
| | | | | |
| --- | --- | --- | --- | --- |
| System status: | Idle | Games (max.) | Core2MaxPerf (video encoding) | full load |
| Unit: | RPM | RPM | RPM | RPM |
| Alpenföhn Himalayas | 364 | 1.146 | 1.151 | 1.150 |
| Alpenföhn Matterhorn | 529 | 1.536 | 1.550 | 1.558 |
| Arctic Freezer i30 | 800 | 1.370 | 1.377 | 1.381 |
| be quiet! Dark Rock Advanced | 430 | 1.420 | 1.420 | 1.420 |
| Enermax ETS-T40-TA | 769 | 1.825 | 1.848 | 1.849 |
| Noctua NH-U9S | 563 | 2.150 | 2.150 | 2.150 |
| Night NH-D9L | 581 | 2.170 | 2.170 | 2.170 |
| Noctua NH-U12S | 348 | 1.325 | 1.402 | 1.418 |
| Noctua NH-C14S | 392 | 1.440 | 1.440 | 1.510 |
| Noctua NH-U14S | 405 | 1.290 | 1.460 | 1.448 |
| Noctua NH-D15 | 425 | 1.370 | 1.500 | 1.500 |
| NZXT Kraken X31 [lowest regulation] | 720 | 720 | 720 | 720 |
| NZXT Kraken X31 [PWM-controlled fan] | 720 | 1.742 | 1.920 | 1.920 |
| Phanteks PH-TC14PE | 1.222 | 1.204 | 1.208 | 1.216 |
| Prolimatech Super Mega | 1.043 | 1.042 | 1.042 | 1.042 |
| Raijintek Ereboss | 946 | 1.414 | 1.420 | 1.420 |
| Scythe Ashura | 720 | 1.472 | 1.472 | 1.478 |
| Scythe Grand Kama Cross 2 | 469 | 1.313 | 1.310 | 1.313 |
| Scythe Mugen Max | 520 | 1.352 | 1.345 | 1.374 |
| Thermalright Macho 90 | 830 | 1.975 | 1.975 | 1.975 |
| Thermalright True Spirit 140 Power | 528 | 1.228 | 1.228 | 1.234 |
| Thermalright True Spirit 120 Direct | 624 | 1289 | 1289 | 1289 |
| Thermaltake Frio Extreme | 1.242 | 1.753 | 1.756 | 1.759 |
| Thermaltake Water 3.0 Ultimate | 1.038 | 1.362 | 1.664 | 1.848 |
| Xigmatek Dark Knight Frostbourne Edition | 1.079 | 1.573 | 1.580 | 1.579 |
To determine the readout options of the main boards as well as an additional DT2L / K digital speedometer used by Voltcraft. The latter is used to compare the information provided by the monitoring software and as a control.
When looking at this table, we quickly see that after idle mode, hardly any of the representatives can handle different speeds in the load states that are still present. Our different modes in connection with the test platform and the preset CPU ensure that the maximum fan speed is required there in the majority of cases.
So whether under CPU-demanding games or video encoding or simulated full load: Most coolers need the full fan speed at this point after only 20 to 30 minutes of load.
Thermalright True Spirit 120 Direct
Thermalright names the minimum speeds as 600 RPM and the maximum as 1.300 RPM - in practice we also find that relatively exactly. The fluctuations are in the range of the usual deviations.
Temperature behavior
Idle - dormant desktop