The best WiFi router 2023 in the test - Nowadays the internet is an integral part of everyday life. Almost every German household has an internet connection. A WLAN router with modem enables the Internet connection via WLAN or Ethernet cable.
The decision to buy a router should not be taken lightly. As the heart of the home Internet, a good router can be a real blessing. Nobody wants to be constantly faced with slow internet or even internet outages.
We test the best WiFi routers for you and help you with the purchase decision so that you have reliable internet at home.
Content
What is a router?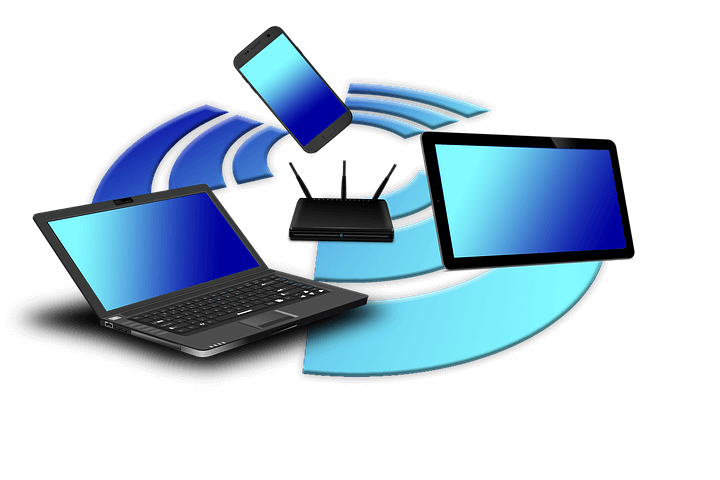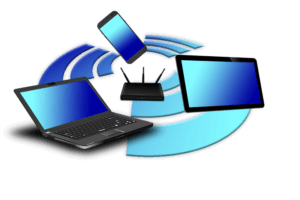 A router, regardless of whether it is a WLAN or a classic LAN router, is used for communication between different end devices in a network. The router is the center of all communication. A router not only enables the end devices (cell phone, tablet, PC, television, etc.) to be connected to one another, but also to the Internet. Devices can exchange information with one another through a WLAN router. For example, a modern television set can display content directly from a cell phone or PC without having to be connected by cable.
In summary: A router enables communications from end devices to one another and to the Internet (integrated modem required). In contrast to the classic modem, a WLAN router usually enables a faster and more stable connection to the Internet.
How does a wireless router work
A so-called modem is integrated in most modern routers. This allows the devices to be connected to a DSL connection and thus serves as an interface to the Internet. Most Internet providers only deliver a simple modem with their contracts. However, a router is much more than just a simple modem; it allows you to create your own, fast and stable WLAN network.
When a website is called up on a computer, mobile phone or tablet, the input is transmitted to the router. The router sends the request to the Internet. The received answer is then forwarded back to the end device by the router. With a WLAN router, all of this works via the router's WLAN interface and without cables.
What types of routers are there
In addition to the WLAN router discussed here, there are various other types of routers.
LAN router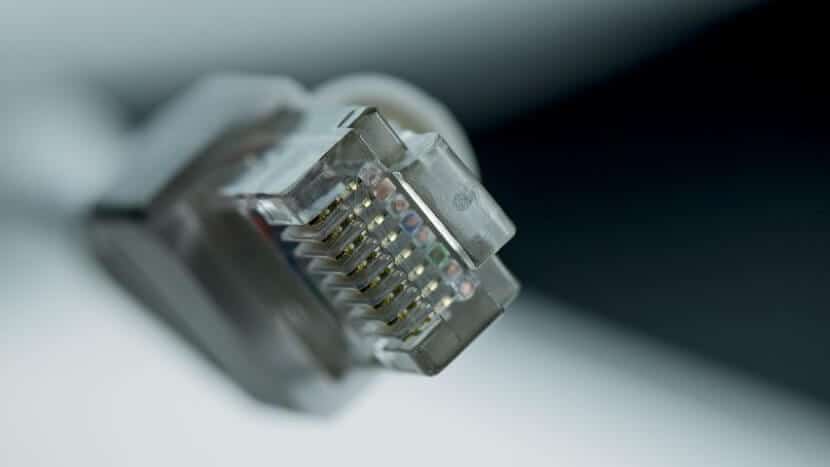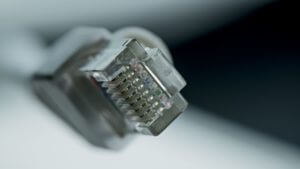 The simplest implementation of routers. With a LAN router, various end devices can be connected to one another via an Ethernet cable. A LAN router also allows end devices to be connected to the Internet, provided that a modem is integrated in the router. The disadvantage of LAN routers is that a cable is absolutely necessary. The biggest advantage is that LAN routers are often significantly cheaper than WLAN routers. Today, however, LAN routers are rudimentary. Cell phones, for example, cannot be connected to the Internet using an Ethernet cable.
WLAN router
A wireless router is the standard today. They usually have an integrated modem and thus allow a (wireless) connection to the Internet. As with the LAN router, end devices can also be connected to one another via an Ethernet cable or wirelessly via the WLAN interface. Inexpensive WLAN routers often cost little more than LAN routers and have now almost completely replaced them.
DSL router
A DSL router is also a type of wireless router. However, the functionality of a normal WLAN router is expanded with a telephone system. DSL routers can be used for making calls over the Internet.
LTE router
An LTE router is also basically a WLAN router. The difference is that LTE routers are often used in areas where DSL is still too slow or not available. An LTE router accesses the 4G or 5G LTE network instead of wired Internet. This works in exactly the same way as, for example, the mobile Internet on a cell phone. Otherwise, LTE routers are identical to classic WiFi routers.
WiFi router - what should I look out for?
A WLAN router can meet many different requirements depending on the equipment. They are the heart of all cordless and wireless communication at home. When buying a good WiFi router, there are a few important criteria to consider.
Equipment
Features
Easy configuration
power consumption
Speed
Extra features
Mesh WiFi
Price-performance ratio
Equipment
A good wireless router should have at least four Gigabit Ethernet ports. This enables end devices to be connected to the home network and the Internet by cable instead of WLAN. In addition, a modern WLAN router should make it possible to connect wirelessly to other devices using the WPS button. Another desired feature is a WLAN button, which enables the WLAN network to be switched on and off at the push of a button. A USB port, if possible at least 3.0, should also be available. Depending on the requirements, routers should also have a modem or a telephone system (DSL router). The best-known DSL routers are the Fritz! Boxes, popular in Germany.
Features
All modern WLAN routers should support IPv6 and current security procedures and individual passwords. In addition, server services such as print and media servers and a NAS function should be available if possible. A dynamic DNS function can also be important for some users.
Easy configuration
You probably already noticed that wireless routers are sometimes complicated. Especially if there is no technical know-how available, when buying a WLAN router, make sure that it is easy to configure. Some wireless routers come with a set-up wizard to simplify configuration. It should also be checked whether customer service is available.
power consumption
Most users have their WLAN router in continuous operation. Similar to household electronics such as a refrigerator, electricity costs should not be neglected. A router with a continuous consumption of 10 watts generates 105 kilowatt-hours within a year. If you calculate with a kilowatt price of 25 cents, this leads to annual costs of 26 euros. A WLAN router with a higher acquisition cost but low power consumption can therefore pay for itself relatively quickly.
Speed
If you want a fast WiFi connection, you should make sure that the router uses the latest WiFi standard. The old "802.11g" standard limits the data transmission speed to 54 megabits per second. The new "802.11n" standard, on the other hand, already allows 900 megabits per second. There is now an even better standard, "802.11ac", which allows transmission speeds of over 1 gigabit per second.
Extra features
Anyone who owns a smart home may be interested in other functions. Modern WLAN routers enable network hard drives to be connected or even the control of intelligent heating thermostats via app. Some telephone-enabled WLAN routers also offer additional functions such as an answering machine.
Mesh WiFi
No matter how good and expensive the router is, every WLAN has its limits. In fact, there is a regulated radio and transmission power in Germany that must not be exceeded. After a certain distance, even the best routers come to an end. This can cause problems, especially in large houses. A router that supports a WiFi mesh system is the solution. The actual WLAN router serves as the basis. The other routers or mesh systems are so-called "satellites" and only need power from an outlet. They extend the radius of a WLAN router, which is particularly important for apartments and houses with more than 100 square meters.
Price-performance ratio
Perhaps the most important and summarizing factor is the price-performance ratio. There are a lot of different wireless routers to choose from, so there is something for every user. You should be clear beforehand what the most important criteria are for you. If you have extra requirements, need the most modern WLAN standard and telephone function, you usually have to pay more for them.
What does a wireless router cost
The prices of WiFi routers vary widely. You can already find routers for 20 euros, others cost up to several hundred euros. If you have a really low budget, you may even be able to use a LAN router. However, we recommend the slightly more expensive, but simply better wireless routers. As already mentioned a little further above, the electricity costs should also be taken into account in the purchase price.
The best WiFi router in comparison
So we have already learned that modern WiFi routers have to meet a large number of criteria. The best WiFi routers combine the functions of several devices with one another. They are a modem, telephone connection and router in one. In our comparison, we consider the equipment, performance, installation and functionality of the WLAN router.
1st place: AVM Fritz! Box 7590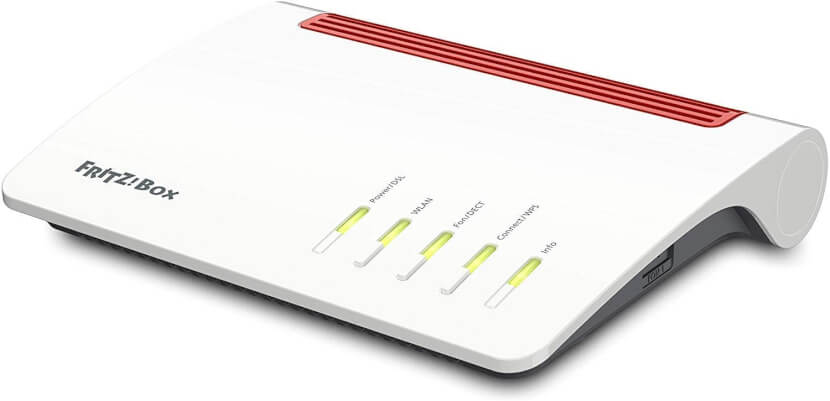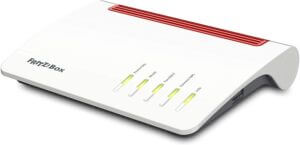 The AVM Fritz! Box 7590 is an absolute high-end WiFi AC + N router that works 5 GHz with 1733 megabits per second (Mbit / s) and 2,4 GHz with 800 (Mbit / s) and supports WiFi Mesh.
The AVM Fritz! Box also has a telephone system for landline and internet and offers voice-to-mail and face-to-mail. You can connect up to 6 cordless phones. The AVM router acts as a media server and allows photos, films and music to be distributed within the home network to televisions, tablets, hi-fi systems, cell phones and more.
The AVM Fritz is also suitable for gamers! Box 7590, as it offers 4x Gigabit LAN connections. You can also connect hard drive or printer directly via one of the 2x USB 3.0 ports.
This WiFi router is also suitable for large apartments and houses, as it supports WiFi mesh. The AVM WLAN router is also suitable for your smart home. It can control sockets or radiator controls directly. VDSL is also supported.
Benefits:
Extensive equipment
Easy installation and operation
Strong performance and speeds
Supports Mesh WiFi
Disadvantages:
[amazon box="B071W8R4PS"]
2st place: AVM Fritz! Box 7490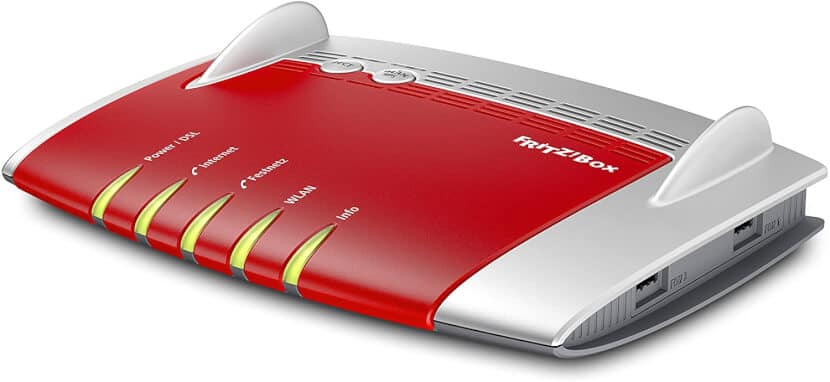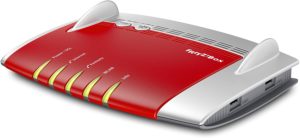 The little brother of the AVM Fritz! Box 7590. Nevertheless, the AVM Fritz! Box 7490 is also an absolute high-end WLAN router with AC + N that supports 5 GHz. This WiFi router also allows WiFi mesh.
The only difference is the AVM Fritz! Box 7490 compared to the 7590 version that it only supports speeds of 450 Mbit / s. Everything else is identical to the big brother. This WLAN router also serves as a telephone system for landline and internet and offers voice-to-mail and face-to-mail. Up to 6 cordless phones are also supported. It is also possible to distribute photos, films and music within the home network to televisions, tablets, hi-fi systems, mobile phones and more.
Like the Box 7590 version, 4x Gigabit LAN and 2x USB 3.0 ports are available.
Benefits:
Extensive equipment
Easy installation and operation
Slightly cheaper than AVM Fritz! Box 7590
Supports Mesh WiFi
Disadvantages:
Still relatively expensive
Speeds limited to 450 Mbit / s
[amazon box="B01LXPJCQN"]
3rd place: AVM Fritz! Box 6660 Cable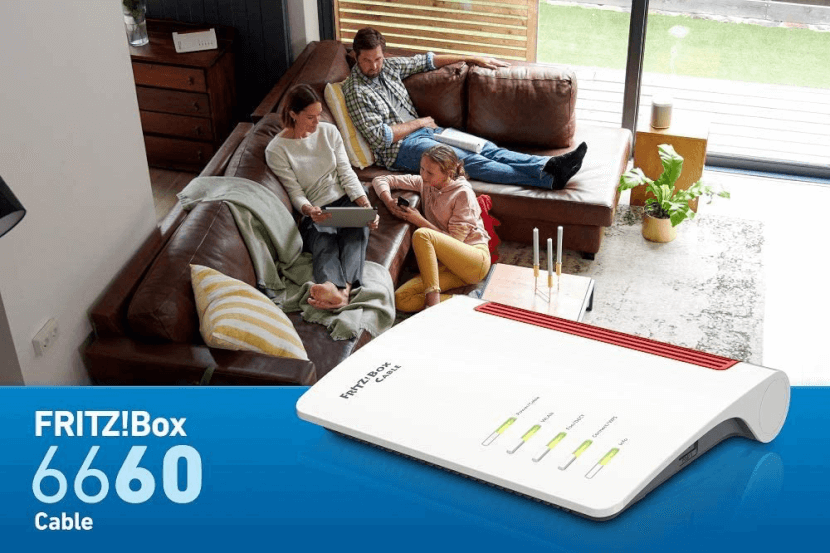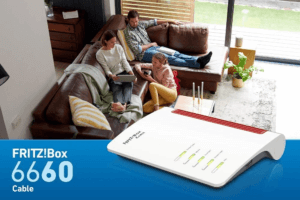 AVM dominates our list of the best WiFi routers. The AVM Fritz! Box 6660 Cable Router is the current AVM flagship for everyone with a cable connection.
The WLAN router offers a blazingly fast WLAN connection with up to 2400 Mbit / s through Wi-Fi 6 and uncomplicated operation and setup. It offers an integrated DECT telephone system for a total of six DECT telephones. There are 2x USB 3.0 ports for printer and storage media and 4x Gigabit LAN ports.
4x Gigabit-Lan, 1x 2,5 Gigabit-Lan and 2x USB 3.0 connections are available. Mesh WiFi is also supported. A great extra function is the creation of a time-limited guest WLAN for visitors. The WiFi router also has various access controls and a child safety feature.
Benefits:
Fast WiFi
Incredibly good equipment
Easy to set up and use
Supports Mesh WiFi
Disadvantages:
[amazon box="B084CC3GGD"]
4th place: TP-Link TL-WR8421 WLAN Wireless WIFI Router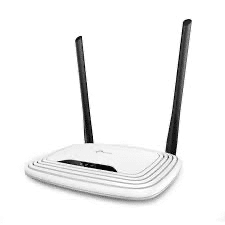 In contrast to our three front-runners, the TP-Link TL-WR8421 WLAN Wireless WIFI Router offers a cheap alternative.
However, many of the impressive features of the test winners are missing. This router allows WiFi speeds of 300 Mbit / s, which is completely sufficient for video streaming in HD quality. A nice feature is the possibility of IP-based data rate control. This allows you to determine which computer is assigned which data rate. 4x LAN ports are available. There is also a WPS button. WPA / WPA2 encryption is offered to protect your WLAN from uninvited users. In summary: The TL-WR810N router is an inexpensive router that offers all the basic functions that are absolutely sufficient for many users.
Benefits:
Attractively priced
Solid WiFi router
Simple installation
Disadvantages:
Speeds are limited to 400 Mbit / s
No WiFi mesh
Some users report annoying "beeping"
[amazon box="B001FWYGJS"]
5th place: TP-Link Archer C7 5-gigabit ports dual-band WLAN router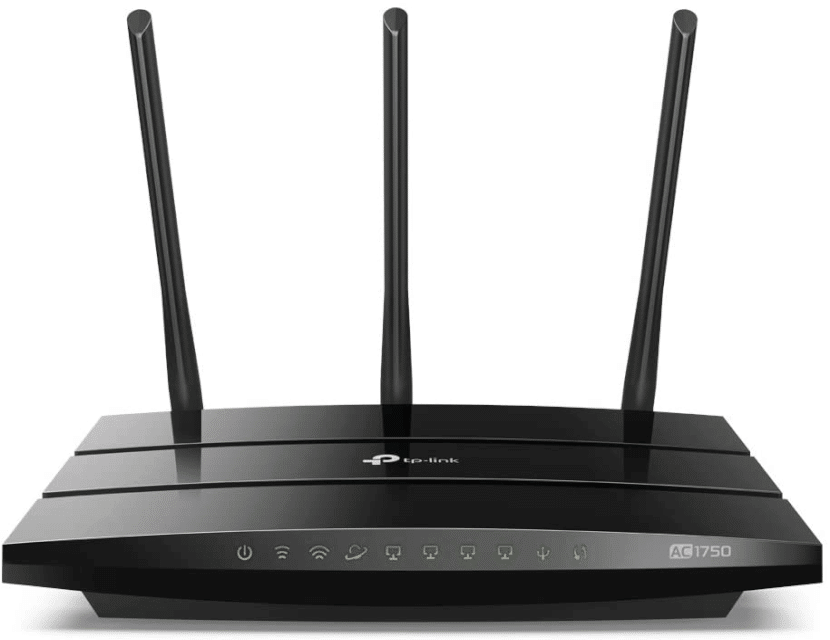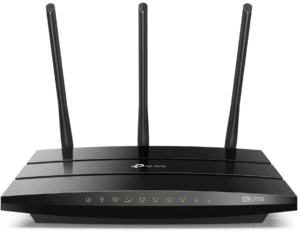 This router also comes from TP-Link. The TP-Link router works according to the latest WLAN generation 802.11ac and enables 2,4 Mbit / s on 450 GHz and up to 5 Mbit / s on 1300 GHz. The router has three external 5dBI antennas and three internal antennas to guarantee maximum WiFi coverage.
1x USB connection and 4x gigabit ports are available. It is also possible to set up guest access without releasing the local network. The Archer C7 supports IPv6 and thus helps to future-proof your network. Configuration is also easy and takes just a few simple steps. In our test, the Archer C7 is a good average between price and function. Unfortunately, we noticed that the wireless router does not reach the promised speeds in the test.
Benefits:
Modern WLAN standard 802.11ac
Three external 5dBI antennas
Easy installation and setup
Good value for money
Disadvantages:
Only 1 USB port
The promised speeds were not achieved in the practical test
No WiFi mesh
[amazon box="B00BUSDVBQ"]
6th place: Netgear Nighthawk R7800-100PES X4S AC2600 Gigabit Wireless Gaming Router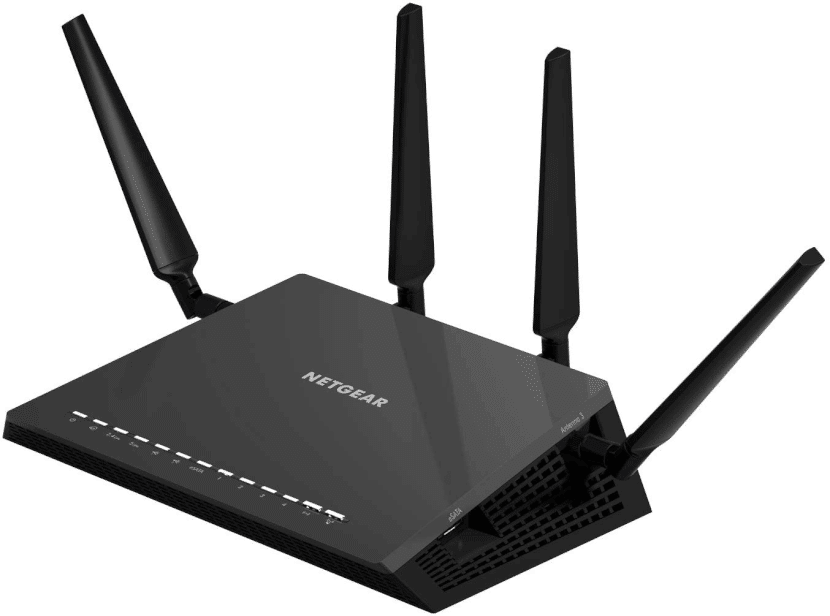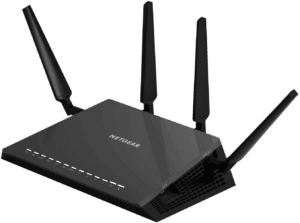 The Netgear Nighthawk is a wireless gaming router without an integrated modem. A special feature of the router is that it works with Amazon's Alexa. The particularly high WiFi speed from the WiFi router is particularly impressive. Up to 2,53 GBit / s are promised. This allows streaming of 4K content or professional gaming without delay, for example. The four external high-performance antennas and a powerful amplifier should also improve Internet connectivity. Netgear provides an app that not only helps to set up the router, but also to manage the various devices that access the router. The Netgear Nighthawk Gaming Router is ideal for all those who do not value telephone functionality, but only want the best Internet speed. The Nighthawk offers 4x Gigabit and 2 USB 3.0 ports.
Benefits:
Extremely fast
Four external antennas for better connectivity
Easy installation and setup
Provides seamless WiFi for up to 45 devices
Easy setup via app
Disadvantages:
No integrated modem
Very expensive
[amazon box="B01AJI18WQ"]
7th place: Linksys WRT3200ACM-EUR Wireless AC3200 Open Source Router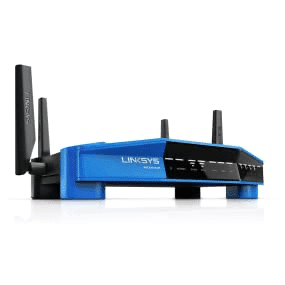 The Linksys router takes the penultimate place in our comparison. This is not because it is not recommended, but because it is unfortunately incredibly expensive. However, Linksys is aware of this and accordingly markets the WRT3200ACM as "enterprise-class WLAN for the home". The WLAN router is equipped with the latest tri-stream and MU-MMO technology. These technologies enable even faster WiFi speeds of up to 3,2 Gbps. Despite the high price, the wireless router unfortunately only has 1 USB port and 4 Gigabit Ethernet ports.
There is a 1,8 GHz dual core processor in the wireless router that can handle even the heaviest network traffic with low latency. The WRT3200ACM is also completely open source capable, so that experienced users can personalize the router, for example to create a secure VPN set up or convert the router into a web server.
Benefits:
Extremely fast
Four external antennas for better connectivity
Open Source
Low latency due to dual core processor
Disadvantages:
Extremely expensive
Initial configuration relatively complicated
No WiFi mesh
[amazon box="B01LY0PTO9″]
8th place: Asus RT-AC85P home office router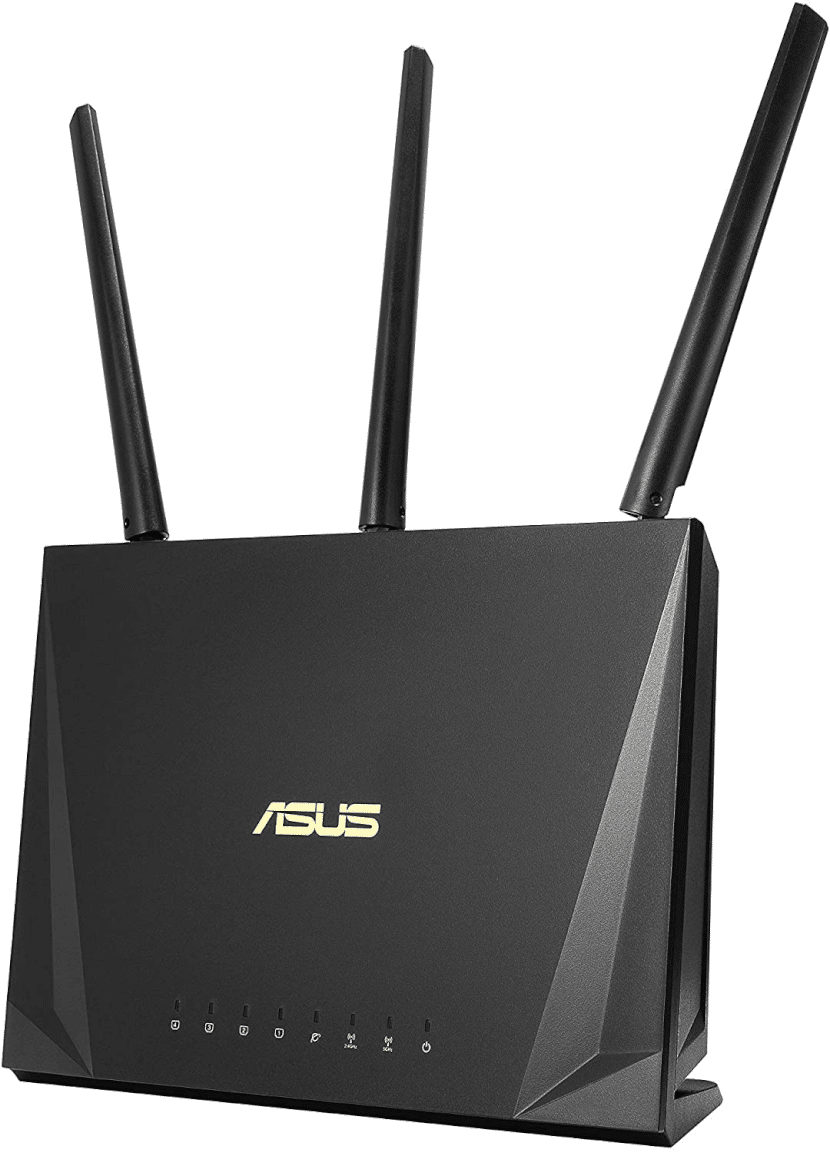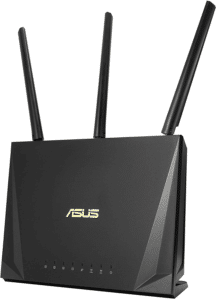 Asus advertises that the Asus RT-AC85P is the best router for solving reception problems and offers a coverage area of ​​up to 150 square meters. In fact, the Asus WLAN router achieves a large reception radius with its three powerful antennas, which, however, cannot keep up with solutions such as Mesh WLAN. A modem is also not integrated in the Asus RT-AC85P.
Speeds should be 1733 Mbit / s at 5 GHz and 600 Mbit / s at 2,4 GHz. Revolutionary MU-MIMO technology is also integrated in the Asus RT-AC85P, which allows several devices to be connected in parallel without slowing down the network. ASUSWRT is really good software that comes with the wireless router. It allows the user to use an intuitive interface to simplify the setup of the router and the detection of several devices.
Benefits:
MU-MIMO technology
Supply area of ​​up to 150 square meters
Intuitive ASUSWRT software
Low latency due to dual core processor
Disadvantages:
No integrated modem
No WiFi mesh
[amazon box="B07MFQHPWD"]
Frequently asked questions about wireless routers
What are the advantages of a router over a modem?
Nowadays hardly any consumer uses a simple modem. A router converts the provider's data into a digital signal. This enables forwarding to an end device without cables. A mode always has only one LAN connection. A router can therefore reach more devices and that without cables. In addition, many routers offer other functions such as VoIP, VPN and child protection.
What does a router cost?
The cheapest routers start at 10 euros. Large companies sometimes pay tens of thousands of euros for a router. So the price range is very large. Most good routers range between 50 and 200 euros.
Does a router replace the modem?
Yes and no. Most wireless routers include a modem and a modem is always required to connect to the Internet. A WLAN router with a modem effectively replaces a modem.
What is DSL
DSL stands for Digital Subscriber Line. With DSL you can make calls and surf the web from the same line.