The Spyzie spy app is currently considered to be one of the best spy apps. In our Whatsapp spy app review it ends up in second place, right behind mSpy. But what can the cell phone monitoring software do? We have tested them extensively for this review.
Contents
The best alternative:



MSpy is a Spy app with more extensive functions.
The basic tariff is available from € 8,33 per month and includes an extensive range of functions!
For the protection of children or for reliable monitoring, you should definitely consider whether it is worth digging a little deeper into your pocket, but whether you can have contact with the child's or partner's smartphone at any time and from anywhere.
What is Spyzie?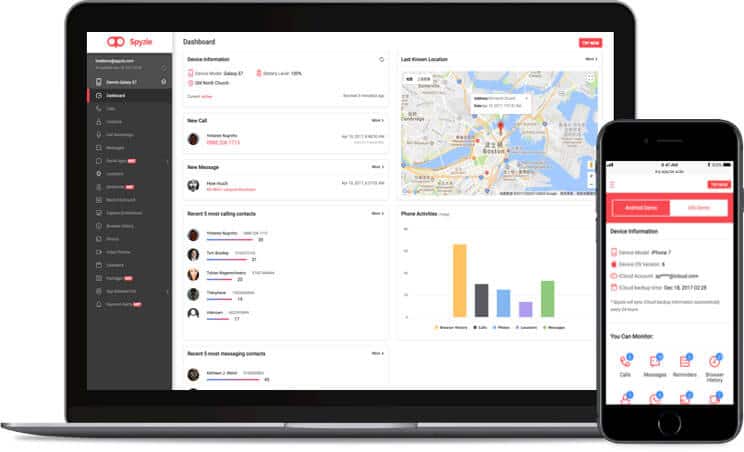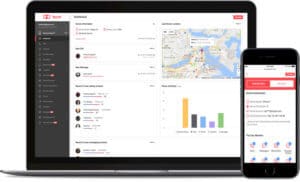 According to the official Spyzie homepage, the Spyzie app is perfectly tailored software to monitor your children, colleagues, employees or partners.
The app is installed on a mobile phone and allows complete monitoring of all messages, browser history, media files and much more. According to customer reviews, it is most often used to monitor one's own children and protect them from danger. Sex texting, contact with questionable people and cyberbullying are named as the most common reasons for installing Spyzie.
The Spyzie dashboard gives parents the ability to track child sex texting and take timely action. Permanent monitoring of the child's location is also possible via the app. So, for most users, Spyzie is a good tool to keep children safe.
How does Spyzie work?


On Android devices only an APK file has to be installed on the target device, which then runs automatically in the background and undetected. With iOS, the whole thing is sometimes even easier. All that is required is the iCloud credentials to access the target device.
So Spyzie works for both iOS and Android devices. You only need a premium account and access to the target device or the iCloud account to run Spyzie alo. On the Spyzie website you get to the dashboard to use all important functions. The target device must be switched on and connected to the internet, otherwise Spyzie cannot transmit any data.
What devices does Spyzie support?
The Spyzie website has a wonderful compatibility page that you can use to check if Spyzie is working for your device. In general, iOS 8.0 or later is required for iOS. Android 4.0 or later must be installed for Android.
According to a statistic from Spyzie, the Spyzie spying app is the most widely used on Samsung devices. This may be because the Spyzie app for Android is less extensive than for iOS.
What can the Spyzie spying app do?
The Spyzie app has a huge number of functions and features, which differ slightly depending on the tariff and operating system selected. A few of the most important functions are:

View the entire call history. With time, date, contact name, telephone number, duration of the call and type of call (outgoing, incoming, accepted or rejected).
Search all sent and received messages. Including all information such as name and the time when the message was sent. If the target device is an iPhone, iPad or iPod Touch, searching through iMessage is also possible. If the messages contain multimedia files, you can also view and download them.
Location tracking of the target device. You can get detailed information about the real-time location of the Android or iOS device at any time. It is also possible to view a route.
WhatsApp chats, including reading all chat history. It is also possible to view all sent or received multimedia files via WhatsApp.
View videos, photos and all multimedia files on your mobile phone. This includes photos, videos and voice messages that you have sent, received and also created yourself.
Display the complete contact book. Including the name and telephone number of the respective contact. It is also possible to download the target device's contact book.
Searching the browser history, including all bookmarks.
Complete monitoring of all installed apps. This includes all common social media platforms such as Facebook, Instagram, Snapchat or Tinder.
Social media monitoring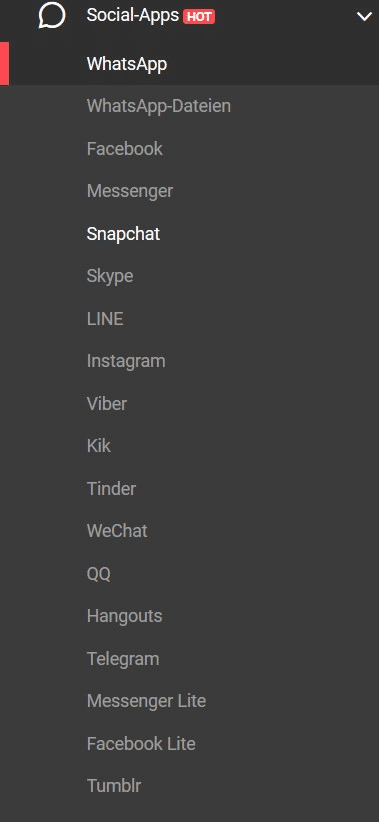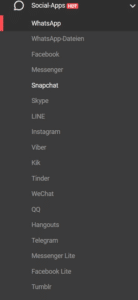 In fact, social media platform monitoring is one of the best qualities of the Spyzie spy app. The app offers monitoring of all known social media platforms. The list includes: WhatsApp, Facebook Messenger, Facebook, Snapchat, Instagram, Twitter, Tinder, Skype, Telegram, and many more.
No other spy software provider allows you to spy on as many social media platforms as Spyzie. Spyzie will show you all the messages on these apps.
Border surveillance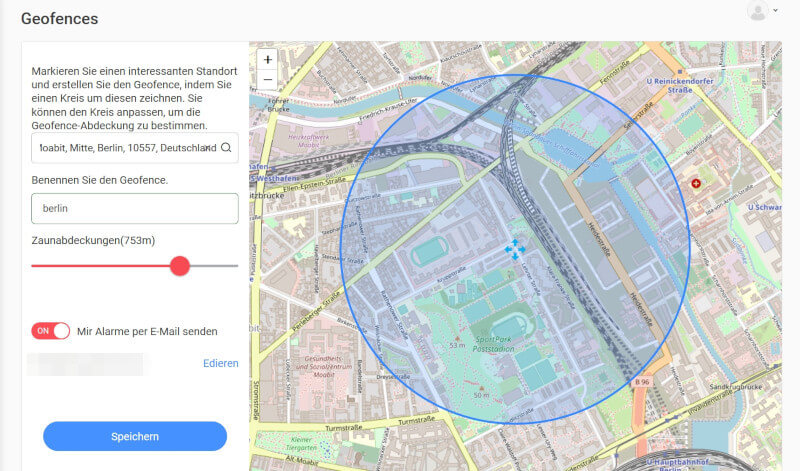 Another really great feature of the Spyzie Spy app is the ability to turn on geofencing. This means that you can define a virtual limit and immediately receive a message if it is exceeded by the target device. This is particularly useful for parents who want to make sure their children are not too far from home.
Recover deleted files
Among all the other features listed, the most exciting one is the ability to view deleted messages and call logs of the target device. You can use the so-called "Clue" function to view all deleted files including the time stamp.
How good is the Spyzie dashboard
To access the information of the target device, all you have to do is log into the Spyzie website. From there you get access to a very clear dashboard.

This shows you the model of the target device and offers access to the most important, various functions via a menu. The Spyzie dashboard is very modern and minimalistic and easy to understand. Calls, contacts, messages and locations can be accessed directly with a click.

Another menu item are social apps, which include Tinder, Instagram and Snapchat, for example.
How often is the dashboard information updated?
You will automatically receive new data and information every 4 hours. In addition, the app automatically syncs when you log in to make sure you have the latest information. In the dashboard you will also find a small synchronization symbol, which you can click at any time to receive new information.
It is important to note that this can take a few minutes, depending on your internet connection.
Is the Spyzie app easy to spot?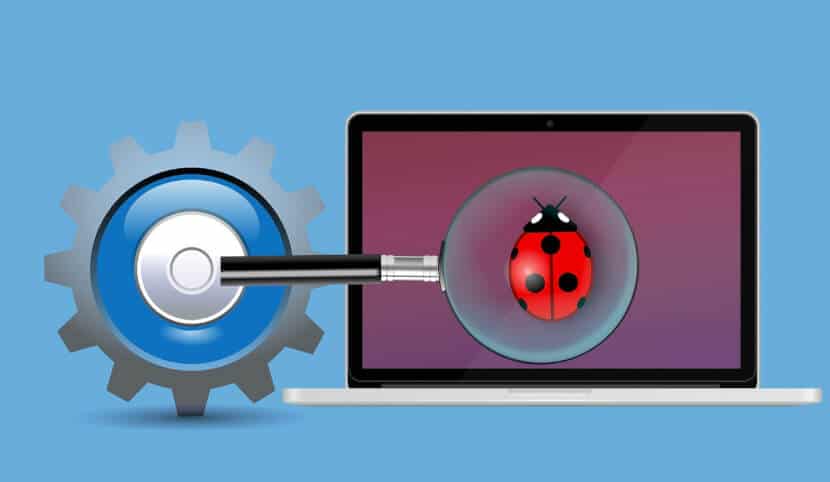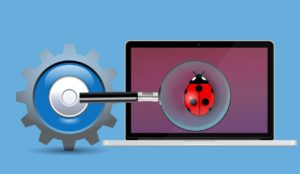 Another important feature of a spy app is that it is hidden as well as possible and cannot be found. The Spyzie spy app shows a temporary icon when setting up the app, which disappears after the installation process is complete and is no longer visible. The app provider calls this "stealth mode".
Other signs that a spy app is installed on the phone are the faster discharge of the battery and that the phone is running slower than usual. Strange noises can also be caused by poorly optimized spy software, for example when the application is downloading data from the target device. However, none of these features really caught our eye with the Spyzie Spy app.
Can I delete Spyzie spy app remotely?
One of the most requested features of spy apps is the ability to remotely delete the application without having physical access to the target device. Unfortunately, this is not possible with the Spyzie spying app. In fact, relatively few providers offer such a decisive feature. However, if this is important to you, we recommend the mSpy spy app, which you can delete by remote control.
Is Spyzie Legal?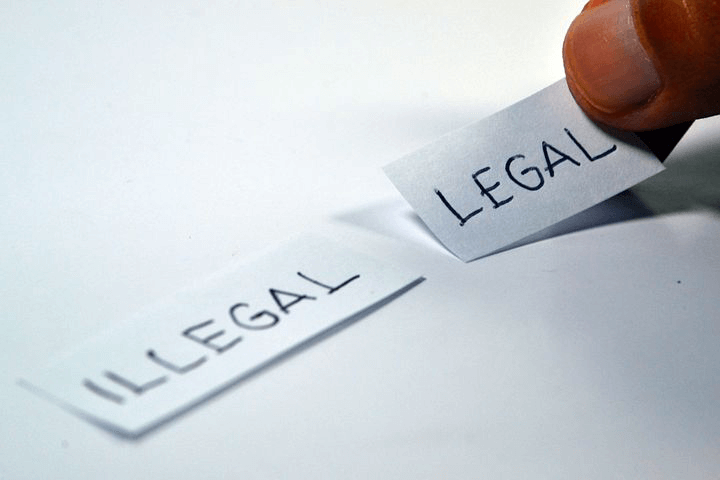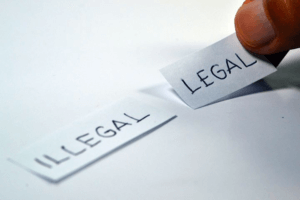 The same rules and laws apply to the Spyzie spy app as to other spy apps. The use of smartphone spy apps to supervise children without their knowledge is legal. It is illegal to monitor adults without the knowledge of the cell phone owner. So if you want to use the Spyzie Spy app to monitor your life partner or employee, you must inform them beforehand and obtain their consent. If you don't do this, you are making yourself liable to prosecution. In Germany, illegal surveillance of cell phones can result in prison sentences of up to 2 years.
pricing
Spyzie offers different payment plans depending on your operating system. Spyzie espionage is one of the cheapest spy apps we have tested.
Android pricing from Spyzie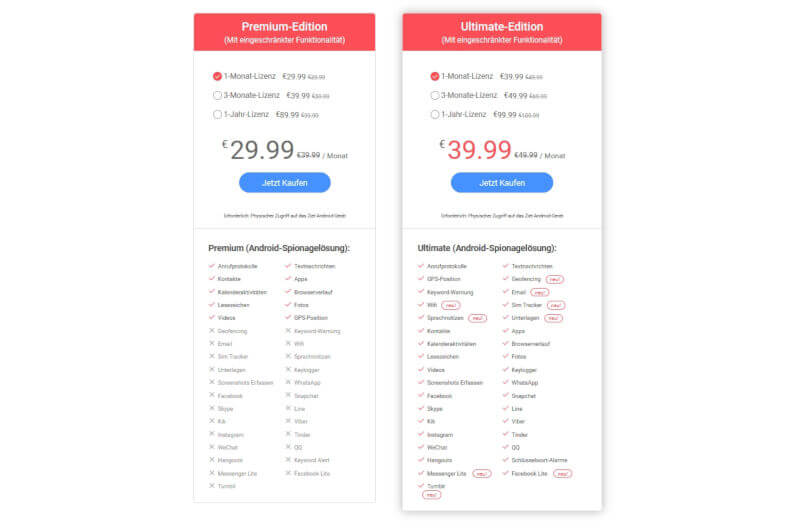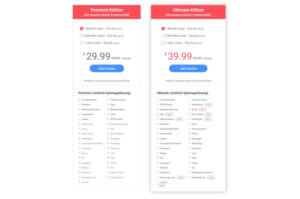 For Android there is a "Premium" and an "Ultimate" license to choose from. The premium license is available for 1 month (€29,99), 3 months (€39,99) or 12 months (€89,99). Alternatively, the Ultimate license is also available for 1 month (€39,99), 3 months (€49,99) or 12 months (€99,99). Unfortunately, the functions of the premium license are relatively limited.
Spyzie's iOS pricing
In contrast to the Android app, there is only one payment plan for iOS. This is particularly due to the fact that the iOS app is less extensive. Spyzie's iOS app costs € 39,99 per month and does not require a jailbreak.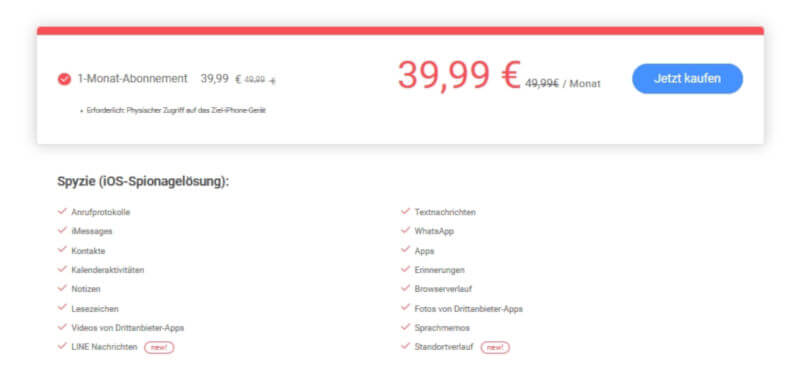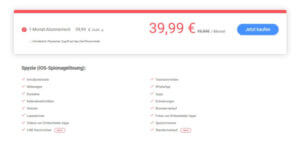 Conclusion on the Spyzie spying app
Spyzie offers inexpensive spying software that works on iOS and Android. Overall, we are satisfied with the functionality of the spy app. The biggest drawback is that the Spyzie app cannot be uninstalled remotely. Spyzie is particularly suitable for monitoring social media platforms and is particularly aimed at parents who want to protect their children. The Spyzie app comes with a 7 day money back guarantee, which we really like.
Alternatives to Spyzie spying app
Spyzie's app deliberately positions itself as a budget spy app. Some functions are missing or are only available for Android. Other providers sometimes offer incredibly professional functions such as remote triggering of cell phone cameras or activating the microphone to listen in on conversations. All of this is unfortunately missing from the Spyzie Spy app. If you are willing to spend a little more money, but get a variety of great extra features, we recommend mSpy - our test winner in the Spy app comparison.


The mSpy it is a Spy app with more extensive features like Spyzie.
The basic tariff is available from € 8,33 per month.
For the protection of children or for reliable monitoring, you should definitely consider whether it is worth digging a little deeper into your pocket, but whether you can have contact with the child's or partner's smartphone at any time and from anywhere.
Common questions about Spyzie spying app
Which spy app is the best?
In our comparison of the best spy apps, mSpy has the edge. The app scores in terms of reliability, functions and customer service. A good alternative is Spyzie.
How Much Does Spyzie Spy App Cost?
Spyzie app prices vary depending on the operating system, payment plan and duration of the contract. The cheapest price starts at less than 10 euros per month for the Premium Edition in a 12 month contract. The most expensive version of the Ultimate Edition costs 39.99 euros per month.
Is there a spy app installed on my cell phone?
If you suspect that someone has installed a spy app without your knowledge, you can check this with a few tricks. First of all, you should google the name of the most famous spy apps. The most common ones are FlexiSpy, mSpy, PhoneSherrif, XNSPY, etc. Then check to see if an application with that name is running on your phone. There are some helpful apps in the app store to check this. Another step can be to install an anti-virus app or an anti-spy app.
Is Spyzie Spy App Legal?
The Spyzie Spy app is legal for parents who want to install the app on their children's cell phones without their knowledge. Installing the Spyzie Spy app on adult cell phones is only legal if you inform the cell phone user about it beforehand and obtain their consent. The illegal, secret installation of a spy app faces a prison sentence of up to 2 years in Germany.
Are there any free spy apps?
Yes. However, we strongly advise against using free spy apps. The free providers are often not trustworthy. Either they infect the target device with tons of malware and are therefore easily traceable, or in the worst case, they even steal private information. Therefore, it is better to use a provider like Spyzie or mSpy.