How nice surfing the Internet was before, when that completely useless toolbar wasn't there in the browser! If only I could get rid of them again ...
Who does not know it? A program has just been installed, everything has not been read through and the crucial checkmark has not been deleted. Then the next time you start your browser, «Ask» or another will be displayed annoying toolbar from the window.
Who is accidentally got a toolbar and wants to get rid of this uninvited guest, he'll find help here. We look at what toolbars are and why you shouldn't keep them, what toolbars can change, how to remove toolbars and which are the best toolbar cleaners.
AdwCleaner from Malwarebytes
Provider Website

Comprehensive cleanup: reliably removes unwanted programs
Device maintenance:Deletes files & toolbars, free memory
Unbeatable price: free
Content
What are toolbars?
Toolbars are small bars directly below the menu or bookmark bar in the browser. If such toolbars are not removed in time, they will stick there in the browser.
Example
: User who the
PDF-XChange Viewer
in English, you will see entries with a toolbar in the name in the context menu in the upper area of ​​the program. "Ask", "Bing", "Google" or "Yahoo" will appear below the address bar.
In and of themselves, these toolbars are mostly not harmful. Although toolbars sometimes offer useful functions such as weather reports, e-mails or translation, most users are not happy when a toolbar has crept in more or less without being asked.
Why should you delete toolbars?
In fact, there are a few good reasons why you should or should delete toolbars:
Toolbars reduce the website view and thus make capturing content more difficult.
They can also Data protection risks bring with it, because Spy on user data can not be excluded.
slow down computer performance while surfing.
In addition, most users simply get them not required.
Another disadvantage can arise when Additional functions no longer work because server services are switched off.
A toolbar can also use the Standard search engine or change the start page at the same time - other points that annoy some users.
Many users are not infrequently annoyed by the homepage and search engine that suddenly look different.


How can you set up the standard search engine and start page again?
Internet Explorer as a search engine
Step 1:: Internet Explorer can be selected as the standard search engine in the add-on menu. All you have to do is click on the gear and «Manage add-ons». Then choose the tab «search provider»On the left, where all installed search engines are displayed.
Step 2: With a right-click of the mouse you choose your favorite search engine again and click on «Standard». You can also delete unwanted search engines. All you have to do is right-click on the unpleasant search engine and «remove" to choose.
"Bing" is activated by default in Internet Explorer.
Google Chrome as a search engine
Step 1: Google Chrome is also not spared from changes made by toolbars. To set Google Chrome as the default search engine again, click on the three bars at the top right and select «Settings». Under "Search»If you click on«Manage search engines».
Step 2: Then one is enough Click on the little X on the far right, to make the unpleasant service disappear. As far as setting up the start page is concerned, go to the three bars again and click on "Settings". Under "At the start" you can «Open certain page or pages» and determine the start page.
How can I avoid installing toolbars?
As a general rule, only click on "Next" once you are ready to go it is clear what will happen afterwards. Even trusted programs like Java can install useless toolbars like Ask.
In freeware there is usually a little check mark hidden that is easily overlooked. If you don't delete this, incredibar, Ask or Snapdo can install and get stuck in the system.
Information from the installation wizard should therefore be provided read carefully. In addition to most toolbars, you also protect yourself from adware - i.e. advertising - which can be just as annoying as a toolbar.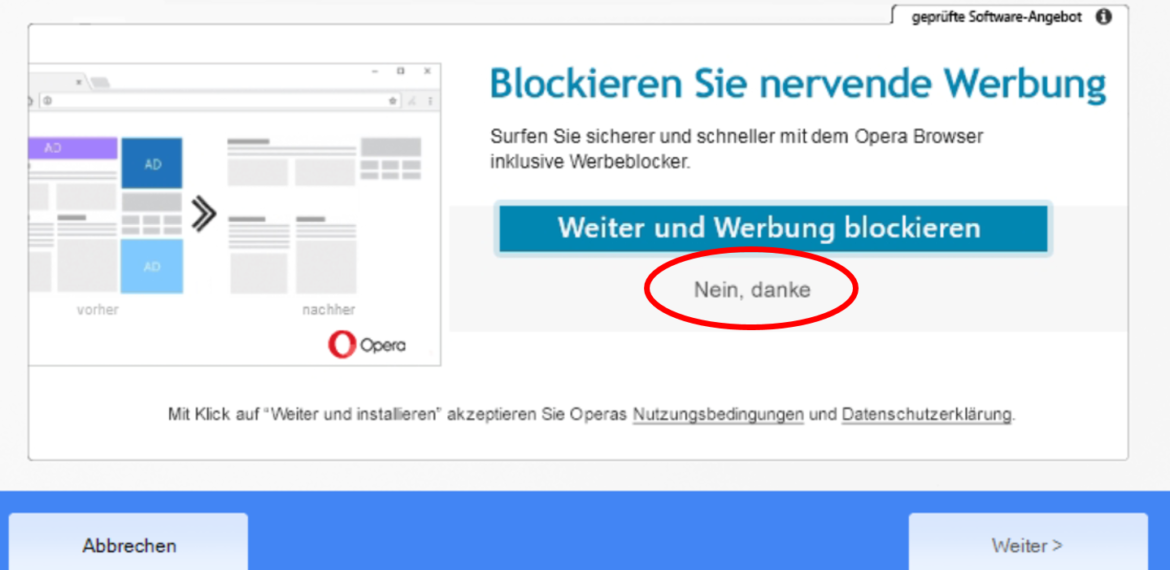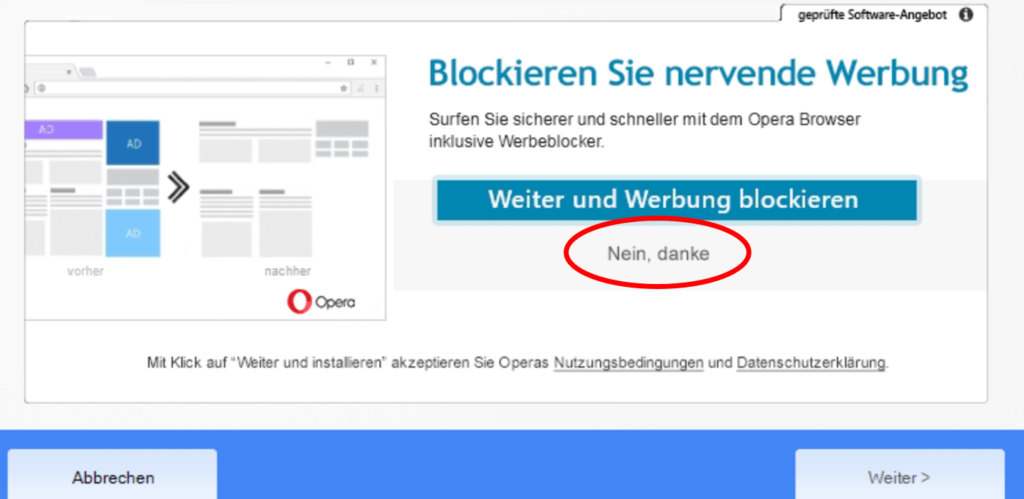 With freeware, adware is usually included in order to finance the model. But adware also occurs with paid software. It is best to always choose the «custom installation», Because unwanted components can usually be removed here with a tick.
But it also happens that programmers with double negations trick the user. A "Decline all" option can remedy this and block all extensions.
How can I remove and delete toolbars?
Deleting toolbars works differently depending on the browser:
Firefox
Internet Explorer
Google Chrome
Remove toolbars Firefox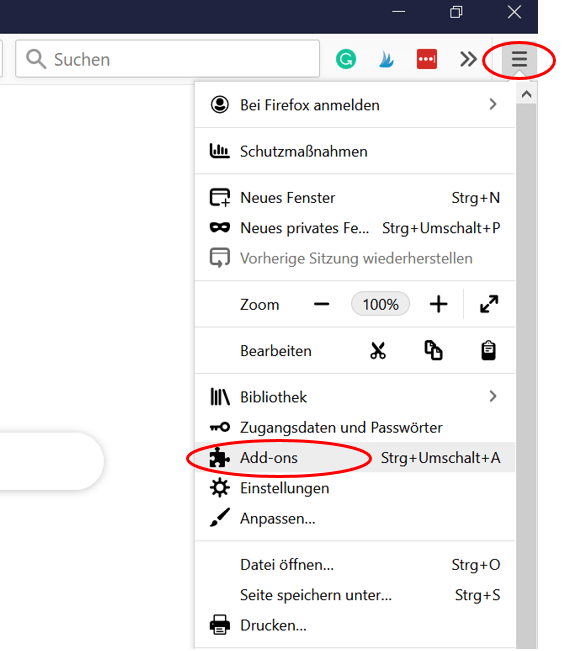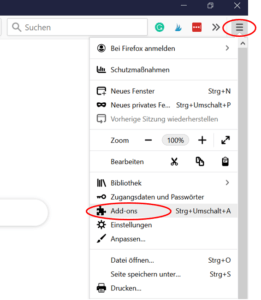 Firefox users can remove the unwanted toolbars via the add-on manager:
On the three lines in the upper right corner and then on «Add-ons»Click; possibly still on the category "Extensions».
In the add-on manager you can search for the toolbar that is annoying and then click «Remove»Click. A restart of the computer is sufficient to complete the deinstallation. Mozilla Firefox closes and then reloads without the toolbar.
Toolbars often also change the browser settings. For optimal search results without annoying advertising, it is best to reset the changed settings: If there is a third-party provider in the search field next to the address bar, click on the Lupe and then changes the search settings.
The old start page can be restored by clicking on the three lines and selecting "Settings". There you switch to «General» if it is not already in the foreground. You are done after the address behind the start page has been exchanged.
Remove toolbars Internet Explorer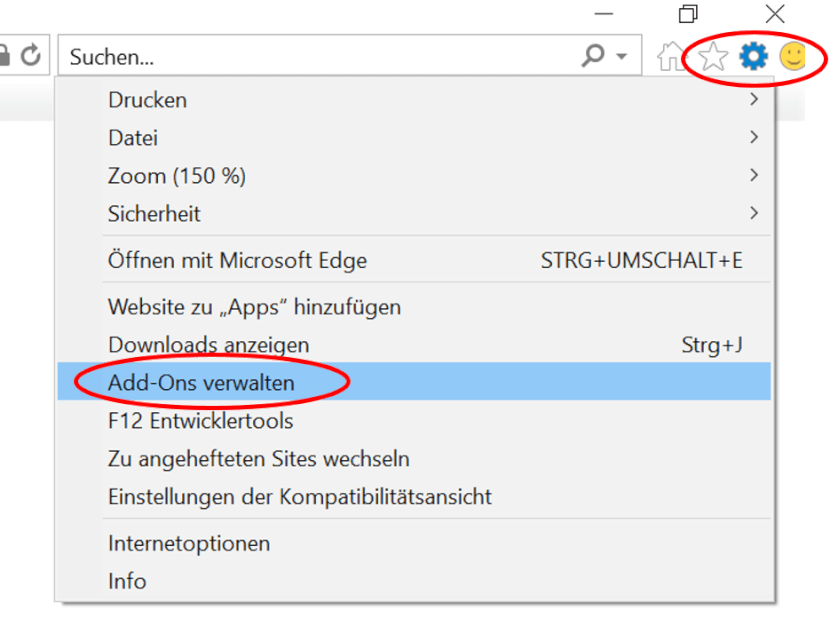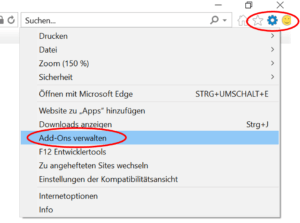 Internet Explorer users can now add extensions just disable it and not actually remove it.
To deactivate an annoying toolbar, go to Settings, which can be accessed by clicking on the Gear top right can be called. Here you choose the menu «Manage add-ons"Then go to"Toolbars and Extensions»And click with the right mouse button on the toolbar to be removed or deactivated.
Then click on «Deactivate»And confirms this again in the new window with« Deactivate ». If you want to use Google as the standard search engine, click on Google as the standard. Unwanted search providers can be removed by right-clicking and using the "Remove" option.
To completely delete a toolbar, press the Windows key and R. and then gives appwiz.cpl and click «ok». This will open a window in which you can search for the toolbar and start the removal with a double click. If an uninstallation wizard appears, follow the instructions step by step. It is advisable to close Internet Explorer before starting the uninstallation.
Remove toolbars Google Chrome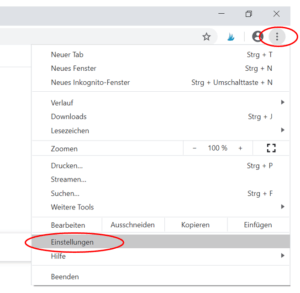 Even Google Chrome is not spared from annoying toolbars, although users of Chrome are better protected than those of Mozilla Firefox. Simply because it there are practically no toolbars for the Google browser.
If you still got one, you can remove unwanted toolbars via the browser menu, which can be found at the three bars in the top right. Then click on «tools»Or« Settings »and then on«Extensions». The installed add-ons and toolbars are located here
Then all you have to do is click on the recycle bin next to the toolbar and confirm using «Remove»To uninstall the toolbar. In contrast to Mozilla Firefox, Google Chrome does not require a browser restart. However, it is advisable to check the start page for unwanted changes and to undo these under the settings.
It is possible to delete search engines in the settings. To do this, move the mouse over the entries to be removed and click on the cross. Then you choose «done».
If the steps outlined here are not enough to remove a toolbar, it can be assumed that a Virus or malware is at work and should usually get help from a third-party program:
Under the installed Windows programs, which you call up via the control panel, you can remove programs from the computer via «Uninstall programs». There you look for the annoying toolbar, right click with the mouse on the entry and then on «uninstall / change». Certain toolbars cannot be eliminated in this way and still reappear in the browser after a Windows restart. In this case is a Anti-virus software necessary.
Before using a virus scanner, however, you should complete all the removal steps and only then attack the malware. Suitable antivirus programs are also available these days free. These should be able to find and eliminate the malware with a complete system scan.
Of course, free programs may not be able to remove the annoying toolbar. Then, for example, a junkware removal tool or paid antivirus software is required. It is better if you make sure in advance that toolbars cannot even be installed.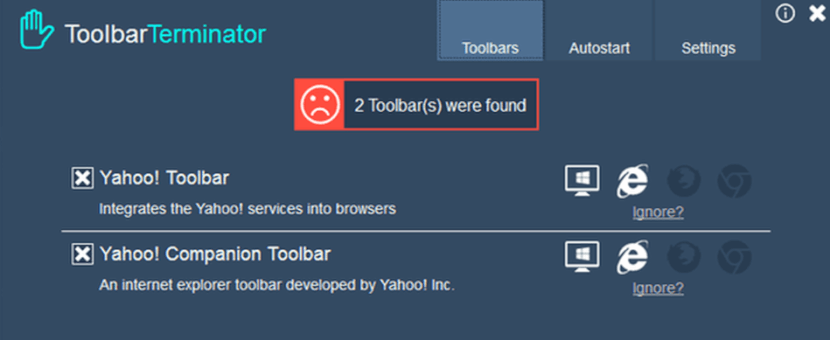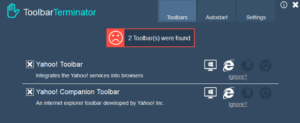 Which toolbar cleaners are the best?
Just like Ask, most toolbar cleaners are past their prime. Avast Browser Cleanup is no longer available and the «Ask Toolbar Remover» has become superfluous, because under Windows 10 1809 you could no longer check its functionality because the Ask toolbar had disappeared.
The multi-toolbar remover doesn't make much sense either. Although it can allegedly remove toolbars from Google, AOL, Comcast or Yahoo, the Yahoo toolbar has disappeared in Internet Explorer 10 under Windows 1809 11. What is left is the Google toolbar.
You are better off with the free full version of Toolbar terminator 2019.
Then there is that Abelssoft tool, that makes sense if you are affected by many browser toolbars.
Also the Toolbar Cleaner 1.0.1.31 can be downloaded free of charge from malavida.com.
You can download the AdwCleanerwho focuses on deleting adware. But he can also remove toolbars. If he finds unpleasant toolbars, he sends them to quarantine and seals them off from Windows.
The Toolbar Cleaner for Windows is also available for free.
Also the Soft4Boost Toolbar Cleaner does not cost anything.
What's the bottom line?
If you don't want a slow computer or don't want a restricted view and even data protection risks, you should remove toolbars before they get stuck in the system.
To remove toolbars nowadays you have to not spend money. All of the cleaners mentioned here can help with annoying toolbars.
AdwCleaner from Malwarebytes
Provider Website

Comprehensive cleanup: reliably removes unwanted programs
Device maintenance:Deletes files & toolbars, free memory
Unbeatable price: free