Boxcryptor encryption software is one of the best on the market. Not only does it do a lot well, it integrates with many other programs and has an excellent free plan. What exactly encryption software is and why you should own one, I'll explain in this review.
Content
With the Boxcryptor encryption software you can easily synchronize and encrypt your files with more than 30 cloud storage, EFSS and online backup providers. In contrast to most free encryption programs, whose security is below average or which are very complicated to use, Boxcryptor offers excellent protection for as many files as you want, and it's child's play.
What is encryption software?
Encryption software ends up doing exactly what you probably already suspect. It helps you protect your own data and maintain your digital privacy by encrypting your data. Encryption software does this by converting your data from a readable format to an unreadable, encrypted format. Only when you convert your data back into a readable format with a password can it be read / used again. This enables encryption software to encrypt local data on your PC as well as data that you have uploaded to the cloud. This protects you, for example, if your cloud account is hacked.
Boxcryptor encryption software experience report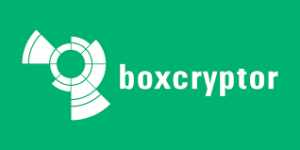 In this Boxcryptor review, I'll introduce you to both the very good free plans and the even better paid plans. Here you will find out everything there is to know about Boxcryptor: From the encryption of files to extra functions, prices, user-friendliness and security. I can already tell you what makes Boxcryptor so attractive and one of the best encryption programs: The free tariff. This is very extensive and, unlike other providers, Boxcryptor works according to a no-knowledge policy and therefore never has access to your data. Of course, Boxcryptor also offers a paid service. This is actually a bit better and offers more options to integrate Boxcryptor with various cloud storage services and allows you to use Boxcryptor on multiple devices.
Features
The Boxcryptor encryption software mainly focuses on the encryption of your files in the cloud and allows you to easily encrypt, edit and decrypt files with more than 30 different cloud providers. However, you also have the option of encrypting local files. With a Premium plan, you can add as many storage locations as you want to encrypt network storage, USB drives, entire hard drives, WebDAV locations, and more.
On-the-fly encryption
Boxcryptor supports the so-called on-the-fly encryption. Instead of encrypting an entire folder, each file within the folder is encrypted separately. This way you can easily decrypt and edit a single file without having to decrypt and re-encrypt the entire folder.
With this approach, you don't have to manually encrypt files often. Boxcrytor allows you to define attributes via a folder hierarchy, which then apply to the folder's encryption and sharing options. For example, if you want to add a file to a folder that is already encrypted and shared with an employee, the new file will automatically be encrypted and shared as well. That saves a lot of work and time.
Boxcryptor for Android and iOS
One of the best features of the Boxcryptor encryption software is that it is also available as an app. Although most encryption software now supports Windows and MacOS (and some even Linux), very few work with iOS and Android. Boxcryptor not only supports iOS and Android, but also offers the full functionality of the desktop application.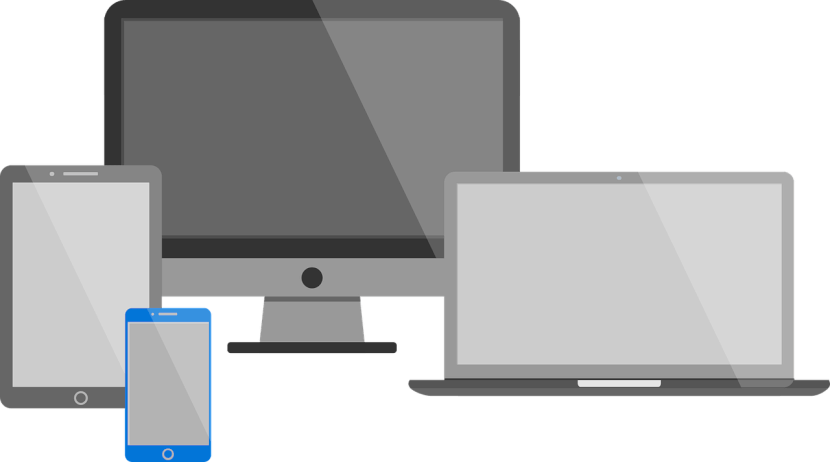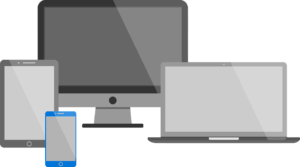 You can view, edit and encrypt files on your Android or iOS device. In addition, all cloud storage services supported by the desktop application also work with mobile devices, so that you always have your encrypted documents with you on the go. In addition, Boxcryptor offers an app that does not require installation, so you can transfer it to any Windows, MacOS or Linux computer to access your encrypted files. All you need is your username and password.
Whisply and Boxcryptor
The company behind Boxcryptor, Secomba GmbH, has developed another application called Whisply. Whisply enables Boxcryptor users to exchange files with one another. Whisply offers end-to-end encryption, which even enables you to share files with non-Boxcryptor users. Sending files via OneDrive, Dropbox and Google Drive is supported for this. Further cloud providers are to follow in the future.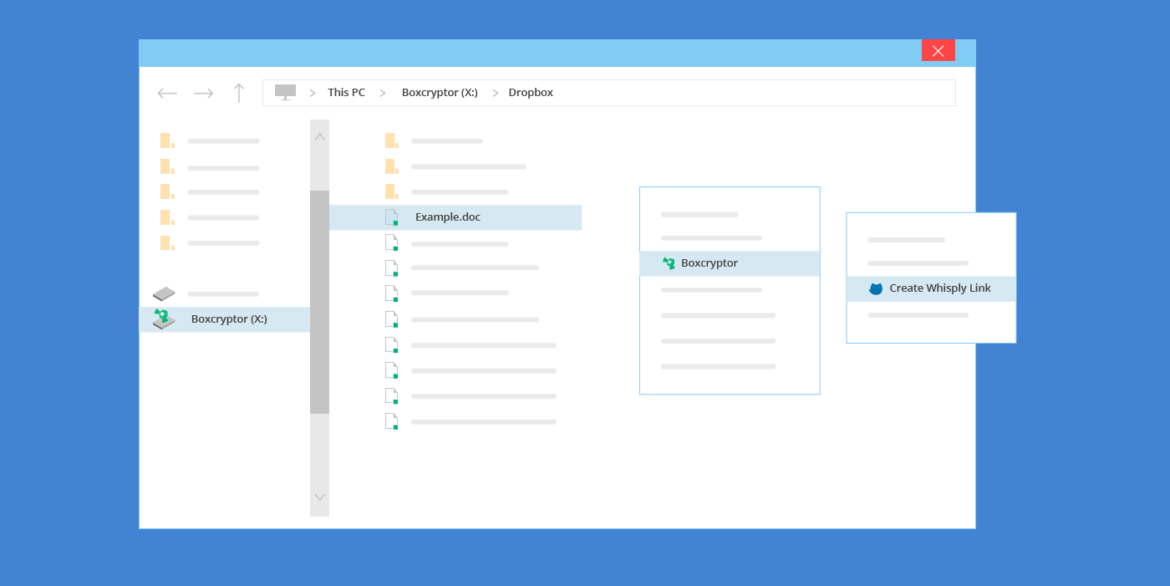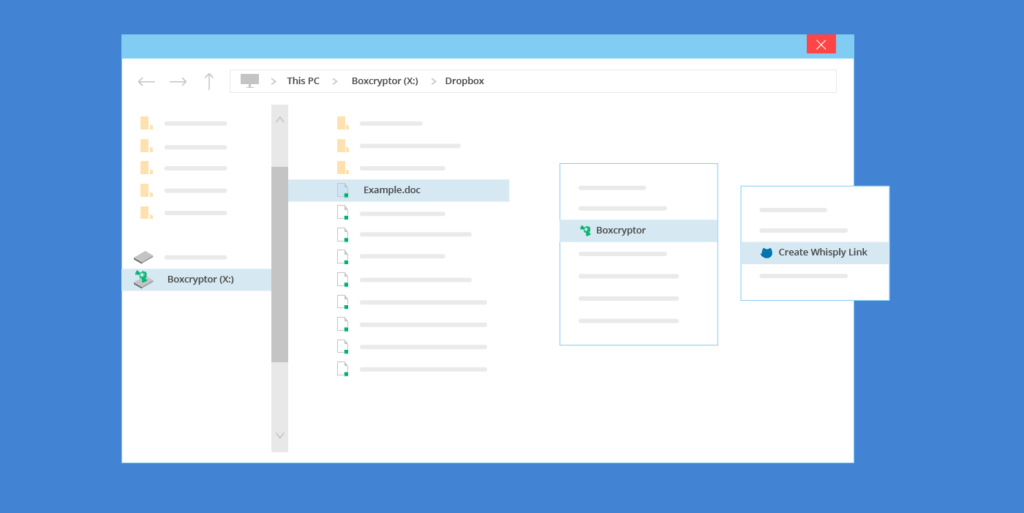 Creating a whisply link is very easy. All you have to do is right click on the file or folder you want to share in your Boxcryptor folder and generate a link. No other encryption software is that simple.
Premium subscribers can also set sharing options, e.g. B. a one-time download. You can also limit the duration of links and let them expire after a specified period of time. Sending from a link also offers several levels of protection. You can either just send the link, the link plus a four-digit PIN, or the link plus a custom password. Whisply is absolutely great and immensely expands the functionality and usability of Boxcryptor. However, there are also points of criticism: Unfortunately, Whisply is currently limited to 1 GB, regardless of how many files you have.
Safety
Perhaps the most important aspect of encryption software is security. But don't worry: Boxcryptor offers you the best security when encrypting your files. All your files are secured with a master password. Boxcryptor works according to a so-called zero-knowledge policy. This means that BoxCryptor does not know your master password and thus never has access to your data. Unlike other providers, especially free ones, with Boxcryptor you can rest assured that your data will not be misused. The only disadvantage of this zero knowledge policy is that you have no chance of recovering your data if you forget or lose your password, as Boxcryptor does not know your master password, so the support cannot help you in these cases either.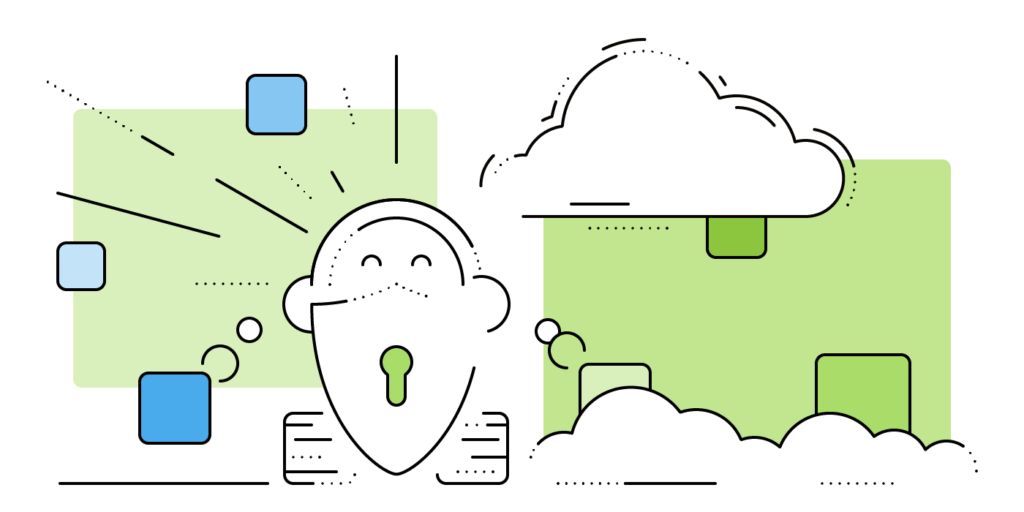 The Boxcryptor encryption software works with a so-called password hash. Your password is hashed with 5.000 iterations of PBKDF2 with HMACSHA512. When you log in, the password you entered will be hashed locally, sent to Boxcryptor and compared with the database.
This approach, which is used by almost all trustworthy encryption software, creates problems when you don't have an internet connection. Fortunately, Boxcryptor also enables offline authentication. You can create a key export with which you can also decrypt your files offline without having to connect to the Boxcryptor servers.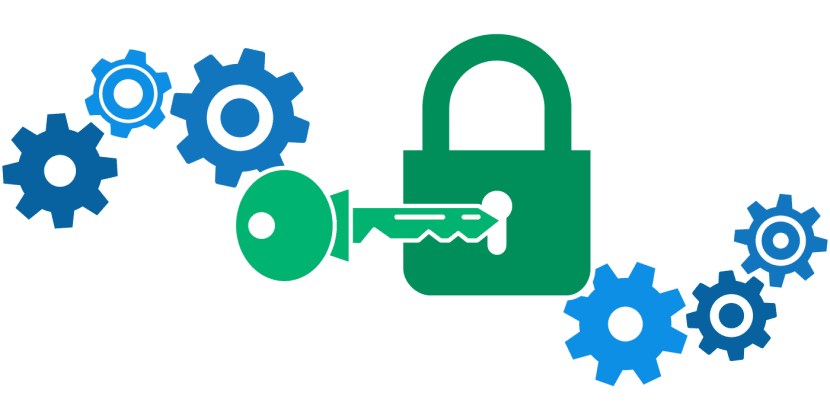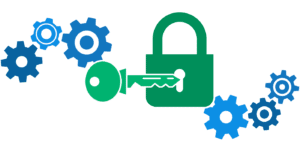 Otherwise, the security at Boxcryptor is excellent. The provider uses AES and RSA as basic algorithms. AES-256 is used to encrypt the files and folders on your computer. RSA is responsible for encrypting your passwords. The process works as follows: You have a public and a private RSA-4096 key, which are linked to each other. A key generated from your master password is used to encrypt your private key. As soon as you have entered your password, the private key, which is linked to the public key, is unlocked. Since the RSA key pair is used to encrypt your AES key, you can decrypt your files. Using RSA can make the decryption process a little longer, but on modern systems it usually doesn't make any difference. Personally, I think the use of RSA instead of ECC for key management is exemplary given the NSA's concerns about their security.
Ease of use
Setting up Boxcryptor is very easy. I am aware that I have already used a few technical terms in this article that may overwhelm some users. You don't have to worry though, Boxcryptor works without you fully understanding the encryption process. After you have registered on the Boxcryptor website, you select a tariff and can then download the software.
As already mentioned, Boxcryptor is a no-knowledge provider. You set your master password on the login page. I recommend you do it with one Password manager to generate and save. Finally, Boxcryptor recommends the installer you need based on the operating system you are using. If you need a different installer or need to install the application on multiple systems, you can find it on the Downloads page.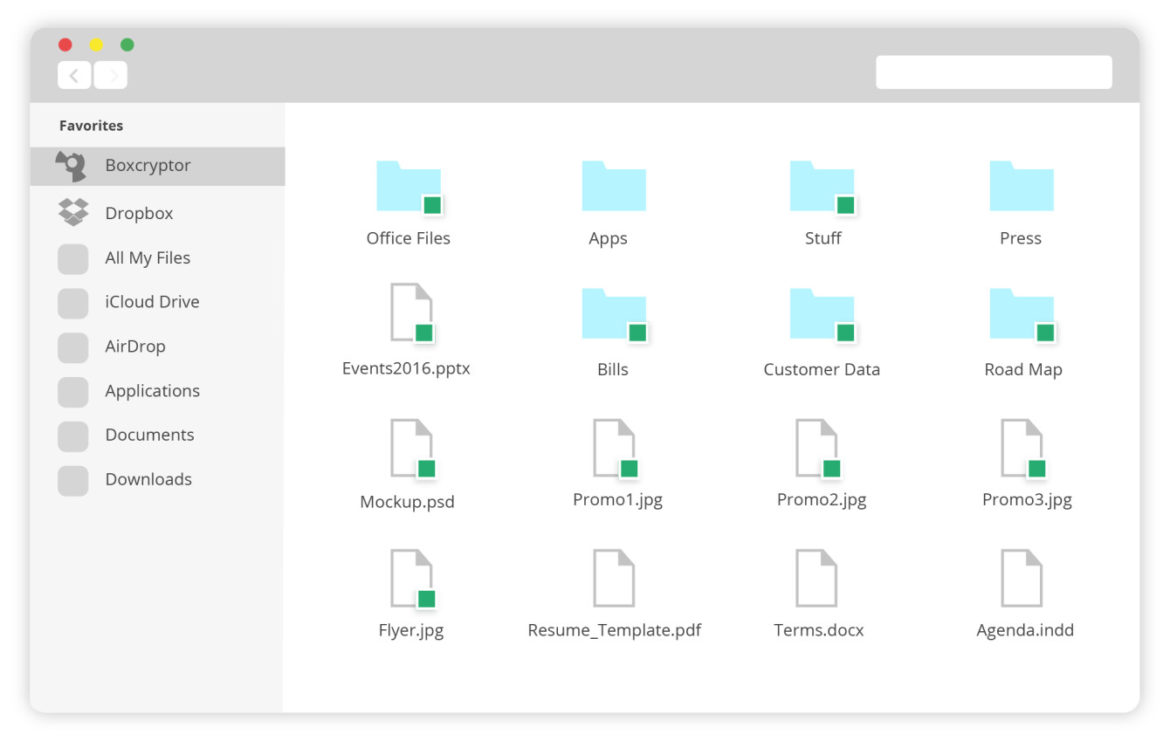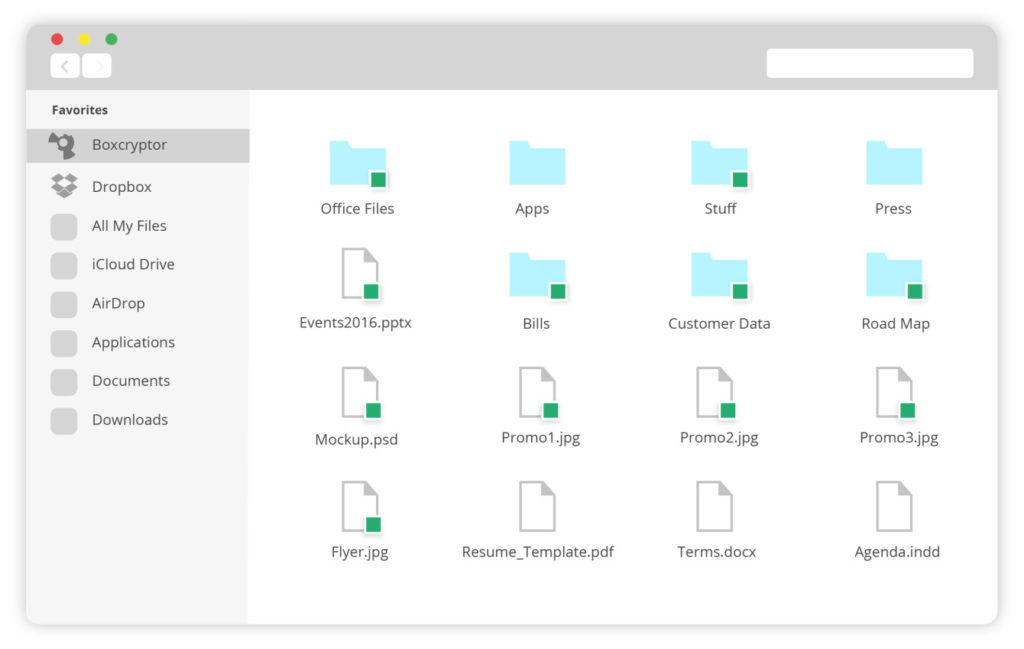 Once you have downloaded and installed the software and logged in, you will be taken to the Boxcryptor dashboard. Although you don't have to use the dashboard in everyday life, it is very clearly laid out and offers a lot of useful information. You can display and update your tariff, recommend new users for free months of a premium membership, display your trusted devices and browser sessions and activate two-factor authentication. Boxcryptor supports the best 2FA apps and security keys.
However, the most important option is key export. As already mentioned, Boxcrytor does not save your password. If you lose it or forget it, you're out of luck. There is also no recovery code for the "Free" and "Personal" tariffs. So you have to make sure that you keep your password safe!
Encrypt files and folders
As already mentioned, you do not have to use the Boxcryptor dashboard to actually encrypt it, but mostly use Windows Explorer. During the installation, Boxcryptor provides a virtual drive so that your encrypted files and folders are displayed next to your others as a hard drive.
In addition, Boxcryptor automatically detects and archives all cloud storage folders that are on your computer. In my case, Google Drive was recognized immediately. However, before you deal with encryption, you should open the Boxcryptor application. Because although Boxcryptor recognizes cloud providers, of course you still have to link them by logging in with your login information.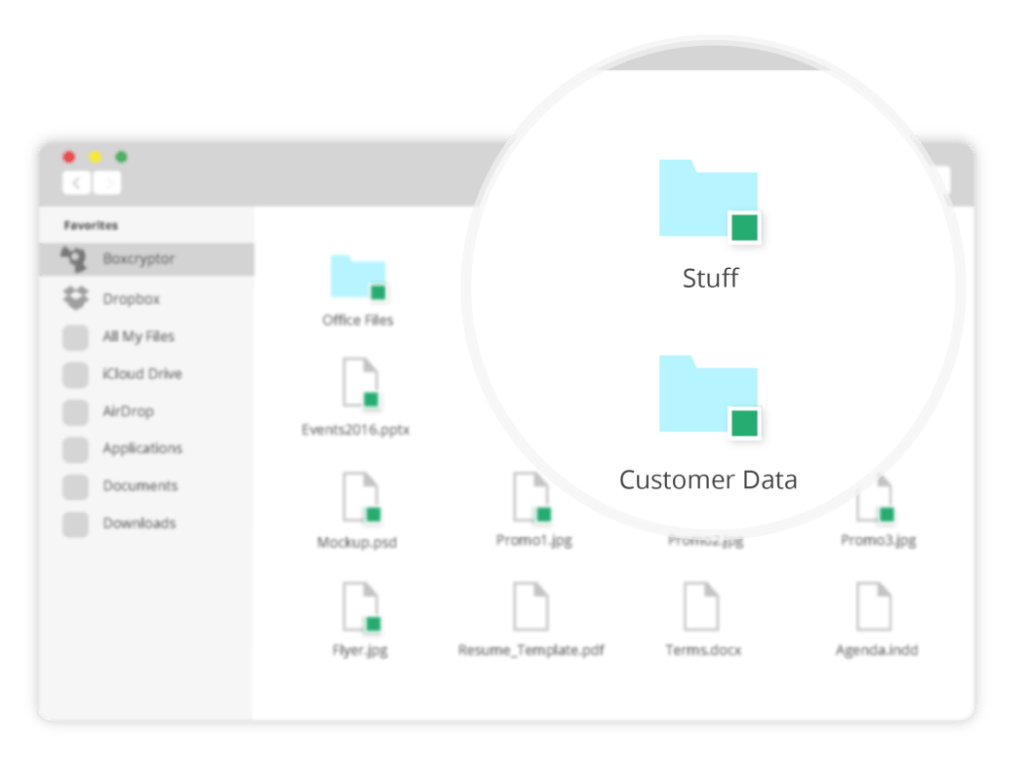 Once these are linked, you can encrypt files however you want. The easiest way, however, is to drag your files into the Boxcryptor virtual drive. It's child's play and really understandable for everyone. In addition, the encryption works automatically for every new file or folder that you add to one of your linked cloud services. You know that a file or folder is encrypted when you see a solid green square at the bottom of the file or folder and the suffix "_encrypted". Encrypting folders can sometimes take a while, since Boxcryptor uses a large (but secure) RSA-4096 key.
File sharing and storage
As already mentioned, you can use the Boxcryptor encryption software with more than 30 cloud providers. So you can be sure that all known providers such as Dropbox, Google Drive and iCloud are supported. Boxcryptor also supports a handful of EFSS providers, including Egnyte, Box, and OneDrive for Business. With Boxcryptor you can grant any user with a Boxcryptor account access to your files. The nice thing about sharing with Boxcryptor is that it's completely free. All the recipient needs is a free Boxcryptor account and they can access the encrypted content, regardless of the size of the content.
Boxcryptor for companies
Boxcryptor's company-oriented service offers additional options for sharing and user management. All users of a team account can be managed by the administrator via a central admin panel. In addition, the administrator can track user activity, enforce security policies, and reset user passwords.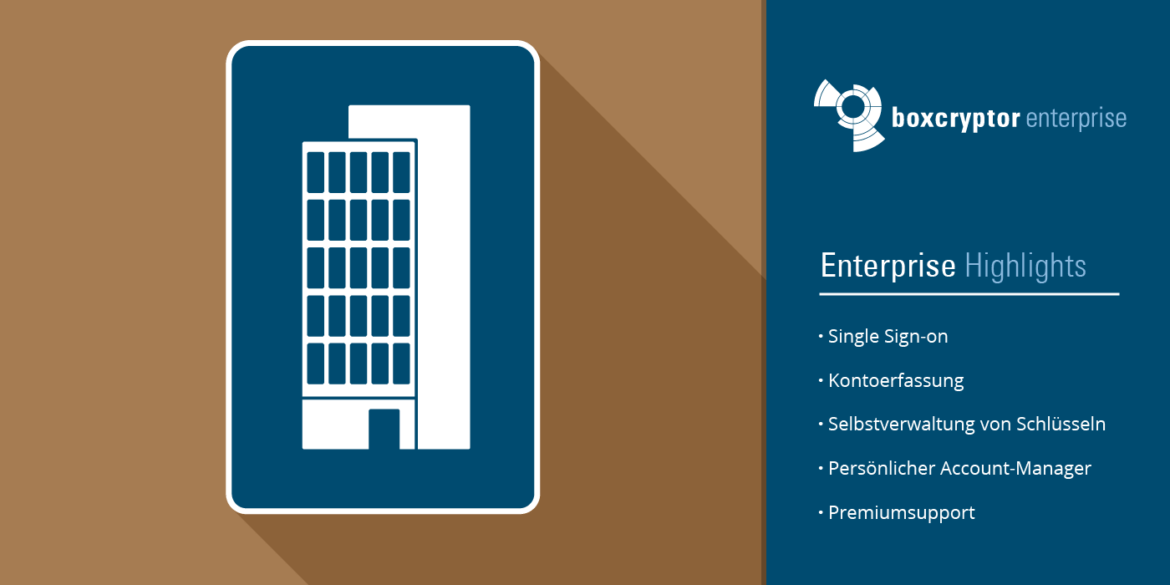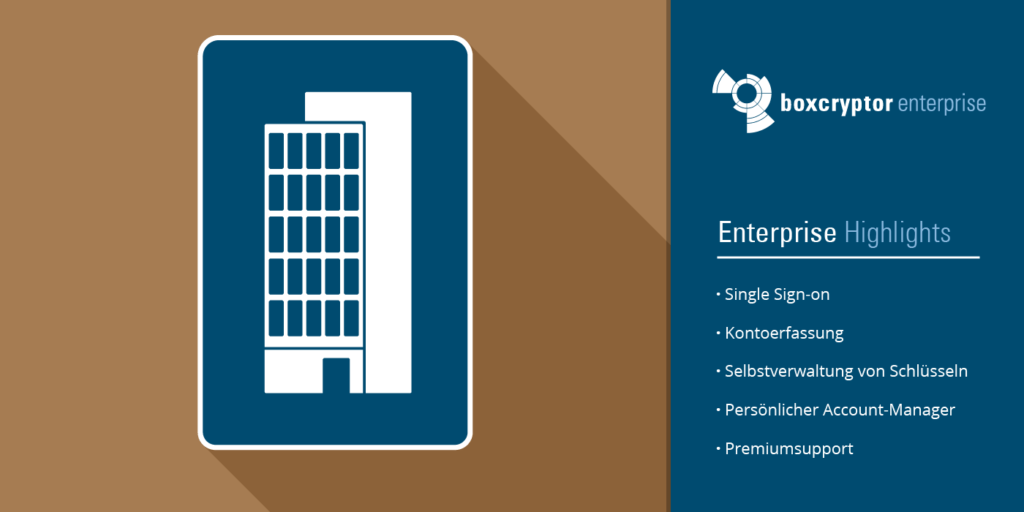 Group management is more practical for large teams. For example, you can divide users into groups in order to grant certain groups higher access levels and restrict others. You can also determine who can view and / or edit certain folders. This means that some users can access a file for reference while others can edit it directly.
Groups don't need to be synchronized either. When you add or remove a user from a group, nothing happens to your cloud storage service. Rather, the permission is either added or revoked locally and on Boxcryptor's servers, so you can add and remove users almost immediately. Working with larger companies is better with Boxcryptor than with any other encryption software.
Support
If you use a free plan, it is limited to the community help and extensive user manuals from Boxcryptor. Boxcryptor should have few problems in everyday life. But if you do have one, the community help is not necessarily the most reliable.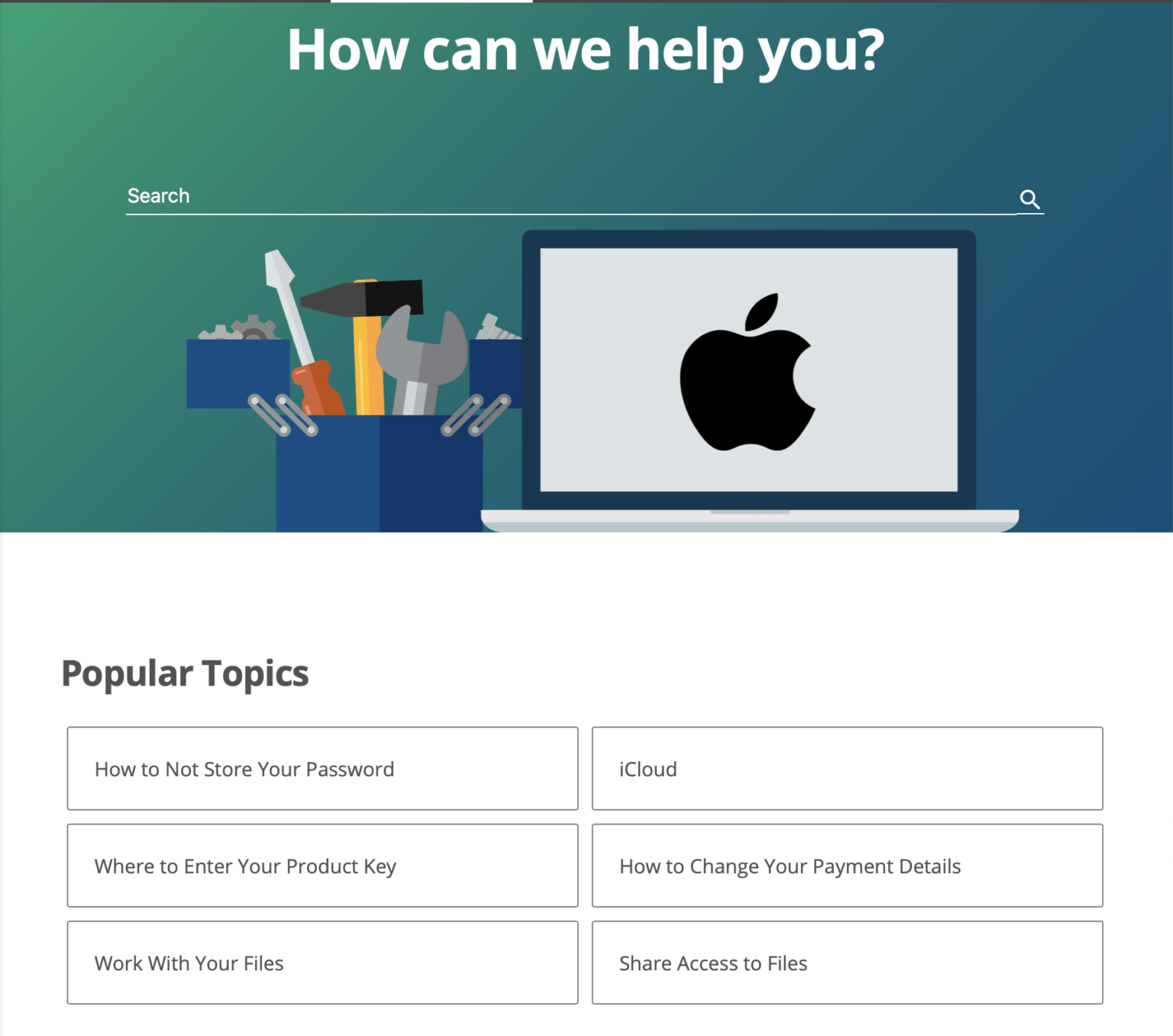 The community is active. At the time of this writing, most threads have at least one answer, with some of the answers even from support agents. The forum is generally not the most consistent support method and you sometimes have to wait a long time for answers.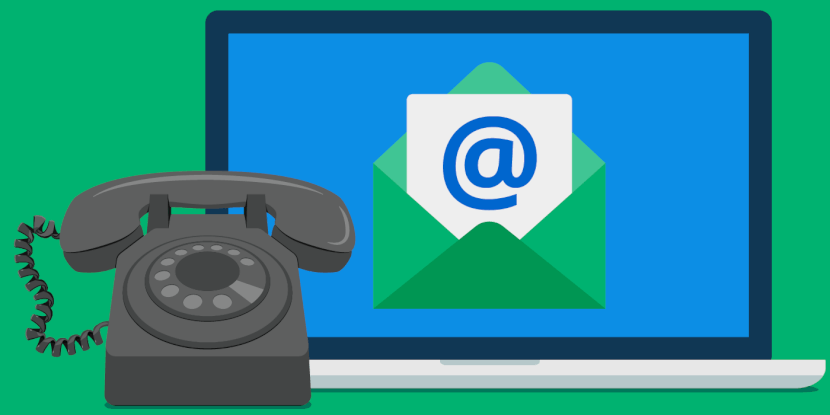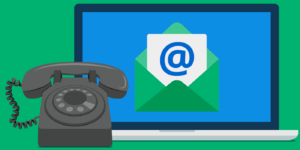 So if you want to use Boxcryptor for a longer period of time and are satisfied with the free version after a test phase, it is advisable to upgrade. The Boxcryptor user manuals are also a free alternative. These are an excellent resource and are included in the free plan too. It is of course important to remember that the user manuals are only available in English and German. If that's not a problem, these don't just contain basic installation instructions. Rather, Boxcryptor goes into detail about each supported platform and even covers common problems.
If you have a paid plan, you can simply email support questions by email if you have any problems, with business subscribers receiving a higher priority. The e-mail support is only available in German and English. If you need additional support options, the business plans offer phone support and a dedicated account manager.
pricing
As already mentioned, Boxcryptor offers a completely free version. Otherwise, the prices of the encryption software are roughly in the middle compared to other encryption software. Otherwise there is unfortunately a negative point to note here that Boxcryptor currently does not offer any refunds and that all tariffs are valid for at least one year.
Boxcryptor offers a total of four tariffs: Free, Personal, Business, Teams (price per user). The teams tariff is equivalent to the business tariff. With a 3-year contract you save 25% compared to the normal price.
| Membership | Free | Personnel | Business |
| --- | --- | --- | --- |
| Cloud provider | 1x cloud provider | Unlimited | Unlimited |
| Number of devices | Limited to 2 devices | Unlimited | Unlimited |
| Support | Community support only | Community + email support | Community + email support with priority |
| commercial use | No | No | Ja |
| Whisply integration | Ja | Ja | Ja |
| Registration price | Free | 36 € per year | 72 € per year |
On the product page it is made clear that there is no cancellation period. If you buy a plan and then realize that you don't like Boxcryptor, your license will remain in place until the renewal date. Only then will your account be downgraded to a free plan.
Boxcryptor teams
The normal Boxcryptor Business Plan is not suitable for multiple users. Instead, it is licensed for commercial use only. If you own a company and need Boxcryptor for multiple users, Boxcrypto offers a team plan that is available for one to three years and where each user has to be paid extra.
It doesn't matter how many users you end up needing. The team plan always costs € 10 per user. Incidentally, the team plan is currently limited to 50 users, if you need Boxcryptor for more than 50 users, you have to contact Boxcryptor before ordering and can thus book a so-called Enterprise Plan. How much this costs exactly cannot be seen on the website. The team plans come with many useful extras such as a master key and various tools for user management.
Boxcryptor free plan
Since Boxcryptor, as already mentioned, does not allow cancellation, I advise you to use the free version at the beginning. Boxcryptor's free plan offers unlimited encryption for personal, non-commercial use. Unfortunately, the free plan for this is relatively limited in other places.
You don't have access to email support, the Whisply integration doesn't offer as many functions as the paid tariff and you can only synchronize two devices and one cloud provider with your account. These restrictions may sound very strong at first, but on closer inspection they are not as bad. Most users will only use encryption software on two devices, a cell phone and a PC. Most users do not have more than one cloud provider. Hence, Boxcryptor's free plan is really excellent.
The only hurdle that actually has to be overcome is that you can only address yourself to the community at Fagen. However, Boxcryptor's encryption software is so easy to use that even this is not a major problem in many cases.
Boxcryptor conclusion
Boxcryptor sets the standard for encryption software. The free plan is generous and doesn't have too many restrictions. In addition, Boxcryptor is easy to use and integrates seamlessly with most major cloud storage services. With the free plan, there's no reason not to try Boxcryptor.
Frequently asked questions about Boxcryptor encryption software
How do I use Boxcryptor with Google Drive?
When you install Boxcryptor, the program automatically searches your computer for cloud providers. If you have already installed Google Drive, all you have to do is open the Boxcryptor application and link your Google account in the dashboard by entering your e-mail and password. Everything else happens fully automatically.
How does Boxcryptor work?
Boxcryptor is a classic encryption software that is able to encrypt your local data as well as your data in the more than 30 supported cloud providers. The data is locally encrypted and replaces your readable data on the servers of the cloud provider. Ultimately, Boxcryptor converts readable files into unreadable ones. To make this readable again, you need a password, which you set beforehand.
Is Boxcryptor Safe?
Yes. Boxcryptor works with a no-knowledge policy. As a result, the provider never has access to your files or your master password.
Is Boxcryptor free?
Yes. Boxcryptor offers a very good free plan. However, this is limited to 2 devices and 1 cloud provider.