Almost no other nation in the world attaches so much importance to data protection as Germany. According to some surveys, a large proportion of people pay attention to what data they reveal online. While this is a good basic requirement for safe surfing, it is nowhere near enough. Hacker Attacks and Cyber ​​Crime are on the advance - there are more than 800 million malicious programs worldwide and new headlines overtake us every day from hacker attacks and malicious software that spy not only on companies but also on individuals.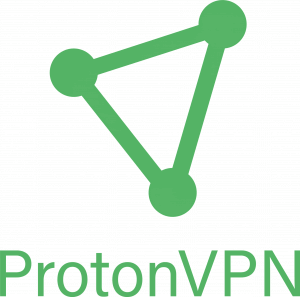 It is therefore no wonder that more and more people are liking to private security companies VPN provider that ensure safe and anonymous surfing. A VPN connection makes it possible to connect to the encrypted server connection of the VPN provider instead of the regular Internet connection, so that no traces are left behind when surfing. A trustworthy VPN provider does not save any user data, so that no conclusions can be drawn about the identity or the internet activities.
Given the abundance of VPN providers, the question arises as to which VPN connection is the most secure and what to look for when choosing the right provider. In order to remedy this problem a little, we present the provider's VPN service in this review ProtonVPN in front. ProtonVPN is a Swiss company that not only offers secure VPN connections, but also encrypted email services. Everything about the company and the VPN service in the following review.
Content
Excellent VPN provider

Support of almost all operating systems: Windows, MacOS, iOS, Android and Linux
High security & anonymity: No log policy, kill switch, and much more.
Excellent speed: Use of high speed servers
ProtonVPN Company Backgrounds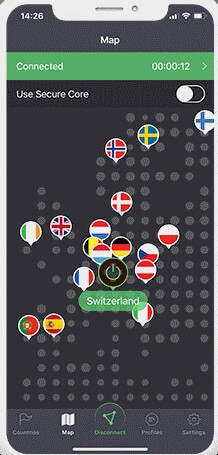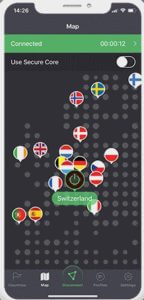 Proton Technologies AG is a Geneva-based company that, despite its relatively small size, has already played a pioneering role in terms of data protection and security on the Internet. The company was founded in 2014. Scientists, engineers and programmers at CERN teamed up to create ProtonMail, the first Proton Technologies product that is now recognized as one of the world's largest encrypted email service applies. ProtonVPN said it was born out of the need to better protect the online activities of journalists and activists who were already using ProtonMail.
The company headquarters in Switzerland has many advantages - because Switzerland not only plays a pioneering role in the fields of science and research, but is also way ahead when it comes to data protection. Switzerland has strict data protection guidelinesthat are in no way inferior to the EU.
Proton is very offensive when it comes to the subject Transparency and security goes. Detailed information on the provider and its employees can be found on the provider's website. Proton is also committed to strict no-logs guidelines. This means that personal data and logs are not stored in order not to allow any conclusions to be drawn about the Internet activity of the users. If you would like to receive more information on the subject of data security, you can find out more on the provider's website.
Furthermore, Switzerland is not a member state of Fourteen Eyes Alliance. This alliance is the amalgamation of different countries that exchange information with each other - Germany is one of them.
Server network and data security
ProtonVPN's server network is with 785 servers in 48 countries in contrast to server giants such as NordVPN or CyberGhost, rather manageable. However, the network offers a very high security standard, which offers sufficient protection against data leaks and cyber attacks of all kinds.
Proton's internal safety network is called "Secure Core"And guarantees adequate protection against attacks that are directed against the network itself. Secure Core Servers are located in secure locations such as Switzerland, Sweden and Iceland. The data connection is routed through these servers before leaving the network. Nobody has the opportunity to find out the true IP address of the user or to draw conclusions about the browsing activity. The servers themselves are in heavily guarded locations - the secure core servers in Switzerland are located in a former nuclear bunker 1000 meters underground. The locations in Iceland and Sweden are also in highly secure locations, which ensures not only digital, but also physical protection.
ProtonVPN uses the AES-256 security standard. In addition, the key exchange takes place via 4096 bit RSA and the message authentication is done using HMAC SHA384. The encryption mechanisms are considered to be the most secure in the world; AES (Advanced Encryption Standard) is used by governments and the military, for example. Both OpenVPN and IKEv2 / IPSec are used as security protocols. These protocols are also considered to be the safest in the world.
Furthermore, ProtonVPN is equipped with a variety of extras that prevent data leaks and additionally increase data protection. So ProtonVPN offers one Kill switch mode which disconnects the entire internet connection should the VPN connection accidentally break off. This prevents data from reaching the network via the normal Internet connection. Even DNS requests go through an encrypted tunnel without relying on third parties.

Speed
In addition to the issue of security, a VPN provider Of course, provide a fast internet connection to ensure maximum user-friendliness. In general, it cannot be avoided that a VPN connection is always accompanied by restrictions on the connection speed, since the connection is channeled through several servers. While many other providers rely on quantity instead of quality in their server network, ProtonVPN, on the other hand, offers a smaller network, which is only from High speed servers consists.
In concrete terms, this means that the minimum bandwidth is 1 Gpbs, with many servers able to achieve peak values ​​of 10 Gpbs. Of course, the speed depends on many individual factors, so everyone should test the software themselves without obligation. In our tests within Germany, ProtonVPN was able to achieve a acceptable speed regardless of whether we have used VPN servers at home or abroad.
Access to foreign streaming services
In addition to anonymity and security when surfing, many people opt for a VPN connection in order to have access to streaming services abroad. With ProtonVPN, users can access services such as ABC.com, Amazon Prime Video, BBC iPlayer, ESPN +, Hulu and of course on Netflix access abroad. The services in the USA, Great Britain, Italy and Germany can be accessed for Netflix alone.
Usually, VPN providers are a thorn in the side of streaming services such as Netflix, Hulu or Amazon Prime, as they enable users to access the world's cheapest offers from providers. However, Netflix and Co. have their costs and theirs Offer on the respective market tailored. For example, the price offer and the selection of films from Netflix Germany is different from the offer from Netflix in the USA.
Although some VPN providers are already blocked from streaming services, we could not find anything like this in our tests. Access to popular streaming services such as Netflix or Hulu in the USA was made in Germany no problem at all represents
More information about streaming and Country blocks can also be found on the provider's website.
Device support
ProtonVPN offers its service for almost all operating systems on. These include Windows, macOS, Linux, iOS and Android. If you want to use your VPN connection primarily from home, it is recommended to connect ProtonVPN to the router, as this will secure and encrypt the traffic from all devices. This means that even devices that do not support a VPN connection can be protected.
But here's an important note: Not every router can be connected to ProtonVPN. Only routers that allow OpenVPN as a client can be connected. In addition, you should bring a little technical knowledge with you: Setting up ProtonVPN on individual devices is very easy, but requires a little more skill when connecting to the router. Here it is worth looking at the provider for more information and, if necessary, contacting ProtonVPN's customer support.
The cost of ProtonVPN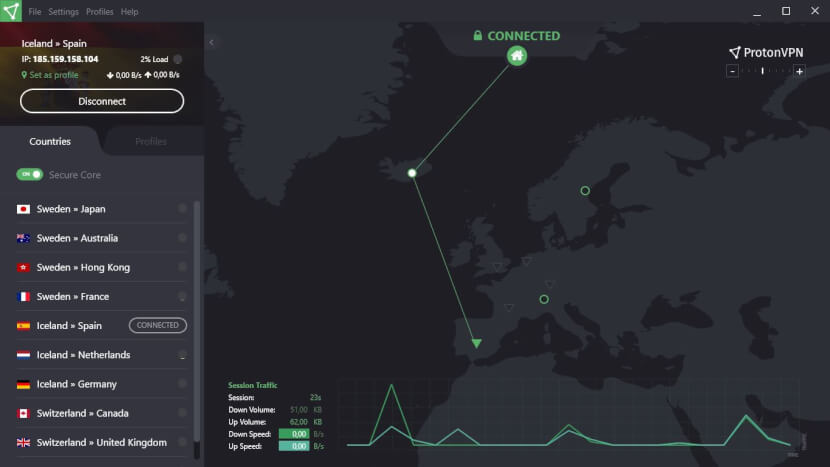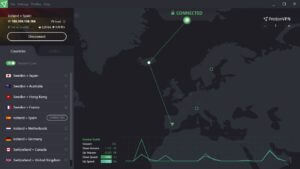 To say it in advance: ProtonVPN offers one of the most secure and trustworthy VPN networks, but that also has its price. Proton VPN is divided into four offerings: Free, Basic, Plus and Visionary
Free
As the name suggests, this is one free VPN service. This offer is aimed at all interested parties who would like to familiarize themselves with the provider and the user interface before concluding a paid contract.
The free offer is very limited: users can only choose VPN servers in three countries and only connect the user account to a single device. In addition, the Connection speed throttled and streaming services and P2P services are not possible at all.
Certainly not bad for casual use, however nothing for long-term use.
Basic
The basic offer is for a one-year term for 4 Euro per month available. Here a user account can be connected to two devices, which has full speed access to servers all over the world. P2P services are possible, but even with this offer it is not possible to access the streaming services abroad.
A cheap offer, but what about many restrictions brings with it.
Read more
The plus offer is with 8 Euro a month twice as expensive as the basic version, but an extensive service package has been put together that justifies the price. First of all, up to 5 devices can be linked to one user account. This means that a family household can usually get by with a single subscription. With the Plus offer, users really have access to all of the provider's servers, so that streaming services can also be used. Plus users also enjoy the highest level of security protection thanks to the Secure Core Servers.
The plus offer is our purchase recommendation.
It remains to be mentioned that the relatively expensive price by a two-year subscription can be reduced. For example, if you opt for a Plus subscription with a two-year term, you would pay EUR 6.63 instead of EUR 8 per month.
Visionary
If the Plus offer is still not enough for you, you can get even more security with Visionary, but the price difference is considerable. An annual subscription costs here 24 Euro a month - three times as much as the plus service. In addition to all the Plus functions, Visionary also includes access to ProtonMail Visionary, the security company's encrypted e-mail service.
The question of whether this is worth 24 euros a month, or 288 euros a year, everyone has to answer for themselves.
Anyone who is still undecided can test all paid offers risk-free. For this, ProtonVPN has its customers a 30 days money back guarantee granted.

This makes sense because the basic version is not suitable for fully checking all functions of the program. Instead, it is worthwhile to take out a one or two-year subscription and, if you are dissatisfied, cancel it within the first month. If you only need the offer to circumvent the restrictions in countries with Internet censorship, you can sign a one-month contract, which is a little more expensive.
ProtonVPN conclusion
Our personal experiences with ProtonVPN are more than just convincing - The provider offers an excellent VPN service, which is in no way inferior to the large providers in terms of security and service.
Here are especially next to the high encryption rate of 256 bits Also to mention other security features such as the kill switch, which guarantee a high level of security and anonymity when surfing.
Furthermore, offer the digital and physically protected Secure Core Servers the highest security standards in Switzerland, Sweden and Iceland, so that users can be sure that their data will not end up in the wrong hands.
The strict no-logs guidelinesthat ensure that user data is deleted so that tracking of individual individuals is not possible, even for Proton.
We also always had one during our test runs fast and reliable connection.
However, it can be stated disadvantageously that the Server network still relatively small is in contrast to the large, established providers. This can have a negative effect on choosing the right streaming server and speed.
Although there are no safety-related deficiencies, this extra security unfortunately also has its own Pricethat is more expensive than the competition.
In view of the still relatively small server network, some will perhaps think twice about getting an equivalent streaming service from other providers for almost half the price. However, the Security aspect that makes ProtonVPN so unique.
Despite these shortcomings, we can use ProtonVPN Recommend without reservation. Here it is particularly worthwhile to test the one or two-year Plus Service, as it includes a comprehensive range of security and services. The free package is only recommended for those who want to get an exact picture of the user interface.
Proton Technologies AG is one of the most trustworthy providers and offers the best security package at a price that is unfortunately a bit too expensive. It remains to be seen whether the flood of new subscribers can keep prices down. If so, Proton could strive for market leadership in the long term.
Best security package - unfortunately high price
ProtonVPN could become the market leader in the long run, but the price still has to move. The offer currently impresses with an extensive security package, strict no-log guidelines and fast connections.
Pro
Highest security
Strict no log rules
High encryption rates
Stable connections
Contra
Small server network
High price
9.2
unreserved recommendation