Surfshark VPN is one of those new providers that has the basic requirements of a reliable and secure VPN connection more than fulfilling and at the same time offering a price that is far below that of the established large providers.
In the following review we summarize our experiences Surfshark VPN together. We took a close look at Surfshark VPN, especially in the areas of security, anonymity, speed and user-friendliness with a view to the price-performance ratio.
Content
Best VPN provider

Extensive server selection: 1000+ VPN servers in 60 countries
Support of the most common operating systems: Windows, macOS, iOS, Android, Linux and Amazon Fire TV
High security & anonymity: No-log policy, kill switch, AES-256 encryption, and much more.
What is a VPN?
VPN services are more popular than ever. There are many reasons for this, but above all those growing popularity of online streaming websites has contributed to the fact that more and more consumers in this country are buying a VPN connection. With a VPN connection, not only can the German offer from Netflix & Co. be used, but also the worldwide, often cheaper alternatives can be accessed at the same time.
It is therefore no wonder that many technology startups are taking advantage of the growing popularity to offer their own VPN service. You hear about new international ones almost every day VPN providers, the barrier-free, safe and anonymous surfing promise. This benefits the consumer, since competition is known to lower prices.
What is Surfshark VPN?
Surfshark is a relatively young company. Founded in 2018 the company is based in the British Virgin Islands and is led by CEO Par Kaz and CTO Magnus Steinberg. Most of the business processes take place in Europe, but the company is increasingly global and already has branches at international locations.
The provider not only promises secure Internet access through no-logs guidelines, but has distributed both virtual and local servers all over the world, which contribute to the speed of the connection. Also Netflix works fine in most regions.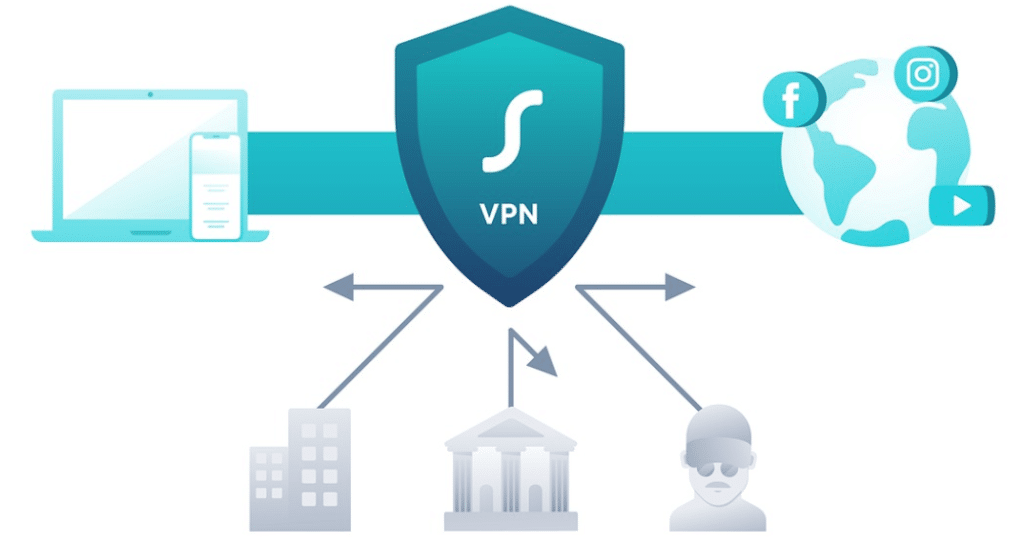 The Surfshark VPN offer
Although Surfshark VPN has only been on the market for barely 2 years, the range of services is already impressive. With a server network of more than 1000 servers in over 60 countries the network is in the upper midfield compared to other providers. However, the network has expanded steadily within 2 years and it can be assumed that Surfshark VPN will soon have a similar number of servers as the established competition, e.g. NordVPNmay have.
In addition to the good server network, it is above all that Service packageWhat sets Surfshark VPN apart from the competition today:
First of all, a user account can use infinite number of devices get connected. This means that a family household only needs a single user account. This cannot be taken for granted, as other providers only link their user accounts to one or a few devices.
Next to it is the Price simply unbeatable. During our test run, the discount campaign was a whopping EUR 1.79 / month with a two-year term. The two-year term is more than recommendable here, as the monthly price is already doubled for the one-year term and the one-time price for a term of only one month is just under 10 euros.
Surfshark VPN offers a range Payment Methods to: Visa, Mastercard, American Express and Discover are available for credit card payments. There are also Sofortüberweisung, Google Pay, Amazon Pay, Giropay and Webmoney. You can also pay with crypto currencies such as Bitcoin through CoinGate or CoinPayments.
Refund warranty
Anyone who chooses SurfShark VPN is offered a 30-day money-back guarantee. The purchase is therefore not binding and the program can be tested at your leisure before you have to make a final decision.
Even within the first 30 days, all functions and services are freely available to users, including an unlimited number of devices for a user account, unrestricted and fast access to content without speed restriction, and customer support that is available around the clock.
If you only plan to use Surfshark for a short time, for example for a short stay in China, you can even use the service for free for this period by canceling the subscription before the 30 days have expired.
Available platforms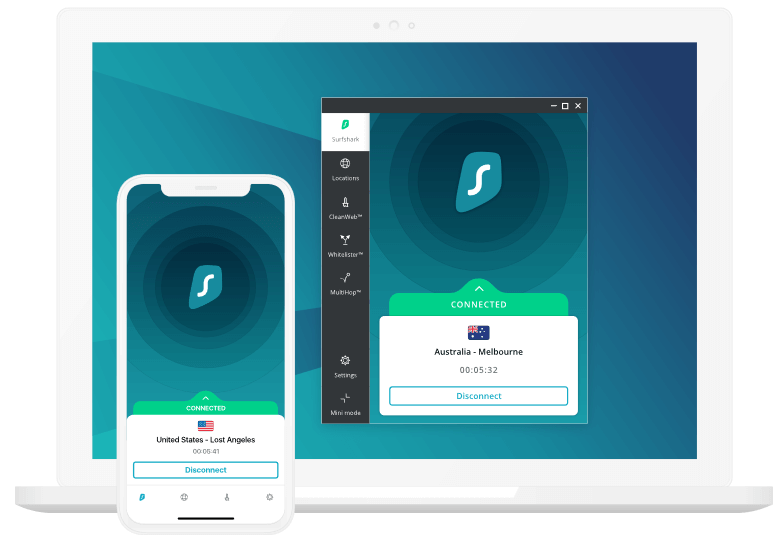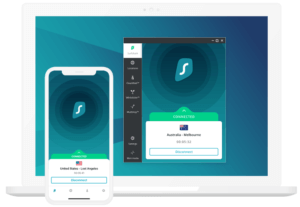 Surfshark VPN allows one unlimited number of devices with just one user account. Literally all common and also less used operating systems are supported. The cross-platform service package includes:
Windows,
macOS,
Linux,
iOS,
Android and even
Amazon Fire TV.
This is very gratifying, as other providers either limit their offerings to a few devices or the VPN service often only supports a few operating systems. However, Surfshark VPN offers an offer that comes with a user account virtually all devices in a household covers.
The security with Surfshark VPN
Now we come to one of the most important aspects of a VPN: security.
Privacy
The most important question that consumers should ask themselves before buying a VPN connection is that of personal privacy and security while surfing. According to Surfshark VPN strict no-logs guidelines adhered to, which oblige the company to neither log nor monitor user activities.
If you would like more information on the subject of privacy and data security, you can find out more on the provider's website. All information on data security and data protection is available here detailed and transparent treated.
Surfshark VPN also offers an excellent one Customer Supportwho is available 24 hours a day and can clarify all open questions.
Of course, we can't look behind the scenes of the company in this review, but the fact that the provider is in the British Virgin Islands is an advantage when it comes to data security. Many European countries require internet service providers to do some To store user data, on the basis of which conclusions can be drawn about the Internet activity of the users. In contrast, the Virgin Islands have no such laws, which makes the country a stronghold for data security.

Data encryption
In addition to strict, specially imposed no-logs guidelines and a legislator that promotes data protection, the technical infrastructure of the VPN provider must of course also be right. Surfshark uses a AES-256 encryption. AES stands for Advanced Encryption Standard, which means something like advanced encryption standard.
This standard is and is considered to be one of the safest in the world by the military and governments used all over the world as hacker attacks are virtually impossible. The encryption rate here is 256 bits. In addition to OpenVPN, IKEv2 are also used as security protocols. Furthermore, some security functions have been set up to prevent unwanted Advertising, malware and phishing protect.
In addition to the excellent encryption, Surfshark VPN offers other extras that are particularly interesting for the type of user who wants the highest level of anonymity:
So Surfshark VPN offers one Kill switch mode which means that if the VPN connection is broken, the entire Internet connection is cut off at the same time, so that no unencrypted data can enter the network through the normal connection with the ISP.
Surfshark also offers a Multi-hop process through which the data traffic is encrypted twice and passed through 2 different servers. This makes it difficult to track internet usage.
In addition, the own router connected to Surfshark VPN become. However, for this it is necessary that the router also supports OpenVPN. On the Surfshark VPN website you can find detailed information on how to use a router with OpenVPN as a client to connect to the Surfshark VPN servers.
The services of Surfshark VPN
Now let's take a look at the speed and now the most popular feature of a VPN, streaming.
Speed
In our speed tests, the VPN service did in our Surfshark test very well cut off - in most areas the average speed is 20-30Mpbs, whereas the speed without VPN is around 85-90Mpbs.
To this end, it must be admitted that VPN connections, regardless of the provider, throttle the speed, as the signal is routed through different servers around the world. The reason why Surfshark VPN is still acceptable is this relatively high number of international serversthat enable fast connection from anywhere.
Netflix streaming
The selling point of many VPN providers stands or falls with the question of whether Netflix can also be used in other countries and you can use it Country blocks can handle. According to Surfshark, you can 15 international Netflix libraries received, including the USA. Surfshark VPN offers a very good service, especially for those who want to enjoy a large selection of films in English.
Streaming services usually try to block access from VPN servers, as the offers and cost structure are only limited to the respective country. This means that both the selection of films and the costs are different in Germany than in other countries. In our tests, however, we had no problems access the Netflix services of different countries in Germany.
The use of VPN and Netflix is ​​also completely legal. You do not have to expect legal consequences if you access Netflix in other countries using VPN services in Germany.
The use of Surfshark VPN
The question still remains of how the Shark VPN should be used and whether it would also be a good solution for beginners or only for professionals.
user interface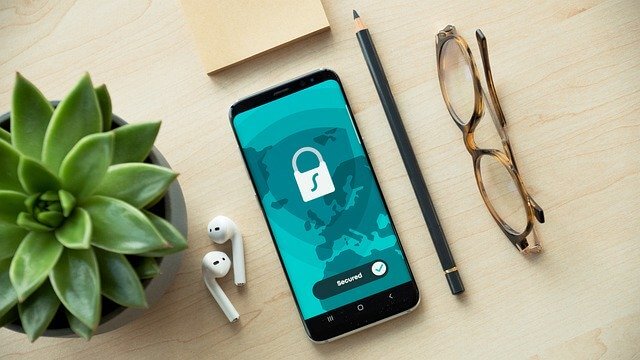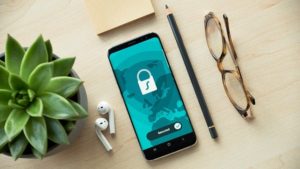 If you are not familiar with VPN connections, you may have doubts whether a VPN connection requires a high level of technical knowledge. However, these doubts are unnecessary as they are every beginner can find his way around within a few minutes.
The only thing the user has to do himself is that Selection of the desired server To this end, the user interface of Surfshark VPN for Windows provides a simple but clear user interface with many options for server selection. Here, for example, you can choose between real and virtual servers and other security settings.
Real servers are in the country that is selected for the assignment of the IP address and thus ensure that the VPN connection can be used as quickly as possible and without problems. IP means internet protocol and can be compared to an address on the internet that can be used to identify the user.
In contrast to this, however, can also virtual server that provide different IP addresses than the actual location of the server. For example, if the server is in Germany but assigns an IP address from a third country, the user can make use of the offers of the respective country that would not be accessible without VPN. Virtual servers of this type are mostly only needed if the VPN provider has no branches or business relationships with the third country or if the local server infrastructure does not allow otherwise due to the local conditions.
In addition to these options, users can also optionally use the advanced security and privacy settings, such as the multi-hop method mentioned above, can be selected with just a few clicks.
Setup and login
Setting up Surfshark VPN on your PC or smartphone is not that different from setting up any other software. For the download, the app can either be downloaded directly from the provider's website or through the Web stores of smartphones, such as Google Play.
Tip: Here it is important to note that if Surfshark is to be used for the trip abroad, the download is best done before departure in Germany, as it may be that the VPN service cannot be downloaded in the host country.
Surfshark VPN - test result
In terms of Security and anonymity Surfshark VPN is way ahead when it comes to surfing: The company's location on the Virgin Islands, the no-logs guidelines and the high technical standards make Surfshark VPN a very secure provider. Of course, the provider has not been on the market for long and it will only become clear in the course of time how the provider deals with possible security leaks or other problems. Leaks happen again and again with VPN providers and time will tell how Surfshark can further expand the security structure.
Even if Surfshark VPN has not been on the market for long, the provider was able to get one within a very short time strong and reliable global server network build that in terms of speed, security and services is in no way inferior to the large providers.
In addition to the good company structure and the service, it is above all that Price-performance ratio, what is looking for its equal. With a fee of only 1.78 euros per month, Surfshark VPN not only competes with the established providers on quality, but also on price. We can therefore unreservedly recommend Surfshark VPN. It is worthwhile to keep the 30-day money-back guarantee in mind when registering for the first time, so that you do not take any risks if you are dissatisfied.
Summary: With a price that is roughly half that of other providers, Surfshark VPN is more than recommendable. In short - Surfshark VPN delivers an offer that puts the competition in a tight spot.
Small price and highest quality in one
Surfhark, as a very young VPN provider, is still able to compete with established providers. With an unlimited number of devices and an extensive number of Netflix libraries, the provider is definitely worthwhile.
Pro
cheap price
Extensive server selection
High security & anonymity