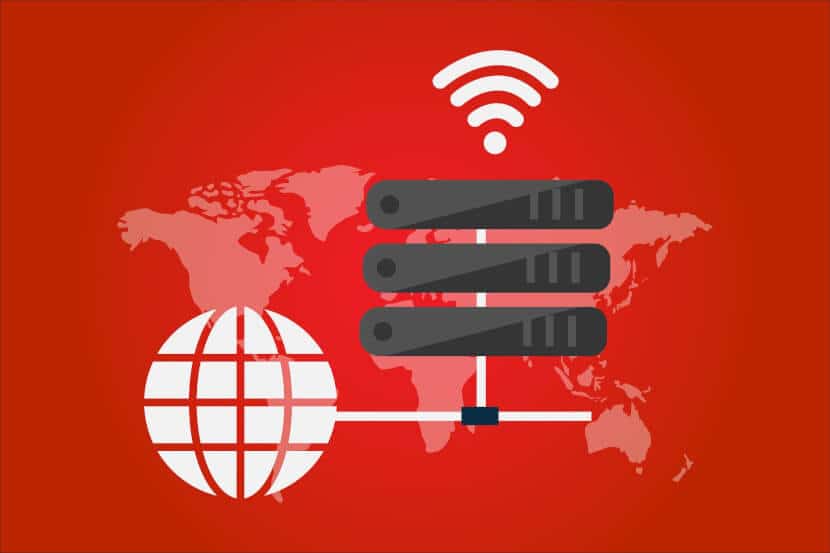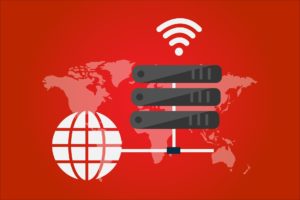 Even though you want to access the Internet with your mobile phone, tablet or computer: Privacy and anonymity play an increasingly important role. That is why more and more users are using a VPN service that enables them to stay anonymously and securely on the Internet. However, if you have several devices at home and want to equip them all with a VPN service, this can be very time-consuming - since you have to install the VPN provider's software on each device. And that's exactly why you should consider whether it doesn't make sense to get one VPN router to increase. This allows you to protect all devices in the household at the same time.
But what is it actually VPN? And what is a VPN router? Do I have to buy a second router? And what is that best VPN router? We took a closer look at VPN routers and tested them with the best VPN providers.
Contents
What does VPN mean?
VPN stands for Virtual private network, in German "virtual, private network". With a VPN connection you can surf the Internet over a virtual network, which exists in addition to the real network connection. To put it simply: When you connect to the Internet or your local home network, all data transmission is encrypted and cannot be viewed by your own Internet provider or by others. Before deciding on a VPN router, you should first select a VPN service. In our Test of the best VPN services you can read about which VPN service is best for you.
VPN router: the best VPN services at a glance
Our VPN test winner can be configured quickly and easily on most routers. This VPN service is primarily available for all common Asus routers, as these have OpenVPN protocols and act as VPN clients. Easy installation and configuration in less than 20 minutes!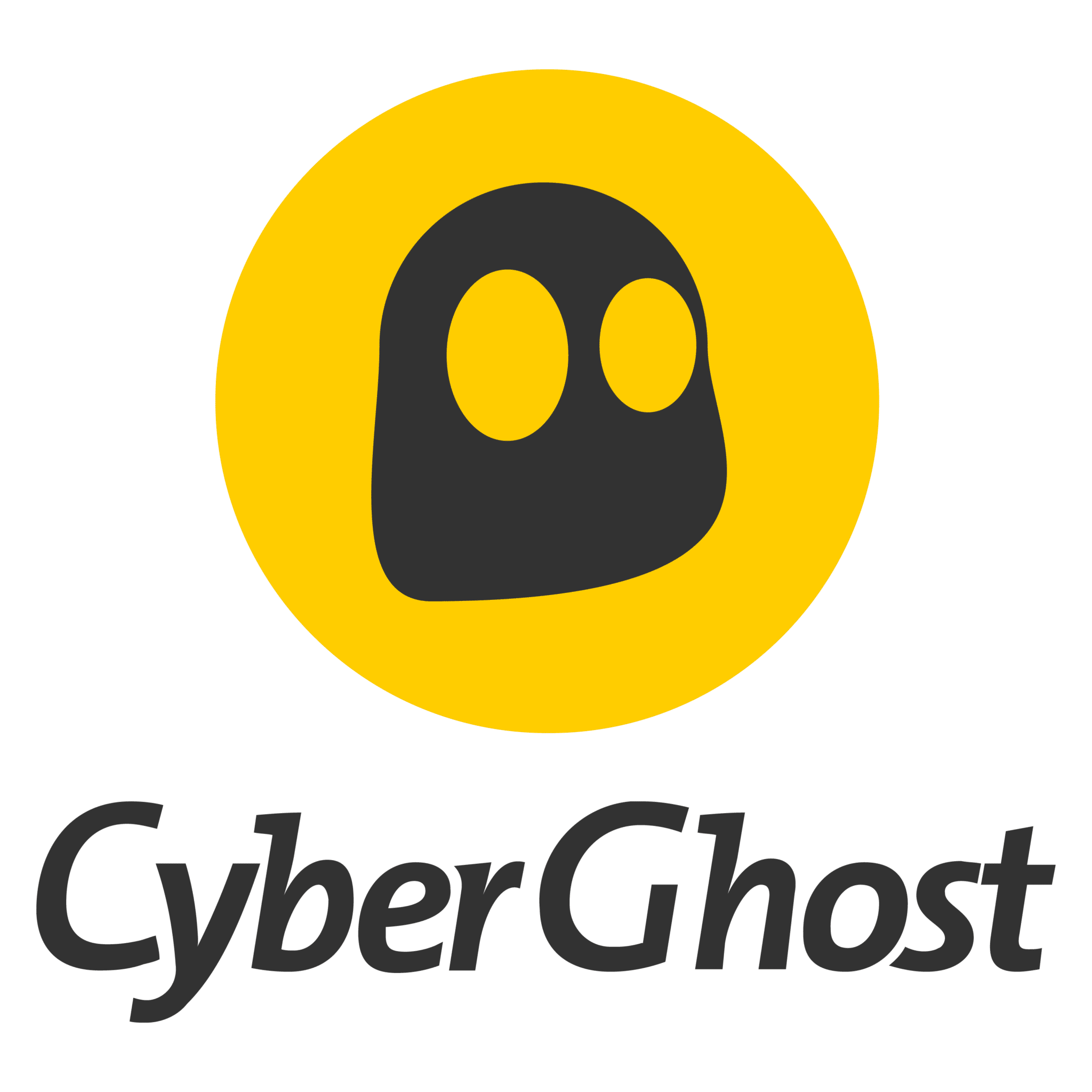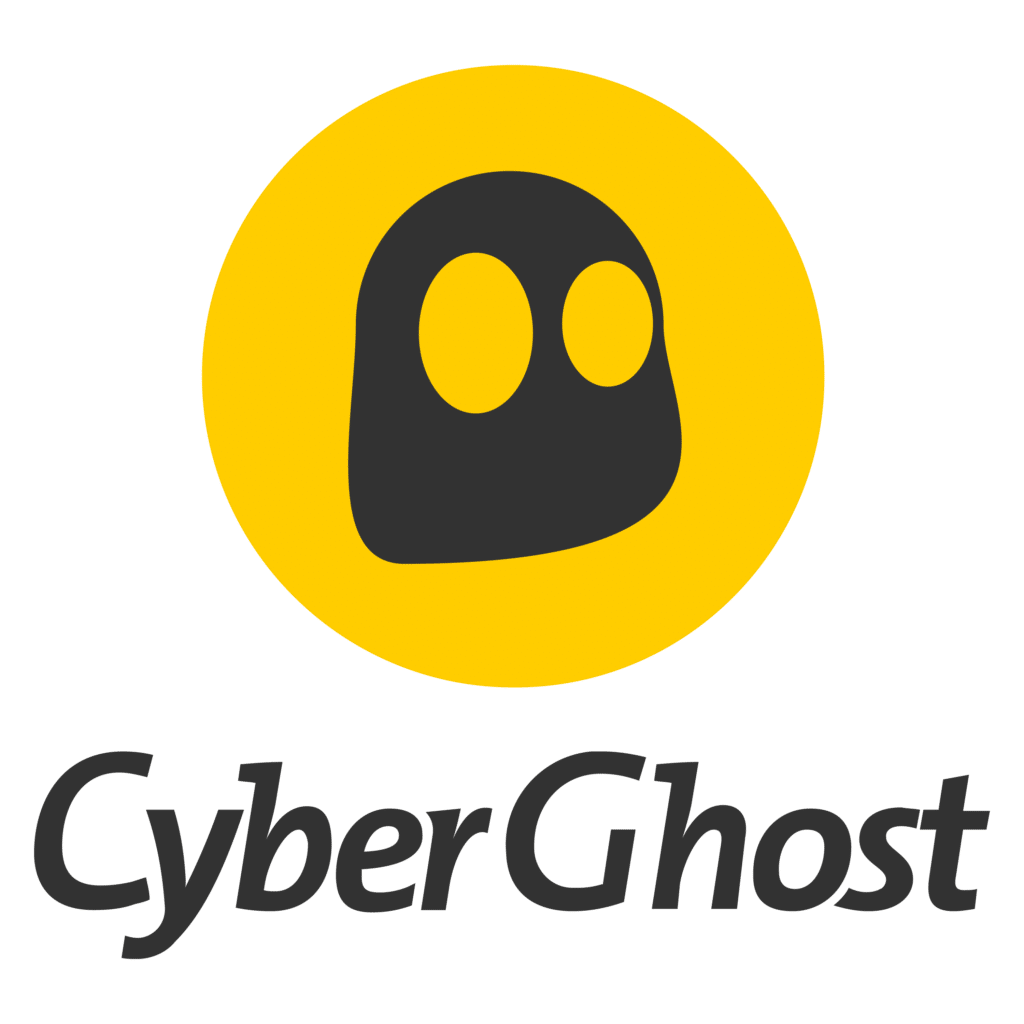 Solid VPN provider that impresses with its large selection of servers. Works on all Asus routers as well as preconfigured routers.
Good VPN service, which only works on pre-configured VPN routers or routers flashed with DD-WRT.
What is a VPN router
A VPN router gives you the opportunity for sure and anonym to surf at home - and that on all devicesconnected to the Internet. A VPN router is therefore a specially designed router that enables the connection of numerous end devices. So you don't need to install VPN software on each device individually. Your router, which monitors all your Internet traffic, is thus connected to the Internet through a virtual private network. Thanks to a VPN router, all your devices are protected.
VPN routers are becoming more and more popular, especially for households with multiple devices accessing the Internet. Especially in times of data leaks and hacker attacks, you can guarantee that you can surf the Internet securely, anonymously and undisturbed.
Advantages of a VPN router
Protection for all devices
If you use a VPN client router, you can cover your entire household with one VPN service. This means that all devices that connect to the router are protected around the clock. This is particularly helpful for old devices that do not support VPN by default.
Safety
You can use a VPN router to secure all of your devices that access the Internet. This is particularly useful because some devices cannot be equipped with VPN software out of the box, e.g. Smart TVs or game consoles. So if you have a VPN router or have installed the appropriate VPN software on your home router, they will connect all your devices with this router. This in turn routes all your data traffic through a VPN tunnel and thus anonymizes all your data. Regardless of whether you watch TV, play games or surf the Internet on your mobile phone - your IP address is masked and your data cannot be intercepted by third parties.
Privacy
Since your router connects to the Internet through a virtual private network, your IP address assigned to you by your ISP will be obfuscated. Thus everything you do on the internet is anonymized. Your data is encrypted, so it is practically impossible for your identity to be recognized. Your activities cannot be tracked either.
How to choose a VPN router
Do I need an additional router?
The first question you should consider is whether you want to use a second, specially designed VPN router in addition to your existing router. In most cases it is worth buying an additional VPN router. However, if you want to use your existing DSL / LTE & VPN-enabled router alone, you can limitations entail:
Fixed line telephony
Problems can arise from a single router, especially in companies or households that still use the landline network. To make calls over the landline you always need your own IP address, which you received from your ISP. So you cannot use VPN.
TV broadcasts and streaming platforms
Some German TV programs, portals and streaming services use your IP address for authentication. If you have a paid, existing membership, this can cause problems when you want to use VPN. Such devices should definitely be connected without a VPN.
If you are for one additional VPN router you have the option to choose which devices connect to the Internet with and which without VPN. For example, you can choose to have your television set to be on the Internet for a certain program without a VPN, while all your other devices surf the Internet protected with VPN.


VPN router in the home network: what you need
To successfully use your VPN service on a router, you need the following:
A VPN router
A router with VPN client Function for PPTP, L2TP and OpenVPN protocols. If you are unsure about buying a router, you should always make sure that it can act as a VPN client (instead of a server) and whether it supports the protocols mentioned above.
Technical know-how
If you want to install a VPN service, you need a certain level of technical know-how. Lots of routers built out of the box not have a VPN client, "flashed" become. In other words: You have to install specially designed software on your router so that it can be used as a VPN client can act. Only then can you start manually setting up a VPN service and server. If your router already supports VPN protocols and acts as a VPN client, you can start with the manual setup right away.
A VPN provider
In order to set up a VPN connection on your router, you need one VPN service. We already have a number for you here VPN providers tested. We were convinced in our test NordVPN and CyberGhost, as these could be configured on the tested router without further configuration. Who is for IPVanish decide should get one flashed Router with DD-WRT firmware pick up.
Which routers are there?
If you've decided to install a VPN service on your router, you have the following options:
Routers that already have the "VPN Client" function contain
Routers that need new softwareso you can use VPN
With these routers, your own software must first be "flashed" so that you can expand it with the VPN function (OpenWRT, DD-WRT, etc.). You can only use the router as a client after successful flashing.
Preconfigured routers
Another option is to buy a preconfigured router. With these routers, all common VPN services are already pre-installed and in the end all you have to do is dial into the Internet with your user data. Manual configuration or flashing is no longer necessary. This option is best especially for beginners.
Attention
! Even if preconfigured routers are a suitable solution for beginners, they can be quite expensive.
Flashrouter.com
offers a variety of preconfigured routers (i.e. these routers are flashed and refurbished), where you only have to log in with your VPN provider's user data. However, the prices are sometimes up to € 120 higher. In addition, you have to order these routers from America. Customs and shipping are not included in the price.
For our test we have multiple VPN routers under the microscope. Here we decided on VPN routers that already have the function VPN client preconfigured. This allows both beginners and advanced users to simply install a VPN service of their choice on the VPN router.
VPN router: these are the best
Regardless of whether you are a beginner or advanced, we have put various brands under the microscope with a clear test winner: Asus. Here is a brief overview:
ASUS router
The most popular models from ASUS support OpenVPN and PTPP protocols. In our test, we were able to configure and install our best VPN provider NordVPN without any problems. ASUS routers offer many functions, excellent speeds and are already available in very affordable price ranges. It is important that you make sure that an ASUS router is used as a VPN client PTPP and openvpn supported. As a rule, you do not have to make any further settings.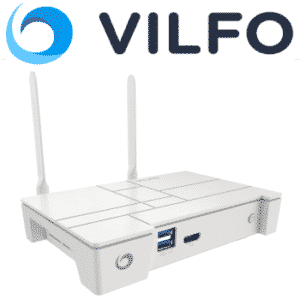 Vilfo router
The fastest VPN routerthat are currently on the market with transfer rates of up to 400Mbit / s. If you do not want to have any loss of speed, we recommend this router. However, you also pay a high price for it: The Vilfo VPN router is currently available in stores for around 400 euros. So if you would like to spend a little more, this VPN router is in good hands. You can access the router directly from the Vilfo website to order. The only disadvantage: The interface and user instructions are currently only available English and Swedish available!
GL iNet router
GL iNet routers are great inexpensive and ideal if you are traveling or often change your location due to professional situations. Since the routers are relatively small, so are their functions slightly restricted. That's why the Gl iNet Router only achieves mediocre speeds. Thanks to the OpenWRT firmware, however, the router can be used in the home network. These routers support like our other models openvpn. The routers are currently available for the German-speaking area Amazon .
Setting up a VPN service on a VPN router
Using our VPN router test winner ASUS, we will now show you how to set up a VPN service quickly and easily. In our test we chose NordVPN as a provider because it can be configured quickly and easily on all tested routers.
For our test we chose the Asus RT-AC51U router decided to be through Price-Performance Ratio and VPN client function with OpenVPN is convincing. The VPN router is currently available in stores for around € 40 at a very affordable price.
1 Step
After you join NordVPN registered and received your user data, open your browser and type: 192.168.1.1 a. This address is the standard address for all common ASUS routers to access the user interface. Log in with your data for your ASUS router .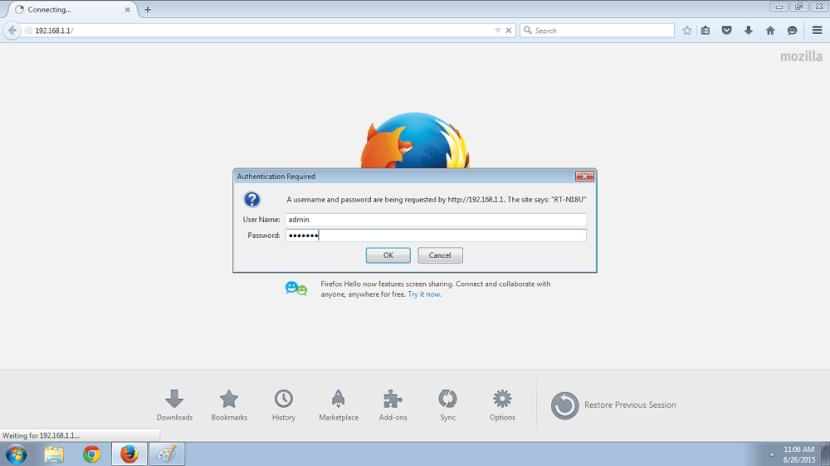 2 Step
After logging in, you will be taken directly to the configuration interface of your router. Now click on VPN and then on VPN client.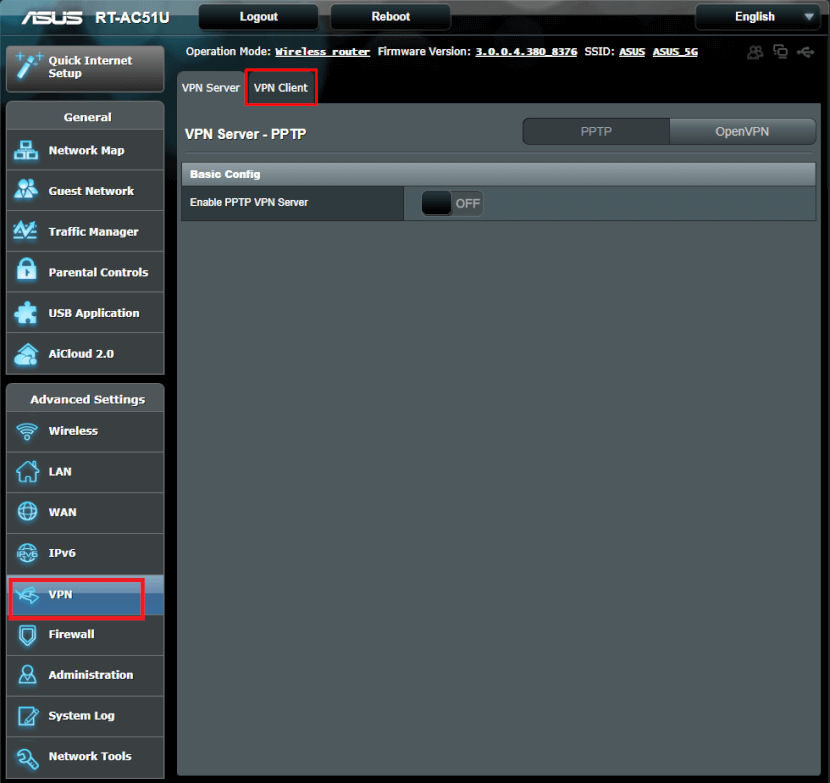 3 Step
Now click on "Add Profile" (if you use an English interface, then click "Add Profile")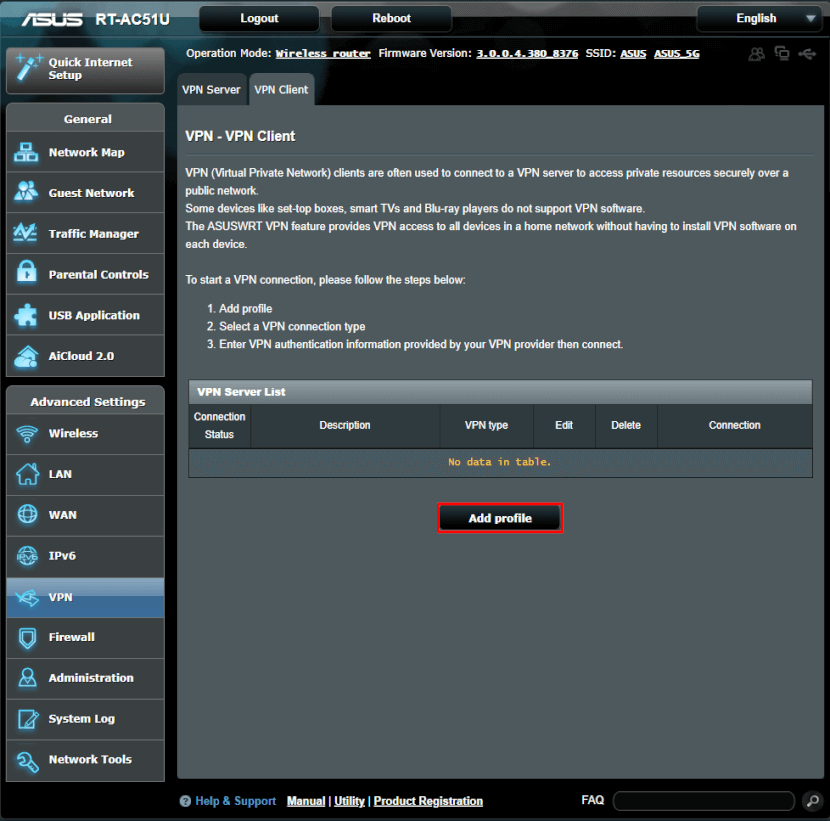 4 Step
Click on "openvpn" and fill in all fields:
designation (Description): Name your VPN connection
User name (User name): Enter your NordVPN username.
Password (Password): Enter your NordVPN password.
Automatic connection (Auto reconnect): Yes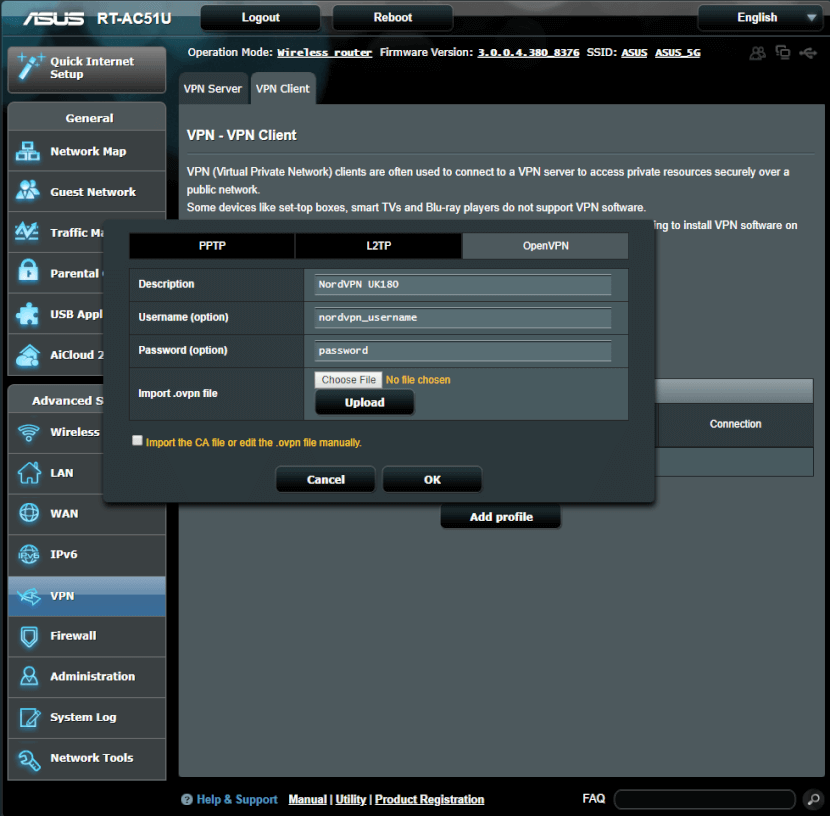 5 Step
ASUS is now asking for one OpenVPN configuration file. Most VPN providers offer this directly on their website. For NordVPN you can find the configuration file here.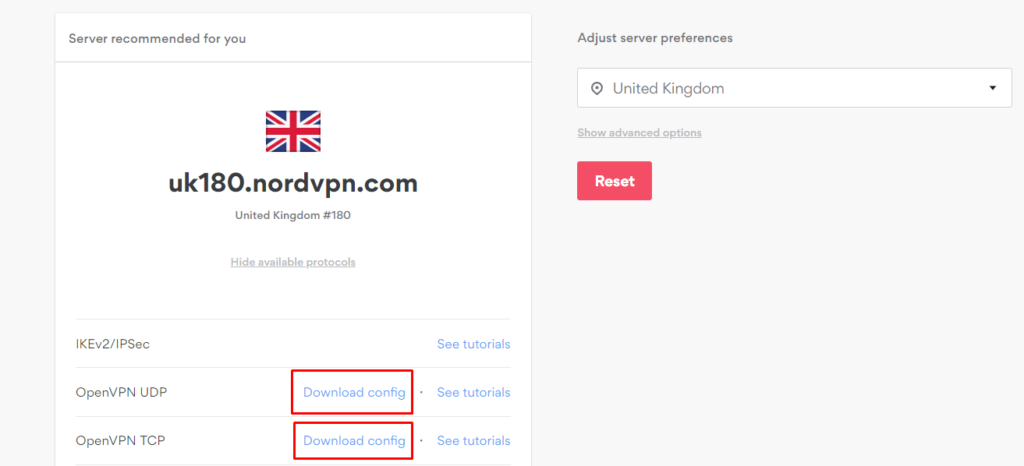 6 Step
After you've downloaded the file, upload it to the ASUS configuration interface. After this Upload of the file click OK.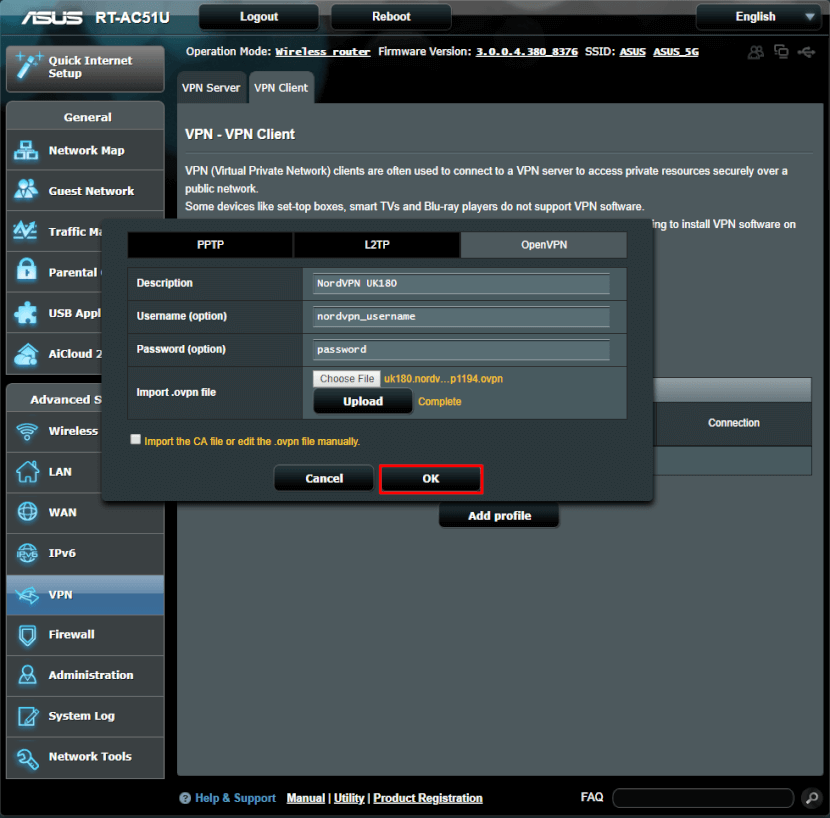 7 Step
After the successful upload you will now see a new connection. This is still deactivated. Click on the button "activate" (or "activate") to activate the connection.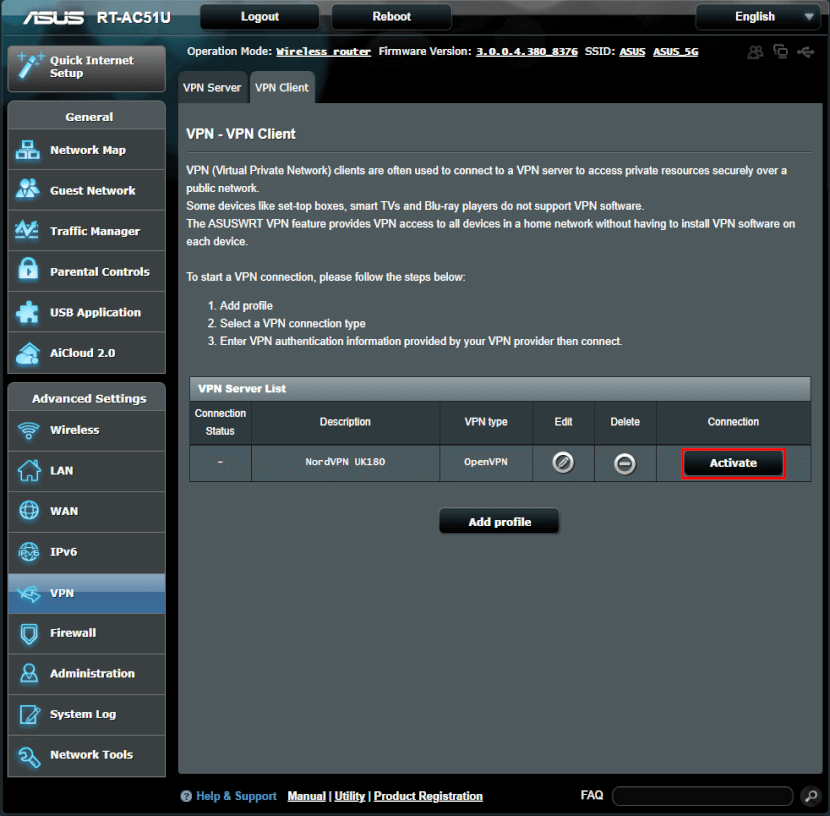 After that you should under "Connection status" (Connection status) see a blue tick: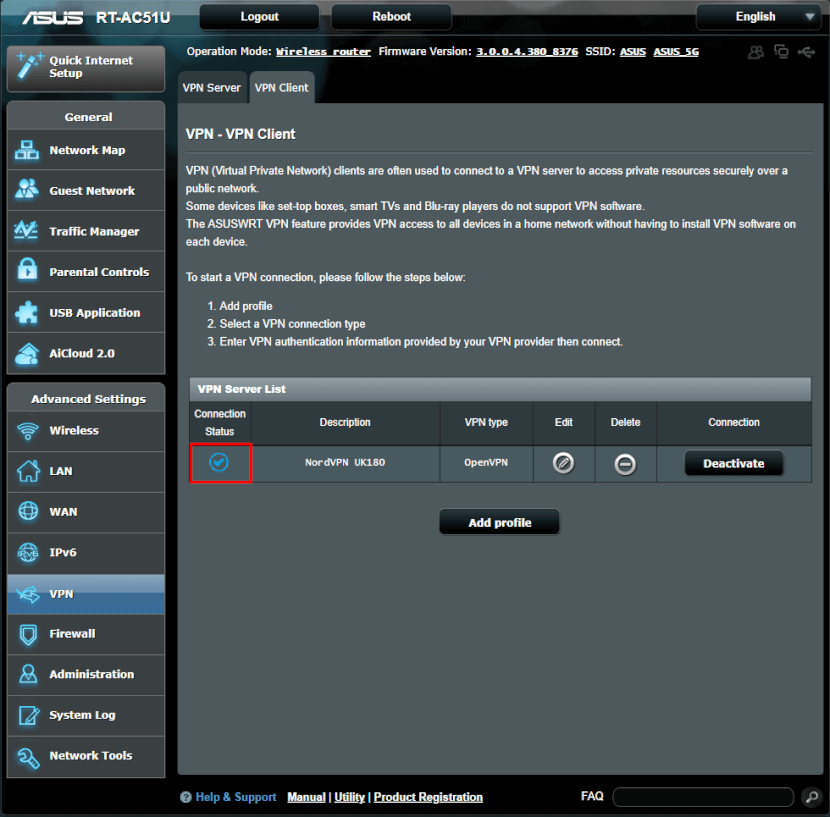 8 Step
And you've done it! You have successfully established a VPN connection to the Internet via your ASUS router. If you want to disable the connection, just click on "Deactivate" in your configuration interface.
Conclusion
In our test, the VPN router from ASUS can fully convince. Thanks to the pre-installed software, the VPN client function and the support of PPTP and OpenVPN, most ASUS routers can be used as VPN routers. ASUS also supports almost every VPN provider currently on the market. The most important thing, however, is always to look at the router's specifications. ASUS also has routers that only support PPTP. When buying a router, make sure it is compatible - the router must be VPN client act, openvpn and PPTP support!
FAQs
Can I use a free provider for my VPN router?
In principle yes, as long as OpenVPN and PTPP are supported. However, it is advisable to use a paid service. The providers we tested each offer configuration files that, for example, require ASUS routers to establish a VPN connection.
I have an old router without a VPN function. What can I do?
If you have an older router that does not have a VPN client function, you can first check the respective pages of the VPN provider to see whether you can flash your router with a new firmware. If your router is listed on their website, follow the instructions to make your device VPN-enabled. If this is too complicated for you, you can buy a VPN router cheaply for as little as 40 euros.
Do I need an additional router with my Fritz! Box?
Yes! The Fritz! Box requires an additional VPN router so that you can establish a VPN connection. This is because the Fritz! Box does not act as a VPN client. So if you buy the ASUS router we tested, for example, you can connect your Fritz! Box to it. You can then easily set up the VPN connection via the ASUS configuration interface, as described in our instructions.