Raidboxes is a relatively young company that has made it its goal since 2014 to bring simple and fast WordPress web hosting to the DA-CH region. After two years of development, the company received a large seed investment from Europe's largest early-stage investor in 2016 and has been a serious provider of WordPress hosting in Germany ever since.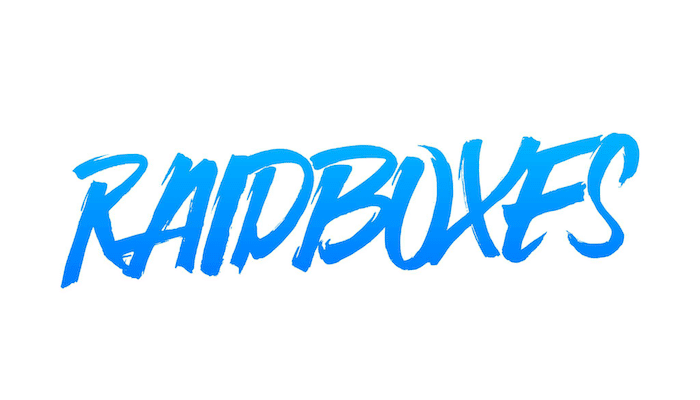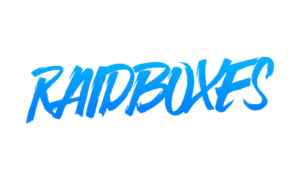 Also in our comparison of the best WordPress web hosting Raidboxes has already convinced us. As a German company, it is particularly important to them to give you as much freedom as possible and to tailor web hosting to you. What you get from Raidboxes is good, German-speaking support as well as fast, individual and secure hosting for your WordPress website.
Contents
What does Raidboxes offer?
Similar to Kinsta Raidbox also only focuses on WordPress web hosting. By specializing in WordPress web hosting, you get faster loading times for WordPress websites as well as less downtime and fewer performance problems compared to many other providers who offer different tariffs and web hosting options.
Also the German-speaking Support is extremely competent and convinced us in our experience report. Raidbox is especially worth considering for anyone who has difficulties with the English language.
The most important raid box information at a glance
unique selling point
German provider of premium WordPress web hosting.
Developer plan
Raidbox offers free plans for all web designers. In the development phase, Raidbox is completely free.
Payment Methods
Credit card, SEPA mandate / invoice.
Dashboard
The Raidbox Dashboard gives you an overview of all your WordPress projects and allows you to easily manage backups and updates.
Price
The cheapest tariff costs € 9 per month.
IInstallation of plug-ins and CMs
Only WordPress web hosting is offered.
Advantages of Raidboxes WordPress web hosting
If you are looking for a good, German web host for your WordPress project, Raidboxes could be just the thing. The company offers you fast and individual hosting solutions as well as reliable, German-speaking customer service. It is not without reason that large German companies such as Aldi, Mercedes Benz and the Leipzig University trust Raidboxes web hosting.
WordPress website staging
Staging from a website allows you to make changes to your website before it is applied to your live site. Website staging allows you to test a copy of your website in a realistic server environment. There is never any risk of causing damage to your live site. If you are satisfied with your changes, you can transfer them to your live page with just one click.
Staging makes all the most important design and functional changes to your website much easier.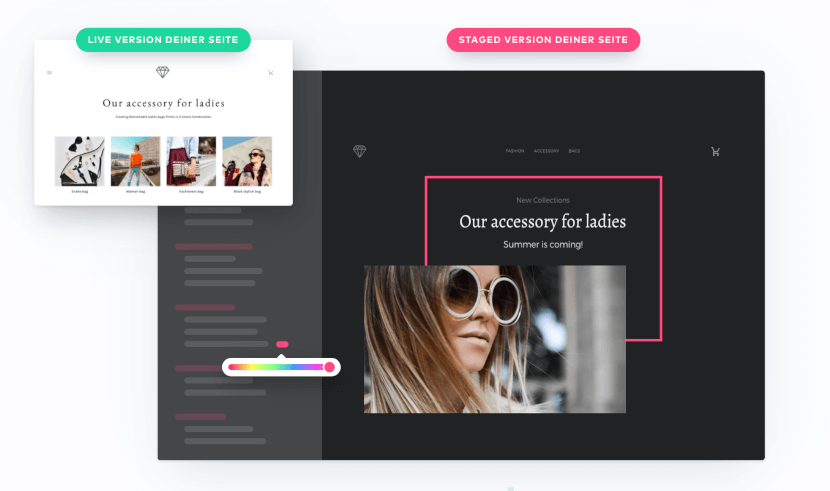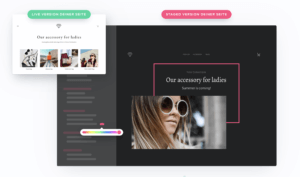 Automatic WordPress website back-ups
Automatic and regular WordPress backups are also included in every tariff free of charge. You can easily choose between different backups and restore them at the push of a button. So you don't have to install a WordPress back-up plug-in first. Raidboxes attaches great importance to the fact that the backups are stored on your website in accordance with GDPR.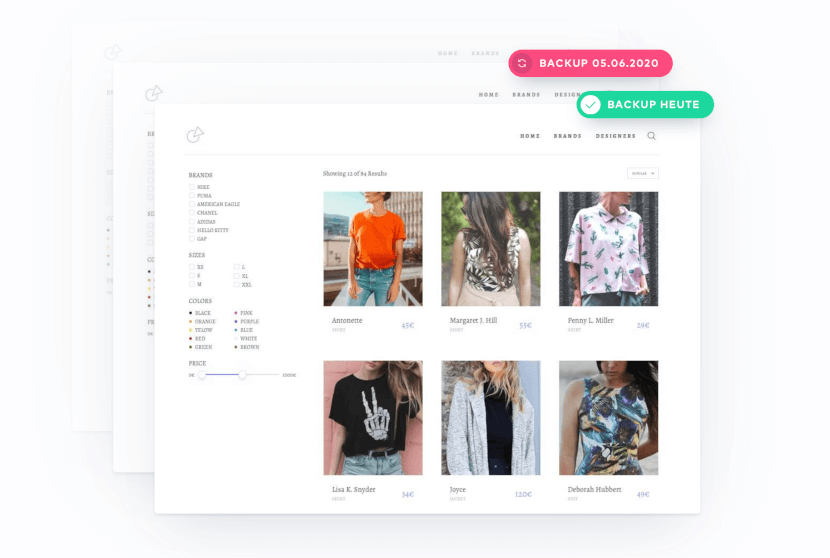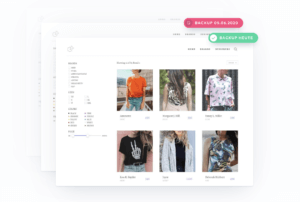 High-performance WordPress websites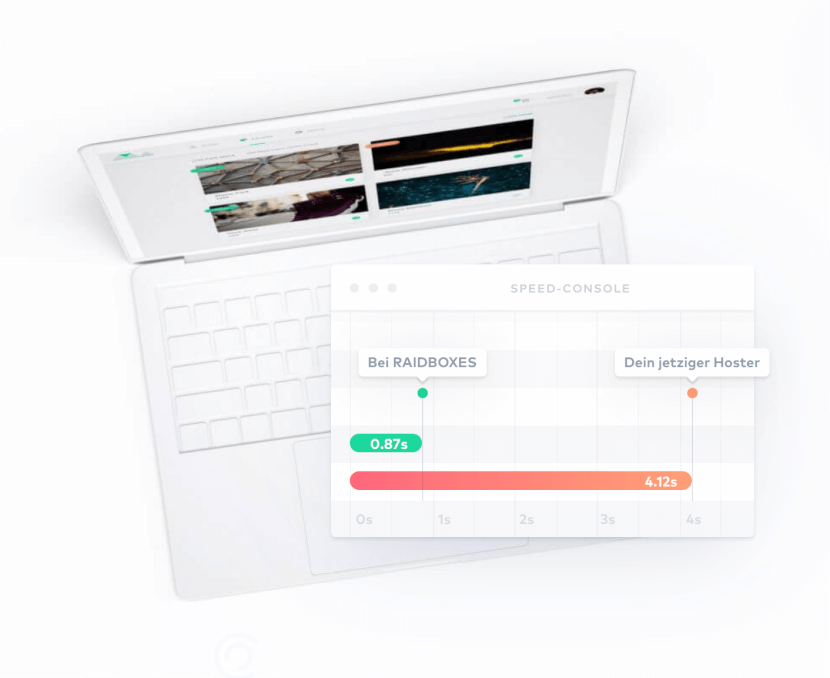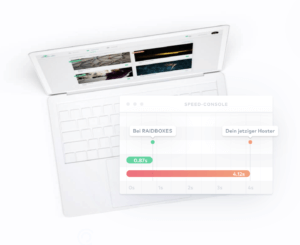 As you most likely already know, the speed of your website affects both your search engine ranking (SEO) and the satisfaction of your visitors. It is therefore extremely important that your website has fast loading times and offers the best possible performance. This becomes even more important if you want to generate income from them.
In fact, an analysis by Google shows that 53% of all users leave your website if it does not load within 3 seconds. In our test, Raidboxes was able to achieve an incredibly fast average load time of 489 ms, well under 1 second.
Raidboxes offers some great features for their web hosting to ensure that your website performs as well as possible.
The biggest unique selling point of Raidboxes is that your website runs independently on the servers and not together with several hundred other providers. Also, only SSD hard drives are used and each server has NGINX caching on the server. The server-side NGINX caching takes on the role of a classic caching plug-in.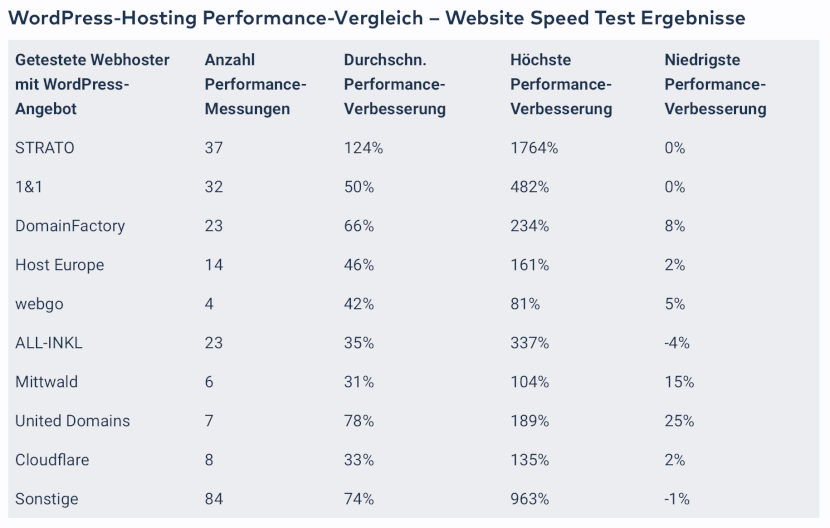 On their own blog, Raidbox tested the average performance improvement when moving to their web hosting company. The results seem incredible at first glance. Even if most users, if they already have a performance-optimized website, will most likely not experience such improvements, the loading times also convince us in our test.
Raidboxes server locations
The closer the users of your website are to the server location you are using, the better the loading times. Raidboxes guarantees the use of exclusively German server locations with ISO 27001 certification. This not only improves your loading times, but also offers improved data protection through the EU General Data Protection Regulation (EU GDPR).
Climate positive WordPress web hosting
A special feature of Raidboxes is that your website is operated in a climate-positive manner. For every WordPress website they host, the company plants a tree. In addition, all data centers and the Raidboxes office run on green electricity from hydropower.
In addition to reforestation, the web hosting provider also supports the Get Mads initiative. Get Mads' projects focus on developing countries and promote their social and economic growth. Thanks to the partnership with Get Mads alone, Raidboxes currently equalize 40,48 tons of CO2 every month. According to the company's own website, this corresponds to a CO2 saving of more than 160.000 kilometers by car.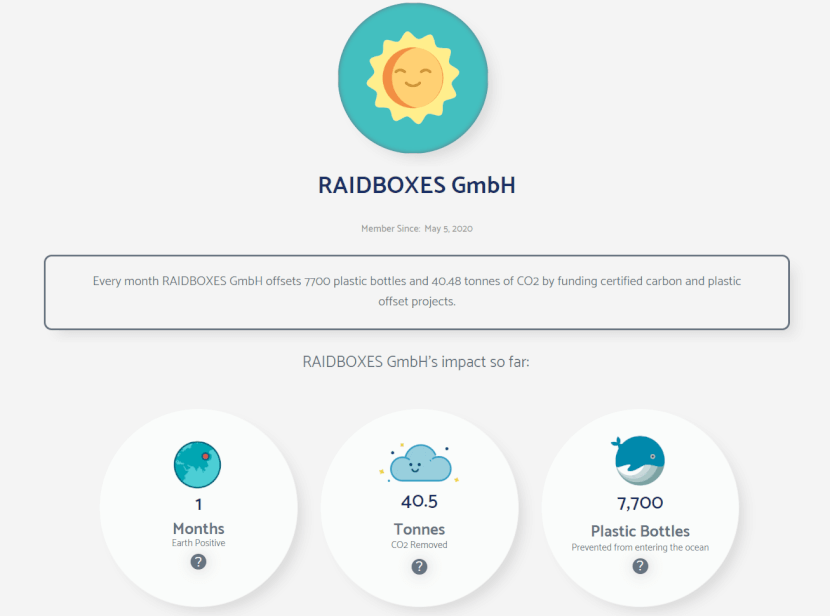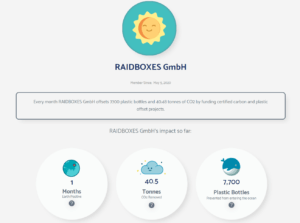 So if climate protection is important to you, you can host with Raidboxes with confidence. Because the company consciously tries to keep its ecological footprint as low as possible.
Customer service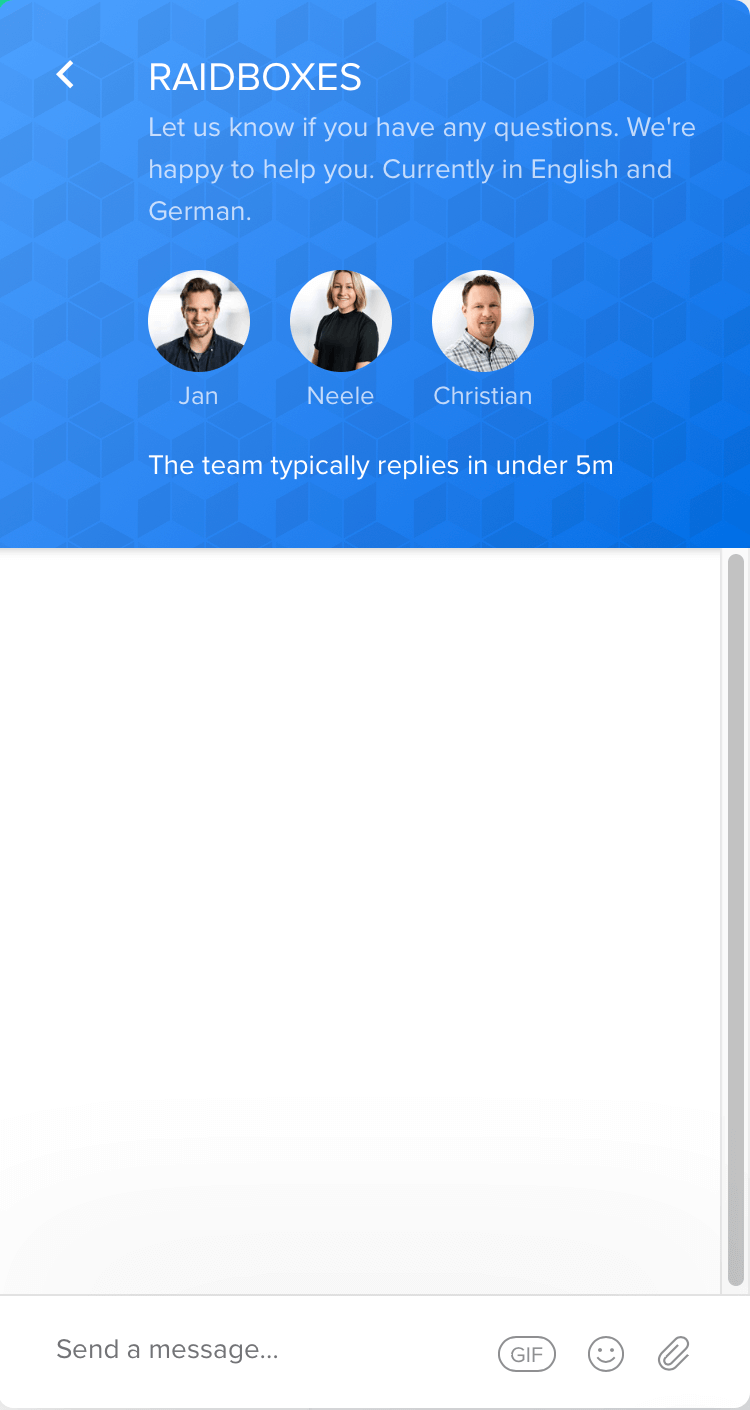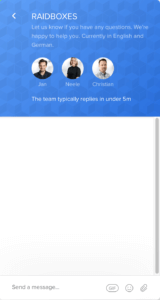 Another point that speaks for Raidboxes is the exceptionally good customer service. At this point you will notice that Raidboxes is a German company. Unlike most international web hosting providers, customer service at Raidboxes is completely available in German (and English). Raidboxes is a really good web hosting provider, especially for those who have difficulties with the English language.
Support is available via live chat and email between 8 a.m. and 22 p.m., 365 days a year. That also means on weekends or on public holidays. In our test, we only had to wait a few minutes for an answer to all concerns. The answers themselves were competent and friendly. By the way, the live chat is multimedia capable. So you can easily send links, photos or screenshots of your problem. If you are not a fan of written support, you can also reach Raidboxes by phone, but only during the week between 10 a.m. and 18 p.m.
Raidboxes dashboard
Fortunately, Raidboxes does not use a typical cPanel dashboard, but a much clearer and improved dashboard. It offers a great overview if you have several websites and lets you switch between them with just one click. You can also see the templates you have created here and have access to your domains and emails.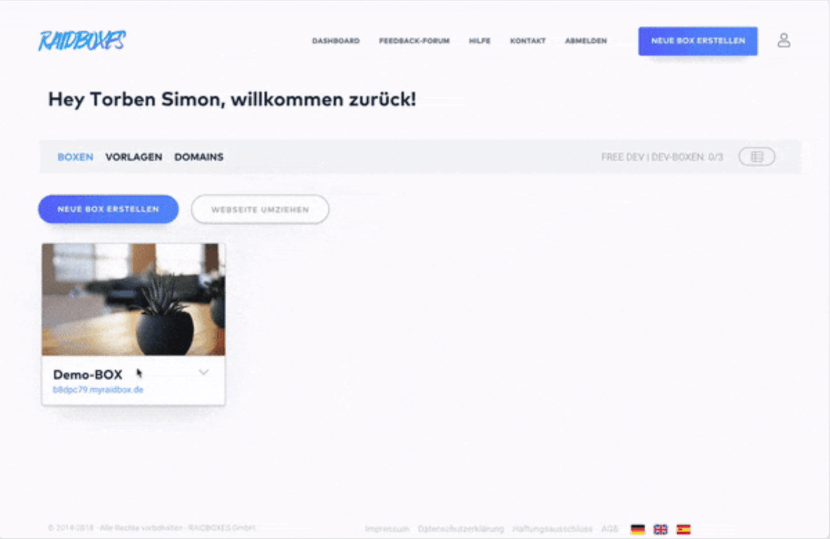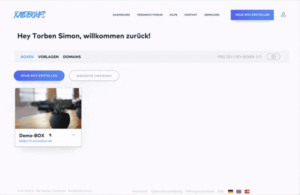 If you click on a website box you will receive all the important data & information about it. The overview page is very informative and intuitive. Another click takes you directly to the website staging, to your backups, to get an overview of your plug-ins or to view all information about your current contract.
If you click on "Settings", you will get to further setting options such as website caching, the current PHP version, wp-conif.php and much more. However, these settings are always kept up to date by raid boxes and you don't usually have to worry about much here.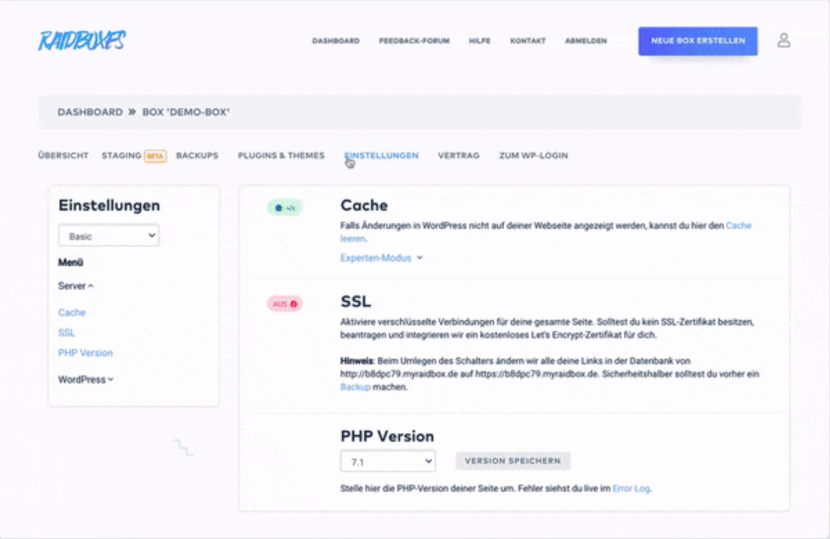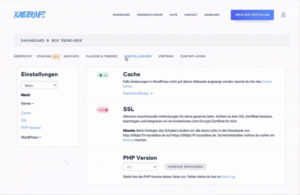 Free WordPress move
A very good migration plug-in is included in all tariffs, which allows you to easily copy your WordPress website and move it to raid boxes. All you have to do is download the migration plug-in and upload it to your existing WordPress site in the admin panel. Your existing website will then be copied without making any changes to it. This works easily and without any problems in our test. Alternatively, Raidboxes also offers the option of moving your website for you within 2 working days free of charge. With both options, the move is 100% free of charge and non-binding.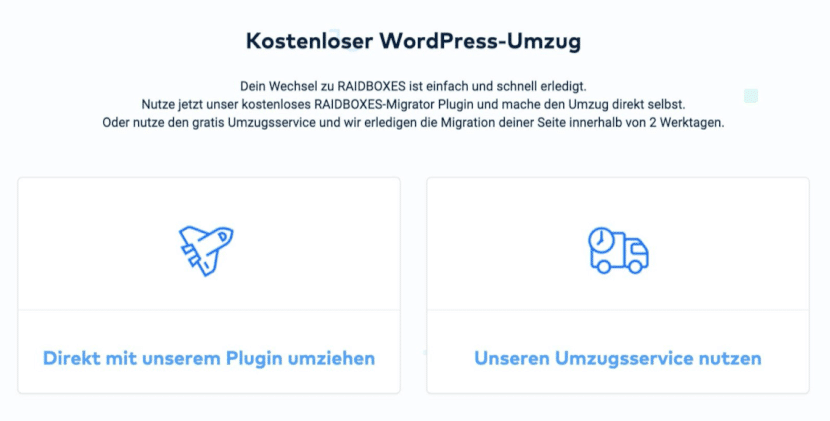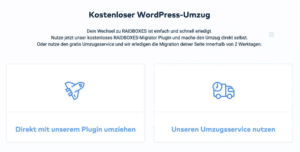 It is also particularly attractive that Raidboxes does not set a limit on the number of moves. No matter how many websites you want to move, it's always free.
Developer tools for agencies and freelancers
At first glance, managed WordPress web hosting primarily appeals to inexperienced users who are looking for simple and worry-free hosting for their website.
While this is true, Raidboxes offers some convincing developer tools to increase productivity. Starting with the starter tariff, you have the option of accessing an SSH environment and WP-CLI and Git are already pre-installed.
You also get direct access to the MySQL database or SFTP access for your WordPress website. Another very useful feature is that you can easily add administrators to your website, or you can transfer the WordPress site you developed to a new owner or customer. You will still have access to the website as an admin.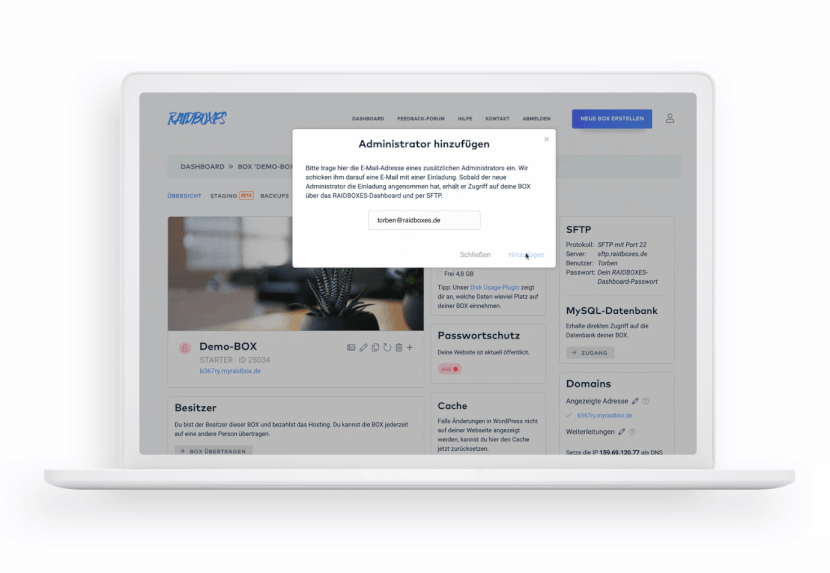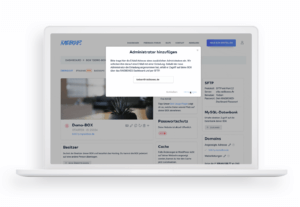 Raidboxes also offers special tariffs for website developers. So you can develop WordPress websites completely free of charge using Raidboxes and pass the payment on to the customer after the website is completed. In fact, Raidboxes will give you a commission of up to € 1.500 for this.
Another highlight for web designers is the ability to create templates. Many developers use similar plug-ins for their website. Reinstalling and configuring these every time is time-consuming. Raidboxes offers the possibility to create a template and to clone this project template. In addition to Design Elements, the cloned project template also contains all plug-ins including settings. That saves valuable time.
High customer satisfaction
Raidboxes currently has a "Very Good" rating of 4.86 / 5.00 stars on trustedshops.de. We read through some of the reviews and almost every customer is enthusiastic about the service Raidboxes offers. In particular, the excellent performance and the user-friendly setup are positively highlighted in many reviews.
The only negative reviews are due to the extra costs for email boxes & domains. These are disadvantages of raid boxes in our test. But we do not find the negative reviews to be justified by an open and fair overview of tariffs and pricing on the Raidboxes website.
Disadvantages of Raidboxes web hosting
Raidboxes offers numerous advantages. Especially the really impressive performance and the easy operation are to be emphasized here. But also the numerous developer tools and the free web hosting for web designers is very positive. But just like with any web hosting provider, there are a few things that bothered us with Raidboxes.
E-mail hosting costs extra
Many web hosting providers now advertise free e-mail hosting in their tariffs, unfortunately this currently costs extra with Raidboxes. Although the cheapest tariff for an e-mail inbox is relatively cheap at 1,50 € per month, the extra costs of at least 18 € per year still bother us. Unfortunately, the mail storage of 1 GB in the cheapest tariff is very low. On the positive side, however, all Raidboxes mailboxes are GDPR-compliant, ad-free and climate-neutral.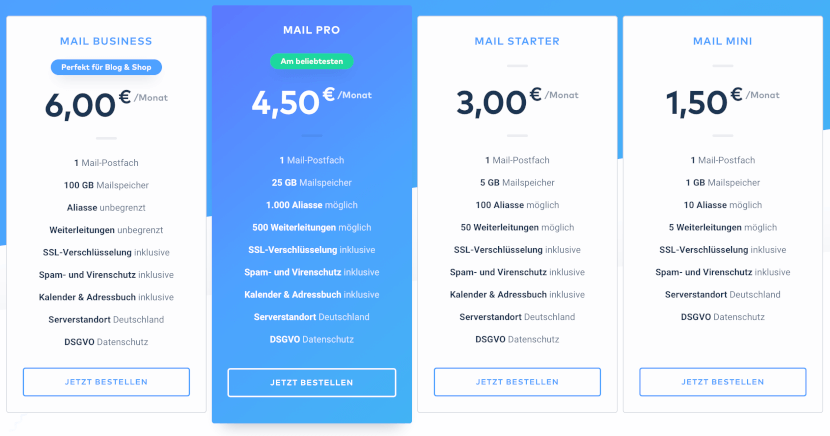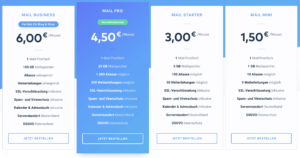 WordPress web hosting only
We have already discussed the benefits of having Raidboxes specialize in WordPress web hosting. Faster loading times, better performance and an excellent German support team. Unfortunately, the biggest disadvantage of raidboxes is that you can only use their offer if you want to use WordPress. The only choice you have with Raidboxes is between managed WordPress web hosting or classic WordPress web hosting.
No domains included
Not only the email hosting costs extra with Raidboxes, you also have to pay for domains. You can take existing domains with you to raid boxes for free or you pay € 1 per month for a .de domain. A .com domain costs from 1,25 € per month and for .net, .info, .org, .biz, .eu, nl and many more you pay from 1,65 € per month. These are cheap prices, but there are already hosting costs and the extra fees for an e-mail inbox.
Raidboxes tariff overview
Raidboxes offers a large number of different tariffs available. They differentiate between single tariffs and bulk tariffs, which offer you more favorable conditions from 5 WordPress installations. The bulk tariffs are particularly aimed at agencies. Another special feature is the Free-Dev tariff, which allows you to develop and host WordPress websites with raid boxes for free and then sell them to customers.
Single tariffs
The single tariffs are the classic tariffs and cover the majority of all users. If you have less than 5 WordPress websites and are not a developer, the single tariffs are the right choice for you. The cheapest tariff is unfortunately a little hidden at Raidboxes and is called the mini tariff. Unfortunately, it is not even displayed under the normal tariff on the Raidboxes website, unless you select it separately.
Another special feature of Raidboxes is that you can buy SSD hard drive storage for € 1 per GB for every tariff (except mini).
| Membership | Mini | Starter | Fully Managed | PRO | ProXL | Business | Business XL | Enterprise XXL |
| --- | --- | --- | --- | --- | --- | --- | --- | --- |
| WordPress installations | 1 | 1 | 1 | 1 | 1 | 1 | 1 | 1 |
| SSD storage | 2 GB | 5 GB | 5 GB | 20 GB | 25 GB | 30 GB | 35 GB | 40 GB |
| PHP memory limit | 128 MB | 256 MB | 256 MB | 512 MB | 512 MB | 512 MB | 512 MB | 512 MB |
| Manual back-ups | 1 | 3 | 10 | 10 | 10 | 10 | 10 | 10 |
| Free unlimited website migrations | Ja | Ja | Ja | Ja | Ja | Ja | Ja | Ja |
| Malware removal | 100 € / hour | 80 € / hour | For free | 80 € / hour | 80 € / hour | 80 € / hour | 80 € / hour | 80 € / hour |
| WooCommerce Optimized | No | No | No | Ja | Ja | Ja | Ja | Ja |
| High traffic optimized | No | No | No | No | No | Ja | Ja | Ja |
| Staging Area | Ja | Ja | Ja | Ja | Ja | Ja | Ja | Ja |
| Free SSL | Ja | Ja | Ja | Ja | Ja | Ja | Ja | Ja |
| Registration price | € 9 / mo | € 15 / mo | € 30 / mo | € 50 / mo | € 100 / mo | € 150 / mo | € 200 / mo | € 300 / mo |
Fully Managed
The fully managed tariff is also something special. It costs € 30 per month and includes free plug-in and theme updates. Malware removal is also included free of charge for all other tariffs, including the more expensive Pro and Business tariffs.
PRO
This tariff is advisable if you want to run an eCommerce shop with your website. Unfortunately, the tariff of € 50 per month is definitely a big investment and you should therefore make sure that it pays off for you.
Business
This tariff is only advisable if your website has very high traffic. Unfortunately, Raidboxes itself does not provide any figures for how many monthly visitors their plans are suitable for.
Individual plans
There are also individual plans for particularly large companies. In terms of prices, however, these plans are likely to be significantly higher than the business plans. They are really only aimed at very large users who need maximum performance and personal support.
Bulk tariffs
As already mentioned, Raidboxes offers so-called bulk tariffs. In addition to the Free - Dev tariff, which costs you € 0 / month, there is also the Web Designer S for € 60 / month, which is sufficient for up to 5 WordPress websites. Each website receives 2 GB of RAM and 5 GB of hard disk space in this tariff.
For larger projects of up to 10 WordPress websites there is the web designer tariff for 100 € / month. Hard disk space and RAM remain the same for each website.
For agencies there are also the agency tariffs (200 € / month) with up to 22 WordPress websites and Agency XL (300 € / month) with up to 35. The RAM and hard disk space of 2GB and 5GB also remain for the tariffs for agencies identical to the smaller bulk tariffs.
The most important information in the summary
Very good performance through multiple caching
Staging is child's play
Automatic, daily back-ups
The latest PHP versions (7.1, 7.2, 7.3 and 7.4)
Free SSL certificate
Fast and friendly customer service, in German or English
Monthly notice period
Free, unlimited moving service
Lots of developer tools
Free web hosting for website developers
Clear and easy to understand dashboard
Climate positive web hosting
No domain included
Mailboxes cost extra
The cheapest tariffs cannot be tested for free
Support not available 24/7
Certain plug-ins are blocked
No access to wp-config.php
Conclusion on Raidboxes web hosting
In our experience report, Raidboxes offers fast and reliable WordPress web hosting combined with really great German-speaking support.
You get access to some really ingenious features like daily automatic website backups, security monitoring and a user-friendly staging environment, as well as a well-designed user interface with the Raidboxes dashboard.
Unfortunately, customer service via live chat and email is not available 24/7, and times are even more limited by phone. Although the prices of Raidboxes are similar to the competition at first glance, you pay extra for email hosting and domains, which can quickly increase your bill. Nevertheless, the German, really fast and optimized servers including DSVGO justify the price quickly.
If you are looking for a fast and reliable German web host for your WordPress site, regardless of whether it is a blog or an eCommerce shop, we can unreservedly recommend Raidboxes.
Frequently asked questions about Raidboxes WordPress web hosting
Is raidboxes good?
Yes. Raidboxes is a relatively new company though. But even in this short time, Raidboxes was able to secure partners such as Audi, National Geographic and Mercedes-Benz. Raidbox is therefore already one of the best German providers of WordPress web hosting. The impressive performance and excellent live chat support speak for Raidboxes. Only the prices could be a little cheaper.
How expensive is raidboxes?
Raidboxes offers different hosting plans. The cheapest plan starts from € 9 per month. For the most expensive plan, you pay € 300 per month. However, this is aimed more at large companies and is of no interest to most users.
Does Raidboxes have a money back guarantee?
Yes. Raidboxes offer a 30 day money back guarantee. Unfortunately, this money-back guarantee only applies to the more expensive tariffs.
Which Raidboxes tariff is best for me?
The starter tariff from Raidboxes is completely sufficient for most users. It offers 5 GB of SSD storage and many great functions, if you would like a WordPress web host to do plug-in and theme updates for you, the fully managed tariff for € 30 per month is best for you.
Does Raidboxes use cPanel?
No. Raidboxes uses its own dashboard. This is much more user-friendly and intuitive than a classic cPanel dashboard. Many important functions can be done with a click or two.
How do I transfer a website to Raidboxes?
To migrate your website to Raidboxes you can simply use the Raidboxes Migration Plug-in or contact the support, who will migrate your website for you within 2 working days. Both options are completely free and unlimited. So it doesn't matter how many websites you want to migrate to raidboxes.
Does Raidboxes own German servers?
Yes. Raidboxes is a German company and offers its services specifically in the DA-CH region. All servers are therefore in Germany.
Is Raidboxes Safe?
Yes. Raidboxes has sophisticated security systems to block malicious bots and / or hackers.
Who is behind raidboxes?
Raidboxes was developed as a prototype in 2014 to bring WordPress web hosting to Germany. In 2016 Raidboxes achieved a breakthrough through a large seed investment and the company has been active in the DA-CH region since then.
How does Raidboxes differ from other WordPress providers?
There are some unique selling points that set Raidboxes apart. Initially, the company only hosts WordPress sites and specializes in this. In addition, you have dedicated resources with Raidboxes, even from the starter tariff you do not share your server with other people. This gives you significantly better performance and security than other providers.