Webgo has existed since 2004 as a professional, German web hosting provider. The product range is now broad and offers both website builders and shared web hosting solutions for beginners, as well as managed servers and root servers for professional users.


Also in our comparison of the best web hosting Provider lands Webgo among the top 3 providers. The German company is top class, especially when it comes to performance and loading times. We also like the fair prices and the wide range of tariffs. In our experience report you will find out exactly what makes Webgo one of the best German web hosting providers.
Content
What hosting services does webgo offer?
We want to make sure you find the right web host for your needs. However, there are also major differences in the services offered by one provider. The most common type of web hosting is shared web hosting. This is often much cheaper but less powerful than dedicated web hosting. Other options are homepage construction kits, root or managed servers. Webgo offers a variety of web hosting products, what exactly these packages offer, let's take a closer look first.
Shared web hosting
If you don't want to spend a lot of money on web hosting, shared hosting is your best bet. This form of cheap web hosting places your website on a server with other websites. This means that your website shares the server resources with others, but also the costs. However, since the websites share the server, they compete for resources.
Webgo offers the classic shared web hosting in two different versions. The first is simply called "web hosting" and offers you a shared web hosting server with HDD hard disk space. The second option is the "SSD web hosting" tariffs. They also offer shared web hosting servers, but with faster SSD hard disk storage. With the HDD tariffs you get more but slower storage space for your website, while the SSD web hosting tariffs offer less but faster storage space.
Both options of shared web hosting can be combined with up to three add-ons at Webgo. The add-ons are: SSL certificates, Ranking Coach and Domains. However, some of these add-ons are already included in the more expensive tariffs, which is why it is worthwhile to compare the tariffs more closely.
Homepage Building Kit

More and more web hosting providers are offering website construction kits in addition to their traditional hosting tariffs. The advantage of a website builder is that it allows you to easily create a website without any coding knowledge. If you use the website builder and the domains of a web hosting provider, this is one way of covering all your website needs from a single provider. So you don't have to deal with tariffs for domains, web hosting and possibly website design individually. Webgo also offers a website construction kit in connection with web hosting.
The website construction kit from webgo comes in different tariff options and offers modern & responsive design templates as well as eCommerce solutions. In addition, you get unlimited free traffic in all tariffs.
Root server
With a root server, you can determine how you want to configure the server. With root access to the server, you have all the rights to set up your server individually according to your wishes. Webgo has a practical remote console maintenance or IPMI which allows you to access a server quickly and directly from anywhere. Just like the shared web hosting servers, the root servers are also located at Webgo in Frankfurt, only a few meters from the world's largest Internet node.
Note that you need extensive Linux knowledge to optimally set up a root server. So you should definitely have experience in this area, or work with an expert if you decide on this web hosting solution. If you are looking for a powerful server without any technical knowledge, a managed server might be the better choice for you.
With root servers you can choose between root SSD servers and root dedicated servers at webgo. Root SSD vServers are vServers with very fast SSD hard drives. These vServers work similarly to shared servers, but offer a virtual boundary to other websites on the same server, which enables root access and the resources dedicated to you.


Root dedicated servers, on the other hand, are dedicated servers just for you. They are the perfect solution for complex and extensive websites with very high traffic. At webgo you benefit from numerous professional features such as dedicated computing power, modern branded hardware and a super-fast connection via the webgo data center in Frankfurt.
Managed server
Similar to root servers, managed servers are something for larger website projects that require a professional hosting solution for large numbers of visitors. In contrast to a root server, however, less technical knowledge is required with a managed server. You are not responsible for the configuration of the server, but the trained staff from webgo. The experts at webgo take care that the servers are optimally and correctly set up on your website. Updates, servicing and maintenance work are also carried out by webgo.
As with the root servers, you can choose between SSD vServers and dedicated servers with webgo. Here, too, managed SSD vServers are cheaper than a dedicated server. A managed dedicated server from webgo combines an absolute high-end hosting solution with the ease of shared web hosting. Simply put: You get an SSD server that is perfectly optimized for your website and that you don't have to share with anyone else without having to deal with the technical details of the server. However, dedicated managed server solutions are also the most expensive tariffs at webgo.
Advantages of webgo web hosting
Webgo is a multi-award-winning web hosting provider from Germany that has had web hosting experience since 2004. In our experience report you will find out what advantages web hosting offers from webgo.
High speeds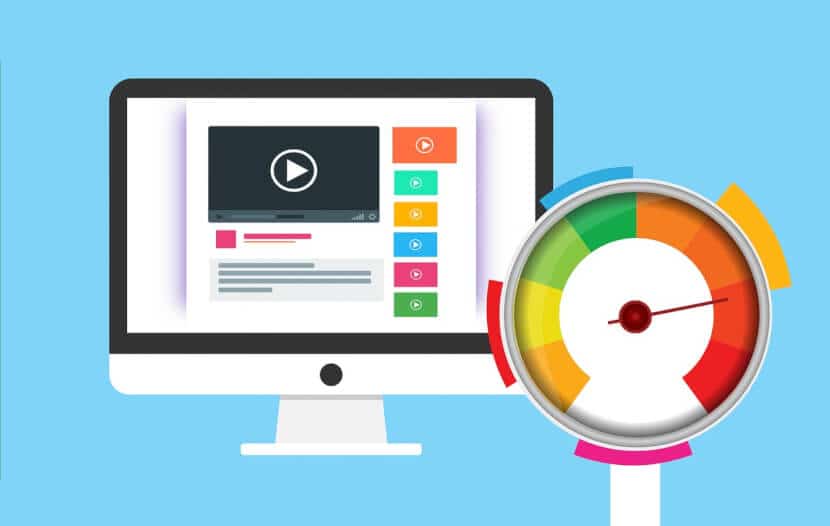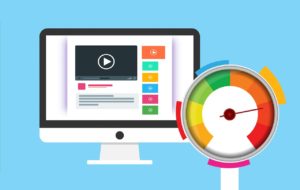 Hardly anything is more important than the speed of your website, it influences both your search engine ranking (SEO) and the satisfaction of your customers. If you want to host a successful website, you need to make sure it loads quickly. An analysis by Google shows that 53% of all users leave your website if it does not load within 3 seconds. However, especially modern websites with many media files such as pictures or videos can significantly slow down the loading time of your website, so it is all the more important that you choose the right provider.
But don't worry, webgo consistently impresses with its performance. According to their own information on their website, the server's response time is just 0,04 seconds. Although we didn't quite reach these top values ​​in our test, we were still absolutely thrilled with how quickly the webgo servers react. It is important to mention here that we strongly recommend using SSD hard disk space in order to guarantee a fast response time.
Webgo also tries to keep the loading times of your website as short as possible through various technical optimizations. These are:
Use of HTTP / 2 as the transmission protocol
The use of SSD hard drive storage for web space and MySQL databases
Apache server and separate chroot environment for each customer
Connection of the data center to the largest internet hub in the world (DE-CIX)
Responsiveness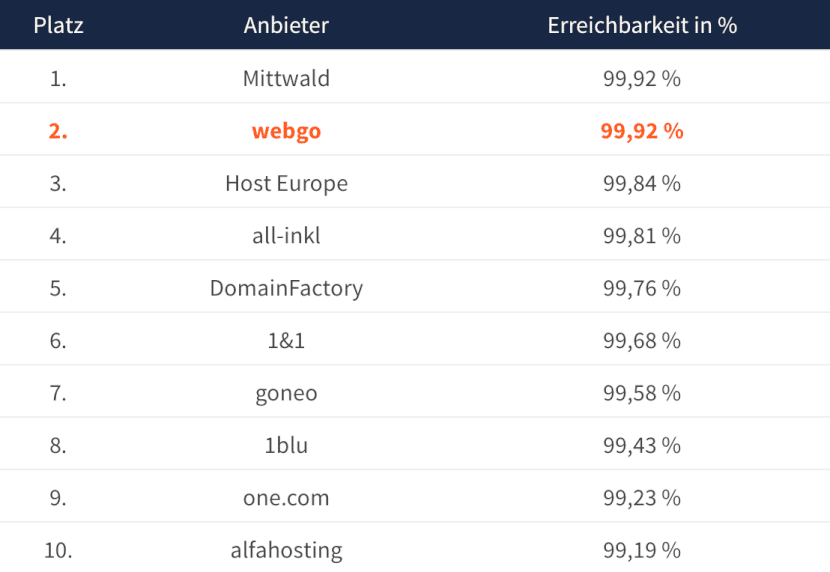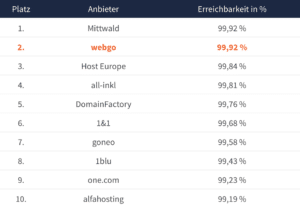 The uptime or availability of your website is next to the speed, the most important aspect to judge a hosting provider. If your website is down, customers will not be able to find it or purchase products or services from it. The higher the availability, the better. The uptime of a good website should be at least 99.9 percent. A 99% downtime versus 99.9% downtime doesn't sound like a huge difference at first. However, this is deceptive when you consider that calculated over a year, a downtime of 0.01% is only about 53 minutes, while a downtime of 0.1% is already 8,5 hours. So you can see that every% counts.
The good news is that webgo guarantees an uptime between 99.9% and 100% in its Service Level Agreement (SLA). If your uptime is between 98% and 98.99%, webgo offers you a credit of 10% on your monthly fee. If the availability is even lower, the credit increases accordingly.


Webo itself publishes two statistics on its availability on its website. In these statistics, the uptime is between 99,92% and 99,99%. In our test too, webgo consistently offers very good accessibility. In fact, there has been no failure in the websites we tested in the last few months.
Customer service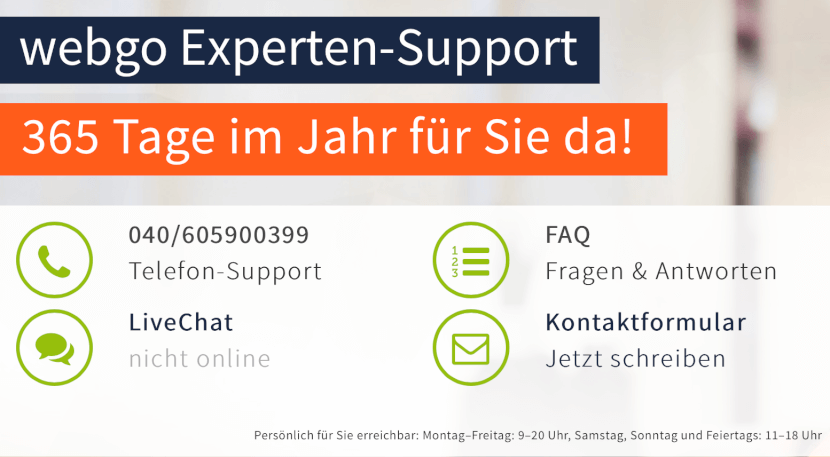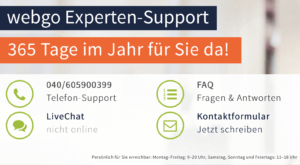 Webgo's customer service is also very satisfactory. Your first point of contact should be detailed and clear Help center his. There you will find all FAQ (Frequently Asked Questions) which are logically sorted according to categories. If you can't find an answer to a question, you can also contact webgo customer service directly. Support is available 365 days a year via phone, live chat and email. However, unlike many international providers, office hours are not around the clock. You can reach webgo support from Monday to Friday between 9 a.m. and 20 p.m. and on weekends and public holidays between 8 a.m. and 18 p.m. In our test, the webgo employees were always friendly and competent. Our inquiries were also answered very quickly and within a few hours.
Privacy
As a German provider, webgo is particularly recommendable for everyone who values ​​data protection. We feel that security and data protection, in addition to availability and speed, are unfortunately often overlooked criteria when looking for a good web hosting provider. For your security, webgo offers a daily backup of your files and your database. Unfortunately, webgo only stores these backups for you for five days. But you can also create additional back-ups at any time.
The server location in Frankfurt is also very important for data protection, as it guarantees you data protection under German law. Furthermore, the webgo data centers are certified according to ISO 27001, which guarantees you the highest security standards. SSL certificates from Let's Encrypt are also included in most Webgo plans free of charge for an unlimited period. If you use the cheapest tariff from webgo, you can also book a chargeable SSL certificate if required.
satisfaction guarantee


In addition to a 100% money-back guarantee, Webgo also offers a 100% satisfaction guarantee. According to webgo, if you are dissatisfied with your contract, they will try to find a solution together. If this does not work, you will be released from your contract before the deadline. So you get a special right of termination. We have never had to test the satisfaction guarantee ourselves, but our research has found extremely positive feedback on the Internet.
Six months free
This may sound too good to be true at first, but it isn't! In fact, webgo offers new customers the first six months completely free of charge when they take out a web hosting plan. This is particularly attractive due to the 100% satisfaction guarantee, which gives you a special right of termination in the event of dissatisfaction. Incidentally, this applies to all web hosting tariffs, regardless of whether they are cheap or expensive!
Many extras
Similar to low-cost airlines, many providers seem very cheap at first glance, but then charge a lot of money for every little extra. Webgo, on the other hand, offers all the basic functions you need included in its tariffs. In fact, most plans include some useful extras. In addition to free SSL certificates (in almost all tariffs), you also get the option of creating a MySQL and MariaDB database.
Furthermore, a fixed number of RAM and CPU resources is guaranteed, as your website runs via an Apache web server and thus as an independent process on the webgo servers. What we also like is the webgo, which always provides you with the latest technical innovations. The much faster PHP 7 was available shortly after its release. Other providers took significantly longer to do this. Many tariffs also include free domains and email accounts of any size. With most providers you also pay extra for this. So all of these extra extras are a big plus.
Disadvantages of webgo web hosting
Of course, even the best web hosting provider has a few small things that we don't like. In fact, with webgo these are very clear and in most cases do not disturb too much.
Complicated relationship
In fact, our biggest flaw with webgo is the user interface. Unfortunately, this is not necessarily the most modern. Although it is relatively easy to use even for beginners, it still leaves a few wishes after longer use. For example, the operation takes place exclusively via the so-called "customer portal". Here you will find your web hosting package, as well as active contracts from, for example, the website construction kit, domains or webgo rankingCoach. Also all configurable options, such as example settings of the Apache web server, the PHP version and, if desired, the possibility of installing WordPress.


If you click on "User account" you can also view your invoices and change your current password, among other things. The technical administration of your website can be found in the webspace admin area. In summary, the operation of webgo is rock solid but definitely no longer up to date. Many of the sub-pages appear to be over-packed and confusing. Using the customer portal is not necessarily complicated, but unfortunately not really intuitive either.
Expensive awakening
We mentioned a little above that the first six months on Webgo are completely free, and that's true. Unfortunately, most tariffs then become relatively expensive. You should therefore keep a close eye on your contract at all times in order to terminate it in good time if necessary. Of course, the first six months of the next contract year are no longer free of charge, which means that the contracts become significantly more expensive over the year. A sample calculation with the SSD web hosting tariff "Profi" looks like this:
In the first year
The first six months free of charge, then € 11,95 per month. Calculated over a year, this results in € 71,7 and an average monthly price of € 5,97.
Every following year
A monthly price of € 11,95 per year results in a total price of € 143,4.
So you can see that the originally cheap tariff from webgo is actually a lot more expensive if you plan to host your website there for a longer period of time.
Webgo tariff overview
In the following section we focus on webgo's shared web hosting offer, as this is absolutely sufficient for 90% of all users. The dedicated server solutions, on the other hand, are significantly more expensive and range between € 119 and € 299 per month.
When it comes to shared web hosting tariffs, webgo differentiates between HDD and SSD tariffs. The HDD tariffs are a bit cheaper and offer more but slower storage space. For the price, we indicate the full monthly price, although it should be noted that all web hosting tariffs are theoretically 50% cheaper in the first year, as the first six months are completely free.
| Membership | Starter (HDD) | Professional (HDD) | Business (HDD) | Power (HDD) | Starter (SSD) | Professional (SSD) | Business (SSD) | Power (SSD) |
| --- | --- | --- | --- | --- | --- | --- | --- | --- |
| Free domains | 3 | 6 | 10 | 20 | 3 | 6 | 10 | 20 |
| webspace | 50 GB HDD | 100 GB HDD | 250 GB HDD | 1000 GB HDD | 25 GB SSD | 50 GB SSD | 120 GB SSD | 500 GB SSD |
| RAM | 256 MB | 512 MB | 1024 MB | 2048 MB | 256 MB | 512 MB | 1024 MB | 2048 MB |
| Free SSL certificate | No | Ja | Ja | Ja | No | Ja | Ja | Ja |
| Email address | 50 | 100 | Unlimited | Unlimited | 50 | 10 | Unlimited | Unlimited |
| SSD databases | 5 | 50 | Unlimited | Unlimited | 5 | 50 | Unlimited | Unlimited |
| Customer / CPU core | 25 | 16 | 8 | 4 | 25 | 16 | 8 | 5 |
| Monthly price | € 5,95 / mo | € 9,95 / mo | € 16,95 / mo | € 26,95 / mo | € 7,95 / mo | € 11,95 / mo | € 19,95 / mo | € 29,95 / mo |
However, we strongly advise you to choose one of the SSD tariffs. Since even the cheapest tariff offers a generous 25 GB SSD hard disk storage. To be honest, we don't know exactly what you could theoretically use 1000 GB HDD hard disk space for in the business tariff. The RAM available at webgo is also extremely generous, which is why we generally recommend the "Profi SSD Webhosting" tariff for most users. This includes an incredible 6 free domains, 50 GB SSD hard drive space, a free SSL certificate and 100 email addresses.
Conclusion on webgo web hosting
Our experience report shows that webgo is positioning itself as a premium web hosting provider. The prices are slightly more expensive than those of the international competition. In return, however, you get an excellent web host, which is not only really fast and reliable thanks to its German servers, but is also at the top of the list when it comes to data protection and security. So if you are looking for a professional hosting solution for your next website and value German support & servers and are ready to spend a little more money on it, then we can unreservedly recommend webgo. The Profi tariff (SSD) in particular has a very good price-performance ratio.
Frequently asked questions about webgo web hosting
Is Webgo a good host?
Yes. webgo is one of the best-known German providers of web hosting. The long company history speaks for the company. Most tariffs are a little more expensive than the competition, but you get really good quality for your money.
How expensive is webgo?
Webgo offers various web hosting plans. The cheapest shared web hosting plan starts at € 5,95 per month. In the first year, the first six months are even completely free, which reduces the average monthly price to a very affordable € 2,97 per month. In addition to shared hosting, dedicated server hosting is also offered.
Does webgo have a money-back guarantee?
Yes. Webgo offers a 100% satisfaction guarantee. If you are not satisfied, you have a special right of termination at any time and can withdraw from the contract.
Which webgo tariff is the best for me?
We advise you to use the shared web hosting SSD Pro tariff. This tariff has the best price-performance ratio, is not too expensive and should be absolutely sufficient for most websites. You get 50 GGB SSD storage and 3 free domains, as well as a free SSL certificate for your website.
Does webgo use cPanel?
No. Webgo uses an unfortunately somewhat outdated customer portal, which works, but is not very contemporary.
Is webgo safe?
Yes. With its exclusive German server, Webgo offers outstanding data protection and has sophisticated systems to block malicious bots and hackers.
Who is behind webgo?
Webgo is a German company that has been offering web hosting solutions since 2004.
Does Webgo have German servers?
Yes. Webgo only owns German servers for its web hosting offer. The servers are all in Frankfurt.