Wix has existed as a company for a number of years. However, they have only become significantly more well-known since their IPO in 2013. Wix is ​​not a typical web hosting service, but a so-called drag & drop website builder, which represents a total solution for your next website project.


Different to SiteGround or Kinsta Wix is ​​therefore not suitable for WordPress web hosting, or transferring an old website to a new web hosting provider, but only works if you want to create a new website using a drag and drop website builder. However, Wix is ​​really good at that, and it's one of the easiest ways to build and host a beautiful, modern website.
Contents
What does Wix offer?
Wix offers you an all-inclusive solution for hosting and building a website. You create your website using the drag and drop builder, host it on the Wix servers and use the Wix admin panel to interact with it. So not only is Wix part of your website ecosystem, it actually does everything you need to create a website from start to finish.
Think of it as a bit like building a house. Instead of building your own house that you own, Wix rents you an apartment over which you have control over furnishings, cleaning and everything else. You leave the construction, installation, security and infrastructure to the owner of the residential complex.
Just like building a house, Wix, as a website builder, compromises between convenience and control. Both have advantages and disadvantages. We'll show you which ones in our experience report.
Wix web hosting review
If you're looking for a simple solution to your next website project, but don't want to deal with technical details, Wix could be for you. We learned to love some great features in our test.
Templates
You have a huge selection of over 500 templates. That's significantly more than its main competitor, Squarespace. All templates are completely free. The templates look professional and are visually appealing. The templates are divided into topics such as "photography, blogs, resumes, eCommerce, etc." and offer something for every need. In fact, many of the categories are even further subdivided to really find exactly what you're looking for. For example, the "Online Shop" category includes a shop for food and drink, electronics, clothing and much more. What we also like is that the Wix templates come with a large number of professionally shot images that you can use for free.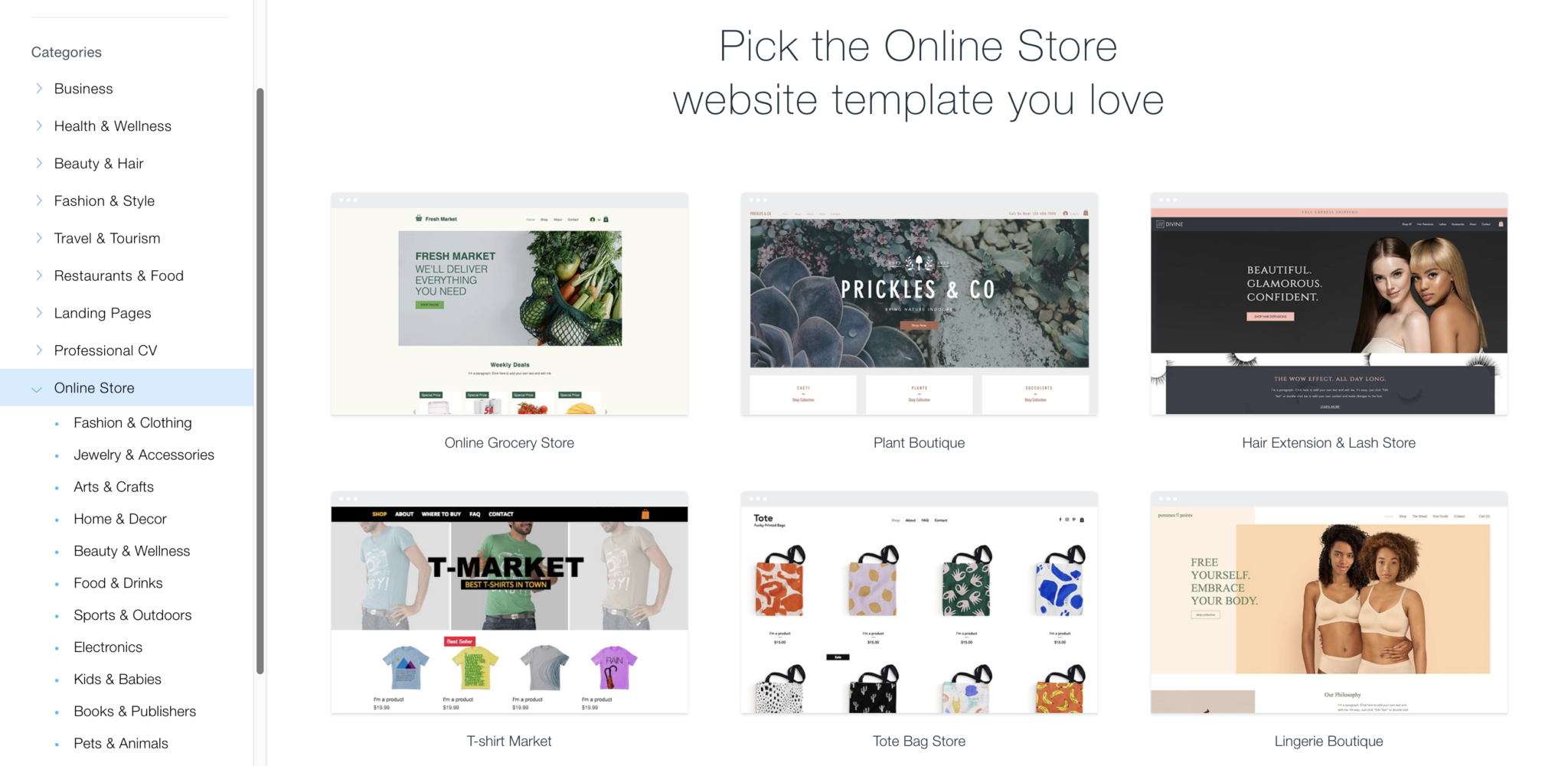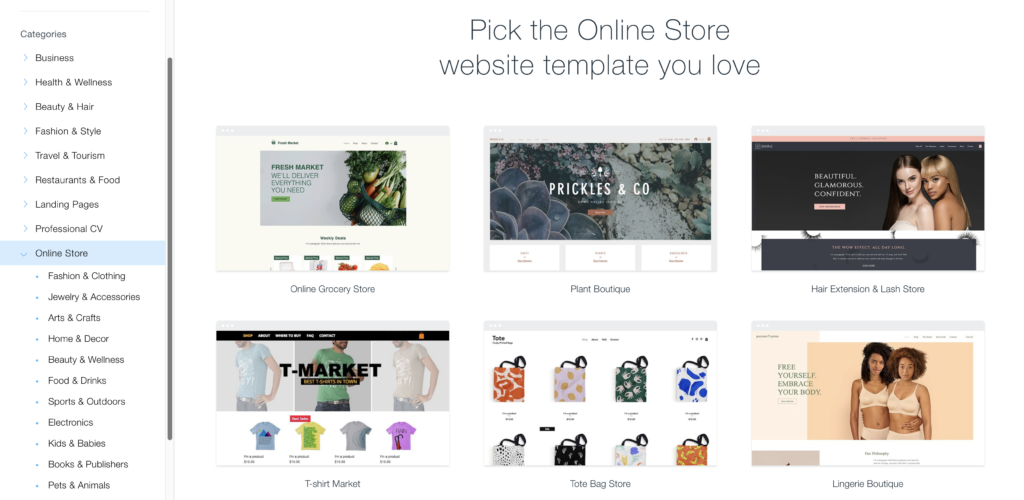 So the selection is huge and the design options are diverse. Unfortunately, one major limitation is that once you've chosen the template, you can't change it. If you want a different template, you have to start all over again.
Creating a website
Once you've chosen a template, you have three options. You can choose between the Artificial Design Intelligence (ADI), Wix Editor and the option of having your website created by a professional designer.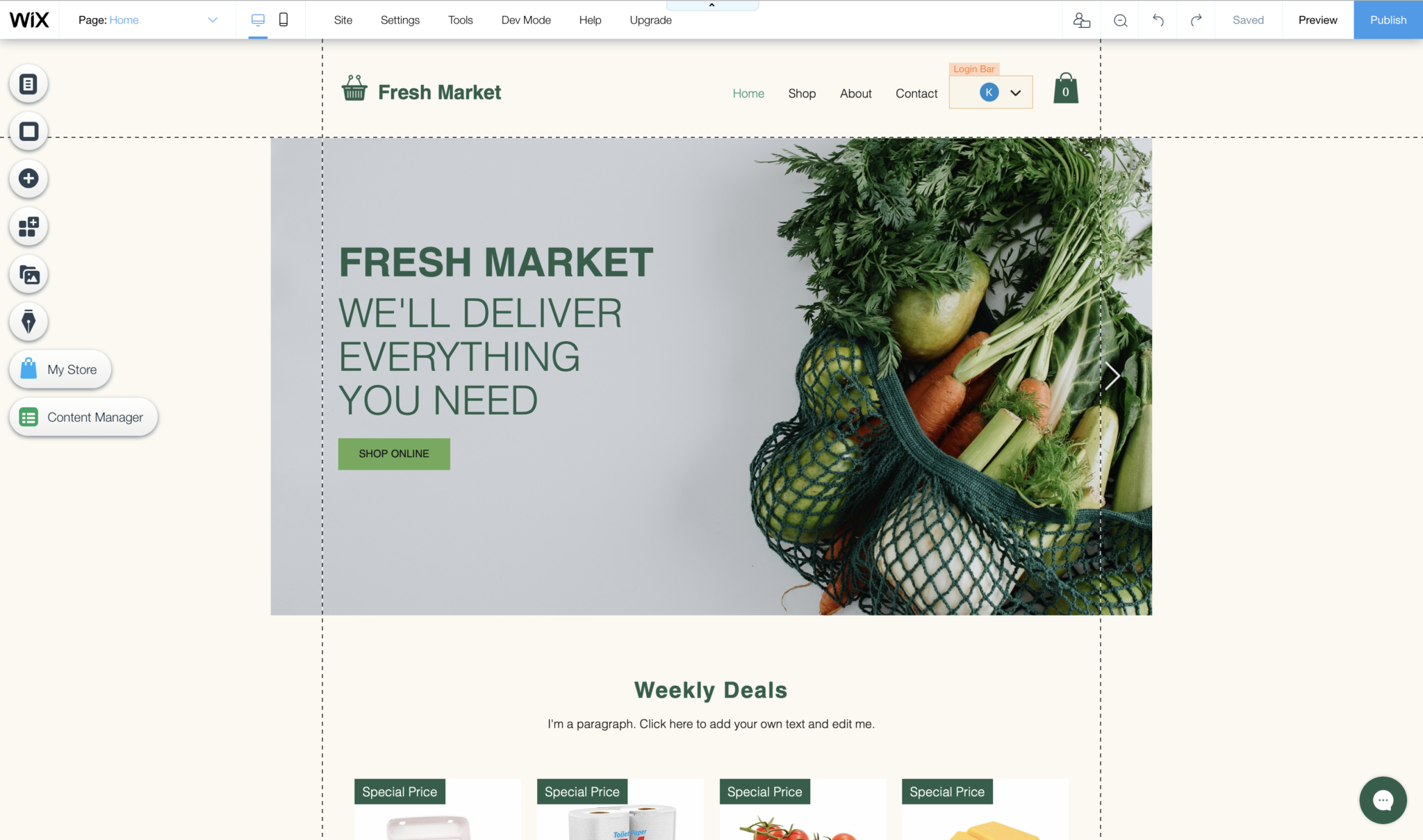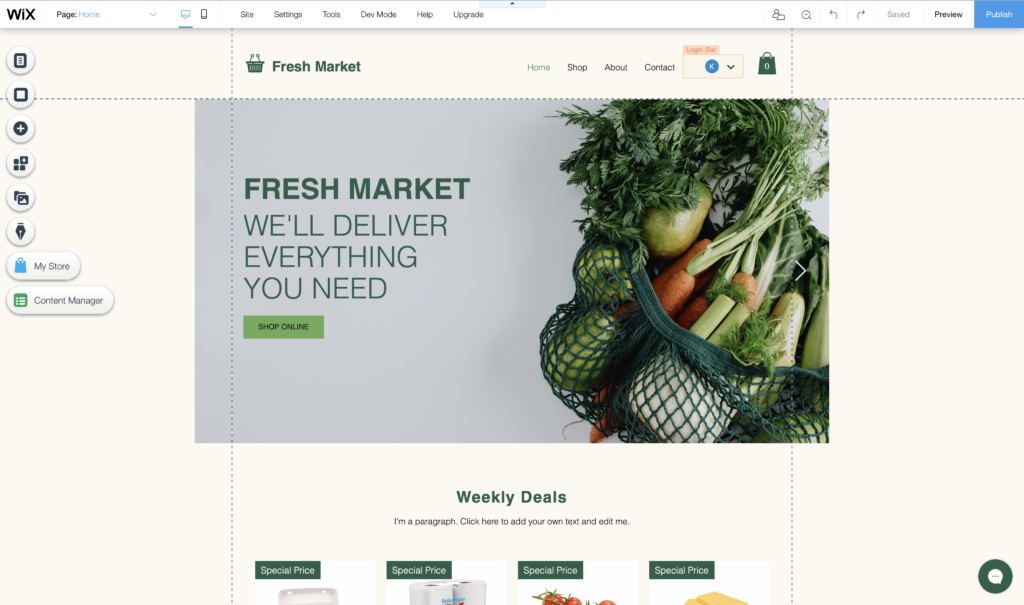 Artificial Design Intelligence can really be used by everyone. Your website is built by asking you a few basic questions and gathering all of the information that is available when you search for your business online. Editing is then done via a really simple drag & drop user interface, which automatically arranges the pages for you. This system is suitable even for absolute web design novices.
WixEditor is the standard version of Wix and offers significantly more control over the design and functions of your website than ADI. Even so, Wix's standard editor can be used by most beginners without any problems. What we particularly like is that the Wix editor really allows completely free drag and drop. There are no boxes to put items in. You can really freely arrange everything where you want it. This allows completely individual creativity that we don't know from any other website construction kit.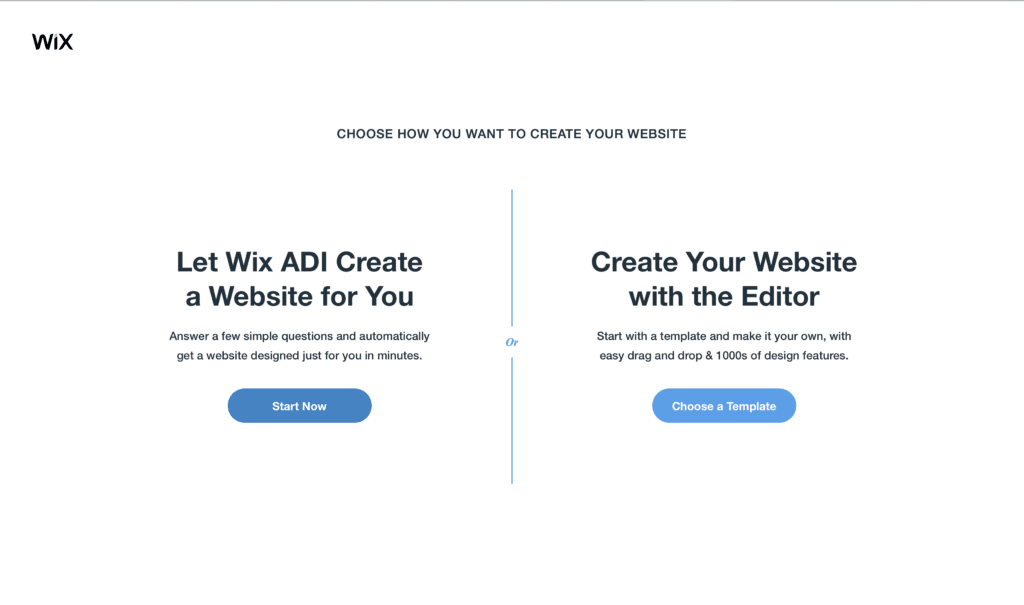 If the editor is too complicated for you, but you still want an individual and professional website, Wix can help you connect with a designer, which helps you to give your website that certain something and to create individual graphics and logos for you.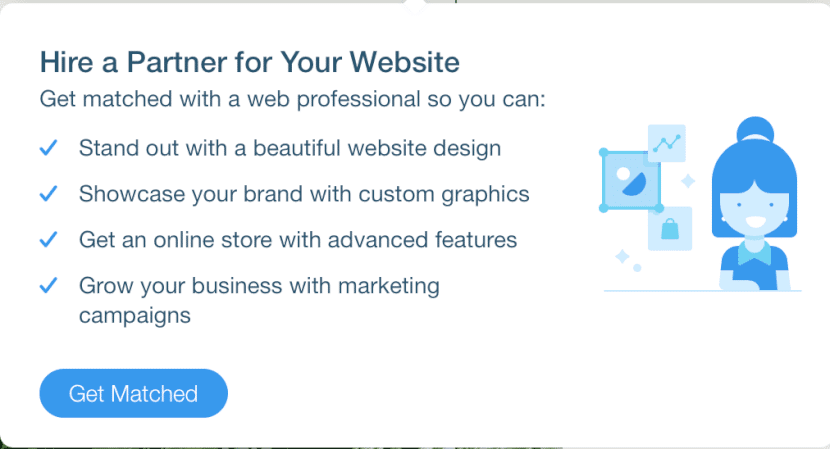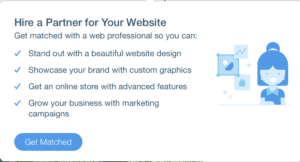 Speed ​​& Security
As mentioned earlier, all websites are hosted on Wix's servers. This means that the servers are optimized for Wix websites. So the experts at Wix are responsible for keeping your website running quickly.
An analysis by Google shows that a fast website is important: 53% of all users left a website if it did not load within 3 seconds.
The websites load very quickly in our test. However, due to the use of Javascript, it takes a while to actually work completely are loaded. However, you shouldn't worry here, most of the users of your website won't notice.
You don't have to worry about caching, CDNs, salts or patches either. All of this is taken care of by professional developers at Wix and ensures that your website is guaranteed to be secure and has few, if any, downtimes. So far our test website has not had a single uptime error.
Customer service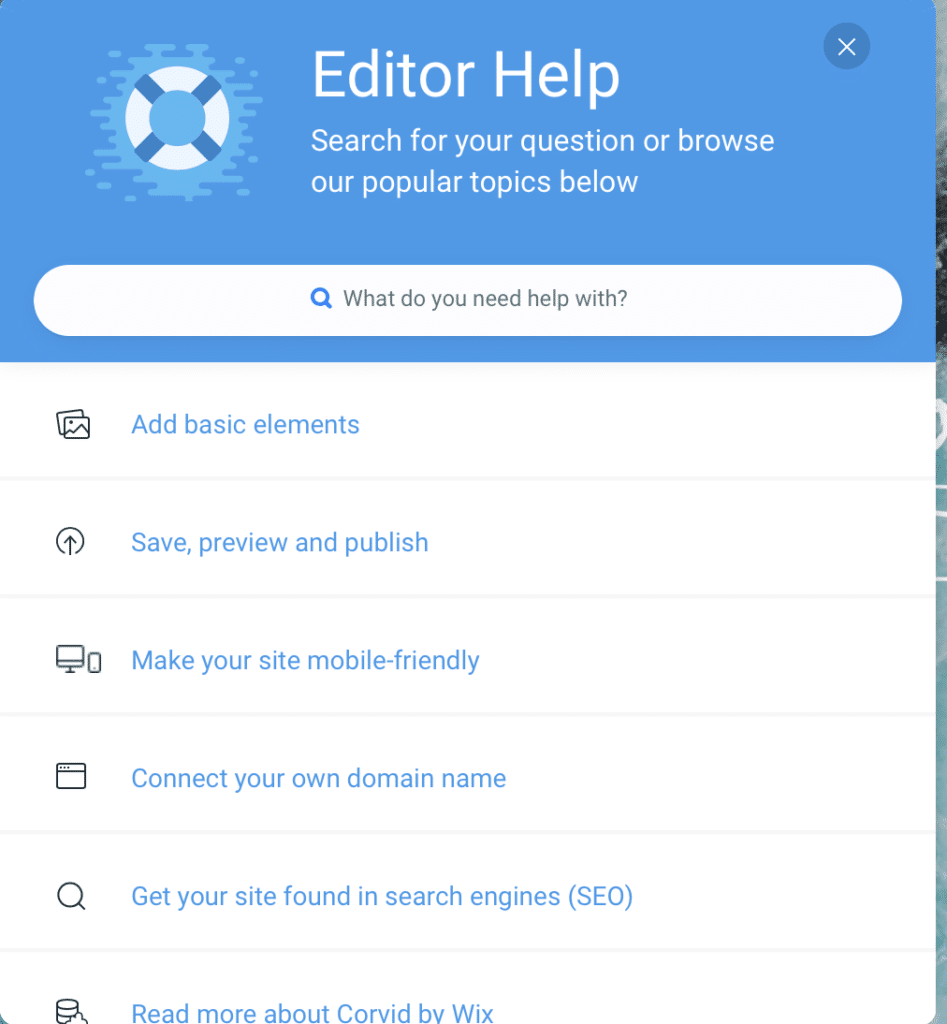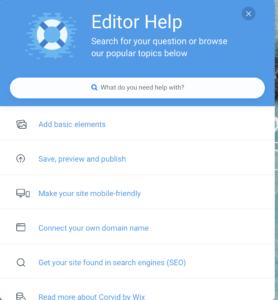 Just like with speed and security, the Wix all-in-one solution also has an advantage in customer service. Since Wix is ​​responsible for everything related to your website, they are guaranteed to be able to help and solve problems.
You will sometimes hear from other web hosting providers that your problem has nothing to do with web hosting and that they are unfortunately unable to help you. This is guaranteed not to be the case with Wix.
There is a large library of articles and a good search function for common problems. If you can't find what you need in Help, you can contact support very easily by clicking "No" in response to the question "Did this answer your question?" click
The support itself takes place either by phone or email. Unfortunately, Wix doesn't offer a live chat feature. For English-speaking users, Wix telephone support is available XNUMX/XNUMX.
Easy backups
With Wix you also get access to a very competent and practical back-up system. The version control system included with Wix is ​​called Site History and allows you to restore all previous versions of your website with just one click.
Also, at any time during the website creation process, you can simply click the "Back" arrow to undo the last setting. This works smoothly and is easy to understand.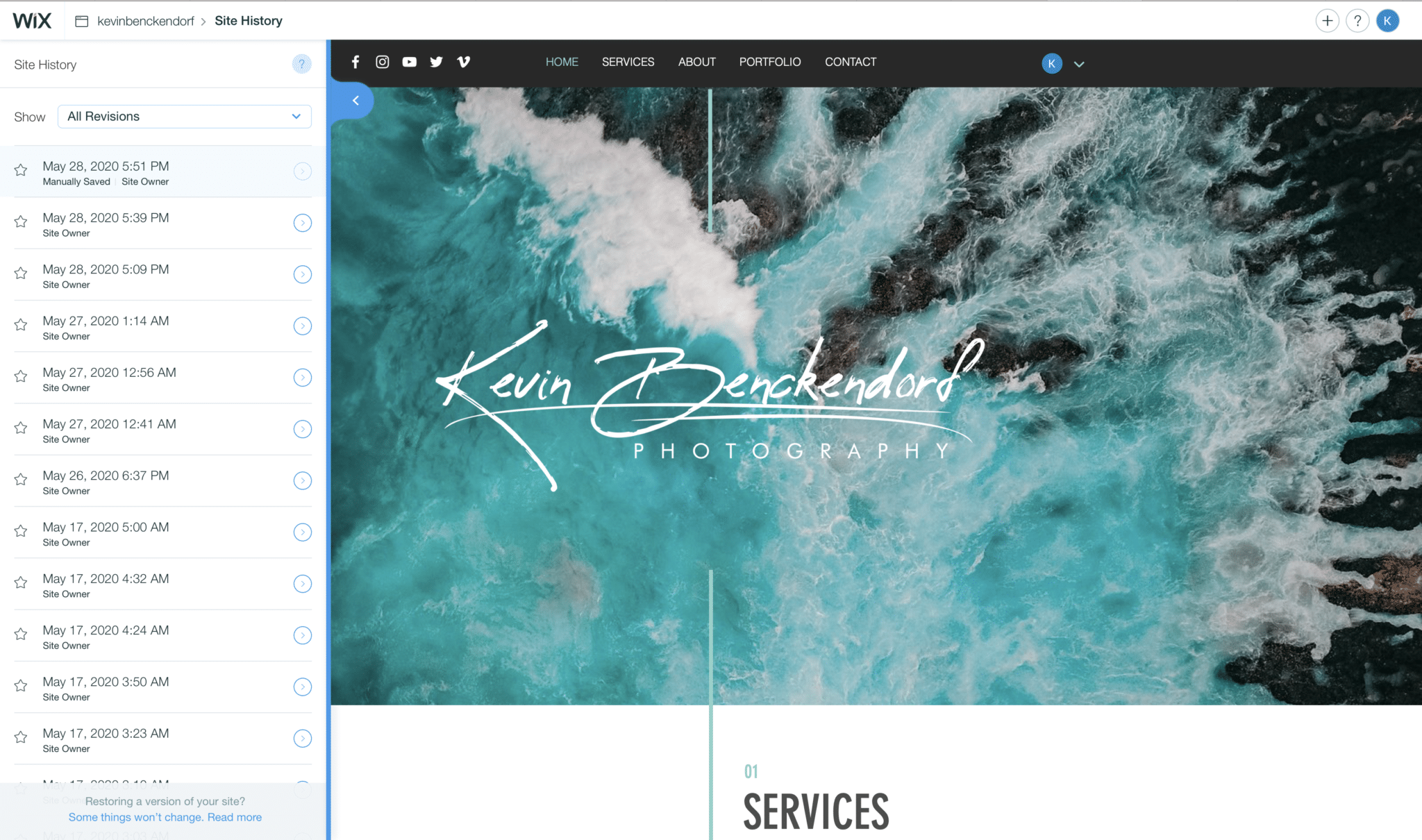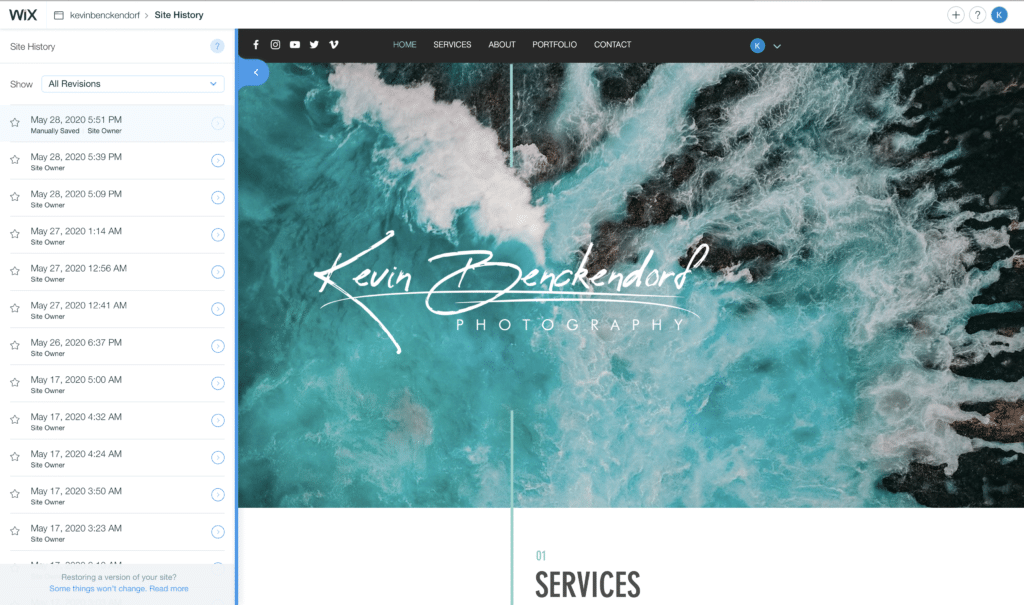 App market
While Wix has many useful tools that work well, they can't do everything. Fortunately, there is a large app market that contains hundreds of website functions from third-party providers. These tools are easy to install on your website with just a few clicks and greatly expand the functionality of Wix. The whole thing is similar to the plug-ins that you can add to WordPress or the extensions for Chrome.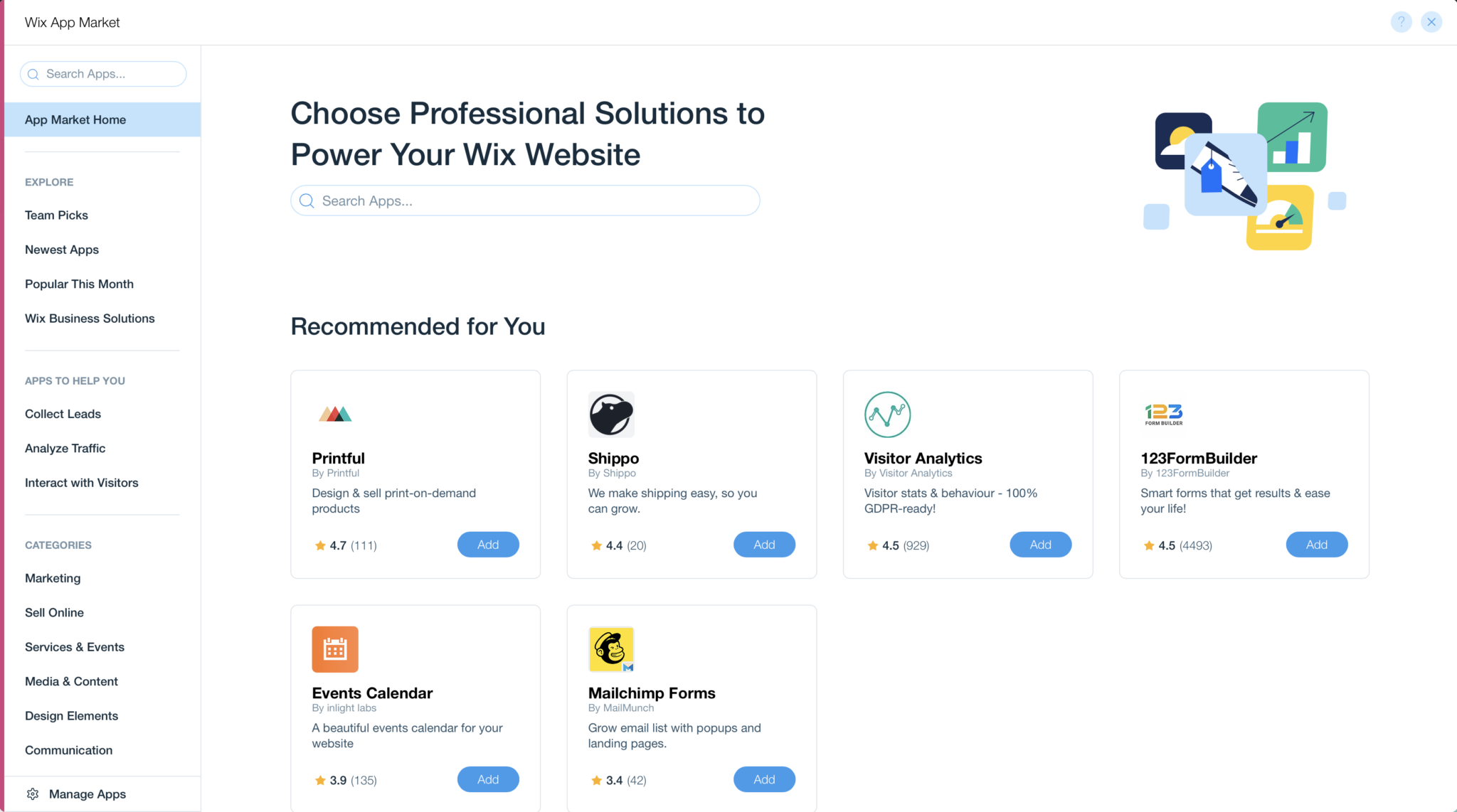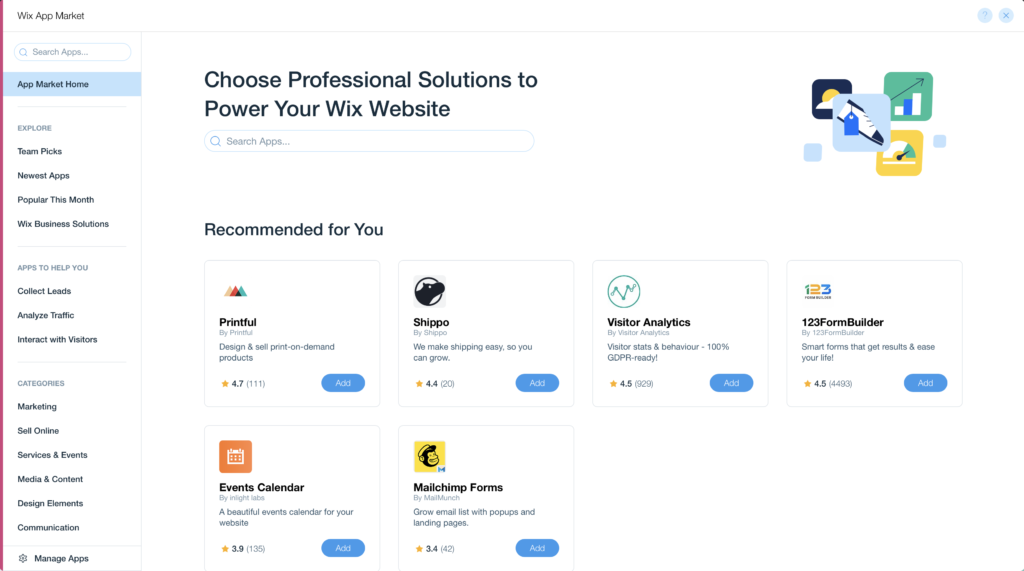 Almost everything can be found in the app market, from shopping carts and live chat widgets to marketing and SEO tools. Most of the apps are completely free of charge, but may offer a premium version for which a low monthly fee is due
Wix-SEO
The SEO functionality is also generally very good with Wix. You can easily handle the most important SEO tasks like adding alt text and meta descriptions as well as editing page URLs. What we also really liked in our test was the "SEO Wiz" tool from Wix. This helps you with the most important steps to optimize your website such as page titles, meta descriptions and alternative texts. So if you don't know anything about SEO, SEO Wiz is a really good help.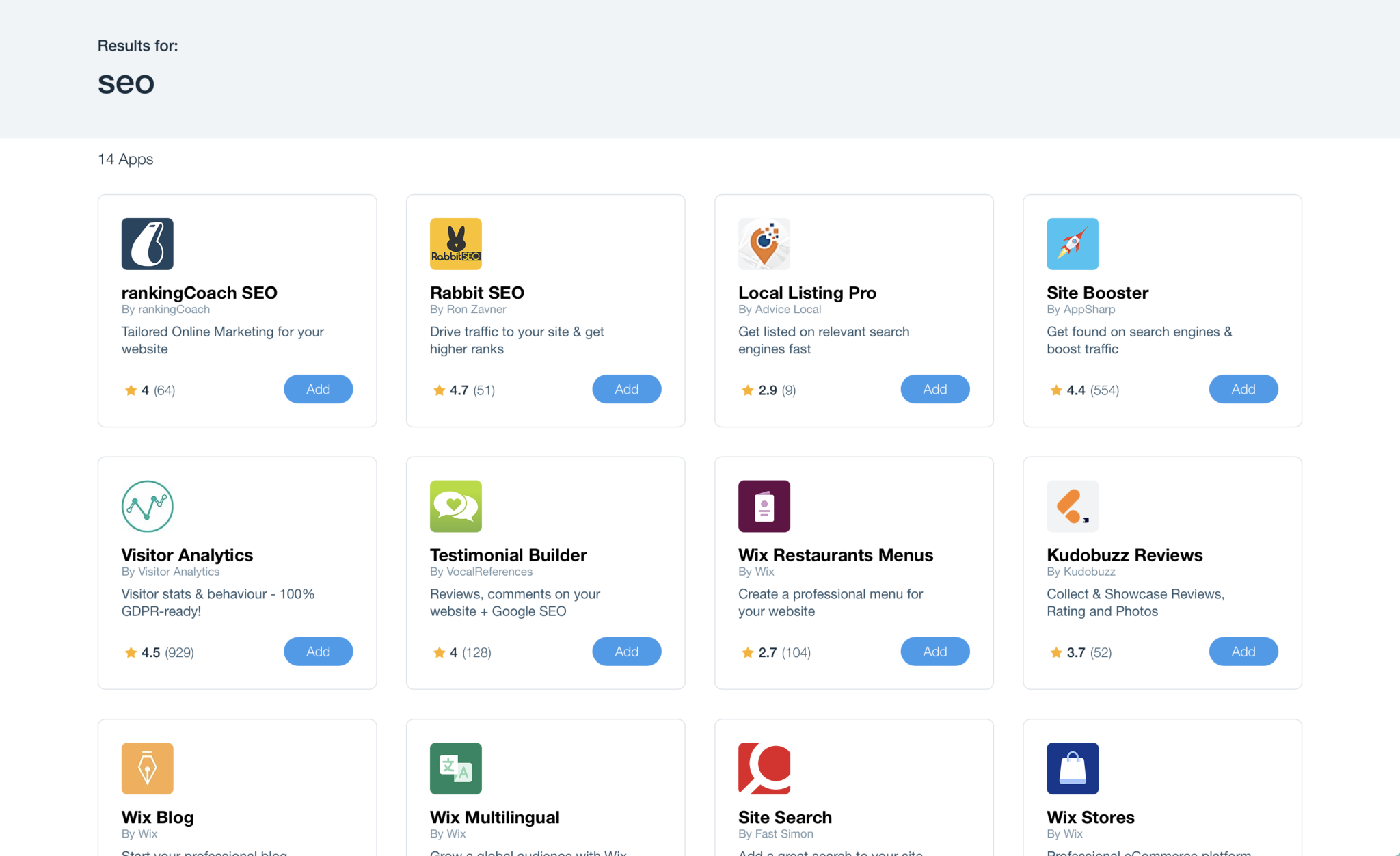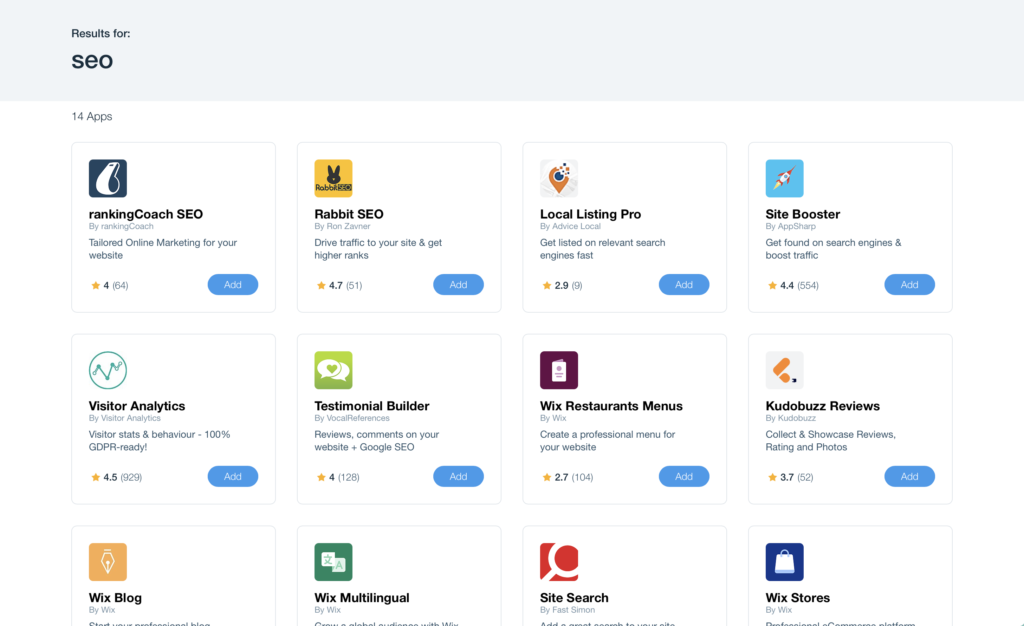 However, there are a few areas where Wix could perform better when it comes to SEO. The mobile website in particular is a sticking point here. Wix creates a separate view of your website for desktop and mobile instead of using a responsive design. Google generally prefers websites with a fully responsive design over a separate display between mobile and PC, as Wix does. Wix also does not support so-called AMP (Accelerated Mobile Pages). AMP ensures that websites load faster on mobile devices and thus improves the SEO of a website. Only blog posts can be created as an AMP version, but not the rest of your website.
Useful tools
In addition to the Drag & Drop Builder, which works simply and very well, there are some other useful functions that help you with the hosting process and the creation of your website.
Password protected areas
You can assign an individual password to individual areas of your website. You can also manage your users via log-in. You can create a membership website for your users through which they only have access after logging in.
Newsletter
With the app "ShoutOut" you can easily send newsletters. There are also many apps in the Wix App Store that simplify the sending of newsletters.
Contact form
A simple contact form is available that can be integrated into any website. If you are looking for alternative and other designs, you can also find them in the App Store.
Domain
Wix also offers domains. If you choose the "Combo" tariff or higher, you will even receive a domain voucher. With this, the first year of your domain is completely free. After that, a domain costs €14,95 per year. You can also move to Wix with an existing domain.
Many more tools ...
In addition to the tools mentioned above, Wix also offers detailed visitor statistics, its own HTML code and many other useful functions.
Wix eCommerce
Starting with the Business Basic Plan, you have the opportunity to sell products on your website. Wix is ​​particularly suitable if you are using an eCommerce platform for the first time. Getting started is quick and easy. The eCommerce from Wix is ​​particularly suitable for small and medium-sized companies. You have the possibility to sell an unlimited number of products (digital and physical). The users of your website can find and also filter products via search. Additional functions such as tracking information via FedEx, UPS and USPS are also possible. Discount codes and other ways to apply discounts are also possible with Wix.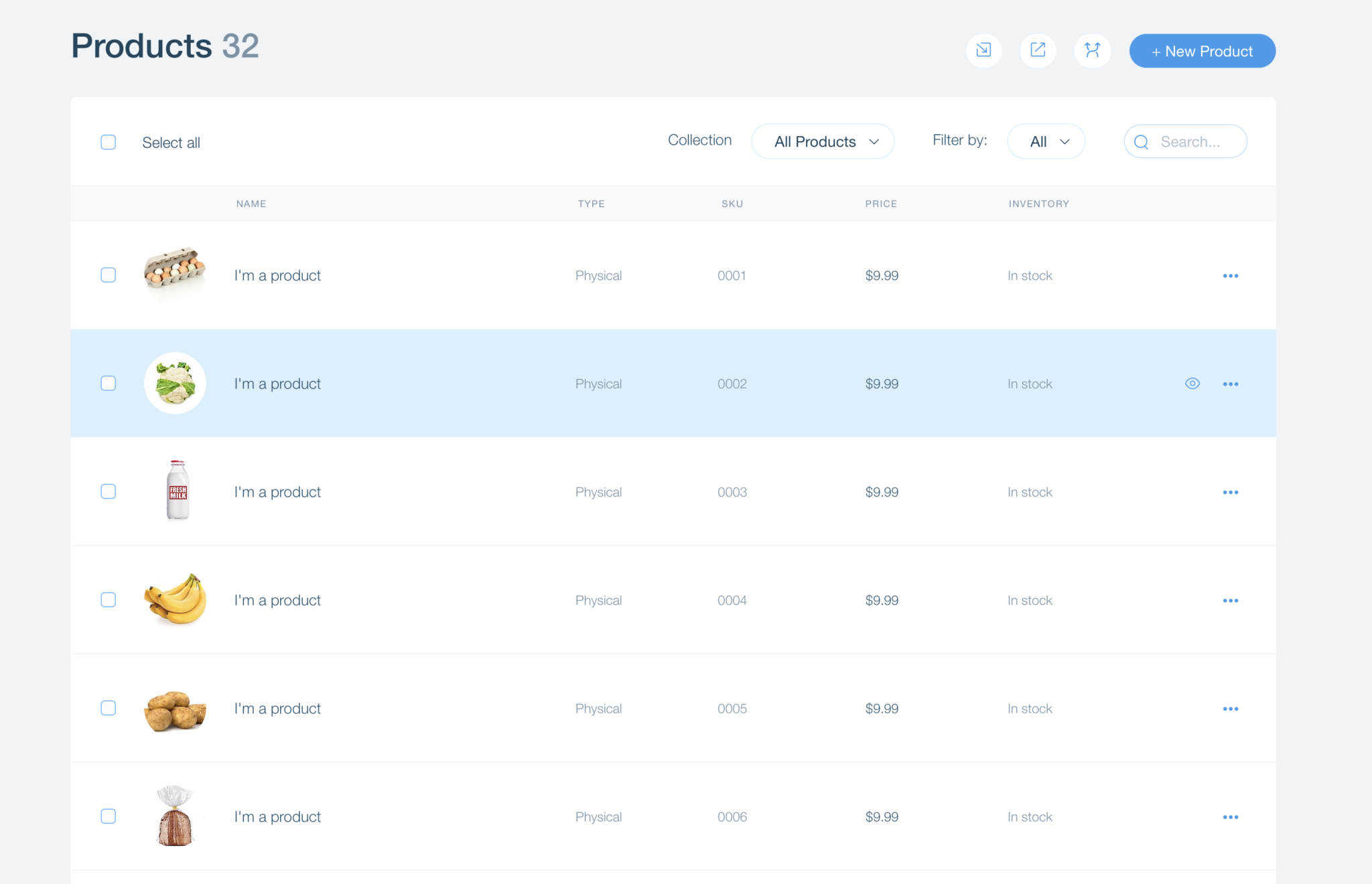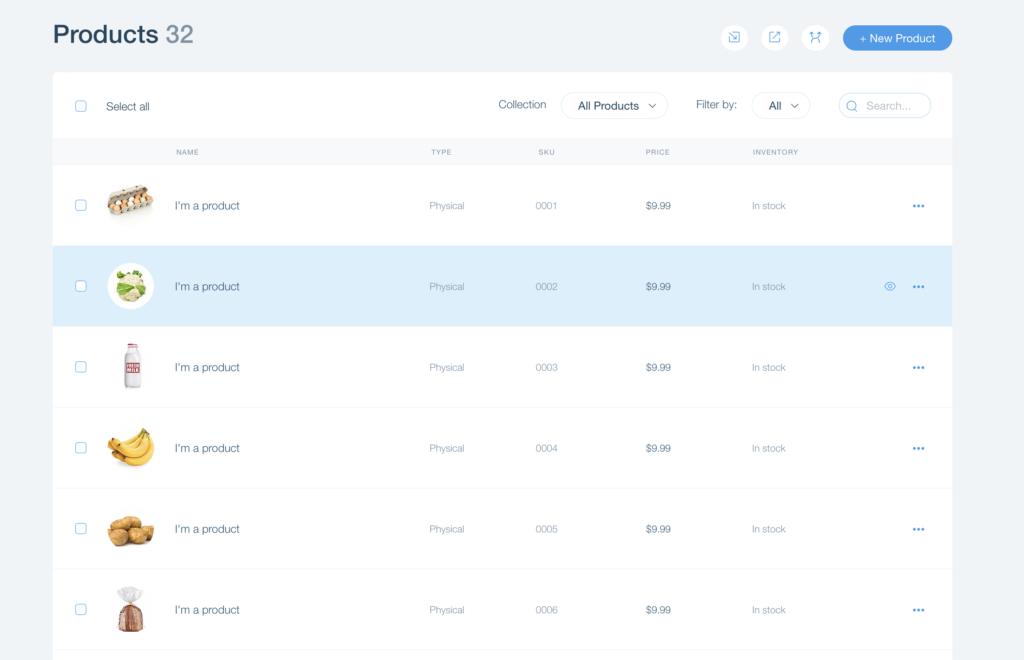 What is special, however, is the easy way to sell digital products. You can actually host a website, create and sell your first digital products, all in under an hour. The file limit for digital files is 1 GB, which is significantly better than that of the competition from Squarespace and Bigcommerce. Only Shopify offers more with up to 5 GB of files.
The biggest downside to Wix eCommerce is that it doesn't currently sell in multiple currencies. You have to choose a currency. Although there are third-party apps that act as currency converters, it is not possible to change the currency during the final sale.
Tariff overview
Wix offers a large number of different plans available. They differentiate between normal website tariffs and business & eCommerce. Another special feature is that you have the option to host and create a website completely free of charge. However, there is permanent advertising from Wix on this. It is also not hosted as .com or .de, but as a Wix domain (www.examplewebsite.wixsite.com).
Website tariffs
The website tariffs are suitable for all users who do not need eCommerce on their website. The cheapest tariff starts at $ 13 per month and already includes many very good features. In the most expensive website tariff (VIP) you pay $ 39 per month, but you get significantly more storage space as well as a free domain for one year and vouchers for a professional logo, an event calendar, various paid plug-ins and over $ 300 in vouchers for placing advertising . You can also differentiate between monthly and annual payments for all plans. If you choose annual billing, you save between 17% and 33%.
| Membership | Combo | Unlimited | PRO | VIP |
| --- | --- | --- | --- | --- |
| bandwidth | 2 GB | Unlimited | Unlimited | Unlimited |
| SSD storage | 3 GB | 10 GB | 20 GB | 20 GB |
| Free domain for 1 year | Ja | Ja | Ja | Ja |
| Ad-free | Ja | Ja | Ja | Ja |
| $ 300 promotional coupon | No | Ja | Ja | Ja |
| Free professional logo | No | No | Ja | Ja |
| Visitor analysis app | No | Ja | Ja | Ja |
| Social media logo files | No | No | Ja | Ja |
| Free SSL | Ja | Ja | Ja | Ja |
| VIP support | No | No | No | Ja |
| Registration price | $ 13 / mo | $ 17 / mo | $ 22 / mo | $ 39 / mo |
* some packages can only be ordered in English-speaking countries
Free plan
The free plan is not in our table. It has minimal features and settings, and includes permanent Wix branding. While it's completely free, we can't really recommend this plan. However, it is very suitable for designing and developing your website for free and, as soon as you are done, to upgrade to a premium plan.


Combo plan
A free domain for one year, more storage space and significantly more functions than the free plan. Unfortunately, the bandwidth is limited to 2GB, which makes this plan significantly less attractive.
Unlimited plan
This tariff is good value for money. You get access to all important Wix functions and receive a large number of free extra goodies. More storage and unlimited bandwidth. This plan should work best for most.
Pro Plan
This plan includes everything the Unlimited Plan offers plus an extra professional logo design and access to the Wix Visitor Analytics plug-in. This plan is suitable for you if you want to take your website very seriously and a professional appearance is very important to you with your own logo.
VIP Plan
We can't really recommend this plan. The surcharge compared to the Pro Plan is just too big, without really worthwhile upgrades. The only thing you really get more is a priority for support requests.
Business & eCommerce tariffs
If you want to accept booking and money through your website you have to choose one of these tariffs. They're a little more expensive than Wix's "website" plans, but they also offer more storage right out of the box. The cheapest tariff starts at $23 per month, the most expensive tariff (Enterprise) costs $500 per month, but is only aimed at large companies looking for individual hosting options. Here, too, you can differentiate between monthly and annual payment for the plans and save between 17% and 33% if you opt for annual billing.
| Membership | Business basic | Business Unlimited | BusinessVIP |
| --- | --- | --- | --- |
| bandwidth | Unlimited | Unlimited | Unlimited |
| SSD storage | 20 GB | 35 GB | 50 GB |
| Free domain for 1 year | Ja | Ja | Ja |
| Ad-free | Ja | Ja | Ja |
| $ 300 promotional coupon | Ja | Ja | Ja |
| Free professional logo | No | No | Ja |
| Visitor analysis app | Ja | Ja | Ja |
| Social media logo files | No | Ja | Ja |
| Free SSL | Ja | Ja | Ja |
| VIP support | No | No | Ja |
| Registration price | $ 23 / mo | $ 27 / mo | $ 49 / mo |

Business basic
The Business Basic Plan offers an excellent price-performance ratio and should be absolutely sufficient for most users. You get 20 GB of storage, $ 300 in vouchers, the visitor analysis app and a free domain for one year.
Business Unlimited
For a small monthly surcharge compared to the Business Basic plan, you get 15 GB more storage, a professional logo worth $ 50 and social media logo files. Especially if you are starting a new company, the Business Unlimited tariff can be profitable due to the included professional logo.
BusinessVIP
Similar to the website tariffs, we do not feel that the significantly higher price compared to the unlimited tariff is justified. However, in contrast to the website tariffs, you get 15 GB more storage here. It is also more important for companies to reach support quickly in the event of problems, which can justify the surcharge for VIP support.
Enterprise
So far, we don't know of a large company using Wix. In fact, we see Wix more as a final solution for private users or small to medium-sized businesses. The enterprise tariff promises a professional end-to-end solution and professional services such as advice from experts. For detailed information, Wix has set up a multi-page Terms of Use page, which you can find here here.
The most important information in the summary
Easy to handle
Inexpensive
Huge selection of high quality templates
Unlimited design possibilities
eCommerce is supported
Good website load times
Big app store
There is a completely free version
SEO functions are available and sufficient for most users
Integrated email marketing tool
Once you have created your website, you cannot change the template
You don't have access to the source code
The websites are not completely responsive (optimized for mobile use)

Bottom line on Wix web hosting
With Wix, you can easily create a stunning, powerful, and interactive website for any project, company, or idea in a matter of hours without any coding knowledge.
The designer templates are a great help here. With the help of simple drag & drop controls, you can extensively adapt and individualize them. We like the drag & drop website builder from Wix a lot better than the competition. The only thing that bothers us is that you can't change the templates after creating the website.
Wix is ​​most useful for a small, personal website or for small to medium-sized businesses. The SEO and marketing tools are extensive and leave little to be desired. No matter if blog, portfolio or résumé. The eCommerce functions are fine, if not as good as other providers. For most users, however, they are sufficient.
The support from Wix is ​​also impressive. It is of high quality and has always helped us in our test. Unfortunately there is no live chat and so it can sometimes take a while to get an answer. Getting started with Wix is ​​easy and doesn't cost a dime on the free plan. So there is no reason not to even try it out. Wix offers a two-week money-back guarantee on all premium plans.
Overall we are very satisfied and can only advise everyone to invest an afternoon and try it out for themselves.
Common questions about Wix
How expensive is Wix?
Wix offers a variety of hosting plans. The cheapest plan is completely free but has a number of severe limitations. The first paid plan starts at $ 13 per month. For the cheapest eCommerce enabling plan, you pay $ 23 per month.
Does Wix have a money back guarantee?
Yes. Wix offers a two-week money-back guarantee on all premium plans.
Which Wix plan is best for me?
If you want to create a simple website without eCommerce, the Unlimited or Pro plan from Wix is ​​best. If, on the other hand, you need eCommerce, we recommend the Business Basic or Business Unlimited tariff. The VIP tariffs, on the other hand, are too expensive for most users and do not offer a good price-performance ratio.
Does Wix use cPanel?
No. Wix uses its own dashboard. This is much more user-friendly and intuitive than a classic cPanel dashboard. Many important functions can be done with a click or two.
How do I transfer a webpage to Wix?
You cannot migrate an existing website to Wix. Wix is ​​only suitable if you want to create a website from scratch.
Is Wix Safe?
Yes. Wix has sophisticated security systems to block malicious bots and hackers. Plus, since Wix takes care of the servers, you don't have to worry about the security of the servers. All of this is done by professional Wix programmers.
Who is behind Wix?
Wix has been listed on the NASDAQ stock exchange since 2013 and is headquartered in Tel Aviv, Israel.
How is Wix different from other hosting providers?
Wix is ​​not a classic hosting provider, but offers an all-inclusive solution for hosting and creating a website, the whole thing is called a website builder. So you don't have to deal with any technical details about hosting. The security and stability of the servers is managed by Wix. The creation of a website is also made much easier by simple drag & drop.