Would you like to create your own personal homepage or do you need a website for your company? It used to be no easy undertaking and cost a lot of money and nerves. Coding knowledge was also absolutely necessary. This is no longer the case. Creating a homepage is now child's play with the help of so-called website builders! You do not believe me? In this article I will show you how you can create your own modern and professional homepage within half an hour, I promise!
Contents
Creating a website made easy
It doesn't matter what kind of website you want to create. The simplest version of a website is a place where people can find important information about you or your company. Kind of a kind of business card on the Internet. In addition to your telephone number and email address, this website should also provide information about the services and products you offer. In fact, you can even sell these directly through your website!
Would you like to create a blog or portfolio instead? That is also no problem. With a Wix website, the choice is yours. In this article, I'll focus on Wix because it's the easiest way to build a modern website without any prior knowledge. When I first used Wix, I was really surprised at how much creative work Wix did for me automatically. I was already expecting Wix to make coding easier with its drag-and-drop builder, but I didn't expect how easy it was in the end!
The best? Wix is ​​completely free to use. You may want to upgrade to one of the premium offers later, which are also very affordable.
Wix - the website builder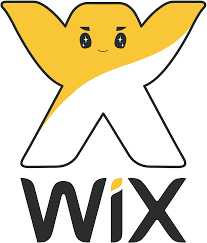 14 days free trial
Paid plans start at $ 13 per month
Large selection of templates
Easy to set up and use in minutes

The most important steps to create a homepage
But enough of the praise. In the following section I will explain step by step how you can create a Wix homepage. So you can't go wrong, guaranteed!
1. Create an account
First, you'll need to set up an account with Wix. However, this is really easy and should only take a few minutes. Just click here to go to the Wix home page. With Wix you will then find a large "Create your own website" button.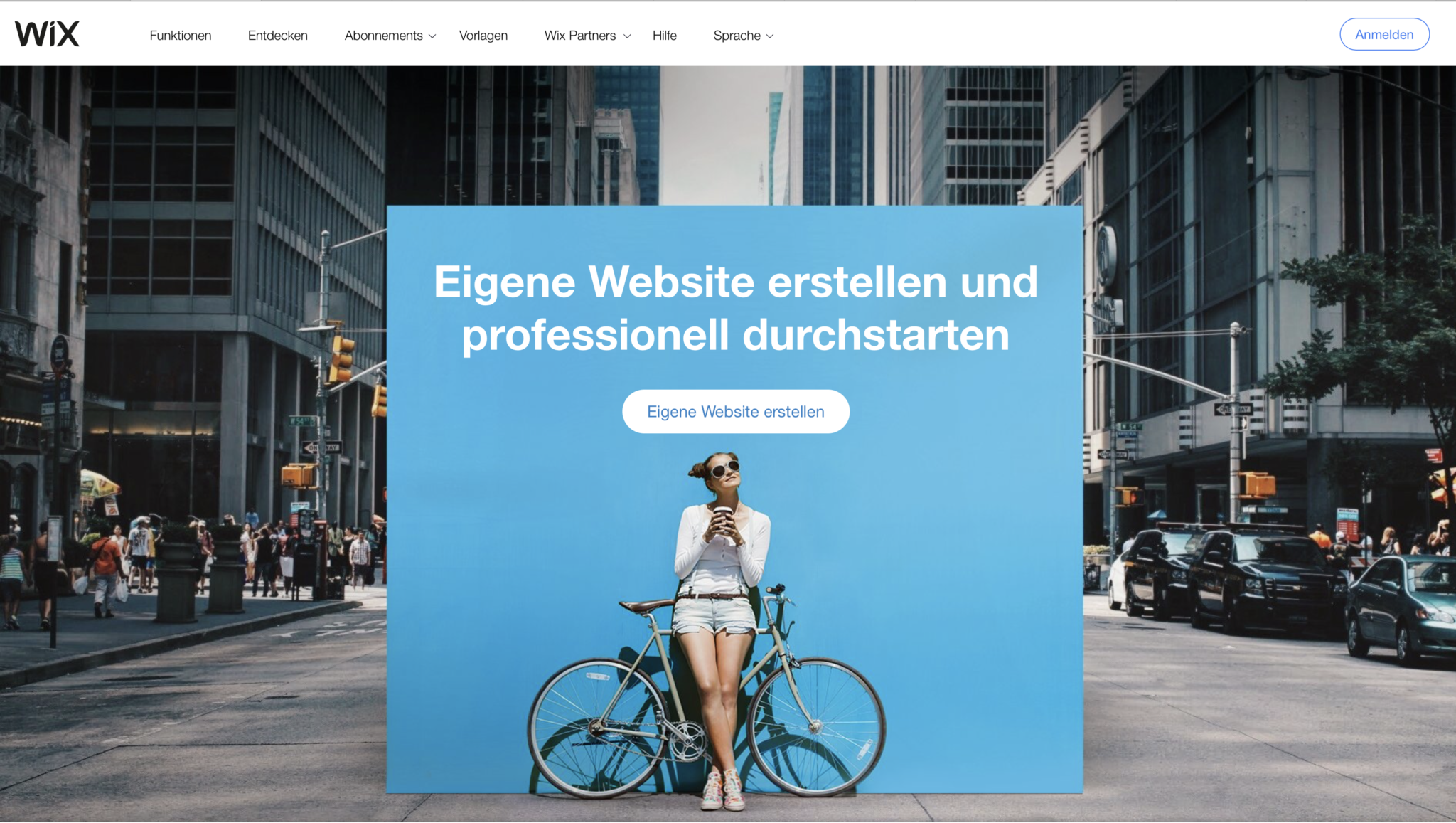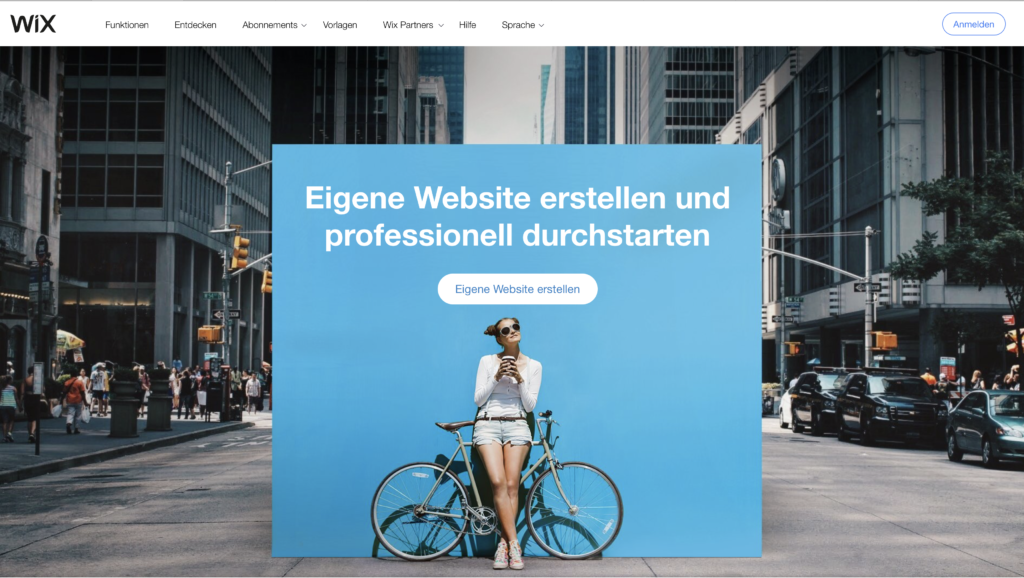 Once you have done that, click on "Register" or alternatively on "Continue with Facebook" or "Continue with Google". To register you only need an e-mail address and a password at the beginning. Once you have entered this, you will receive a confirmation email and will be forwarded directly to the next page.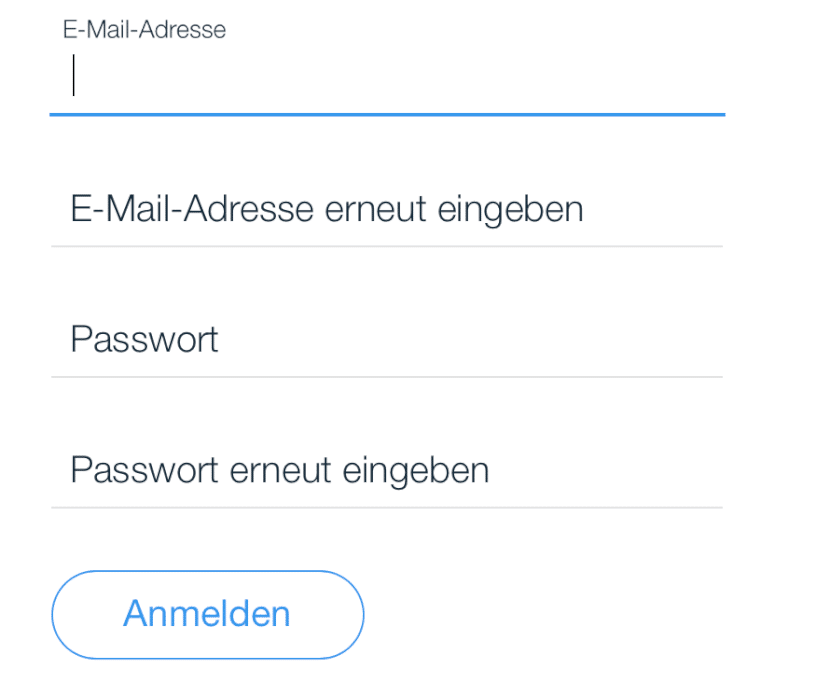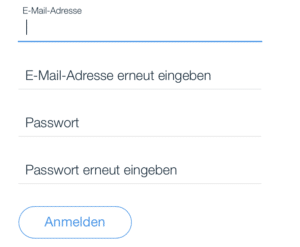 Now you can click on "Start" and then some questions will follow, which are optional. But they help you to simplify the process of creating your homepage. These questions help Wix's ADI Builder create a website that we hope you'll like faster.
The questions are the following:
I want to create a website for ________.
Choices:
my own needs
customers
my job
someone else
And it should be a website for ________.
a company
an online shop
Music
Design
a blog
Beauty & Wellness
Portfolio & CV
Events
Photography
a restaurant and food
Travel and tourism
other
And I have ________
websites already created professionally
created many websites
maybe one or two websites created
never created a website
For us it looked like this in the end: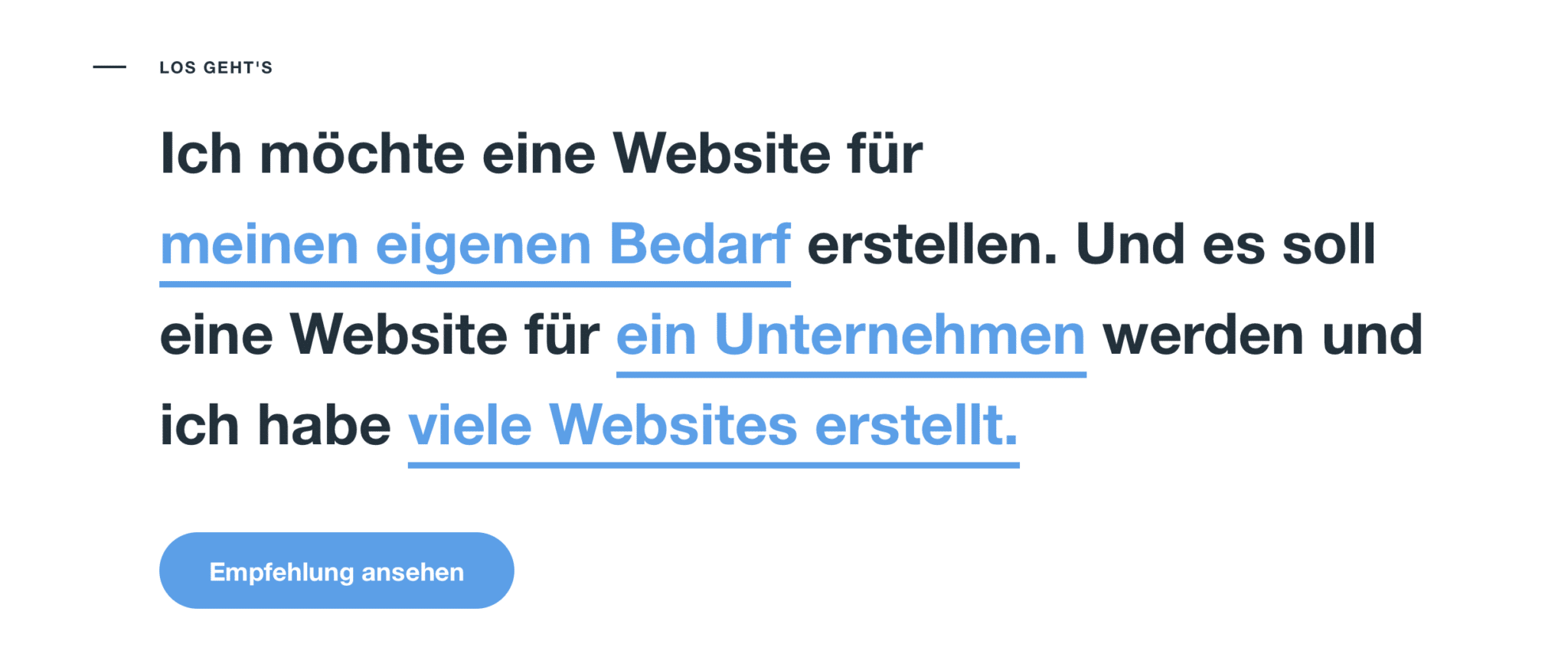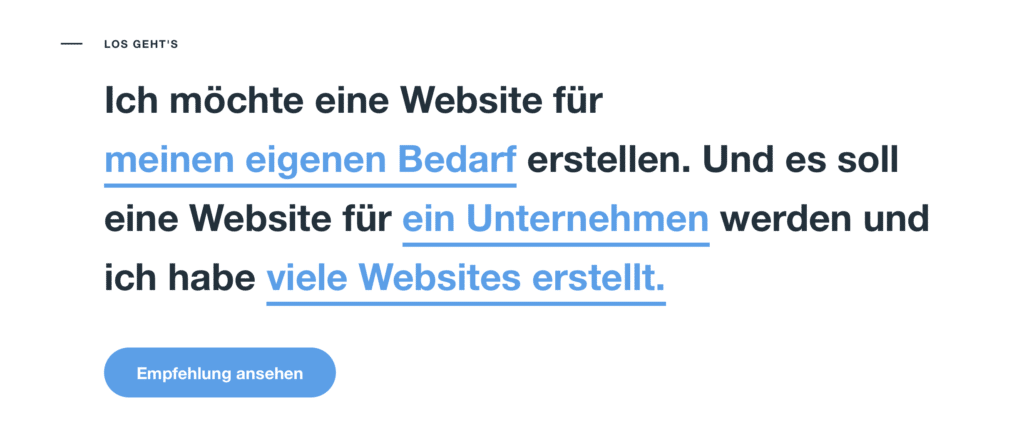 2. Create a homepage using Wix ADI or the Wix Editor
After answering these questions, you have two options:
Wix ADI
You can allow the Wix ADI to create a website for you. All you have to do is answer a few questions. In a few minutes, a website with custom text and images will be created for you. The whole thing works almost magically and is particularly suitable if you have no previous experience or want to create your website as quickly as possible.
WixEditor
Alternatively, you can use the classic Wix editor to create your own website. You start with a design template, which you can adapt individually. This is also very easy to do with the Drag & Drop Builder. For starters, let's start with the WIX ADI, as it is the easier of the two options. But then I'll also explain how the editor works exactly.
Wix ADI - Create a homepage as if by magic
Again, as before, you answer a handful of questions. For almost every question you have the option to click "Skip" at the bottom right of the screen if you don't want to answer a question. However, the questions are all very simple. First you give what kind of website you want to create. Then you can do certain Features for your website choose. For example an Instagram feed, blog, chat, online shop and much more. You can simply select or deselect all of this with a click. Once you have selected the functions you need, you simply enter the Name of your website, or your company. If you already have an online presence, you can take the next step Import images and texts. This works from an existing website as well as from Google Places. In the next step you can still use your Review and edit information. For example, email, address, telephone and accounts in social networks.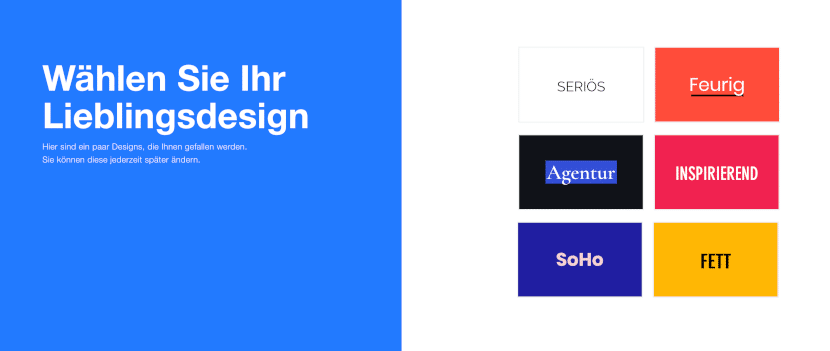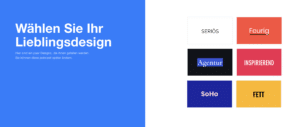 The next questions then relate a little more to that Design your future website. You can choose between different designs such as "Serious, SoHo, Fiery, and much more. choose. Now you can choose your own from a few templates Design favorites choose. That's it already. Your new website will now load for a few seconds and that's it. You made a homepage with Wix!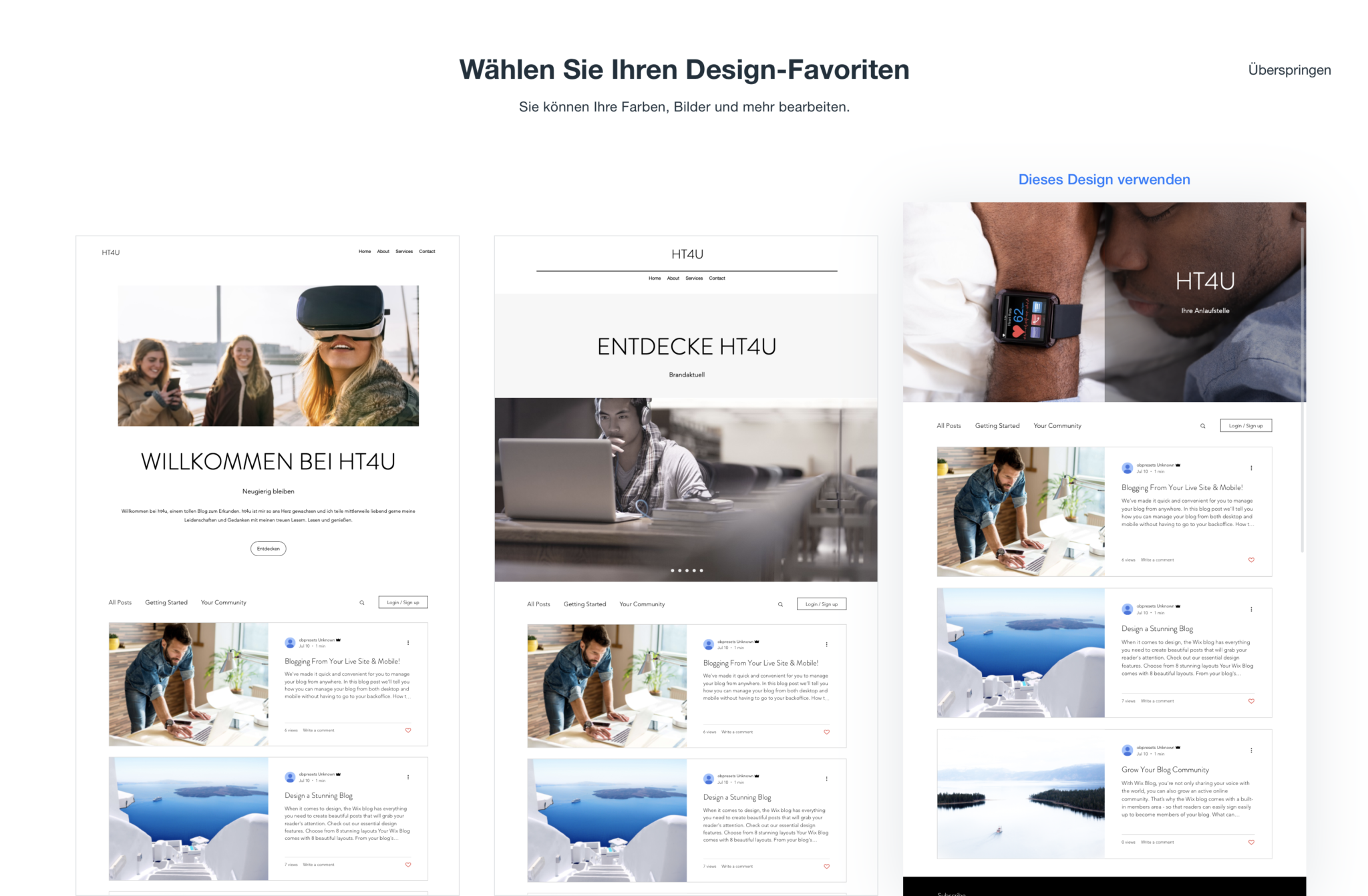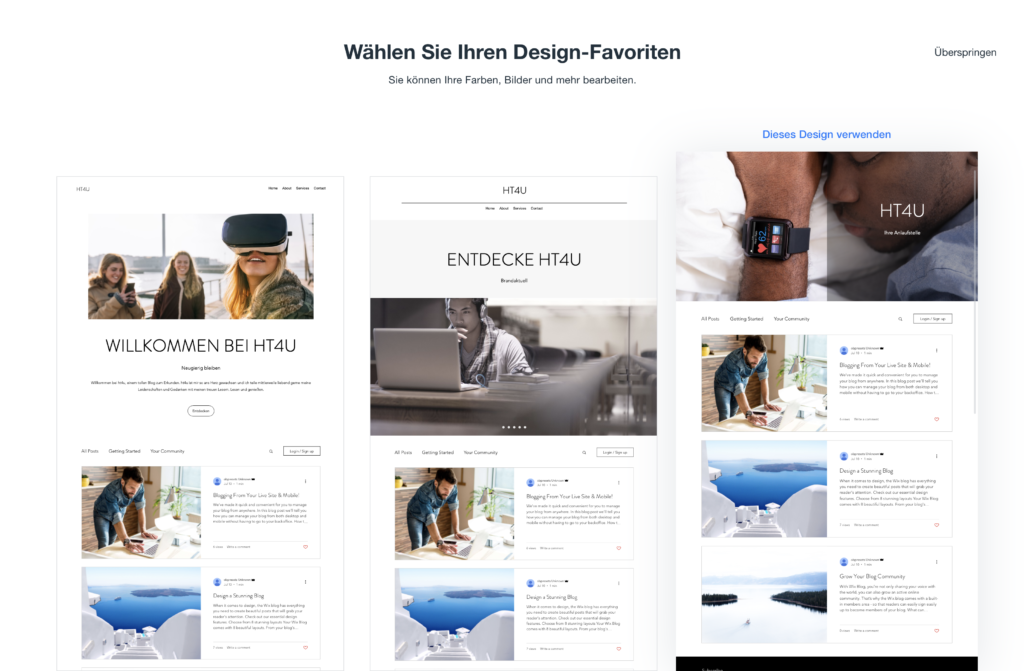 The whole thing only took me about five minutes, maybe less. The pages look great and I could stop there already. Of course you can select and edit, add or remove the individual elements on your new page. So you can still fully customize your new website.
WixEditor
If you don't want to use the Wix AI tool, you can alternatively opt for the classic Wix website editor. This first lets you choose from a variety of templates. Hundreds of standard Wix templates are available for free. You can also search for a template based on different categories.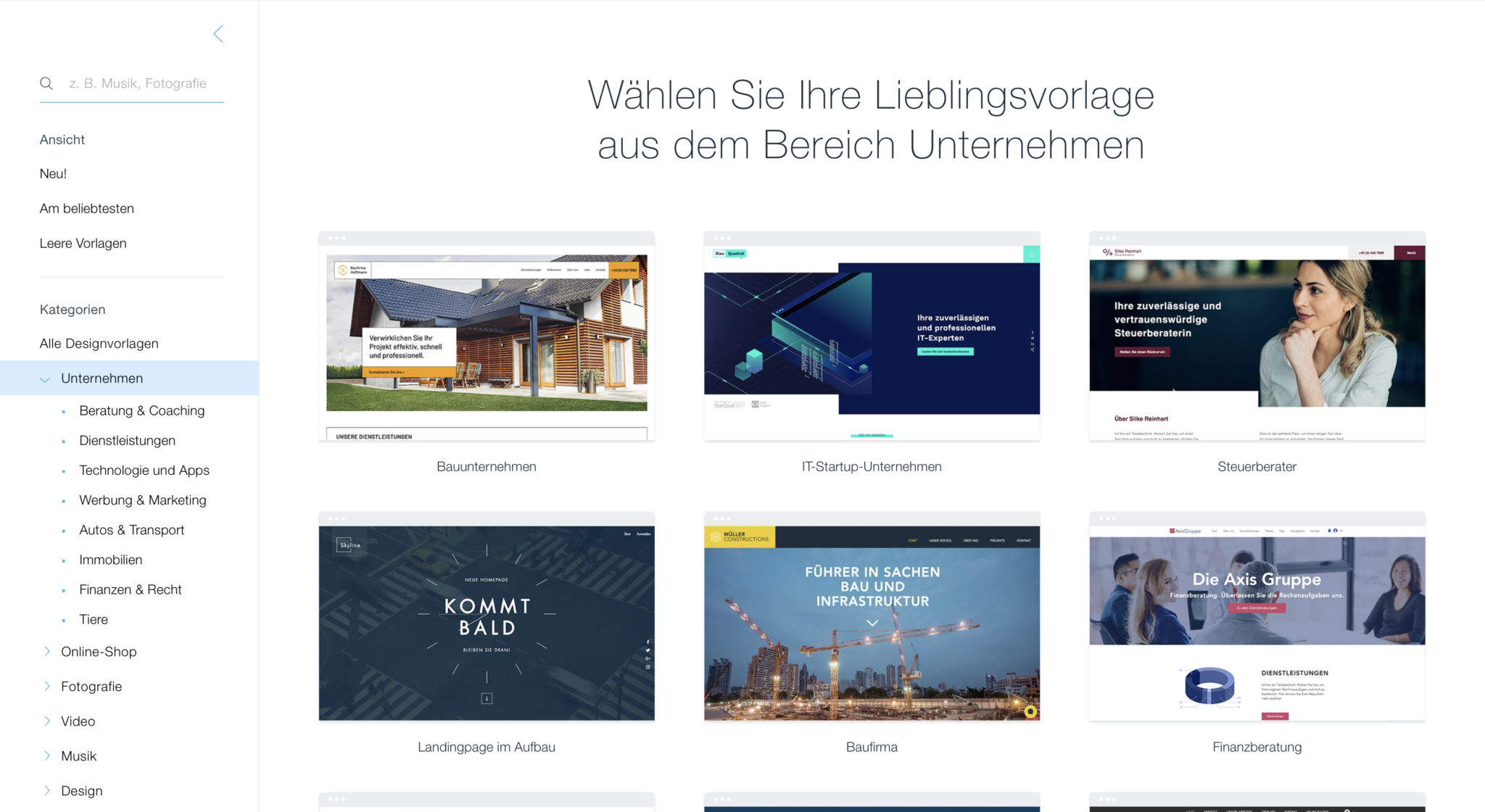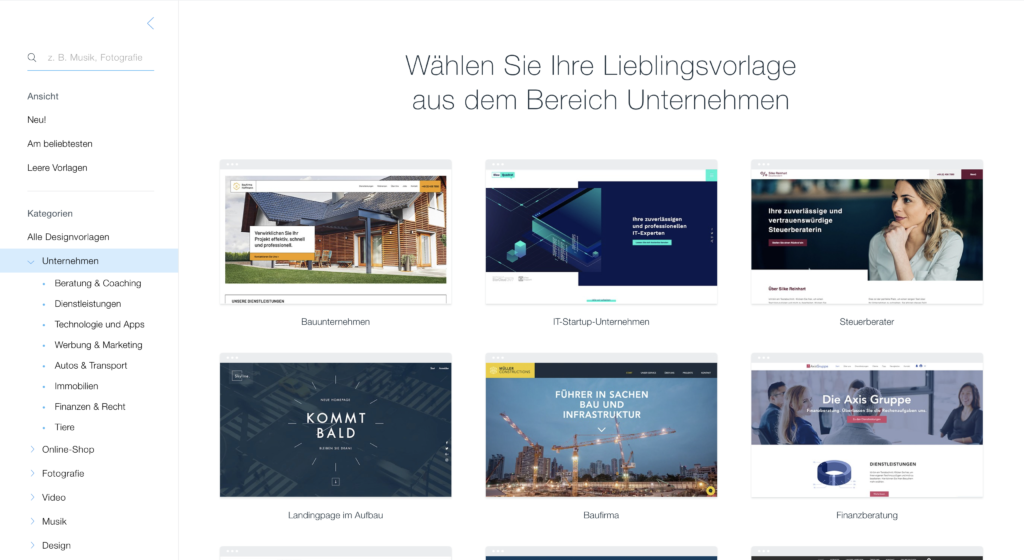 All template options are on the left side of the dashboard. Be sure to take some time as you can try out all of the templates. But remember that you cannot simply change a template afterwards, but have to start over and over again when creating your homepage. Alternatively, you can also start with an empty template and create your own template. However, this is a bit more time-consuming, which is why I recommend you to use one of the ready-made templates at the beginning.
3: edit your website
Regardless of whether you choose a template or work with the Wix ADI, you can now use the Wix Editor to edit and customize your website. You can of course switch your website live now, but I definitely advise you to make a few small changes to it. In the end, you can change everything with a simple click. It is best to start with the basics; B. Replacing the original company with the name of your actual company. Other fields that you should change if possible are your contact address and your About Us page.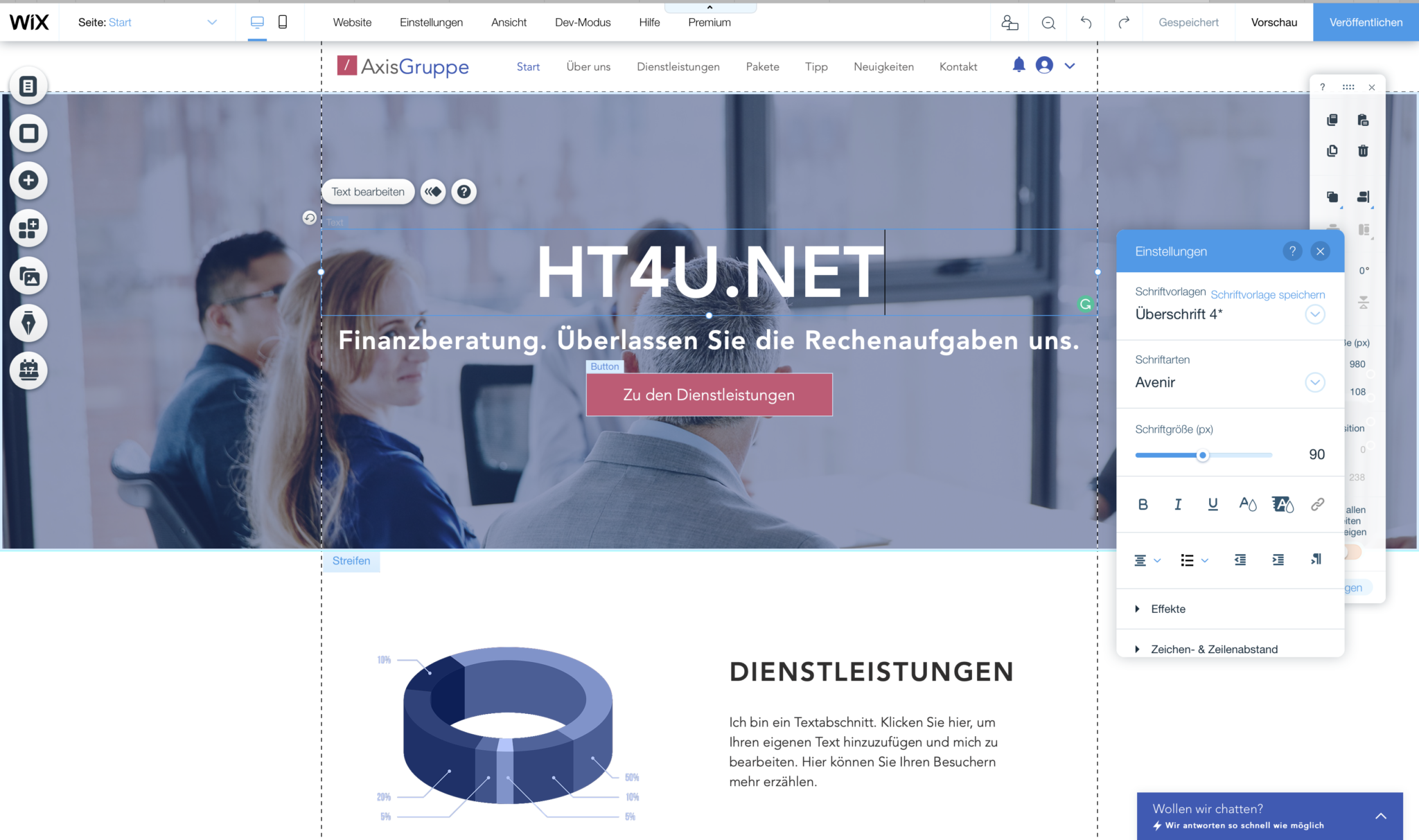 Otherwise there are no limits to your creativity at Wix, as the Website Builder is completely free. This means that there are no fixed boxes or areas to edit, but you can place new content wherever you want. It is best to replace the existing photos with your own. So it's really easy to drag and drop content onto any page and resize it. The Wix editor allows you to fully customize your website, which is designed according to your personal preferences.
4. Add content to your website
Of course, it is also important that there is enough content on your website. In the following section you will find an overview of the most common pages that you can find on many websites.
Home – This is the first page your visitors will see when they go to your website. This page is also sometimes referred to as a "landing page".
About Us - This page explains what your website is about and who is behind it. Here you can write something about yourself or your company.
Contact - Visitors can contact you here. Either directly via the ticket system or by email and telephone number.
blog – If you want to run a blog, your website also needs a blog page. This is a list of your most recent blog posts. Of course, if you don't plan to blog, you don't necessarily need this page, or you can use it as a place for your latest company news and announcements, for example.
Services & service - If you want to offer different services on your website, you can present them on this page
Go to Shop - If you want to sell products in a so-called e-commerce shop on your website, you will of course need a shop.
Many of the above sites are very similar. The only difference is in the content of the actual page. Basically, once you learn how to make a page, you know how to make them all. In addition, Wix has many templates for each page to help you get started.
5. Optimize your website for mobile devices
One point that is becoming increasingly important these days is that your website should be responsive. This means that it is optimized for use on mobile devices such as cell phones or tablets. Accordingly, the mobile version of your website should not be the same as the desktop version. You shouldn't underestimate the importance of a website that is optimized for mobile devices, as it could cost you more than half of your customers. Current statistics show that more than 52% of all internet traffic comes from mobile devices.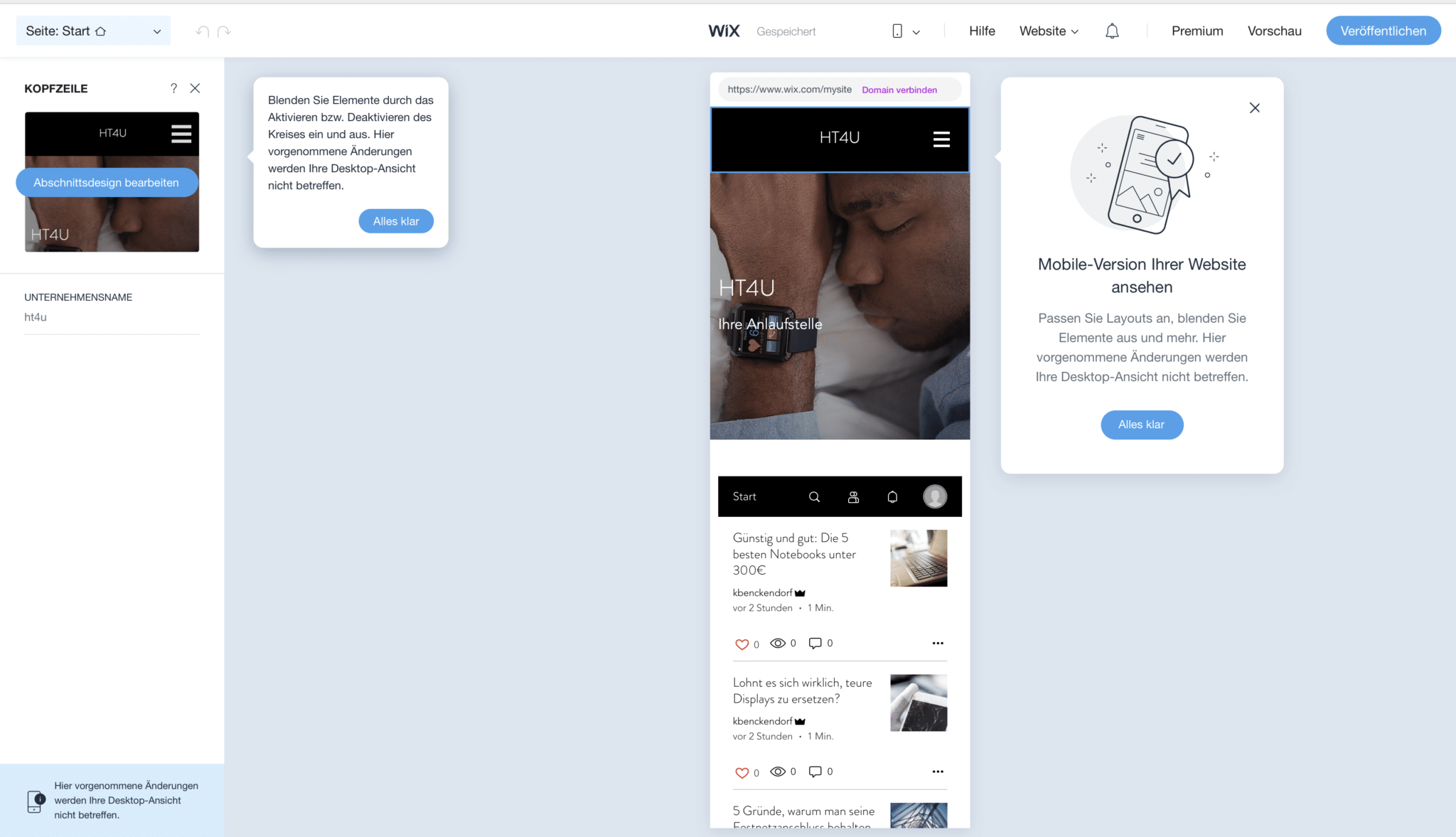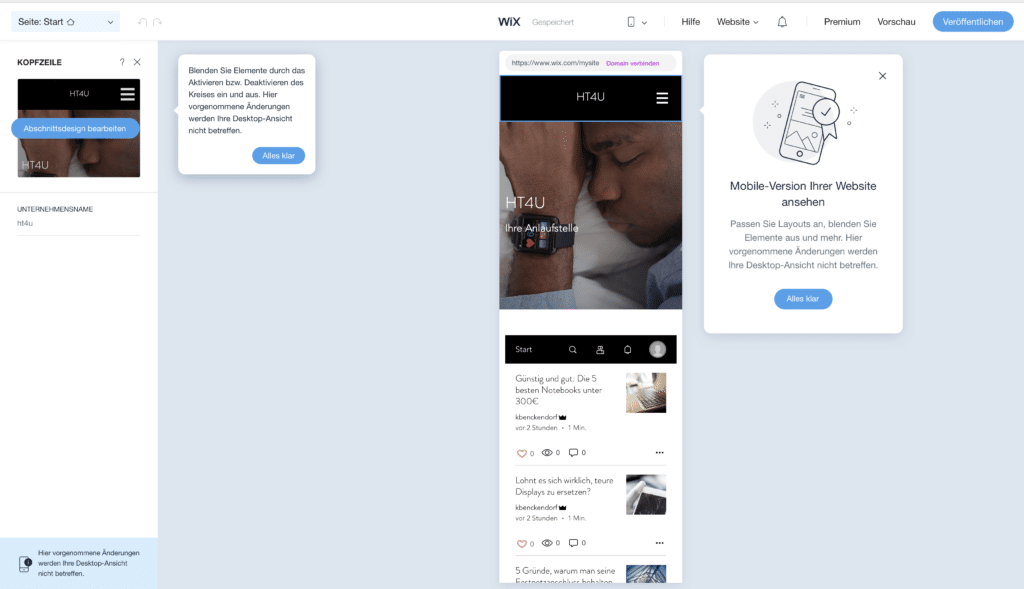 Fortunately, Wix makes it easy to optimize your web design for mobile users. Simply click on the mobile icon in the top left of the screen to switch between desktop view and mobile editing.
By and large, Wix has done a great job of automatically optimizing your website content for mobile devices. However, you may still have to make a few small changes yourself. The changes you make here will not affect the desktop version of your website, by the way.
6. Optimize your website's SEO
Of course, you want your website to be found. Most visitors find your website through search engines like Google. The better your SEO is optimized, the higher your website will appear in the search results and will therefore be found faster. In every website building block system there are different ways to improve the SEO of a website. The most important are, for example, page titles, headings and keywords. At Wix, you can find many of these options in the editor. There you can add texts with individual descriptions to your company. This allows Google to see what the website is about and display your website in relevant searches.
In addition, Wix offers a variety of useful SEO tools to further optimize your website. These are:
SEO in the editor - Easily add SEO titles and descriptions to every page on your website.
SEO for images - Optimize your images with alt text in the editor at Wix.
SEO assistant - Use the free script-by-step help to optimize your SEO.
Wix App Market - Find apps that will help you further improve your SEO.
7. Add a domain to your homepage
Don't worry you're almost there! Before you publish your website and go live, you should connect it to a domain name. Although Wix offers the free version of hosting your website with a .wixsite domain for free, this does not look very professional and is therefore not recommended. The easiest way to connect your website to your own domain is via the dashboard. From there, just click on "Connect Domain" to continue.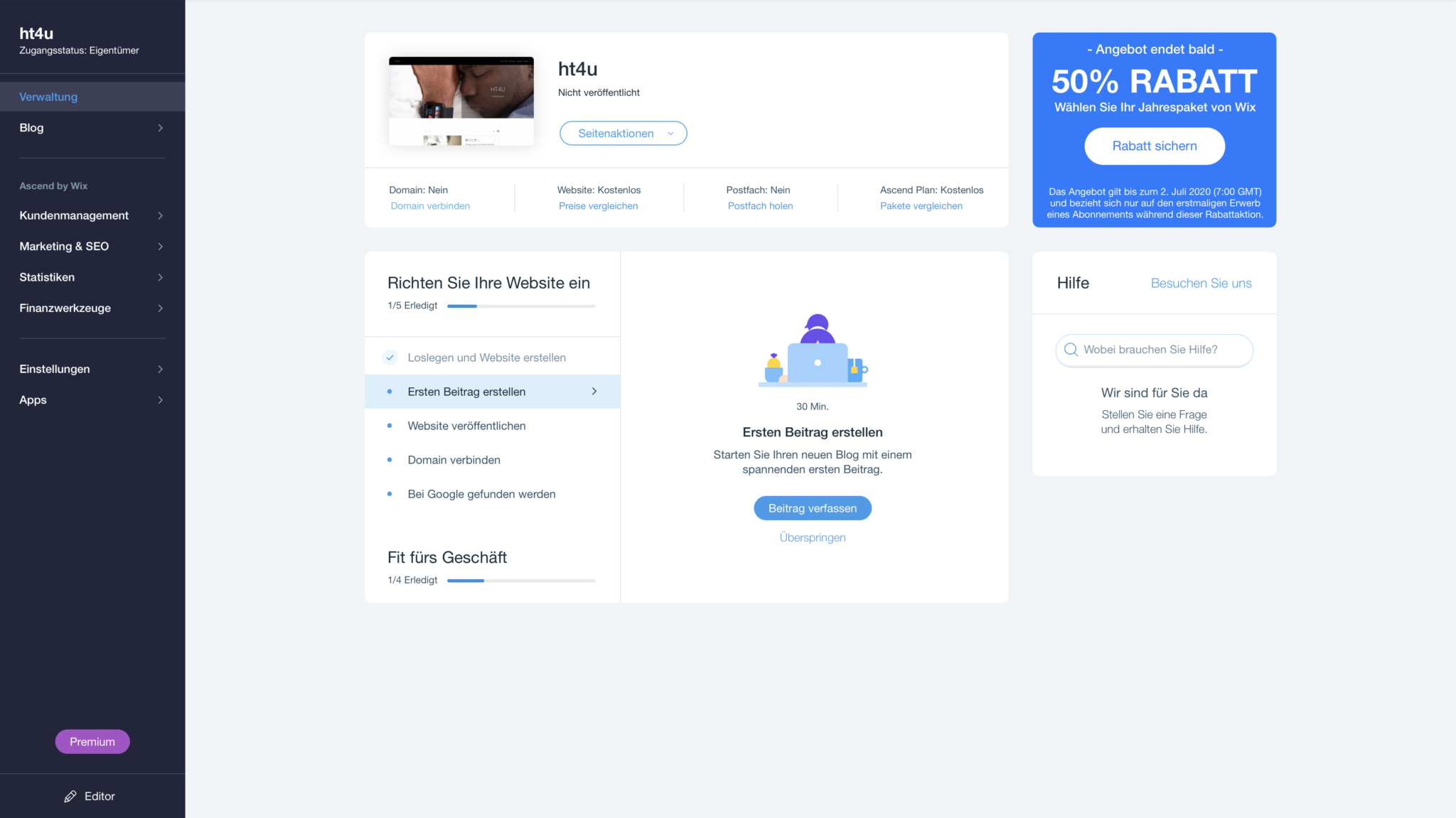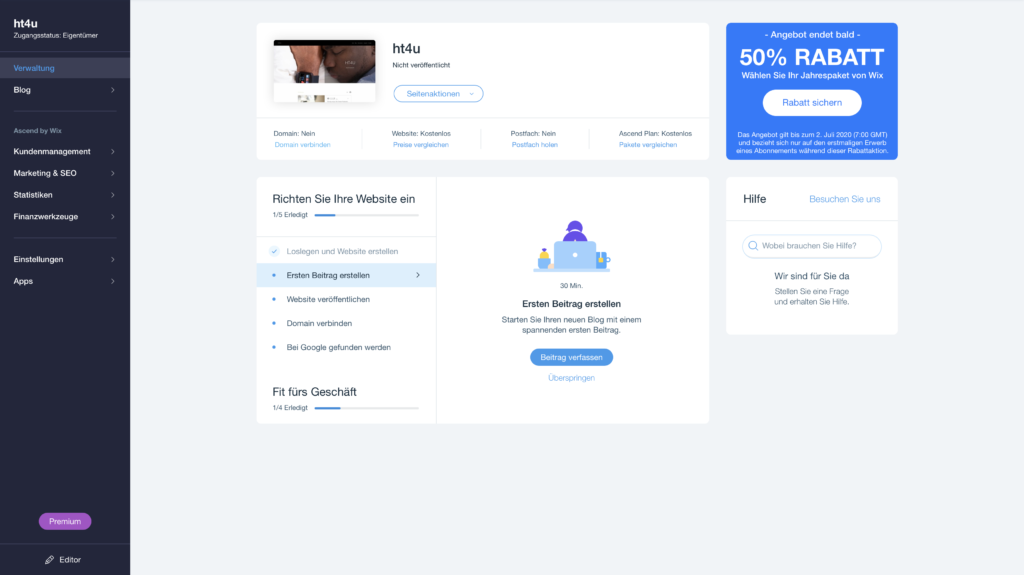 Wix offers you the option to buy a domain name directly from the platform or to connect an existing domain name. BTW, while you can create a website for free using Wix, you may want to upgrade to a premium account. In this case a domain name is included!
Summary: Create a homepage in seven steps
1. Create Account. First, you need to create an account with a website builder you trust. In our example, it's Wix.
2. Create your homepage. Once you have created an account, it is time to create your homepage using an editor. With Wix, this works in minutes.
3. Edit your homepage After you have created your homepage, you still have to edit and customize it.
4. Add content to your website. What is a homepage without content? With a website builder you can easily add different pages to your website.
5. Optimize your homepage for mobile devices. If you're happy with how your website looks, it's time to optimize it for mobile devices.
6. Optimize your website's SEO. Make sure that your homepage is found in search engines like Google.
7. Connect a domain with your homepage. The last step before your website goes live is the domain. With this you can be found on the internet. Connect this with your new homepage very easily!
Conclusion
As you can see, I didn't promise you too much in the beginning. Nowadays it only takes seven steps to create a homepage with the help of, for example, Wix. You too can easily create an impressive, powerful and interactive website for any project, company or idea, without any coding knowledge. The templates in particular are of great help. With the help of simple drag & drop controls, you can extensively adapt and individualize them. Whether it's a blog, portfolio or résumé, with a website builder you can easily create any kind of website. It's best to just invest an afternoon to try it out yourself.
Tariff overview
Finally, I'd like to help you examine Wix's tariffs a little more closely. Wix has a large number of different plans available. These are divided into two categories: Website tariffs and Business & eCommerce tariffs. As already mentioned, you can also host and create a website completely free of charge. However, there is permanent advertising from Wix on this. It is also not hosted as .com or .de, but as a Wix domain (www.examplewebsite.wixsite.com).
Website tariffs
The website tariffs are suitable for you if you don't need eCommerce on your website. The cheapest tariff starts at $ 13 per month and already includes many very useful features. In the most expensive website tariff (VIP) you pay $ 39 per month, but you get significantly more storage space as well as a free domain for one year and vouchers for a professional logo, an event calendar, various paid plug-ins and over $ 300 in vouchers for advertising . You can also differentiate between monthly and annual payments for all plans. If you choose annual billing, you save between 17% and 33%.
| Membership | Combo | Unlimited | PRO | VIP |
| --- | --- | --- | --- | --- |
| bandwidth | 2 GB | Unlimited | Unlimited | Unlimited |
| SSD storage | 3 GB | 10 GB | 20 GB | 20 GB |
| Free domain for 1 year | Ja | Ja | Ja | Ja |
| Ad-free | Ja | Ja | Ja | Ja |
| $ 300 promotional coupon | No | Ja | Ja | Ja |
| Free professional logo | No | No | Ja | Ja |
| Visitor analysis app | No | Ja | Ja | Ja |
| Social media logo files | No | No | Ja | Ja |
| Free SSL | Ja | Ja | Ja | Ja |
| VIP support | No | No | No | Ja |
| Registration price | $ 13 / mo | $ 17 / mo | $ 22 / mo | $ 39 / mo |
* some packages can only be ordered in English-speaking countries
Free plan
The free plan is not in our table. It has minimal features and settings, and includes permanent Wix branding. While it's completely free, we can't really recommend this plan. However, it is very suitable for designing and developing your website for free and, as soon as you are done, to upgrade to a premium plan.


Combo plan
A free domain for one year, more storage space and significantly more functions than the free plan. Unfortunately, the bandwidth is limited to 2GB, which makes this plan significantly less attractive.
Unlimited plan
This tariff is good value for money. You get access to all important Wix functions and receive a large number of free extra goodies. More storage and unlimited bandwidth. This plan should work best for most.
Pro Plan
This plan includes everything the Unlimited Plan offers plus an extra professional logo design and access to the Wix Visitor Analytics plug-in. This plan is suitable for you if you want to take your website very seriously and a professional appearance is very important to you with your own logo.
VIP Plan
I don't really recommend this plan. The surcharge compared to the Pro plan is just too big, without really worthwhile upgrades. The only thing you really get more is a priority for support requests.
Business & eCommerce tariffs
If you want to accept booking and money through your website you have to choose one of these tariffs. They're a little more expensive than Wix's "website" plans, but they also offer more storage right out of the box. The cheapest tariff starts at $23 per month, the most expensive tariff (Enterprise) costs $500 per month, but is only aimed at large companies looking for individual hosting options. Again, you can choose between monthly and annual payment for the plans and save between 17% and 33% if you opt for annual billing.
| Membership | Business basic | Business Unlimited | BusinessVIP |
| --- | --- | --- | --- |
| bandwidth | Unlimited | Unlimited | Unlimited |
| SSD storage | 20 GB | 35 GB | 50 GB |
| Free domain for 1 year | Ja | Ja | Ja |
| Ad-free | Ja | Ja | Ja |
| $ 300 promotional coupon | Ja | Ja | Ja |
| Free professional logo | No | No | Ja |
| Visitor analysis app | Ja | Ja | Ja |
| Social media logo files | No | Ja | Ja |
| Free SSL | Ja | Ja | Ja |
| VIP support | No | No | Ja |
| Registration price | $ 23 / mo | $ 27 / mo | $ 49 / mo |
Business basic
The Business Basic Plan offers an excellent price-performance ratio and should be absolutely sufficient for most users. You get 20 GB of storage, $ 300 in vouchers, the visitor analysis app and a free domain for one year.
Business Unlimited
For a small monthly surcharge compared to the Business Basic plan, you get 15 GB more storage, a professional logo worth $ 50 and social media logo files. Especially if you are starting a new company, the Business Unlimited tariff can be profitable due to the included professional logo.
BusinessVIP
Similar to the website tariffs, I do not feel that the significantly higher price compared to the unlimited tariff is justified. However, in contrast to the website tariffs, you get 15 GB more storage here. It is also more important for companies to reach support quickly in the event of problems, which makes the surcharge for VIP support more justifiable.
Enterprise
So far, I don't know of a large company that uses Wix. In fact, I see Wix more as a final solution for private users or small to medium-sized businesses. The enterprise tariff promises a professional end-to-end solution and professional services such as advice from experts. For detailed information, Wix has set up a multi-page Terms of Use page, which you can find here here.
Frequently asked questions about creating a homepage
How do you create your own website?
Creating your own website or homepage is child's play these days. Just choose the best website builder and get started! With Wix, for example, you can create your own homepage in minutes, we'll show you how!
What do I have to consider when creating my own homepage?
You should definitely make sure that you create a homepage that is contemporary and modern. It should load as quickly as possible and, above all, be optimized for mobile devices! We advise you to use a website modular system, as this makes creating a homepage much easier.
How much does it cost to create a homepage?
You can create a homepage completely for free! Homepage builder provider Wix allows you to create and host your own website completely free of charge! However, that comes with some restrictions like a .wixsite domain and lots of advertising on your website. Cheap tariffs for a website without advertising and with your own domain start at around € 13 per month.
How long does it take to create a website?
With a website builder, you can create your own website in under an hour. Until recently, this took several weeks.
What should be on my homepage?
You should definitely have the name and address of the responsible person or company on your website. Contact details such as a valid email and telephone number are also required. Otherwise there are no limits to what or what not you have on your own homepage.
Is Wix or WordPress Better?
Wix is ​​easier to learn but less flexible. On the other hand, WordPress is much more flexible, but also requires some technical understanding and takes a little time before you really understand it. So both providers have advantages and disadvantages.
How can I make money from my website?
There are different ways to make money from your website. The two most common options are through advertising and through so-called 'referral' links. If you forward visitors to your website through a 'referral' link, for example Amazon, you will receive a small part of the money they spend. Otherwise, you can also sell products or services directly through your website. For this, however, you need a website with a so-called eCommerce function.