About a third of all websites that are currently live run on WordPress. WordPress is a content management system (CMS) and a very powerful one. But the best? It's completely free!
Contents
The most important steps to success with WordPress
Setting up a website with WordPress.org requires some patience and a certain level of technical understanding. But these step by step instructions should help you to simplify the whole thing a little. In the following article we have bundled our experience and knowledge to offer you comprehensive, yet easy-to-understand instructions.
1. Register a domain
First of all, you need to buy a domain name. This is the web address by which you can be found. With us, for example, it is currently "ht4u.net". Luckily, buying a domain name is very easy. There are so-called domain name registrars for this. Some web hosting providers also give you a domain name for free as part of their web hosting package. For our instructions we use Wix. Wix is ​​a very well-known website builder, where you can get a domain in many packages completely free of charge, for example, or buy them separately, as in this case. A good domain name should have something to do with your future website or be as close as possible to the name of your company. It should be as easy to remember as possible and, ideally, not too long.


In terms of the best domain ending (the bit at the end of your domain name) .com is the most common and arguably the most popular domain ending.
Otherwise, some good other options are:
.net - available to everyone, is often associated with technology companies.
.org - available to everyone, but most used by NGOs and charities.
.co - available to everyone, most commonly used by startups
.de - available to everyone, ideally if you only want to work on a national level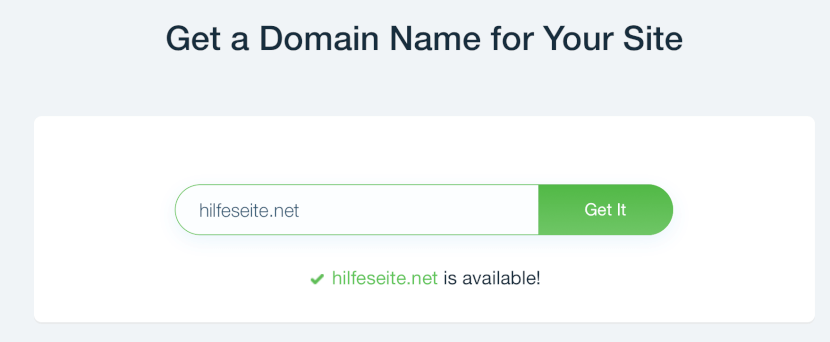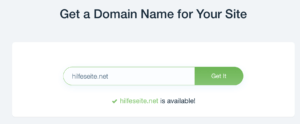 Many domains cost less than 15 euros per year. However, you shouldn't be alarmed if you are looking for a domain and the price for it is possibly several thousand euros. But why is that?
These are so-called premium domain names. This means that these are particularly popular and the domain name seller expects them to bring a lot of people to your website. However, after the initial expensive purchase price, they are extended at the regular price. If you want to get a lot of traffic from Google searches, it may be worth using a premium domain name if it matches your business. So it is relatively understandable that a domain name such as auto.com is very expensive. Of course, not all domain names are available either. If there is already a website with the domain name you want, you will unfortunately have to choose a name or another domain extension.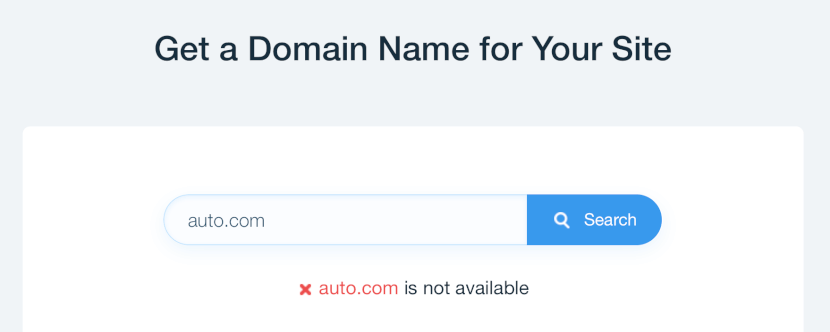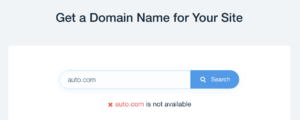 At Wix, by the way, you can easily find out whether the domain name you want is still available. Just go to the Domain check by Wix. If the domain you have chosen is still available, you now have the choice to either upgrade your tariff and receive a domain for free for one year or, alternatively, to buy the domain separately. So as you can see, buying a domain through Wix, for example, is child's play.
2. Choose a hosting provider
Now that you have your domain, it's time to choose a hosting provider. The whole thing is a bit like building a house. Imagine that the domain name is the address of your property. Now you have to rent your property yourself. This is not a perfect analogy, but hopefully you get what we mean. By the way, we have already written a detailed post to help you find the cheapest and best web hosting provider. You can find it here.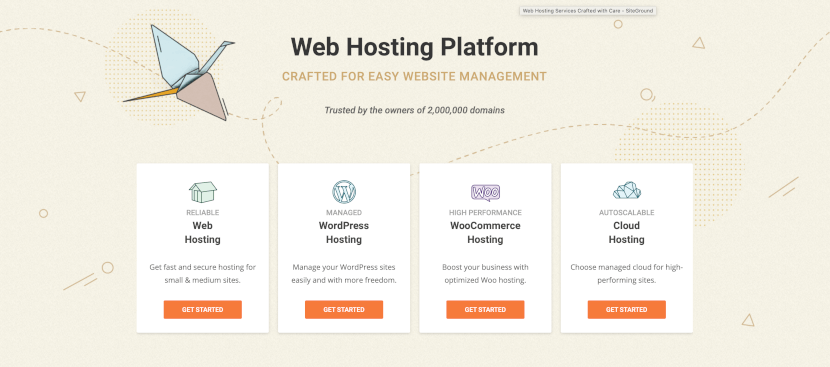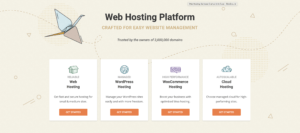 For a WordPress website, however, your hosting provider must meet a few absolutely necessary criteria. These are:
PHP version 7.2 or higher
MySQL version 5.6 or higher OR MariaDB version 10.0 or higher
HTTPS support
In our opinion is SiteGround one of the best hosting providers for WordPress, which is why we are also using Siteground as an example in this article. Why Siteground? You can find out in this detailed field report. Regardless of whether you choose Siteground or another web hosting provider, you also have to decide on the type of web hosting. Many providers give you choices like "shared hosting," VPS hosting, and more. That's why we want to briefly explain the most important terms to you.
Shared Hosting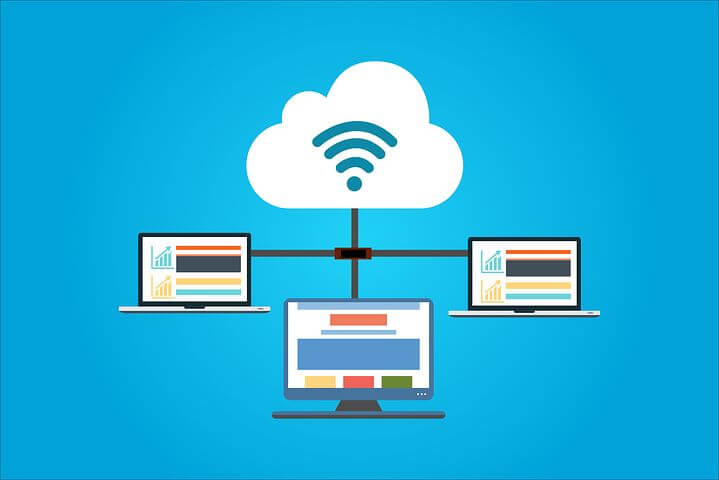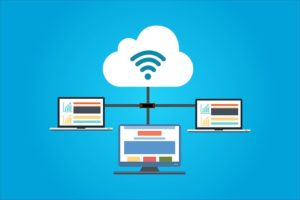 Shared hosting is the most common model in web hosting comparison and is particularly suitable for beginners. Shared hosting is usually the cheapest variant of web hosting. Instead of having your own server for your website, you share the server for your website with other customers. In addition to the costs, you also share the performance and capacities of the server.
The main restrictions in shared hosting are that you do not have the option of so-called root access. This means that you do not have administration authorization on the server itself to change it and adjust it to your needs. Often this is done relatively well by the hosting providers themselves.
Shared hosting is aimed at all users who have little technical know-how and are looking for an inexpensive way to host their website. However, shared hosting is rather unsuitable for really heavily frequented websites as it can lead to performance losses if visitors from other customers load the server.
Virtual private server hosting (VPS)
With virtual private server hosting, you share a server with other customers, just like with shared hosting. This model is the modern variant of shared hosting. The specialty is that several virtual operating systems run in parallel on one server.
This gives you a dedicated area on the server that you don't have to share with other customers. You are responsible for this area. That means you get root access. At the same time, however, there is also greater responsibility because you have to make updates and settings yourself. With virtual private server hosting there is also another area on the server that can be used flexibly by all customers, depending on the number of visitors.
This means that this web hosting variant is best suited for you if you have a certain technical know-how and want more control over the server and its settings. In addition, costs and performance are usually a little higher than with classic shared hosting.
Dedicated server hosting
This variant is aimed primarily at professionals. Dedicated server hosting means that you don't have to share the server with other customers. This gives you maximum freedom and flexibility in setting and designing the server. However, you also have sole responsibility for the software and security of the server.
Renting a dedicated server comes with a lot of responsibility and a big bill. It is therefore self-explanatory that dedicated server hosting is not worthwhile for small or medium-sized websites. Unless your website has a turnover of several thousand euros per month, we recommend another solution.
Cloud Hosting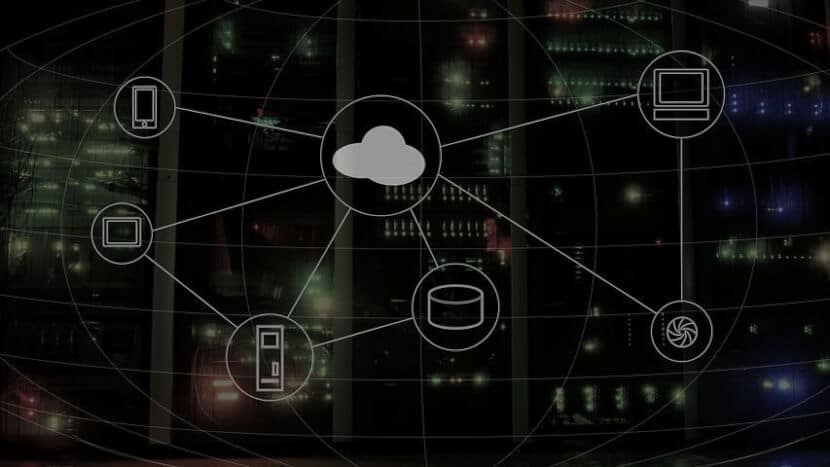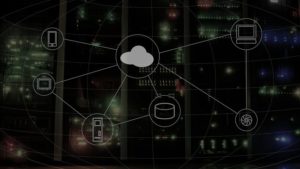 The most modern variant of web hosting. Cloud hosting has become more and more popular, especially in recent years. Your data and homepage are not located on a single physical server, but on several server systems connected in series. The advantage is that, in contrast to a single server, virtually unlimited resources are available. Loss of performance is therefore a much smaller problem with cloud hosting than with traditional hosting.
Another advantage is that cloud hosting is very scalable. If your website grows faster than expected, the performance of the servers automatically grows with it. The price model is based on your actual needs.
Cloud hosting is therefore a particularly interesting option for fast-growing and large website projects. The only disadvantages are that the data security of cloud hosting is currently still relatively questionable and you usually only have limited root access for personal configuration of the server.
3. Choose a plan
After you've decided what type of web hosting is right for you, it's time to choose the right plan. In this example we choose Managed WordPress Hosting from Siteground.
At Siteground you have the choice between three different Managed WordPress tariffs. StartUp from €5,99 per month, GrowBig for €9,99 per month and GoGeek for €13,99 per month. All three plans at SiteGround include a website with unlimited bandwidth and a free WordPress installation. The more expensive tariffs are more suitable for larger websites that have more than 25,000 or 100,000 monthly visitors. Therefore, we recommend the cheapest tariff "StartUp" for the beginning.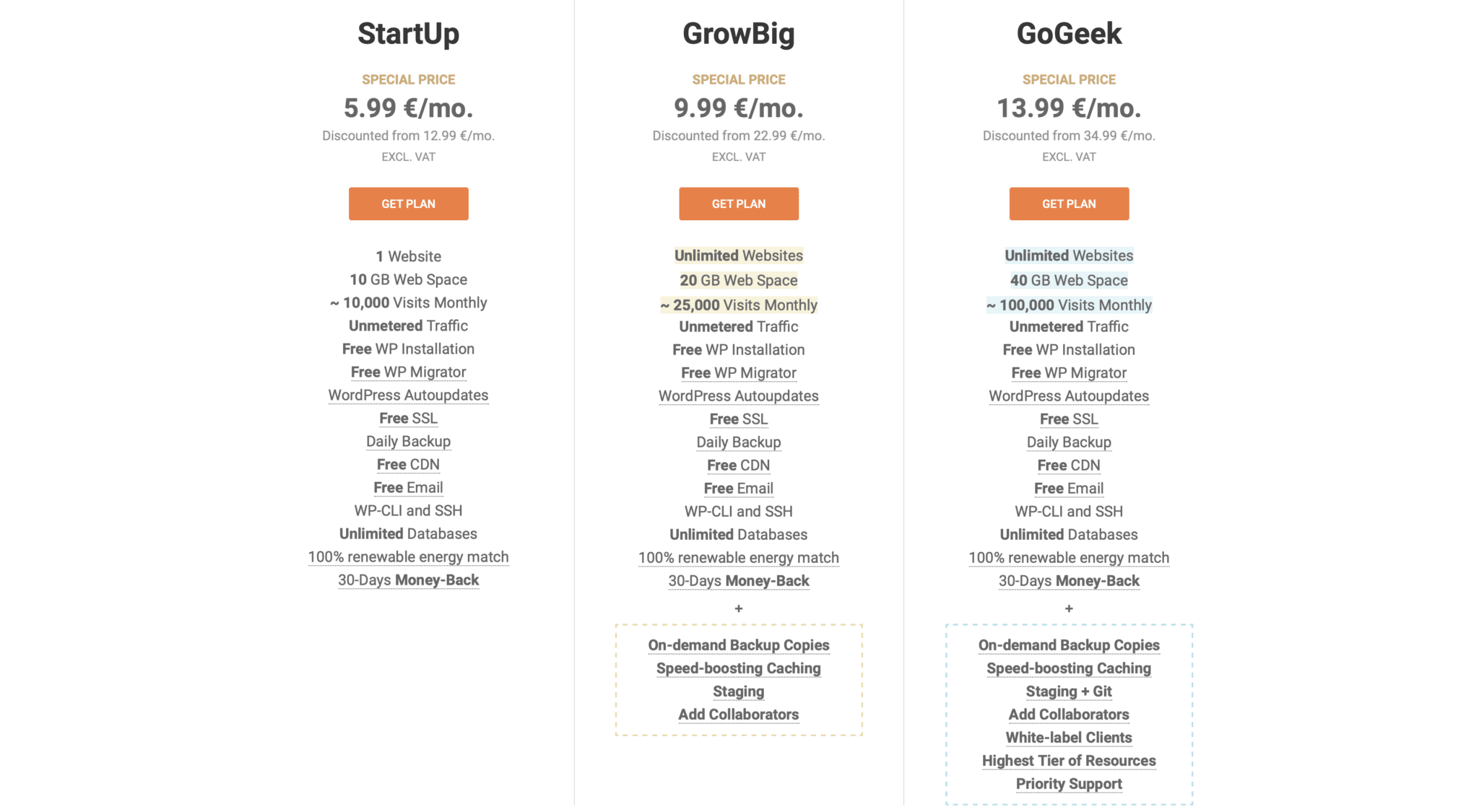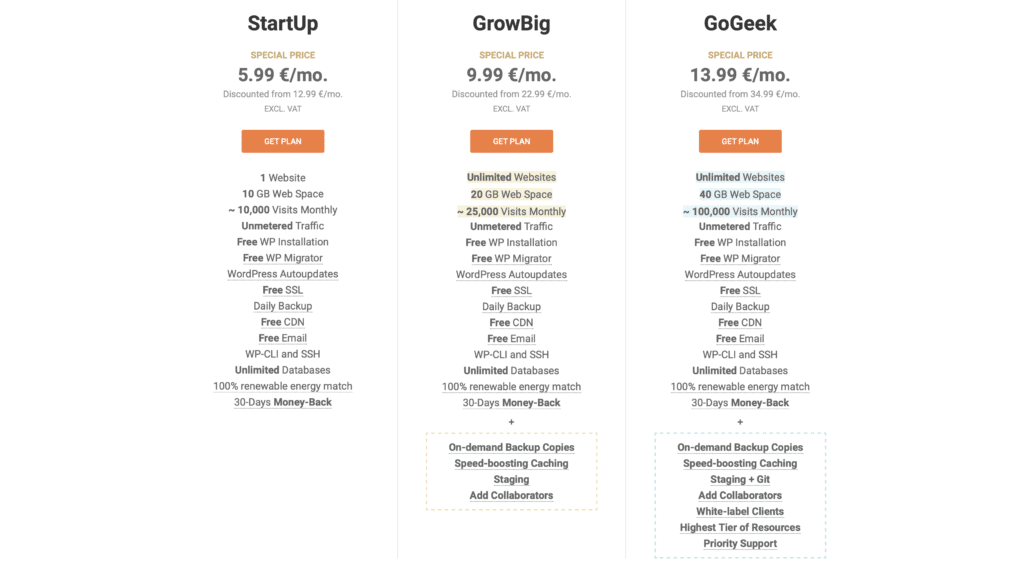 Link domain
In the next step you now have the option to register a new domain for € 12,95 per year or to link an existing one. If you have followed our instructions so far, you already have a domain from Wix and can now easily link it to Siteground.
Create an account
Once you've connected your domain, all you have to do is set up an account. For this you have to choose an e-mail address and a password and provide some standard information. Then you enter your payment information. In the case of SiteGround, the choice is relatively limited and you can only pay with Visa, MasterCard or AmericanExpress. After that, you have to choose how long you want to sign up for. As you might expect, the longer the period you choose, the cheaper the contract. The StartUp tariff costs you €17,99 per month for a monthly contract period and only €36 per month for a period of 9,09 months. By the way, at Siteground you can also select the location for your website server here. It is best to choose a location that is as close as possible to your customers, so in most cases probably "Germany" (Germany). Incidentally, Siteground also offers a 30-day money-back guarantee, so you can always try it out and switch later if you need to.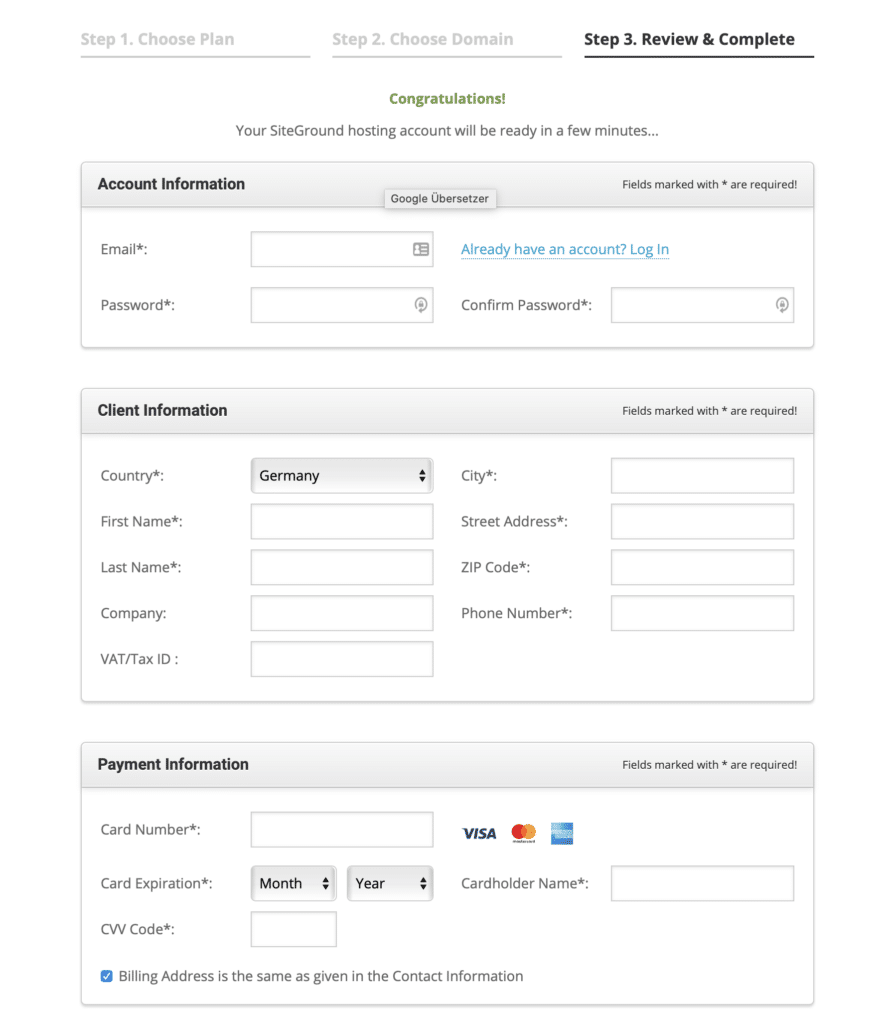 Once you're done with this step, you have a domain name and hosting plan, and you're ready to install WordPress! It should be noted at this point that a website builder might be a better option if this all sounds a little more technical or expensive than hoped.
4. Install WordPress
Now you're almost there, because this is where real fun begins! It's finally time to install WordPress!
This is very easy with Siteground. After you have logged in, you simply press the "Start a new website" button and then you have the option to install WordPress within a few clicks.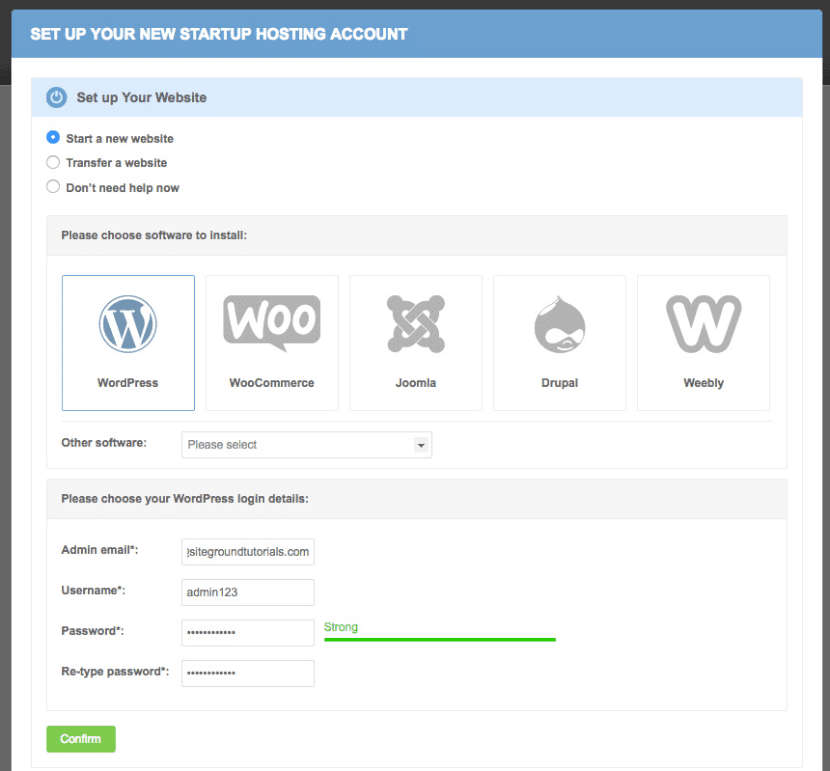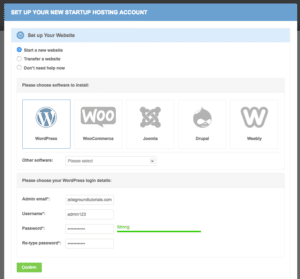 Once you've done that, a new section should open where you can enter the login information for your new WordPress installations. Once you have decided on a username and password, you can click "Confirm". After that you still have the possibility to add so-called "improvements" to your account. You can simply skip the whole thing by pressing "Complete Setup".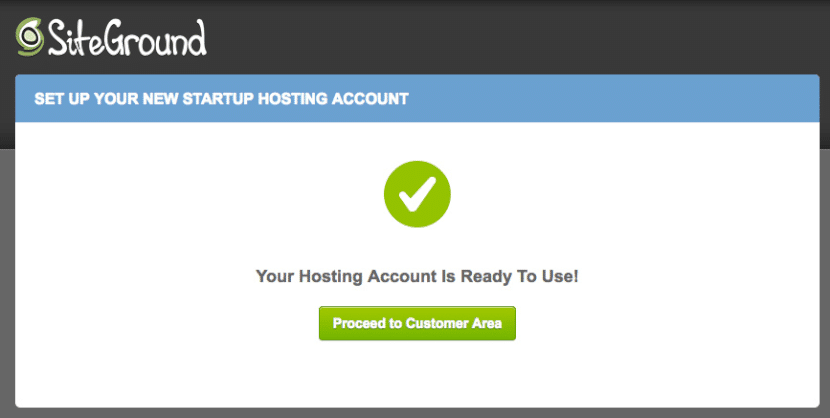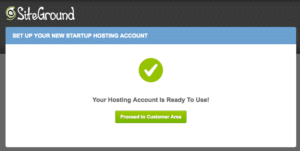 Finished! You have installed WordPress and can start designing your own website!
5. Choose a WordPress template
WordPress is so popular because it gives you incredible freedom in how you want to design your website. Do you know how to code or are ready to learn, you have practically unlimited creative leeway for creating your website. To make the whole thing a little easier, WordPress offers so-called templates completely free of charge. To install a free WordPress template, do the following: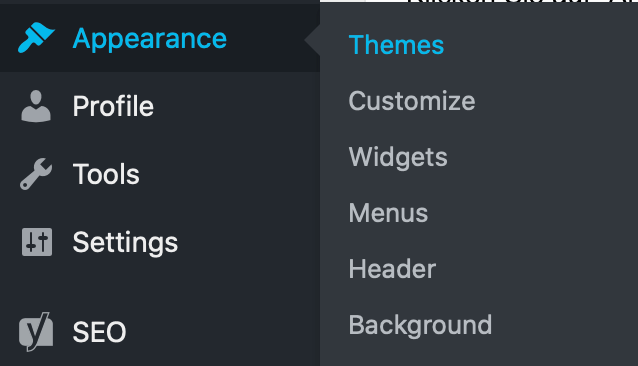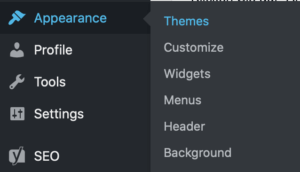 As soon as you log into WordPress with your login information, you will be given access to your WordPress dashboard.
Hover your cursor over Apperance and click Themes.
Click Add New and browse the existing themes
Choose a theme you like and click "Activate"
It's very easy to do, but the functionality of the free WordPress themes is very limited and requires coding knowledge or plug-ins if you want to customize them. So-called premium templates are an alternative. These are created by dirt providers and are chargeable. If you want to install a so-called premium template, proceed as follows:
Buy a premium template and download your new theme's zip file
Log into your WordPress dashboard
As already learned, navigate to the topic menu
Click on the "Add New" button
Click on the "Upload Theme" button
Select the zip file from your computer
Click "Activate"
However, we advise you not to spend a lot of money on a premium theme at the beginning. The best thing to do is to choose a very simple WordPress template like "Hello Theme" and use a free website builder like Elementor. This allows you to create a beautiful and modern website using drag & drop and without any coding knowledge.
Note: WordPress is constantly updated and the topics must be updated accordingly. All themes created by WordPress or created by a responsible developer create a theme update before a WordPress update is introduced. You will then have to install the update yourself to ensure that your website remains compatible with the new version of WordPress.
6. Add content to your WordPress site
As soon as you log into WordPress with your login information, you will be given access to your WordPress dashboard. The first thing you'll notice here is that there are two ways to add content to your WordPress website: Pages and Posts.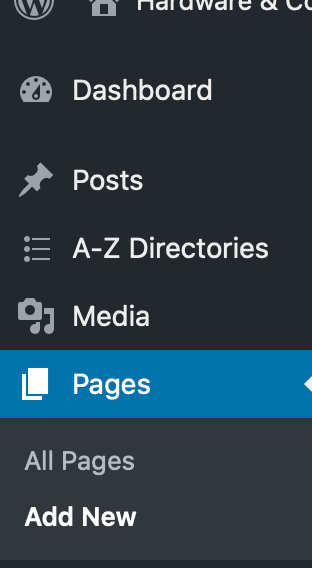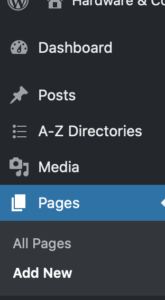 pages.
Pages are static and only change when you edit them. A good example is the "About Us" page which you can find in almost all popular website templates. In most themes, the different pages are displayed in a navigation bar at the top.
To add a new page, move your mouse pointer to Pages and click Add New.
Posts
These are entries which are displayed in chronological order, either on the homepage or in a special blog area. These posts will also not appear in the navigation bar of your website.
You can group posts by adding them to a category. If you have a travel website, you can, for example, put all posts on the subject of "Europe" in one category.
To add a new post, hover over "Posts" and click Add New.
Text & pictures
Once you've added a page or post, you'll need to fill it with your own content. Usually pages and posts consist of different text blocks which are broken up by pictures and videos.
Before you publish a page or post, be sure to use the "Preview" feature.
7. Plugins
You can install a variety of so-called plug-ins in WordPress which improve your website in different ways. Plug-ins allow you to install features that WordPress does not yet contain. You can think of them a little like apps. Just like apps, some plugins are useful in WordPress and others aren't, and just like apps, some are free and others are paid. The Website Builder Elementor recommended by us for a start is also a so-called plug-in.
WordPress users have over 56.000 plugins available. Enough for really every function you need. But beware! Too many plugins slow down your website. This will frustrate your readers and negatively affect your Google ranking. Some of the most popular WordPress plugins are:
WP Forms contact form - A simple but effective plug-in for creating forms that you can drag and drop to add to your website.
Yoast SEO - A plug-in with which you can optimize the content on your website in such a way that your SEO ranking improves so that you can be found more easily in search engines.
WooCommerce - This plug-in allows you to add e-commerce features to your website (i.e. the ability to sell products online).
Elementor - A very powerful website builder that allows you to customize your website.
Again, be careful when installing plug-ins. Anyone can upload a plug-in to the WordPress library. Fortunately, just like apps, all plug-ins have user-generated star ratings and ratings. We recommend that you only use plug-ins with a few hundred downloads and positive reviews.
Add plug-ins
Go to the "Plug-ins" section and then to "Add New". Use the search bar in the top right to search for specific plugins. Once you've found the right plugin, check the reviews to see if the plugin seems trustworthy. If you are satisfied with the ratings, click the Install Now button. Once WordPress has downloaded the plugin, you will receive a completion message and you will be prompted to click "Activate Plugin". Next, go to Settings to configure your plugin (each has a different process for doing so). And don't forget to make sure to install plugin updates as soon as they become available!
8. Design your website
Of course, you want a website that you also like optically. As already mentioned, we recommend a website builder such as for example at the beginning Elementor to use. To do this, proceed as follows:
Install Elementor
Since Elementor is a plugin, you need to install Elementor like any other plugin. So go to "Plugins" as described above, select "Add new" search for "Elementor" and install and activate the plugin.


Editing a new page with Elementor
Go to "Pages" -> "Add New" and then click on the "Edit with Elementor" button.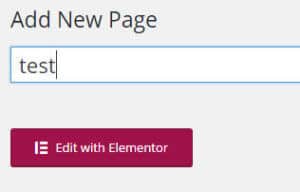 Insert an Elementor template
You should now be in the Elementor editor. Just click "Add Template" and choose from a variety of free and paid templates. To get started, we recommend starting with a template to learn how to create the different elements of the page.
Understanding the structure of Elementor
Each Elementor page consists of sections, columns, and widgets. Sections divide the page into horizontal lines. Columns divide each section into vertical columns, and widgets are dragged and dropped into the column.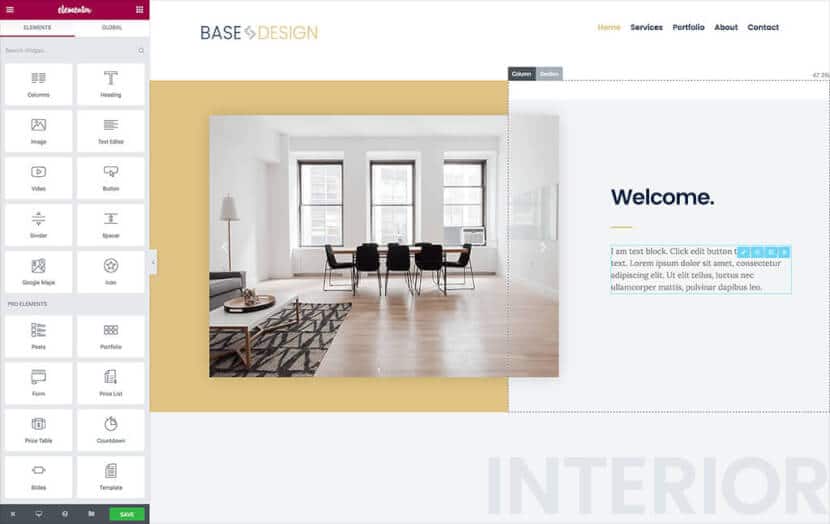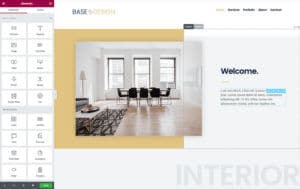 Adding a widget
Start designing your website by adding a new widget. To do this, look for an empty area in a column. If the template does not have an empty area, you can also delete existing widgets. Simply move your mouse pointer over the widget and then click on the X symbol.
Change wallpaper
Click on one of the sections. This will open the section settings in the left pane. Then go to the middle tab "Style" and click on the background image. Now select another image and click on "Insert Media".
Change fonts
Go to a heading widget on the page and click on it. After that, the heading settings will open in the left pane. Hover your cursor over the middle "Style" tab and turn on "Typography." Now you can browse the different fonts and choose a different font family.
These are just some of the features of Elementor. As you can see, Elementor is very intuitive and easy to understand, so perfect for your first WordPress website.
9. Regular updates
While we've mentioned this point, we can't emphasize enough how important it is to the security of your website. If you don't keep your website up to date with theme and plug-in updates, even the most beautiful and best website is worthless!
Over time, your website is likely to stop working properly, and once a major WordPress update is released, it is also vulnerable to hackers and viruses.
How to install updates:
Log in to go to the WordPress dashboard
Go to "Update Options"
Check the various tabs for updates
Summary of our 8 steps to success
1. Get a domain name. Find a domain name that is not yet taken, register and pay for it. It is best to choose something simple and memorable. We recommend ".com" or ".de" as the ending. Our tip: Wix offers cheap domain names!
2. Choose a hosting provider and choose the type of web hosting that works best for you. Consider the WordPress hosting expert Siteground as a good start option.
3. Choose the best plan for you. A good choice is the managed WordPress StartUp tariff from SiteGround.
4. Install WordPress through your web hosting provider. At Siteground, this is done with a few simple clicks.
5. Choose a WordPress template as a springboard for the design of your website. To do this, search through the free offers via WordPress or buy a premium template from a third party.
6. Add content to your website. Just add pages or posts to your website. Remember to break up text sections with pictures or videos!
7. Install plug-ins and take your website to the next level. Plugins add new features to your website and help you with things like SEO and spam filtering.
8. Design your website with elementor. So you get an individual, modern and beautiful website and that without coding knowledge!
9. Keep your website up to date! Check regularly for new updates for your website and install them as soon as they are available.
And if this all sounds too much like hard work, there is another option: a website builder! With this you have domain name, hosting, themes and apps - simply everything, summarized in one practical monthly fee and these are easy to use for everyone.
Common questions about creating WordPress websites
How do I create a WordPress website?
1. Get a domain name 2. Choose a hosting provider 3. Choose the best plan for you 4. Install WordPress through your web hosting provider 5. Choose a WordPress template 6. Done!
How much does a WordPress website cost?
It all depends on what your website needs to be able to do. In fact, you can host a website using WordPress completely for free, but this is not recommended for most users. With domains and web hosting, a cheap website will cost you around € 10 per month.
Is WordPress or Wix Better?
Wix is ​​easier to learn but less flexible. WordPress is much more flexible on the other hand, but it also requires some technical understanding and takes a little time to really understand it. Both providers have advantages and disadvantages.
Is WordPress Free?
The WordPress software is completely free. However, to host a website with WordPress you need a web hosting provider, which often costs money. Your own domain costs around € 10-15 per year.
Do I have to master the coding to use WordPress?
No! Coding knowledge helps a lot when creating and designing a WordPress website, but it is definitely not necessary!
Is WordPress also used by large websites?
Yes! Well-known websites that use WordPress include Sony Music, MTV News, The New York Times, Katy Perry, BBC America and many more!