A WordPress Page Builder is the optimal solution if you want to build a website with WordPress, but have limited time and experience with web design. Even if your budget is not the largest, a WordPress page builder is an excellent option. The only problem? There are too many of them. WordPress Page Builder makers have grown by leaps and bounds over the past few years, and it seems that they are bringing out new amazing features every month. But which is really the best and is suitable for both beginners and advanced users?
We clarify this in our test, you will also learn how a WordPress page builder works exactly and what advantages and disadvantages they have. By the way, if you don't even know exactly how to create a website with WordPress, you will find it here. a step by step guide.
Content
What is a WordPress Page Builder?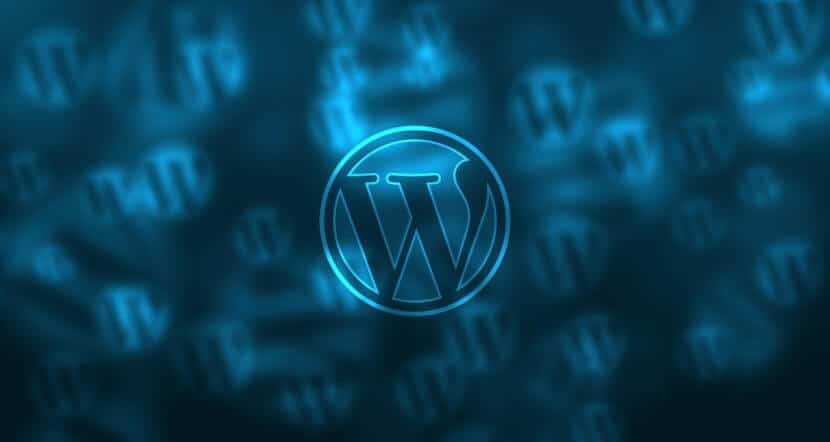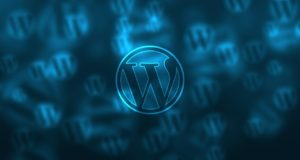 Let's start with the most important thing, what exactly is a so-called page builder? A page builder is a modular system for the simple creation of websites.
One of the most famous page builders is Wix. If you have decided to use WordPress, of course, you cannot use a page builder like Wix or Squarespace, as they do not support WordPress. But don't worry, if you still want to use the many advantages of a page builder, which exactly they are, I will explain to you later, then there are also solutions for this.
With the help of so-called plug-ins, very advanced page builders can be installed on WordPress, which then work just like Squarespace or Wix. With them you can customize the layout of your website as you want. You can arrange text, images and other elements next to each other in columns of different sizes without coding or programming knowledge. So even a web design beginner can create a beautiful WordPress website with the help of a WordPress page builder.
Page builders are not only intended for beginners. Seasoned users and web designers also use page builder because it allows you to build websites quickly and they look great. As you would expect, some page builders do better than others. You will find that these are called page builders rather than topic builders. Every WordPress site must have a theme installed in order to create pages. A page builder is not just something for web design beginners. Even advanced web designers are using them more and more often to save time and, above all, nerves.
Elementor - The best WordPress page builder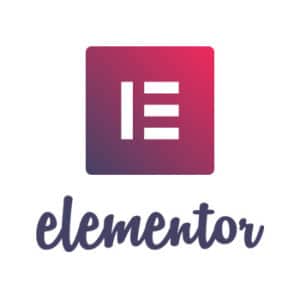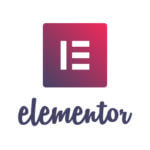 Very good free version
30 days money back guarantee
Very good value for money
Intuitive to use

How do I install a WordPress page builder?
With WordPress, page builders either come with your theme or, as mentioned above, can be installed as a plug-in. With WordPress it is the case that many themes are optimized for certain page builders and therefore come pre-installed with them.
Install WordPress theme
The first possibility to use a WordPress page builder is with the help of a so-called WordPress theme. A WordPress theme is very easy to install and serves as a template for the design of your website. Fortunately, installing WordPress themes is very easy. You have the option of installing a standard WordPress theme directly via WordPress, or a third-party premium theme. Most of the themes that come pre-installed with a page builder are so-called premium themes and cost a little extra.
Install standard WordPress theme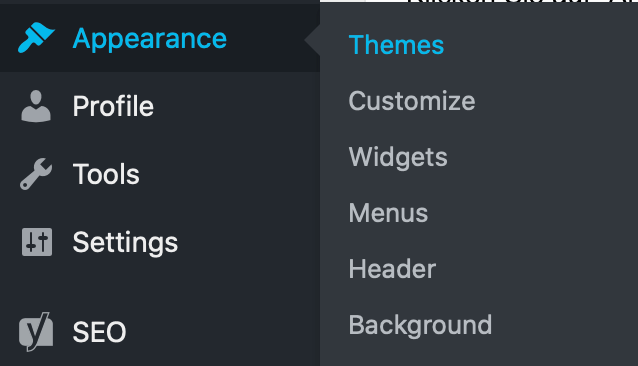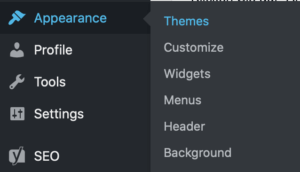 First, you need to log into WordPress with your login information. Then you should automatically land in the normal WordPress dashboard. From here, it's very simple:
Move your mouse pointer over "Apperance" and click on Themes.
Click on "Add new" and search for the topic you want.
Select the correct topic and click on "Activate"
Install premium WordPress theme
Installing a premium WordPress theme is a little more complicated, but still very easy.
Buy a premium template from a trusted provider and download the zip file for your new theme
Log into your WordPress dashboard
As already learned, navigate to the topic menu
Click on the "Add new" button
Click the "Upload topic" button
Select the zip file from your computer
Click on "Activate"
So that's it already. If your theme has a WordPress page builder, you can usually find it in the editor area of ​​a page or post. Here it depends a little on the page builder. Either it is displayed to you as a button or as a tab with the note "Page Builder". You can enable and disable most WordPress page builders for each page.
Add plug-ins
If you want to install a WordPress page builder that is not part of a theme, but a stand-alone plug-in, this is also very easy. First, you log into WordPress as usual with your login information.
Then go to the section "Plug-ins"
Select "Add New"
Use the search bar in the top right to search for a specific plug-in
Once you've found the right plug-in, check the reviews to see if the plug-in seems trustworthy
If you are happy with the ratings, click the "Install Now" button
As soon as WordPress has downloaded the plug-in, you will receive a final message and you will be asked to click on "Activate plug-in"
Next, you go to Settings to configure your plugin (each has a different process for doing this)
Here, too, just like with WordPress themes, you have the option of installing a plug-in from a third party. For this you proceed exactly as with the WordPress themes. You simply click on "Upload plug-in" and select the appropriate ZIP file from your computer.
Benefits of a WordPress Page Builder
As mentioned earlier, a page builder can make designing and building a website a lot easier. In the following section we will therefore focus on the advantages that a WordPress page builder brings.
Fewer plug-ins
Since page builders generally contain many functions in one, you often save the installation of additional plug-ins. Most page builders contain various options for editing text, images, layouts, tables and much more. Otherwise, you would need separate plug-ins for all of this.
Individual design of your website
With a page builder you can freely edit the design of your website even without previous programming knowledge. So you are no longer necessarily bound to the layout of the WordPress template. This makes it possible to create a really individual website.
Intuitive and easy operation
Most WordPress page builders work on the same drag and drop principle. This is much more intuitive than editing a classic WordPress website. So you don't need a long training period in WordPress, you can start right away. The drag and drop system also makes designing your website a lot easier. As already mentioned, you no longer need any programming knowledge.
responsive Design
Responsive websites are becoming more and more important these days. However, with many WordPress templates it can be difficult to create a really responsive website. A page builder makes this a lot easier and improves your SEO at the same time.
Disadvantages of a WordPress page builder
Now that you know the advantages of WordPress page builders, we must of course also talk about their disadvantages. Unfortunately, there are also a few that you should consider before using a page builder.
"Lock-in" effect
A common term for page builders is the so-called lock-in effect. This means that many page builders are tailored to specific topics and are bound to them. This significantly reduces the selection of themes that you can choose for your WordPress site. Page Builders also use shortcodes. Unfortunately, these shortcodes mean that you cannot easily change your topic or page builder. Therefore, it is all the more important that you find out exactly which page builder you want to use, since, as already mentioned, you cannot simply change it again in the future.
charging time
Just like many plug-ins and media files, Page Builders also decrease the loading time of your website. So the many possibilities and functions of a page builder have to be built into the code of a website. The more complicated the code, the longer it takes to load.
Creative limitations
At first it might seem that this point and "individual design of your website" make no sense, but let me explain the whole thing first. A page builder allows you to design your website easily and individually, but every page builder has its limits. There is only a limited number of modules and if you don't like any of the given modules, for example for displaying an image, you have no alternative. But if you already have programming knowledge, you have absolutely unlimited options with WordPress without a Page Builder.
The best WordPress page builders in comparison
Now that you know what a page builder is for, how you can install it and what its advantages and disadvantages are, it is time to take a closer look at the three best WordPress page builders currently available. In our test, we paid particular attention to the user-friendliness, the functions and the price-performance ratio.
Elementor Page Builder
Elementor is our test winner and one of the most popular page builders. According to its own, there are currently over four million active installations of Elementor.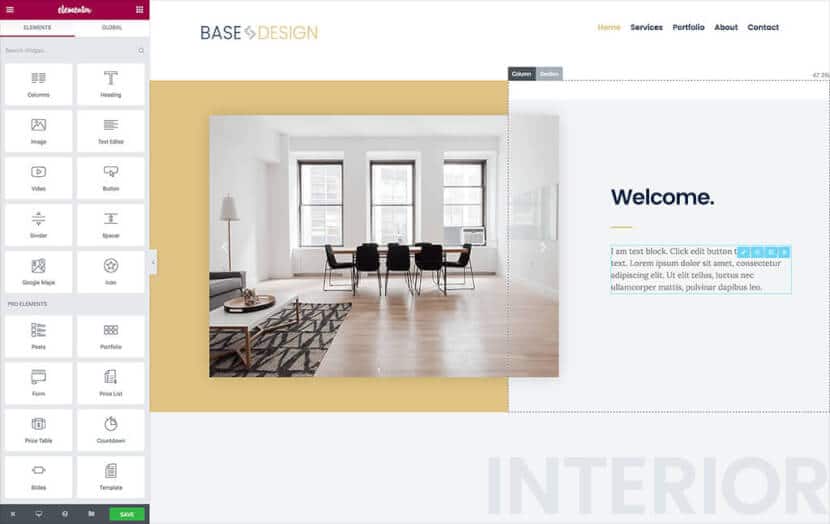 Elementor's user interface is very typical for a page builder. In the left side, Elementor has an edit box that contains everything you need to edit your website. If necessary, the entire control panel can simply be folded away completely using the small arrow.
It is particularly positive that a lot of components are already available in the free version of Elementor. This is more limited with other page builders. There are also an incredible number of third-party plug-ins available, more than the other page builders we tested.
The Page Builder itself is incredibly intuitive. In fact, I used Elementor for a few hours before I had to look it up the first time. That's what makes this WordPress page builder special for Very interesting for beginners. Otherwise, Elementor has very simple inline editing. Unlike other page builders, however, all other changes are made in the left side of the page. This takes some getting used to, but it is a nice thing because there are no elements blocking the view of your website.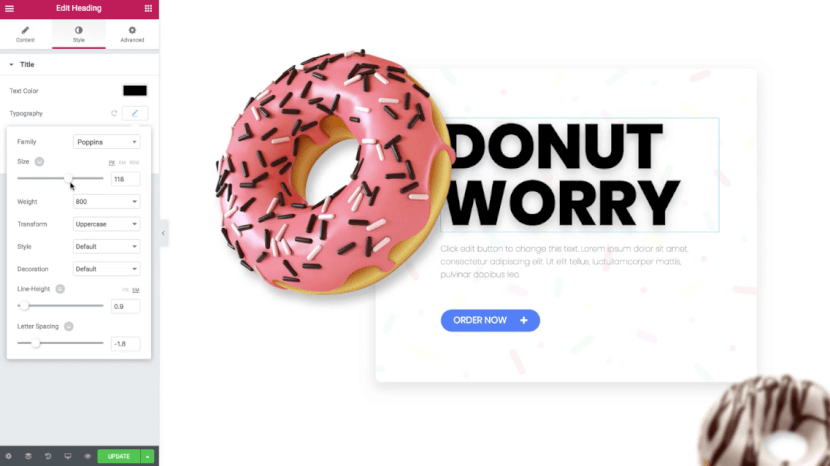 You can also simply right-click any module for additional menu items. Another really good thing is that there is a global undo button, so errors in design are quickly fixed and you can easily try new things without having to worry about the result. All control elements are structured very logically and the changes in the website take place smoothly and without delay. All controls at Elementor are 100% responsive, so you don't have to worry about that either.
You only have to be careful with the flexible layout. Elementor offers you the really useful option to position elements on your homepage in a custom and absolutely free manner, similar to what Wix allows. However, you will be shown a direct warning that this can have negative consequences on the responsive design of your website. Otherwise, there's actually not much to say about Elementor, the plug-in is easy to use and works flawlessly.
If you do need help, the Elementor team is very committed. There is an active presence on social media, a large group on Facebook and, as already mentioned, a really large number of third-party plug-ins.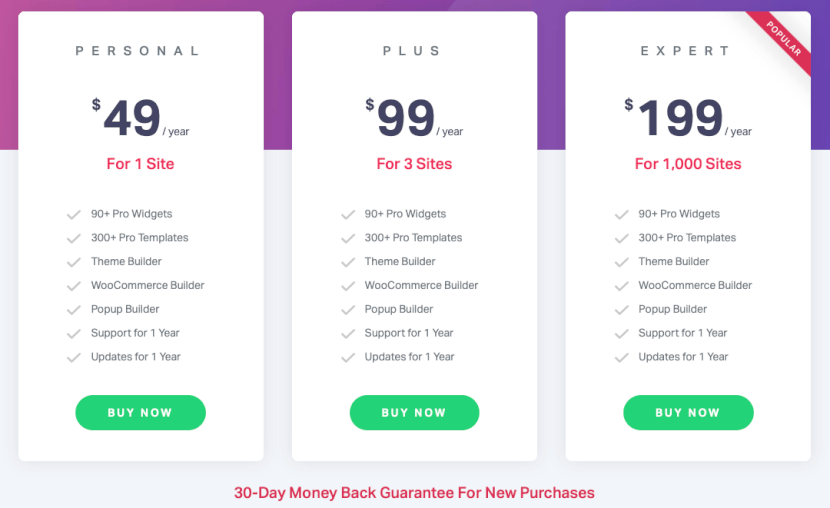 The tariffs at Elementor are also very clearly structured. In addition to a really good free version, there are three different price levels: Personal, Plus and Expert. The lowest price tier starts at $ 49 a year and gives you full access to all functions of the Elementor Page Builder, including the WooCommerce Builder and the Theme Builder. The only limitation is that you can only use Elementor for one WordPress website. In the Plus tariff there are already 3 WordPress websites for 99 US dollars a year and in the Expert tariff you get Elementor for up to 199 WordPress websites for 1000 US dollars a year. There is also a "no questions asked" 30-day money-back guarantee, which I also really like.
Elementor advantages:
Comprehensive free version. Elementor's free page builder already comes with many extras that other page builders have to pay for.
Big plug-in market. Elementor owns the largest third-party plug-in market out of any page builder I have tested.
Little "lock-in" effect. Although there is a somewhat stronger "lock in" effect than with the Beaver Builder, it is still significantly lower than with Divi, for example.
Intuitive and clear. Elementor's Page Builder is the most intuitive WordPress page builder I've tested. The control panels are clearly laid out and work very well.
30 day money back guarantee. All Elementor plans come with a 30-day money-back guarantee. Very exemplary!
Good value for money. The cheapest tariff from Elementor is half as cheap as the cheapest tariff from Beaver Builder. Overall, you get a lot for your money!
Free positioning. Elementor allows you to place elements in a completely customized way, no matter where on your homepage.
Elementor disadvantages:
Expensive tariffs for multiple websites. If you own more than three WordPress websites, Elementor gets expensive, because then you have to pay the Expert tariff for 199 US dollars annually.
Free positioning not responsive. The possibility to position elements completely freely on your homepage is really awesome, unfortunately page builders like Wix do this a little better, so elements that you position freely on Elementor are often not optimized for mobile devices.
Conclusion on the Elementor WordPress Page Builder
For us the clear test winner. The free version of Elementor in particular is convincing across the board. With Elementor you get a comprehensive, stable and intuitive page builder and that for zero tariff, it couldn't be better. Even the cheapest premium version of Elementor offers good value for money at $ 49 a year. The large plug-in market ensures that you will definitely find all the functions you need. The free positioning is also a really great feature, which I have already learned to love at Wix, but it would be nice if this was incorporated a little better into the otherwise very good responsive design of Elementor.
The best thing about Elementor: The extensive free version.
Divi Page Builder
Divi lands in second place. A small note on the side: Divi was the first page builder I ever worked with, which is why it was a very interesting experience for me to check its current functions in our test. Therefore I would like to say positively that you notice that the Divi developers regularly update the Page Builder. Compared to the version I was working with a few years ago, the current page builder cannot be compared!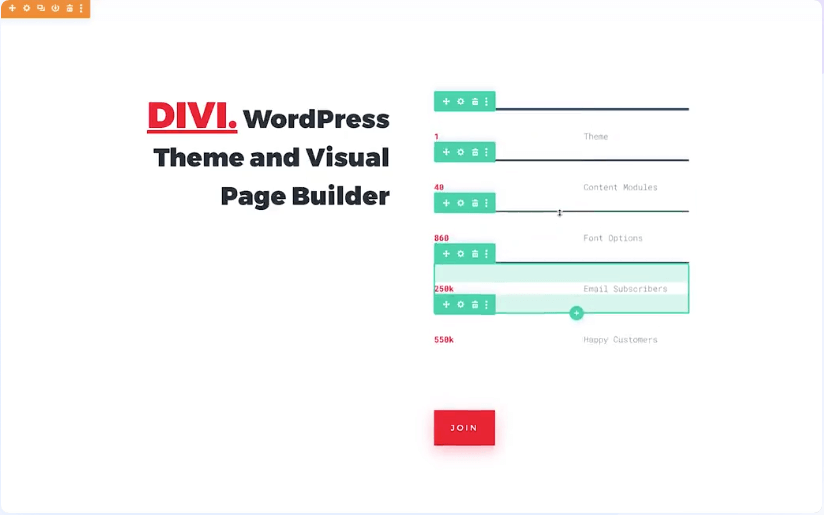 Divi's Page Builder does not offer a constant setting field, but opens various control fields for editing when you click on the individual fields that you want to edit. You can also close this again by approving the changes to the element or by clicking X to cancel the whole thing. Incidentally, the control panel will be positioned where you last opened it. So if you're used to page areas, you can put the panel there and it will come back there every time. In fact, it works very well and is a mix of the Elementor and Beaver Builder settings fields. Unfortunately, the control panel does not have a separate area on your homepage so, unlike Elementor, it sometimes gets in the way and you have to move it. But once you get the hang of how the builder works, it's really easy. However, the Page Builder needs more training than, for example, Elementor.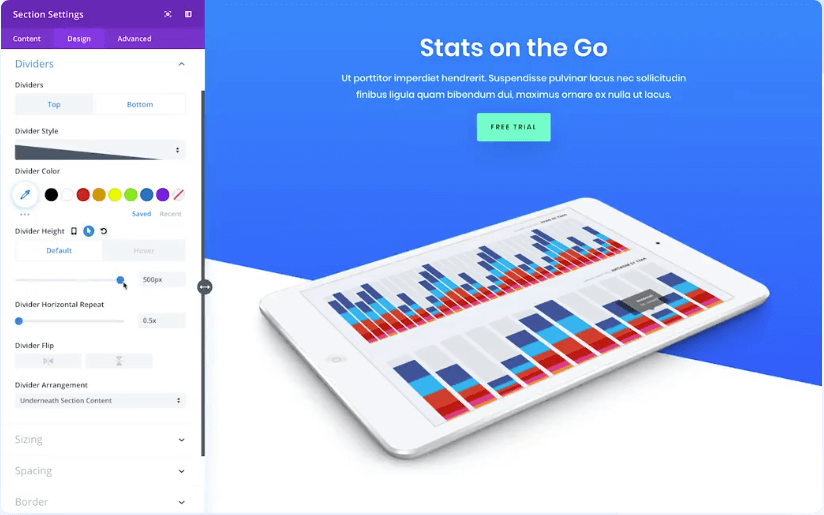 One really great thing about Divi is the Layers panel. With this field you can immediately navigate anywhere on your site. All you have to do is select the section you want to jump to. The whole thing also facilitates the arrangement of elements and ensures that you never accidentally have unnecessary elements invisible under others, which unnecessarily slow down your website. A similar, but actually not quite as sophisticated, layer control panel is also available at Elementor. In Divi's Layers panel, however, you can display a nested version of your page and then rearrange, edit, delete, rename, etc. elements directly in the panel. This saves time and works very well.
What I also really like about Divi is the huge library of layouts. These are nicely designed and look very modern. In fact, we liked the pre-made layouts more than other page builders. You can adopt the layouts for part of your page or directly for the entire page. Unfortunately, the biggest problem with Divi's layout system is that it feels unnecessarily complicated to use. Namely, you first have to import the whole page layout into your page, go to the part you like and save it. Then you have to delete the rest, i.e. all elements that you do not want, from the imported page layout. That's a lot of steps compared to other page builders that have pre-made blocks ready to use. By the way, you can also export the library elements you have created in this way for use on another Divi site or import curated ones by others. That's a great feature and makes for an incredible number of very well-designed layouts.
Probably the most positive point of Divi are the website templates. On the Divi website you can choose from a whole range of incredibly beautiful website templates, which to me even look more modern and better than those from Squarespace and Wix, for example. That's a really big compliment to the Divi designers. Of course, tastes are very individual, so it's best to convince yourself whether you like the layout or not. You can try out Divi's WordPress Page Builder including all templates on a very good live demo site.
What I don't like at all about Divi is the code. This is very detailed and slows down your website a lot. Many Divi users therefore use plug-ins to optimize the loading times of your website. So if you know your way around here, you can counteract the whole thing. Divi You can try the builder on its live demo site.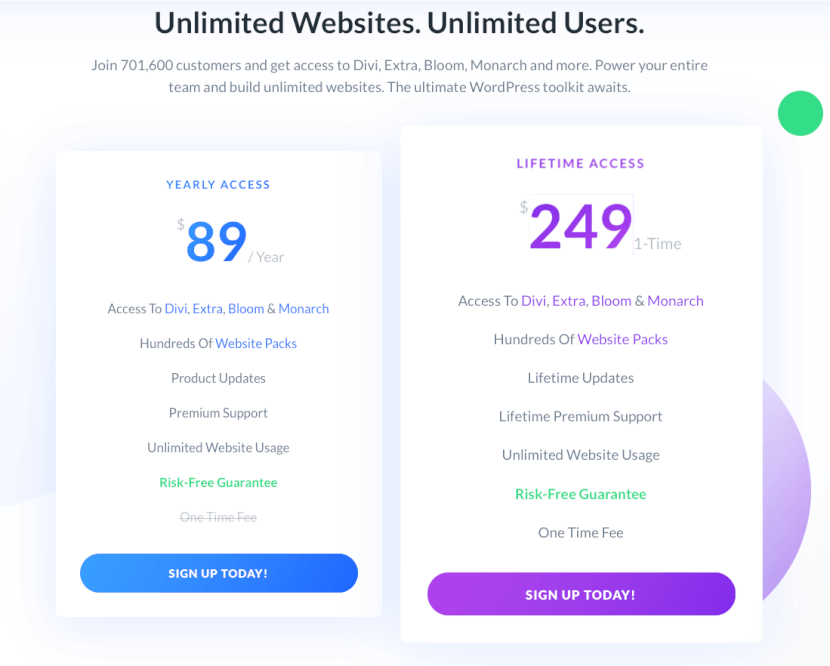 Let's get to the price. In contrast to the Beaver Builder and Elementor, Divi only offers two price levels: annual access for USD 89 per year and lifetime access for a one-time fee of USD 249. Both plans give you exactly the same thing, with unlimited websites, premium support, hundreds of website templates, and more. So you also get the really good plug-ins Bloom and Monarch, which are responsible for emails and social media. The lifelong payment is really interesting with Divi, it pays off from 3 years of use. Incidentally, Divi regularly offers Black Friday sales and the like, where the price for lifelong use of Divi is significantly cheaper!
Divi advantages
Lots of layout sets. These are very easy to use and allow beginners to design a really nice website.
Integrated theme builder. The Divi Page Builder comes with a theme builder so you can customize headers and footers.
A / B split tests with statistics. A very advanced feature is the ability to A / B split tests on your website. So you can test for yourself which design is better received by your customers.
Lifetime tariff. Personally, I am not a fan of monthly or annual payments. Which is why I really like the option for lifelong access!
Good live demo site. Divi has a very good live demo site on their homepage where you can try the page builder before you buy.
Updates. As already mentioned, I used the WordPress Page Builder Divi a few years ago. A lot has happened in that time, mainly due to a very large community and a dedicated team. So you can assume that the Divi WordPress Page Builder will be around for a while.
Divi cons:
Too much code. Unfortunately, the Divi code has a very negative effect on the loading speed of your website.
locked in Divi uses a lot of shortcodes, so it is very difficult to change the topic or the page builder later. There are plug-ins to counteract this, but it's not a real solution either.
Complicated. Unfortunately, Divi's page builder is less intuitive than the competition. For example, you need way too many clicks and menus to resize modules.
Conclusion on the Divi WordPress Page Builder
Divi's Page Builder allows you to create really nice websites. The templates in particular are really good here. Unfortunately, the front end of the website, i.e. what your customers see, is really impressive with Divi, the back end, i.e. the code, is hideous. Divi works with shortcodes, which come with the typical "locked-in" problem of WordPress page builders. The code itself is also rather complicated and unfortunately slows down your website too much. If you would like to use Divi, it is definitely advisable to wait for a good offer and pay directly for the lifelong Divi access, which once you start with Divi, you stay with Divi, although in some cases this is unfortunately rather involuntary.
The best thing about Divi: A great price-performance ratio, thanks to the option to pay the Page Builder only once.
Beaver Builder
Beaver Builder is one of the longest running WordPress page builders and has now had a large number of very loyal followers. Beaver Builder itself consists of three parts: a Page Builder plug-in, a framework theme and a theme plug-in. If that doesn't mean anything to you at the beginning, we definitely advise you to go to the Beaver Builder website. There you can test all three modules in a practical demo. Beaver Builder is generally chargeable, but also offers a heavily scaled-down free version.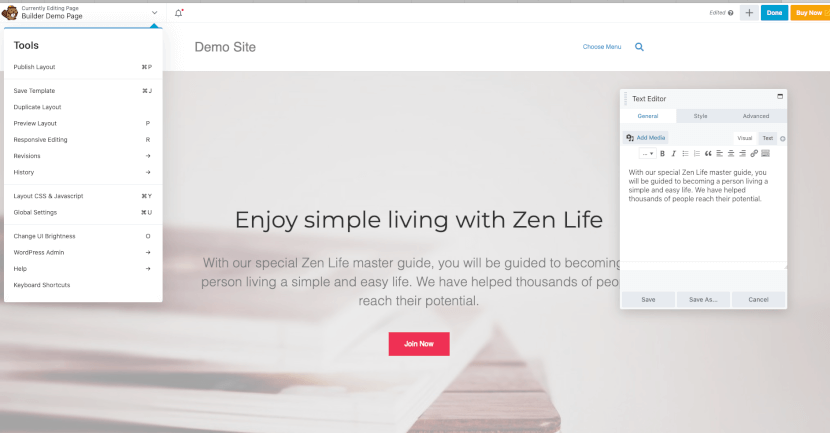 You can easily find the lite version of Beaver Builder on the WordPress plug-in page when you search for Beaver Builder. In addition to the Beaver Builder Page Builder, you will also find a ton of other plug-ins that are designed to work with Beaver Builder. The first impression of the WordPress Page Builder is very good. The settings field is clear and appealing and can be operated intuitively. In my opinion, it has been significantly improved over previous versions. The settings field is no longer permanently displayed, but can be displayed at the top left via a drop-down menu.
There you will find options such as the ability to publish your layout, duplicate it, or see a preview of your layout. Further options are, for example, layout CSS & Javascript, editing responsives and revisions. Here you can even switch to a dark mode. If you click on an element within your page, useful information will be displayed and you can edit it. If you would like to add a new element to your website, simply click on the "+" symbol in the top right and you will get a drop-down menu with numerous options, which are very clearly divided.
Overall, however, the Lite version of Beaver Builder is rather sparse and only offers a small number of modules. If you want to edit more than a very simple page, you will most likely need the premium version. A few of the premium functions can be compensated for by third-party plug-ins. In the long run, however, this is very exhausting and does not offer a pleasant workflow.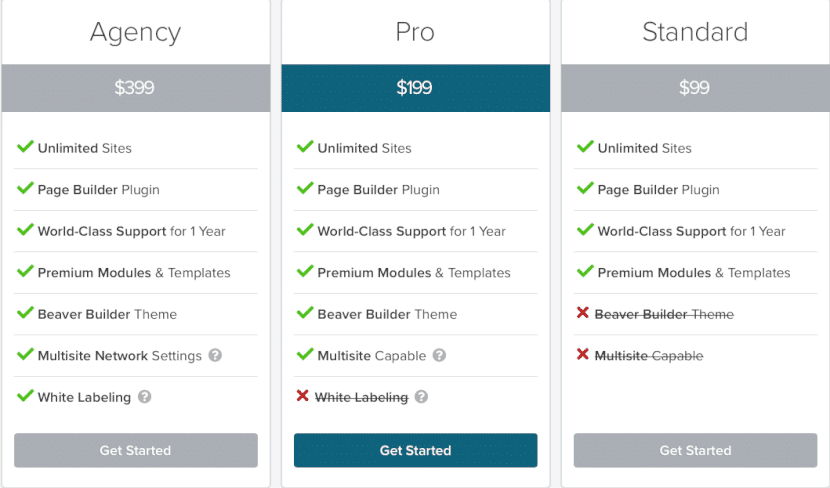 Beaver Builder's pricing is very simple. There is an annual subscription with three levels: Standard, Pro and Agency. The standard subscription costs $ 99 annually and includes an unlimited number of websites, extensive customer service, premium modules and templates, and the Beaver Builder Page Builder. Unfortunately, the Beaver Builder theme is not included in the standard subscription, you need the Pro version. This costs you 199 US dollars a year and, in addition to the functions included in the standard subscription and the Beaver Builder theme, also contains multiside functionality. The last subscription level "Agency" costs an impressive 399 US dollars annually. With it you also get the option of "white labeling". This means that you have full access to the WordPress admin area of ​​Beaver Builder, so you can, for example, remove terms like "Page Builder" and "Beaver Builder" from the backend of websites you have designed.
Beaver Builder Benefits:
Intuitive. The Beaver Builder Page Builder is very easy to use overall. He has inline editing of titles and texts. All you have to do is click on the text block and you can edit it directly. However, this full inline processing is only available in the premium option. The revisions tool allows you to jump to different points in time during your editing without any problems and the settings panel offers almost endless options for editing your pages, including adding layout CSS / Javascript for advanced users.
Clean code. The Beaver Builder does not work with so-called shortcodes. So he is one of the few builders that comes without a "lock-in" effect. With Beaver Builder you can easily change your topic or even to another page builder later.
Sturdy. The builder is considered to be very stable and bug-free and is therefore particularly popular with advanced users and companies.
Very good demo site. With the help of the demo site on the Beaver Builder homepage you know exactly what you get when you buy.
Years of experience. Beaver Builder has been around since 2014, so there is a large community and an active Facebook group. In addition, the support ticketing system works very well in the event of problems.
Beaver Builder Cons:
Expensive. The standard plan costs $ 99 a year. This does not yet include a domain or web hosting as is the case with Wix, for example. In fact, the Beaver Builder standard plan doesn't even include the Beaver Builder theme, for that you'll have to go for the Pro option ($ 199). For 199 US dollars a year, Wix already offers you a page builder, web hosting including eCommerce support and a domain name. You may not need the Beaver Builder theme if you're using a theme you like, but even $ 99 a year is a proud plan, plus the Beaver Builder really does better with its own theme, which is why we did if advise on the pro option for $ 199 a year.
Limited free version. In the free version there are not many modules available compared to the competition. The free builder plugin feels more like a trial version just to get a feel for the actual page builder, but not something that you use for a long time.
outdated. Meanwhile, Beaver Builder's competitors seem to offer many features that the Beaver Builder unfortunately lacks. Third-party plug-ins seem to want to close the gap, but that's not very good for your website speed in the long run.
Conclusion on the Beaver Builder WordPress Page Builder
In the end, there isn't much to be said about the Beaver Builder. The product is of high quality, is updated regularly (although unfortunately not with new functions) and the developers respond quickly to support requests. Overall, the page builder is very stable and bug-free. It is also very positive that it works completely without shortcodes. The Beaver Builder is therefore very popular with agencies and professional web designers. Unfortunately, for most users who only want to use it for a website, it is simply far too expensive. In the future, we would like Beaver Builder to offer a tariff for a single WordPress website at a significantly reduced price (as is offered by Elementor, for example), until that happens, we advise most users to use an alternative WordPress Page Builder.
The best quality of the Beaver Builder: stability
Conclusion on WordPress page builders
No page builder is really the solution for everything. They all have their advantages and disadvantages. I therefore advise you to try out the live demos of the individual providers and to get a better impression of which page builder is the right one for you. If it's up to me and most of the testimonials on the Internet, I would advise you to use Elementor. You get a really sophisticated page builder, which is already very extensive in the free version. It's also inexpensive at $ 49 annually from the. If you want to change later, this is also much easier with Elementor than with, for example, the competition from Divi. Elementor offers a good page builder for absolute beginners as well as advanced web designers.
Common questions about WordPress page builders
Which WordPress Page Builder is the Best?
There is no simple answer to this. All of the page builders I've tested have advantages and disadvantages. My personal favorite, however, is Elemental. This page builder is particularly intuitive and easy to learn and still offers you many individual design options.
Do i need a page builder for WordPress?
No, not necessarily. However, I advise you to use a WordPress page builder if you have little or no programming knowledge. But a page builder can also be very useful for users who already have good programming skills. It saves you the installation of unnecessary plug-ins and is much faster than designing a website from scratch.
How expensive are WordPress page builders?
Every page builder has different tariffs. Elementor, for example, offers a completely free but comprehensive page builder. Otherwise, you'll pay between $ 49 and $ 199 per year for the premium version of a good page builder. The Divi Page Builder is a special feature. You can buy this for a one-time fee of 249 US dollars. This means you have no monthly or annual costs.
Do I have to have programming skills to create a website with WordPress?
No. With a WordPress page builder, even complete beginners can create a beautiful and modern website with WordPress. I advise you to use Elementor to start with. Elementor's page builder was the most intuitive page builder in my test.