Apple Clips Update - Clips for iPhone and iPad allow users to create personal video messages, slideshows, school projects, and mini movies with amazing features. In addition, users can add personality to their videos with dozen of filters and animated stickers. The app contains more than 100 soundtracks that automatically adjust to the length of the videos.
According to the official press release from Apple:
Clips, Apple's video creation app for iOS, is getting its biggest update yet, with highly sought-after features that make it easier than ever for anyone to pick up an iPhone or iPad and start creating fun videos with multiple clips - No editing experience is required.
Apple Clips Update - Vertical Videos
With Clips 3.0, Apple Clips finally gets one of the most requested features: different aspect ratios and support for vertical videos. With the recently released 3.0 update, you can record clips in 16: 9, 4: 3, and square - and all three in vertical or landscape orientation iPhones and iPads To run. It's a long overdue feature for Apple's clever little unsung video-making app. Apple is responding to the rapid rise of vertical video story formats from apps like Snapchat, TikTok and Instagram. Clips are now automatically opened for a new 16: 9 vertical project on iPhone and iPad, so videos can be quickly recorded for social platforms.
You might also be interested in:
Apple Clips Update - New User Interface
The new version of clips also gets a refined user interface. Where previously you had to open an extra window and swipe through seemingly endless options, you can now simply swipe the horizontal list up to get a full screen view of all filters, stickers, emoji or other effects.
Apple has also added a number of new effects that you can use on your videos. There are titles, royalty-free songs, more stickers, and speech bubbles to add to your videos. Clips now also records video in Dolby Vision HDR when using an iPhone 12 camera. Apple has also redesigned social media sharing for clips. It can still be exported directly to social apps, but Apple adds a video preview and a separate button to export the project file if you want to send it to someone else for editing.
At its core, clips is still what it was in the beginning: a very clever way to quickly merge short videos into a small, shareable movie. Unlike the story format or TikToks, Clips doesn't have a built-in social network for sharing and viewing these videos. They should only be exported.
Although Apple Clips has some AR effects like attaching speech bubbles to a face, it is still a little more traditional than other short-form video apps. With that in mind, Clips still feels a bit like a modern take on iMovie.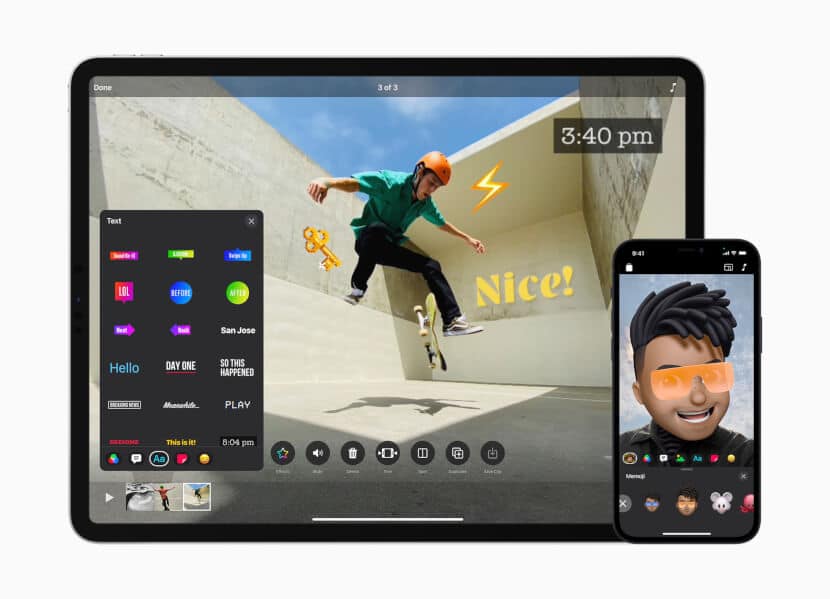 Apple press release:
Since its introduction, Clips has become one of the most popular iOS video creation apps, and millions of projects are made every day with it. Users love how easy it is to create fun, expressive videos for sharing with friends, family, and classmates with just a few taps on their iPhone or iPad screens, "said Susan Prescott, Apple's vice president of Apps Product Marketing. "Today's update, with a streamlined interface, support for vertical and horizontal video, HDR video capture using the new iPhone 12 or iPhone 12 Pro, and fun new effects, will help users create clips videos with more personality and polish than ever before.
Apple clips keep their best function
Fortunately, Apple Clips still retains its best feature, the ability to live transcribe speech to create live subtitles right on the video. The included music tracks will also automatically adapt to the length of a video. It will still sync between your iOS devices via iCloud and the clips can also be recorded or edited on the iPad. The iPad interface has also been improved. It now supports the Apple Pencil function for writing text. But unfortunately, you can't draw directly on videos just yet.
With the new clips update, Apple has created a really solid app for creating short videos. It largely corresponds to the aesthetics of Apple. Incidentally, Apple is currently still running ours with the iPhone Cell phone leaderboard