We have long been fans of the Acer line of affordable Nitro 5 gaming laptops. The latest Acer Nitro 5 offers a revised cooling system, an ingenious battery life and a CPU from the Ryzen 4000 series. The Nitro 5 should delight all price-conscious gamers. Maybe Acer will even manage ours with the Nitro 5 Laptop leaderboard?
The only catch? Note that it keeps the same GTX 1650 graphics card that we saw in a similar model last year. So don't expect ray tracing or frame rates above 60 FPS. However, with its revised cooling system and Ryzen 4000 series CPU, the updated Nitro 5 manages to perform very well despite its limited GPU performance. Which makes it a tempting choice for gamers on a budget.
Configuring the Acer Nitro 5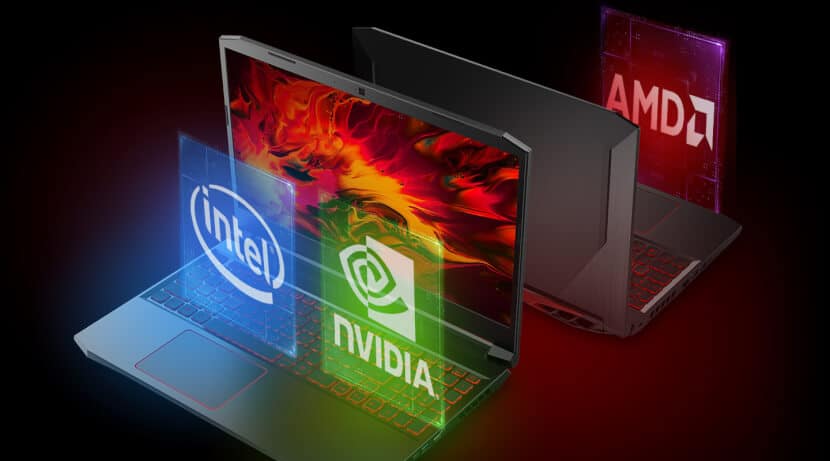 Acer offers a variety of Nitro 5 configurations. There are models that are operated with Intel processors of the 9th and 10th generation (Whiskey and Comet Lake) or AMD Ryzen 3000 and 4000 CPUs. There are also models with GTX 1650, GTX 1650 Ti or RTX 2060 GPUs.
The cheapest Nitro 5 variant contains a quad-core Core i5-9300H processor, a GTX 1650 graphics card, 8 GB of RAM and a 256 GB solid-state drive.
The most expensive system is equipped with a hexa-core Core i7-9750H CPU, has an RTX 2060 GPU, 16 GB RAM and a more spacious 512 GB SSD.
The following variant, for example, offers a good solution for budget-conscious gamers:
CPU
Hexa Core AMD Ryzen 5 4600H
RAM
8 GB DDR4 3200 MHz (upgradeable to 32 GB)
graphic card
Nvidia GTX 1650 with 4 GB GDDR5 VRAM
Speicher
256 GB PCIe NVMe (plus a second PCIe slot and a 2,5 inch hard drive bay)
Display
15,6 inch full HD IPS display (1920 x 1080)
Refresh rate
60 Hz
Webcam
720p SHDR
connectivity
1x USB SuperSpeed ​​10 Gbit / s Type C
2x USB SuperSpeed ​​5 Gbit / s Type A
HDMI 2.0
Ethernet
Combo audio jack
Network
Wi-Fi 6, Killer Gigabit Ethernet E2600, Bluetooth 5.0
battery capacity
57,5 watt hours
Dimensions
14,3 x 10 x 1 inches
Weight:
about 2,1 Kg
So, from the spec list of the Nitro 5, it's easy to see that it's a solid gaming laptop that has enough GPU performance (on paper) to run most AAA games at or near 60 FPS.
The Ryzen 5 4000 series hexa-core CPU should withstand CPU-intensive activities such as video coding or database crunching.
The 8 GB of RAM are rather small, but you can upgrade the RAM of the Nitro 5 to up to 32 GB.
Only the 256 GB solid-state drive in the Nitro 5 is far too small for games. Fortunately, the system has SuperSpeed ​​10Gbps Type C and Type A ports, which are ideal for connecting fast external storage.
You can also upgrade the internal storage of the Nitro 5 using the available PCIe slot or the empty 2,5-inch hard drive bay.
The 15,6-inch Full HD display is pleasantly large, but limited to a refresh rate of 60 Hz (there are more expensive versions of the Nitro 5 with 120 Hz and 144 Hz screens).
More impressive are the network capabilities of the Nitro 5, including a Gigabit Ethernet port and state-of-the-art Wi-Fi 6, so you can deprive the latest gaming routers of the last throughput.
Design of the Nitro 5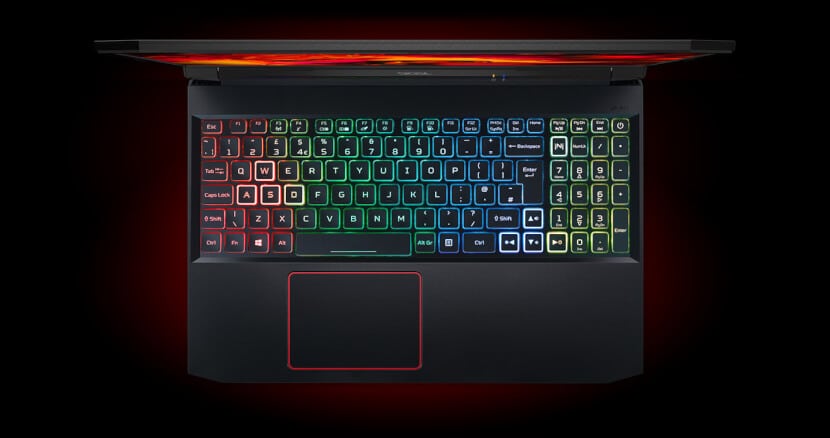 Big, bulky and heavy. That's how we know gaming laptops. The Nitro 5 is no exception. The 15,6 inch thick Nitro 5 weighs a little over 2 kg and feels as powerful as it sounds. Still, as with previous models, Acer has done its best to give the Nitro 5's shell a sleek, tapered look.
This year's Acer Nitro 5 has four newly designed ventilation slots to optimize the heat output by up to 25 percent.
While this year's Nitro 5 looks more or less like previous iterations, there are a few key differences.
For starters, the Nitro 5's hinge is now more black than maroon, meaning the shell is now almost entirely black, save for the bright red vents in the rear.
The Nitro 5 also comes with Acer's NitroSense app, which allows you to change the laptop's power plans and tinker with the fan performance. This allows you to manually adjust the revolutions of the fans or activate CoolBoost, a setting that intelligently increases the maximum fan speed and helps optimize CPU and GPU cooling by up to 9 percent.
Display of the Nitro 5
The Nitro 15,6's 5-inch (1920 x 1080) display is flanked by two slim 0,28-inch bezels, while the bezels at the top and bottom of the screen are a little chunkier.
Overall, Acer says the new Nitro 5 has a screen-to-body ratio of 80 percent. As already mentioned, Acer offers more expensive Nitro 5 models with 120 Hz and 144 MHz displays. For budget gamers, however, a refresh rate of 60 Hz should be sufficient.
The Nitro 15,6's 5-inch display is rated for 300 nits (or candela) of brightness and uses IPS (in-plane switching) technology to improve viewing angles.
You might also be interested in:
The Nitro 5's keyboard, trackpad, speakers, and webcam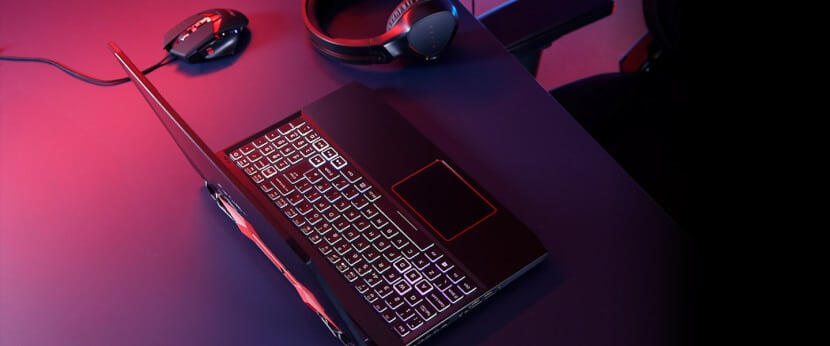 The expensive Nitro 5 models have different backlights for the keyboard, while the cheaper models only have a uniform red backlight.
Also worth mentioning are the highlighted WASD keys, while a highlighted hotkey launches the aforementioned NitroSense thermal management app.
The Nitro 5's trackpad is just below the space bar and slightly to the left of the center of the case. The trackpad does its job well, but it shouldn't matter much for most gamers, as this is usually a Gaming mouse use.
The Nitro 5's failing stereo speakers are augmented with object-based DTS: X Ultra audio, and the results are fine. The overall sound is a bit thin and there is a lack of bass. We therefore recommend using one Gaming Headset.
The Nitro 720's 5p webcam records relatively smooth 30 fps videos, even if they are a bit washed out and look grainy. According to Acer, the webcam offers SHDR (Super High Dynamic Range) images. Overall, the image is fine for a Zoom meeting with the office, but you'll likely want to upgrade to an external webcam for your Twitch channel.
Connections of the Nitro 5

The Nitro 5 has a solid collection of ports including (on the left) a pair of USB SuperSpeed ​​10Gbs Type-A ports, a Drop Jaw Gigabit Ethernet port for wired internet, a combo Audio jack and a laptop security slot.
On the right side there is a USB SuperSpeed ​​10 Gbit / s Type-C port, a USB SuperSpeed ​​5 Gbit / s Type A port and a full HDMI 2.0 interface.
That's a pretty impressive array of ports for a budget gaming laptop like this one, especially for the three fast USB ports and the Ethernet interface. A media card reader would have been a nice touch, but its absence on a gaming laptop like the Nitro 5 isn't a deal-breaker.
Overall, we are very satisfied with the new Acer Nitro 5. However, if it is not the right one for you, you are welcome to have ours Laptop leaderboard look at.