Keeping the PC tidy and clean is supposed to be thanks to diverse Cleaning tool offers no longer be a problem. The classic optimization programs promise to clean up Windows more deeply. Not only should the performance be optimized, but the use of the system should also become easier thanks to a better overview.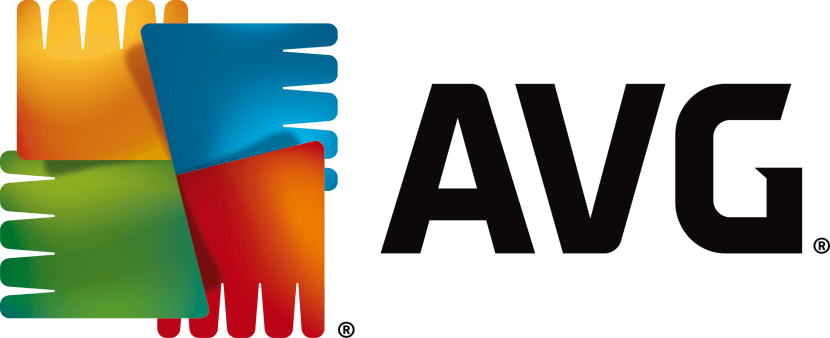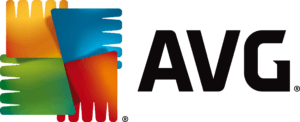 However, some of these cleaning programs are recent come under criticism. On the one hand, some providers are supposed to sell their customers' data on to third parties. On the other hand, there are probably some programs that contaminate Windows when uninstalling. Which is of course the opposite of the actual goal - to clean up. The digital legacies of these inferior programs mean that the system is ultimately even more polluted than before.
At the same time, it is questionable why the use of these cleaning tools is still necessary today. Because the stable operating systems seem to have sufficient know-how to remain operational in the long term. We can see why the use of cleaning tools sometimes makes sense in the AVG PC TuneUp test
Content
What can tuning programs do and what cannot?
Before we get into what AVG PC TuneUp actually has to offer, let's take a look at what Tuning programs generally have to offer. Basically, it's about supporting the now unmanageable operating systems here and there. The cleaning programs should primarily:
Find and delete files that are no longer required
find duplicate files
defragment the hard drive,
Deactivate autostart entries and
delete programs that are no longer used.
All in all, this should extend the battery life and improve the performance of the system itself.
When deleting, purifying and uninstalling, resource-guzzling files and programs should be banned from the PC. In the long run, this creates useful storage space, system conflicts should be prevented and some programs even optimize data protection and privacy. They do that by Reliably clean hard disks or partitions through multiple editing.
Many a technology-savvy person has serious doubts about the usefulness of these cleaning programs.
This is partly due to the fact that more and more providers are indulging in lucrative extra income by using what are actually secret Resell customer data to third parties. This should especially not happen with paid programs. But even with the paid tools, there are indications here and there that the customer's data is not really secure.
Some cleaning tools also promise more than they can hold. Futuristically designed ads are intended to make users believe that the program is doing a spring cleaning on a grand scale. Conspicuous displays show the extent to which the system has been optimized through the use of the software. However, these figures do not always match the actual performance of the program.
Professionals often criticize that, especially in the Windows Control Panel sufficient resources available to bring the computer back into shape without any external programs.
It also happens more often after using the tuning software Operating system problems. Especially with Windows 7, 8 and 10, the use of cleaning tools sometimes causes damage, so that the PC is hardly ready for use afterwards due to malfunctions.
The question now is whether a reputable program can eliminate these disadvantages and also offer sufficient advantages for the users. A program that stands for seriousness is AVG PC TuneUp. We want to know what this cleaner has to offer.
The AVG PC TuneUp test
Ease of use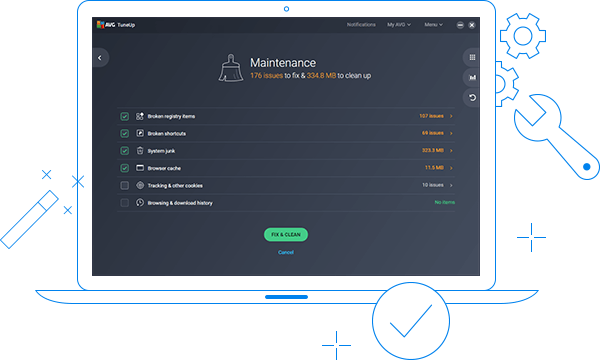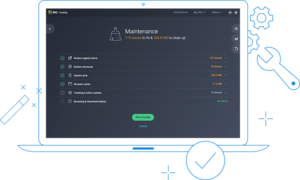 During the installation of the program in our AVG PC TuneUp test, it was immediately apparent that the user interface was also suitable for inexperienced users quite clear is designed. This cleaner can therefore be used intuitively even for absolute beginners, which is a big plus. The AVG PC TuneUp program is not only available for the PC, but also for mobile devices. The user friendliness is high in all versions.
Let's take a closer look at how AVG PC TuneUp presents itself. AVG PC TuneUp has a Dashboard. There, users will find the areas of computer status, maintenance, PC performance and rescue center. You can also see here which additional tools that are subject to a fee could still be treated.
It is practical that all these additional features are also available as a slimmed-down free version. Two really useful ones Additional programs are "protection" and "privacy and identity":
"Protection" is about you Malware scanner. Especially useful if the computer has not seen an all-round scan for a long time.
The "Privacy and Identity" tool is - as the name suggests - about the Protecting the identity of users. This is especially true for all those who actively use the offers on the Internet.
There is also a tool for surfing on the go, which is supposed to provide more security: "Web tune up". This additional program is intended to warn users of dangerous websites and also block web trackers. It almost looks as if AVG PC TuneUp has much more to offer than "just" software for clearing out the computer. Because this is also about searching for malware and protecting it on the Internet.
settings
We already have a rough overview of the many functions available in AVG PC TuneUp. In addition to the basic tools, there are also some setting options that customers can use to use the cleaner the final touches can miss. In this way, you can set very precisely what the cleaning tool should do and which corners should be particularly swept through.
However, you shouldn't do too much preparatory work here, unless you already know pretty well about the configuration of Windows. Otherwise you should rely on the default settings. For advanced users it is clear that there are many small subtleties here that individualize the cleaning experience.
A plus point is certainly that the various functional areas can be set in such a way that the optimization measures can be set according to personal preferences. For everyone who does not want to worry too much about the optimization measures, there is the 1-click maintenance. This automatic mode will automatically start optimizing performance.
AVG PC TuneUp also offers the Live Optimizationthat runs inconspicuously in the background and ensures optimization during operation. If you want to know how far AVG PC TuneUp has come with the optimization, just take a look at the dashboard. Here you can find an advertisement with the optimization potential and the progress.

What can AVG TuneUp do?
Let's get to the improvements we can expect from using AVG TuneUp:
Registry Cleaner and Registry Defrag
Turbo mode
Software updater
Repair wizard
File Shredder
The Registry Cleaner and Registry Defrag features reorganize the existing programs. That can also be for more speed and storage space to care. For more in-depth cleaning, there is also the Disk Doctor and the Shortcut Cleaner. This is about fixing hard drive problems and finding meaningless desktop shortcuts.
For one thing, there is that Speed ​​optimization to call. The Turbo Mode function is used to adjust the system settings so that the computer continues to perform at its best. For the user, this means that unused background programs are deactivated. To optimize this process, users can also use the Program Deactivator. This sets seldom or not used programs to energy-saving mode.
If you then decide on the StartUp Optimizer, the startup and shutdown is much faster. Because the StartUp Optimizer bans programs that significantly slow down startup and shutdown. Of course, these measures also have a positive effect on the Battery life out. The Economy Mode feature also plays its part.
So that the PC always up to date AVG PC TuneUp comes with an automatic software updater. Security gaps and the like should therefore be a thing of the past. Routine maintenance work then runs automatically, so that the user no longer has to worry about this area.
Another interesting tool is the Repair Wizard. This looks for problemsthat the user can address or not. If you have too much of a good thing and want to undo an action, the Rescue Center makes this possible. The Rescue Center will then undo any changes you have made.
Then you have Junk files found, it ends up in the file shredder. Those who like it particularly safe choose the Gutmann method mode. Here, the data to be deleted is overwritten randomly in 35 data according to special patterns. It takes time, but it is also safer.
What other customers say about AVG PC TuneUp
If you really want to know what a program has to offer, you shouldn't just rely on what the manufacturers have to say. After all, manufacturers want their own product to appear in the best possible light. When it comes to getting a really deeper insight into the capabilities of a program, it should be Customer Reviews account.
So we searched the Internet for AVG PC TuneUp experiences and AVG PC TuneUp reviews. There are several AVG PC TuneUp reviews that praise this product in the highest terms. However, there is also a lot of critical customer voices, such as in the Trustpilot forum. AVG PC TuneUp really had to take a lot of criticism here.
One of the most frequently mentioned vulnerabilities is that after the scan has run some Windows programs no longer work properly.
Furthermore, the Customer Support hardly offer solutions to questions and problems, and the cost policy for this offer does not seem to make sense for many customers.
Tips and Tricks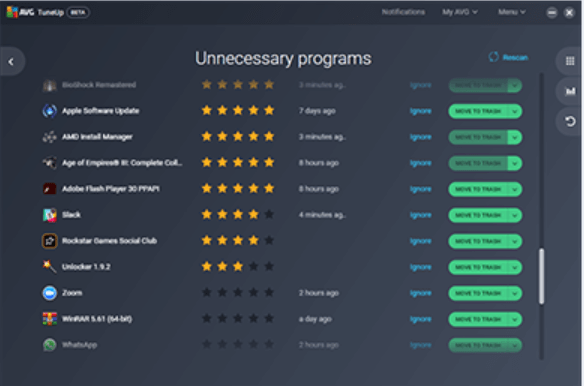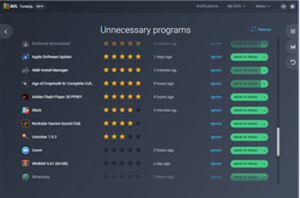 In order for the use of AVG PC TuneUp to be a complete success, you should know a few tips and tricks.
Tip # 1: Before using AVG PC TuneUp you should already unused files or programsthat you notice at first glance, delete. Because if the system is completely overloaded, problems can also arise when using AVG PC TuneUp. On the one hand, because scanning the hard drive then takes considerably longer and, on the other hand, because it increases the risk of system conflicts. So if you have the opportunity to roughly sort out beforehand, you should do that.
Tip # 2: AVG PC TuneUp cannot help with deep-seated system conflicts, after all, this is a cleaning tool and not an IT specialist. So if you are dealing with more profound problems, you should not use AVG PC TuneUp, but the path go to a specialist.
Tip # 3: Furthermore, it is only necessary to use the functions which one also understands. Failure to do so can cause long-term system execution problems.
Tip # 4: If you have any questions or problems when using AVG PC TuneUp, you should first contact the Customer Support contact.
The pros and cons of the AVG PC TuneUp at a glance
Advantages
The clear design makes using the program easy, even for beginners
Shortens the computer startup time
Especially useful when it comes to deleting unnecessary data
Noticeable improvements
The disadvantages
AVG may sell customer data to third parties
Temporarily affects third party programs
Support is only available in English
Benchmark test shows creeping decline in performance
The verdict on AVG PC TuneUp
In our AVG PC TuneUp test, we were able to take a very close look at this program from all sides. We noticed some advantageous aspects, but also increasingly weak points.
The use of AVG PC TuneUp makes sense for all those who have not dealt with Windows in depth and do not want to either. Because actually Windows already offers all functionsto optimize processes. In order to start optimizing yourself, however, you need a little specialist knowledge.
If this is not the case, then AVG PC TuneUp is a good alternative, but not the best. Because this cleaner takes care of the maintenance of the computer independently, takes care of the performance optimization and contributes to the protection of identity in the online world.
We recommend better than AVG
Norton Utilities
to use, here you get
more performance and a better overall package
at a comparable price and one license for 3 devices.
Best TuneUp provider

Excellent provider: Known and loved worldwide
Extensive functions: Optimization, acceleration, storage space expansion, secure disposal of confidential documents, and much more.
High usability: Automatic maintenance & 1-click optimization