Do you want to host your own game server? We'll show you how to do it! PC games are becoming more and more popular with Germans and in the meantime the demand for a good game server host is also washing away with us. The first German providers already exist. In this article, we explain how you can easily operate your own game server with Zap-Hosting, a game server hosting provider based in Germany.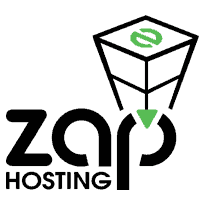 By the way, if you want to know whether zap hosting is worthwhile for you too, just have a look at ours detailed test on this subject. There we will explain all the advantages and disadvantages of Zap hosting to you. It is important to mention that in this article we are not explaining traditional web hosting for your own homepage, for example, but only special game server hosting. So if you want to learn how to create and host your own homepage instead, this is what you can find here .
Content
Game overview - All game servers from Zap-Hosting
Before we explain to you how to host a game server at Zap-Hosting, it is of course important to know what kind of game servers are offered, but don't worry, as you can see the list is very long!
7 Days to Die
Argon
ARK
Arma 3
Arma II DayZ Mod
Assetto Corsa
Assetto Corsa Competizione
ASTRONER
AT launcher
Atlas
Motorist 2
Airplane
Barotrauma
Battalion 1944
Beasts of Bermuda
blackwake
Broken protocol
Cardboard Wars
Cardlife
Citadel: Forged With Fire
Colony survival
Conan Exiles
Contagion
Counter-Strike
CryoCase
CryoFall starting at 6.90 €
Curse/Twitch
Darco - Reign of Elements
Dark and Light
Day of Dragons
Day of Infamy
DayZ
dead matter
dead side
Don't Starve Together
Eco - Global Survival
empyrion
Factor
Fear the Night
Feed the Beast
FIVE
Garry's Mod
Half-Life
Heat
Hell Let Loose
Hellion
Holdfast: Nations At War
Hurtworld
Hytale
Insurgency
Insurgency: Sandstorm
Iron Armada
Journey of Life
Killing Floor 2
Last oasis
Left 4 Dead 2
Life in the Woods
Life is feudal
Mindtry
Minecraft
Minecraft adventures
Minecraft minigames
Twink
Miscreated
mordhau
Mount & Blade
MTA (Multi Theft Auto)
Murderous pursuits
Never split the party
No More Rooms In Hell
OHOL Dev
One Hour One Life
Onset
OpenTTD
Outlaws of the Old West
Outpost Zero
pantropy
PavlovVR
PixARK
Portal Knights
Post Scriptum
PostScript (Windows)
Project Cars
Project Zomboid
Reign of Kings
makes
Rising Storm 2: Green Army Men
Rising Storm 2: Vietnam
Rising World
Risk of Rain 2
ROKH
Runes 2
Rust
SCP: Secret Laboratory
SCUM
Soldier
2 Soldier
Space Engineers
Spirit Animal Survival
Squad
Starbound
Starmade
Stationeers
stackel
Stormworks
Survive the nights
Team Fortress 2 (Windows)
Technic launcher
teeworlds
Terraria
The Isle
The Mean Greens
Tower Unit
unturned
valheim
Vanguard: Normandy 1944
Vintage story
Voids Wrath Launcher
Warhammer: Vermintide 2
World War 3
Wreckfest
Worm Unlimited
XERA Survival
ylands
Ymir 126
Registration with Zap hosting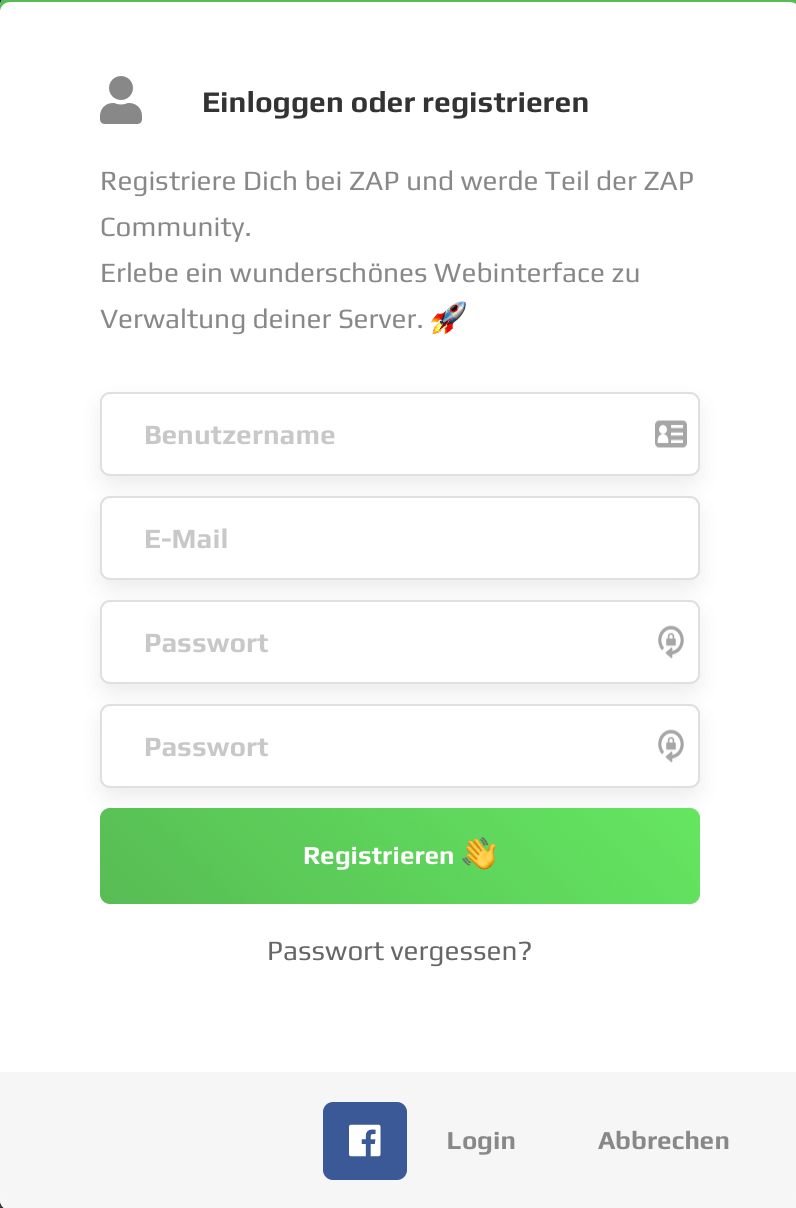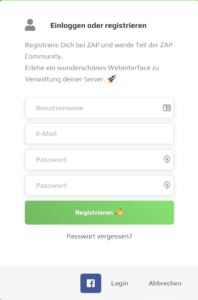 We hope you find what you've been looking for in this list! So now enough foreword, let's get started! If you want to host a game server via Zap hosting, you will of course first need an account. Fortunately, this is very easy with Zap hosting. Simply register directly on the provider's website. All you need is a username, email and password. It couldn't be easier! Alternatively, you can also register directly with your Facebook login information. Once you have entered your information, you will receive an activation code by email within a few seconds. As soon as you have entered this in the field provided, you are almost done with the government of your account. Finally, Zap-Hosting asks you for your date of birth so that it can send you vouchers. But don't worry, you can just skip this field if you want.
Zap hosting web interface
If you have successfully registered, you will land in the web interface of Zap-Hosting. Here you will find some information and setting options for your account, as well as an overview of all game servers, Teamspeak servers, domains and much more that you have purchased. The web interface only becomes interesting when you have bought a game server, which then gives you the opportunity to make various settings here. You can also buy a game server via this web interface. Simply click on "My Game Servers" first and then on the newly appeared + symbol. Once you have done that, you will be automatically forwarded to the Zap hosting ordering process.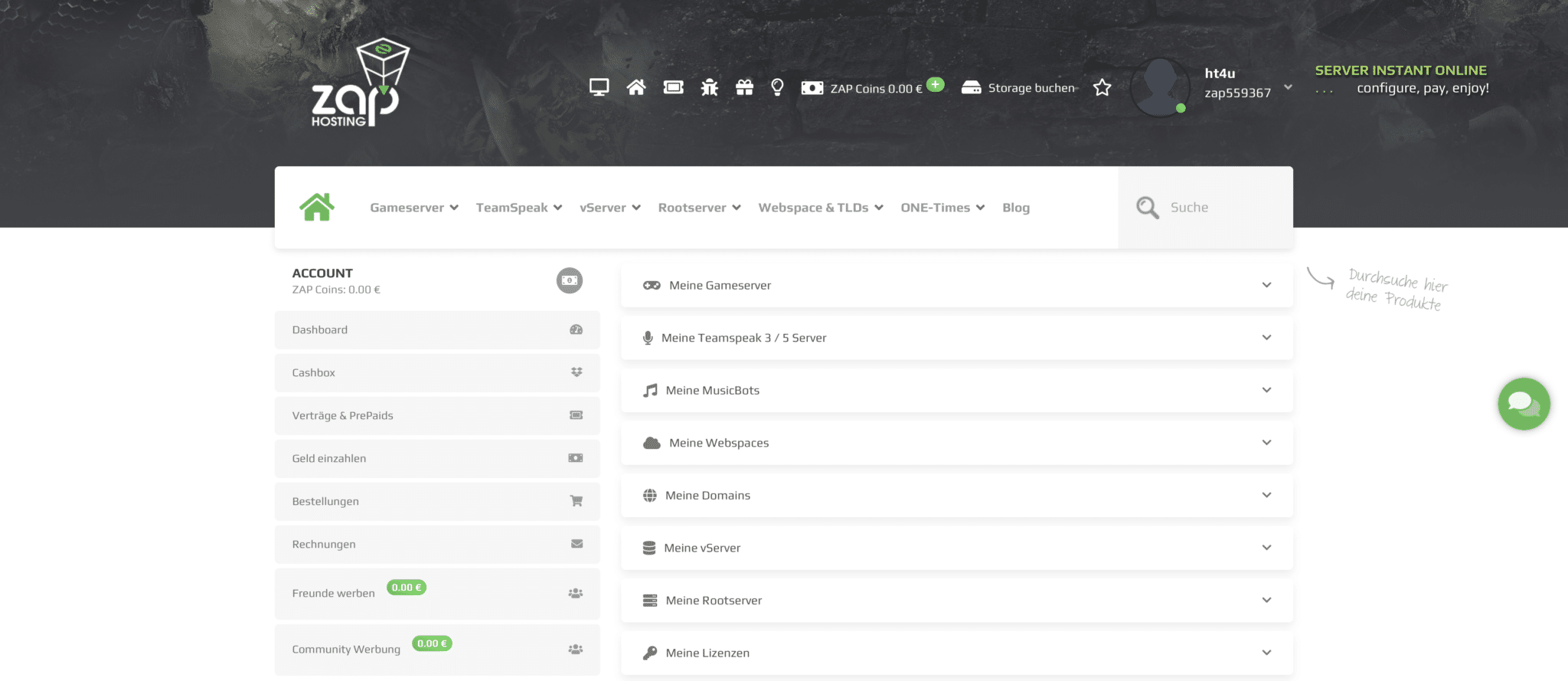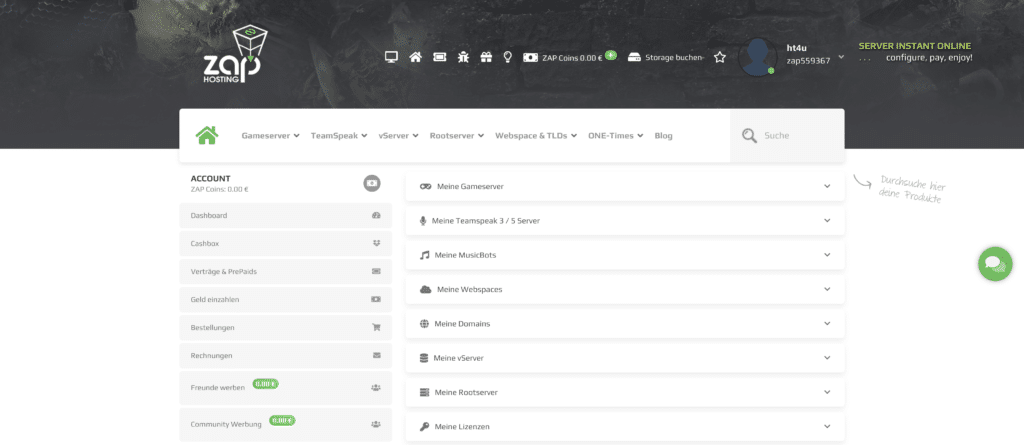 Host game server - order process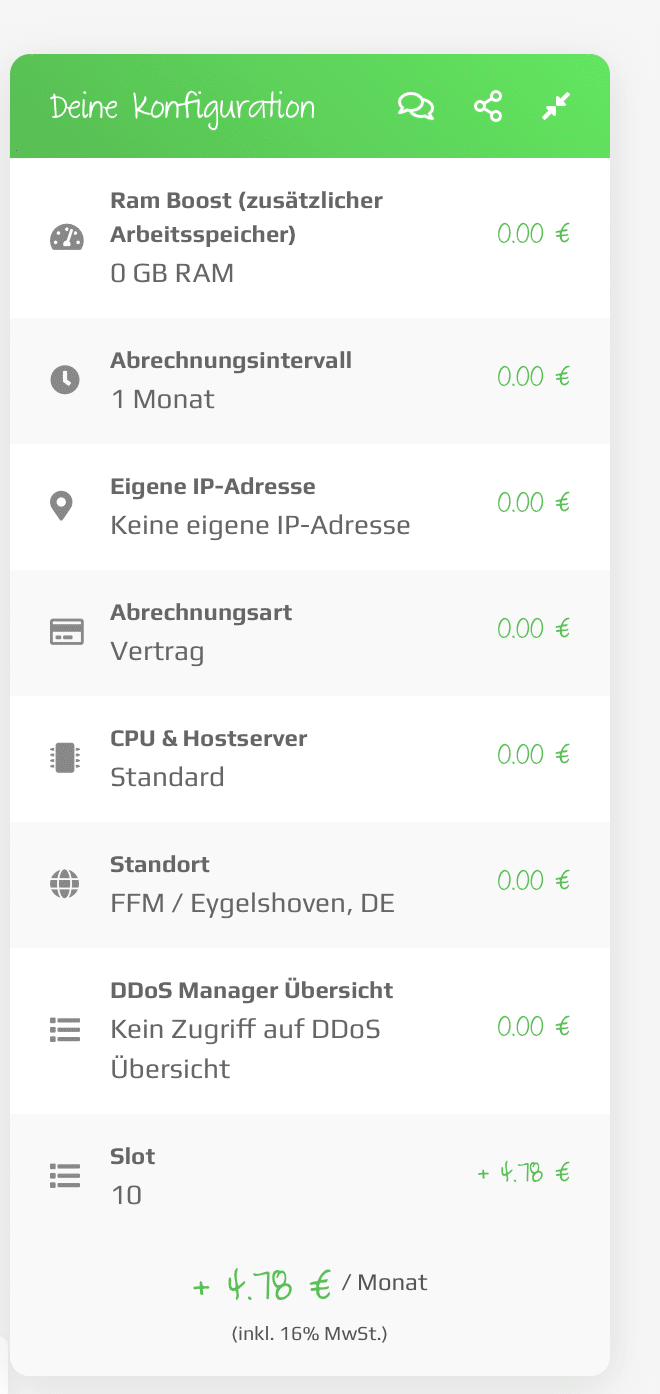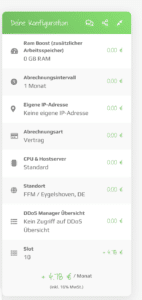 As already mentioned, you can now buy a variety of different hosting solutions from Zap-Hosting. In this guide, however, we focus exclusively on game server hosting. In our example we want to buy a very popular FiveM Mod for Windows. Zap-Hosting offers this from € 4,90 per month. You can either select the game server you want from the overview list, or use the search function to search for it directly. In our example, the FiveM Mod is right at the top among the bestsellers. If you click on the FiveM Mod, you will be redirected to the order overview.
Here you have the opportunity to opt for a FiveM Mod Linux server as an alternative. In fact, Zap hosting even has a small info box that advises us to use a Linux server because they are much more stable and JSON errors are less common. Well, let's switch to a FiveM Mod Linux game server.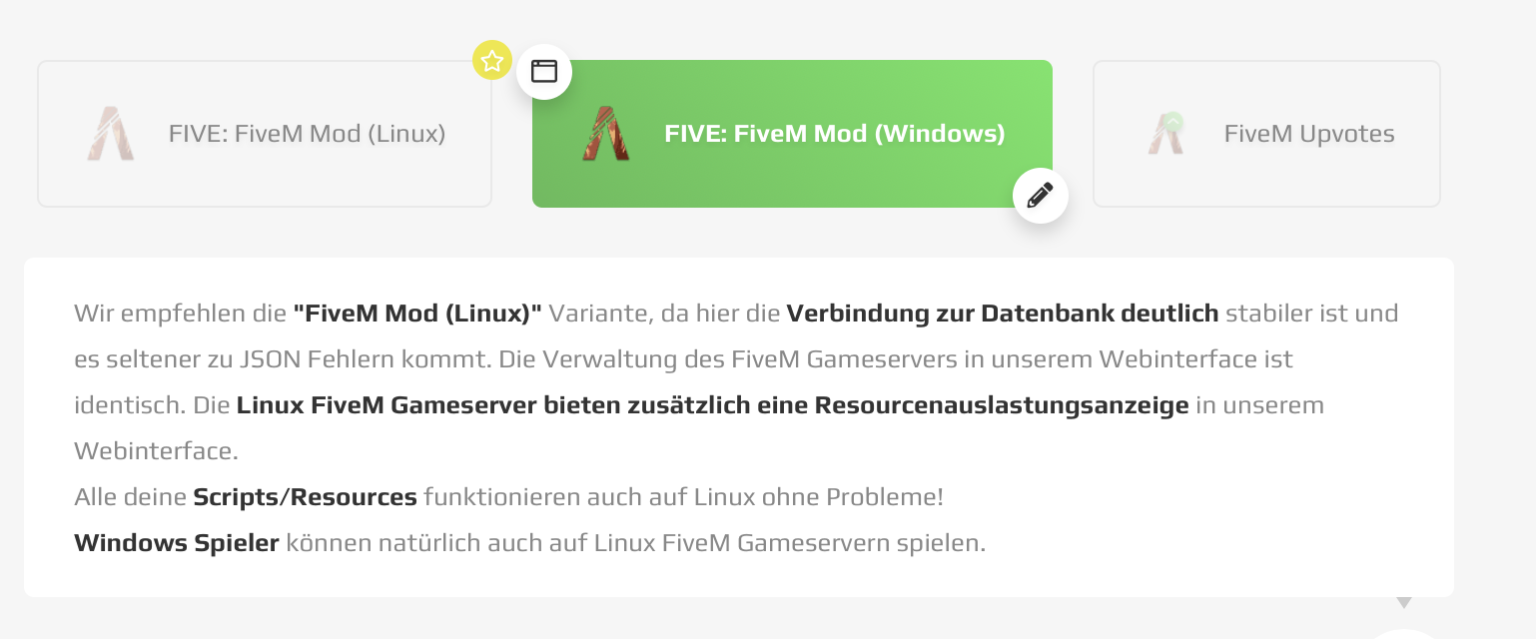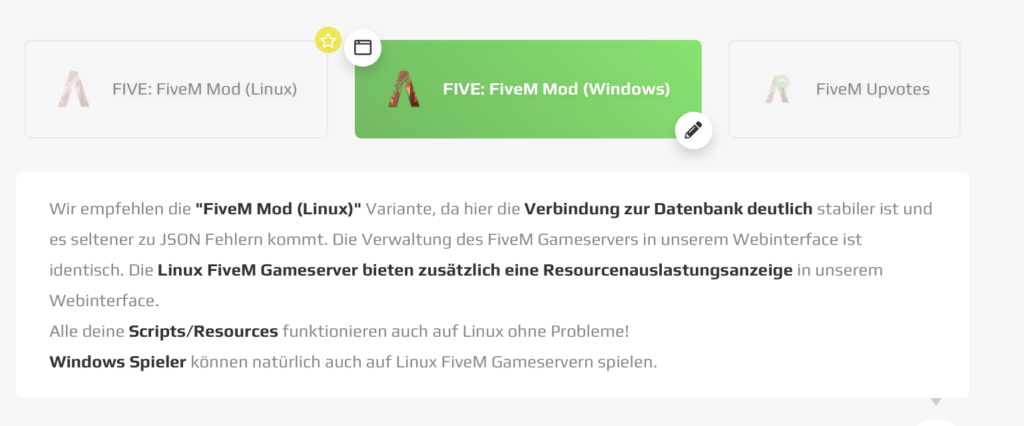 On the right side of your screen you can see a very useful overview of your current order process at Zap-Hosting. There you can see the most important information about the configuration of your game server, as well as the current euro price per month.
Host game servers - server locations
The first choice you have to make during the ordering process is the server location. A total of 9 server locations are available with Zap hosting: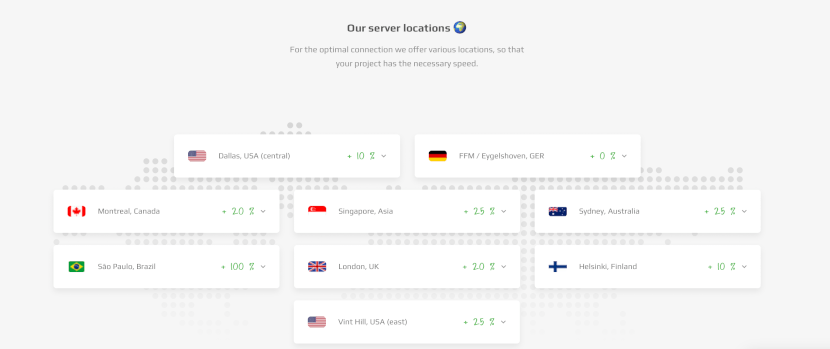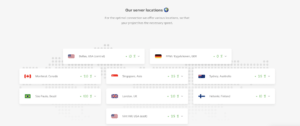 Dallas, USA (Central)
Eygelshoven, Germany
Montreal, Canada
Sao Paulo, Brazil
Singapore, Singapore
London, United Kingdom
Sydney, Australia
Helsinki, Finland
Vint Hill, USA (East Coast)
The servers in Germany are the cheapest. Foreign servers, especially Brazil, cost a% surcharge on your total price. The concept of a% surcharge is increasingly found in the ordering process with Zap-Hosting. So if you want to host a German game server, Zap hosting is a good and cheap choice.
Host game server - server configuration
Once you have chosen a server location, there are a total of five different settings that you can make for your game server.
Important Information: If you are theoretically satisfied with all the Zap hosting presets, you could go straight to the payment process. In this case, your FiveM Mod would actually only cost you €4,78 per month. This corresponds to the price promised by Zap-Hosting "from €4,90 per month" in the order overview. The slightly lower price is due to the current VAT reduction due to the corona virus.
Gameserver slot
This configuration is very simple. It shows how many slots your game server has, i.e. how many players can play on it at the same time. This configuration is also the only one that you really absolutely need for your game server. With Zap hosting, more slots automatically come with more RAM. The default setting for a FiveM Mod Linux server is 10 slots with 1024 MB RAM included. The price for this is currently € 4,78 per month.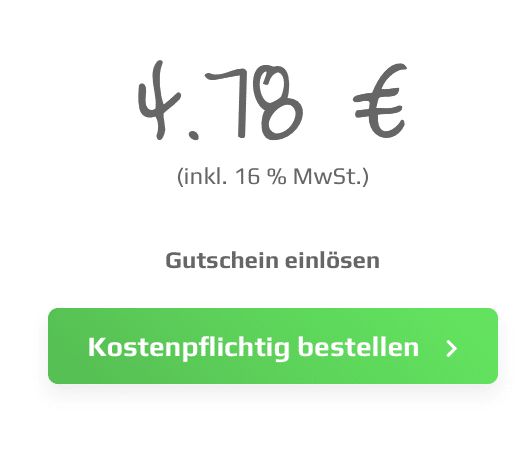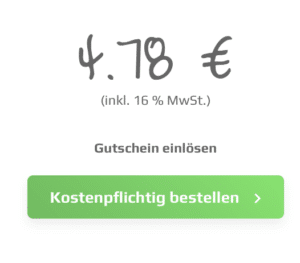 For a FiveM Mod Linux server, the maximum number of slots for Zap hosting is 128 by the way. However, you cannot easily book the 128 slot option because you need a FiveM Patreon membership for this. Since we do not have a FiveM Patreon membership, we are satisfied with 32 slots. This is the highest possible number of slots that are possible with a FiveM server without Patreon membership. With Zap hosting, these cost € 10,24 per month and include 3276,9 MB RAM.
RAM Boost
With Zap-Hosting you can book additional RAM in addition to the RAM already contained in your game server slot configuration. You can choose between 1 GB RAM for 2,34 € per month up to 16 GB RAM for 37,43 € per month. You need additional RAM, for example, if you plan to install a large number of mods & plug-ins on your game server. Otherwise, the RAM that Zap-Hosting provides for free, depending on the number of slots, is sufficient.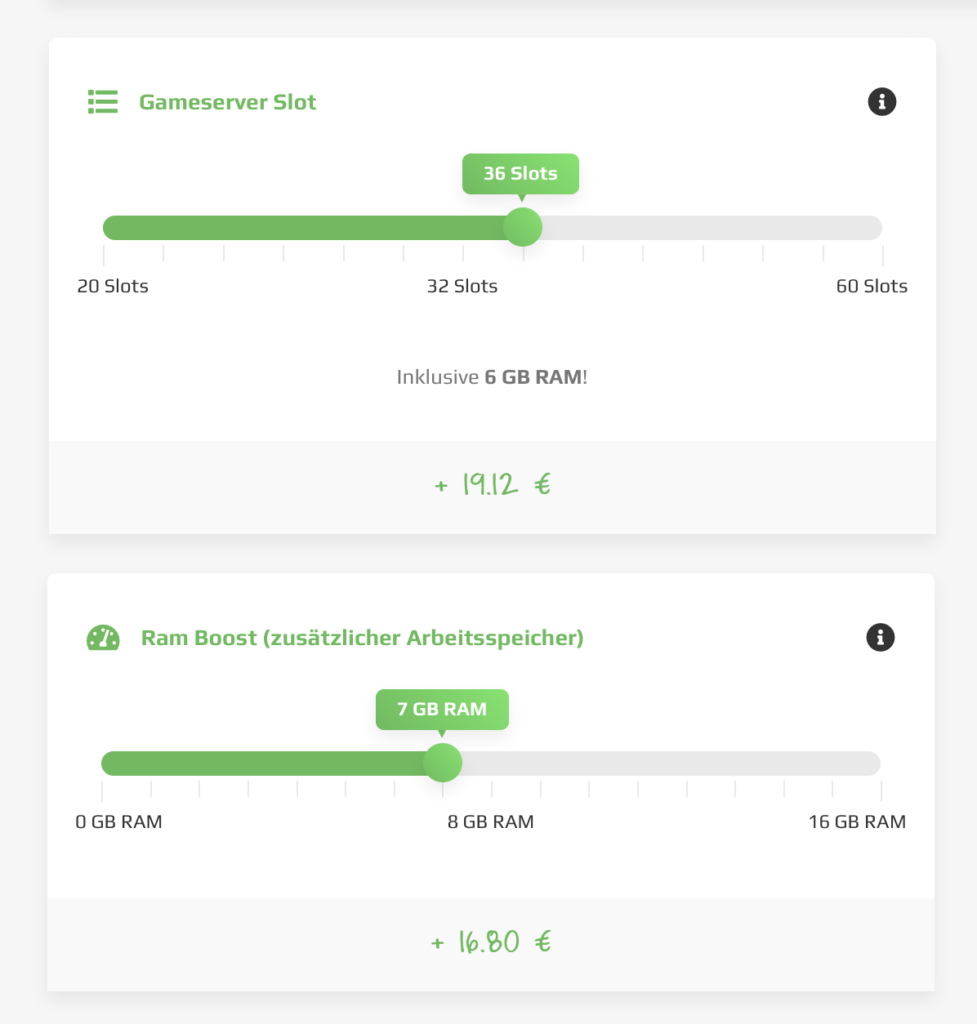 CPU & host server
There are only two choices here: Standard and Premium. For Premium, your price (regardless of the configuration) increases by 100%. Zap hosting promises to keep premium server utilization below 40%. Unfortunately, Zap-Hosting does not give the exact technical details, but promises "extremely fast SSD" and a "high CPU clock rate".
Own IP address
The last option is whether you want to have your own IPv4 address for your game server. This costs € 2,92 more per month. A separate IPv4 address should, for example, improve the DDoS protection on your game server.
DDoS Manager overview
For €0,97 per month you can book an "Access to DDoS overview". However, you can only book this if you have previously selected "No own IP address".
Host game server - payment process
If you are satisfied with the settings of your game server, you can start the payment process. Here you can choose between prepaid or contract for the billing type. For prepaid you pay a surcharge of 10%, but there is no minimum contract period. You can also freely choose the billing intervals for Zap-Hosting. You have the choice between at least 7 days (+ 20% surcharge) up to 5 years (-40% price reduction). Hardly any other provider offers so much freedom! Another particularly positive aspect is the large selection of payment options. You can choose between pretty much everyone, whether Bitcoin, the in-house ZAP Coins, credit card, PayPal or various payment services such as paysafecard and EPS. By the way, regardless of the payment option, you always pay the same price.


Before you complete the payment, you will receive another overview of the configuration of your game server and the monthly costs for it. Overall, everything seems very transparent and clear. Once you have completed the payment process, that's it - you are now the proud owner of your own game server!
Zap One Time
A special option in Zap hosting that we would like to mention briefly are the so-called "ZAP One-Times". Unfortunately, this option is not available on FiveM servers, but on the very popular Minecraft servers, for example. ZAP One-Times allows you to pay only once for certain products and get your own game server for life. This option is significantly cheaper than a monthly fee, especially over a long period of time.


Go online with your game server
As soon as you have completed your ordering process, you can return to the Zap-Hosting web interface. There you now have a very good overview of all the important information about your game server. So you can see here whether your server is online, what its IP address is and you can also make settings here, such as changing the name of your game server.
Common questions about hosting game servers
Which is the best game server hosting provider?
Zap hosting. Zap-Hosting has existed as a company since 2010 and has been offering reliable game servers ever since. The German company currently has 4.6 / 5 stars on Trustpilot.
How expensive is a game server?
Game servers aren't expensive. Game servers are completely freely configurable for zap hosting, for example. So you can determine the price yourself. If you choose a very cheap server with a few slots, it will sometimes only cost you € 3,90 per month. If you want high-end technology and as many slots as possible, you pay several hundred euros per month.
Does Zap hosting have a money back guarantee?
No. However, you can cancel most plans on a monthly basis, which means the risk for you is relatively low.
How do I know which configuration I need for my game server?
With Zap hosting you will receive helpful information when configuring your server, such as a note about the minimum requirements your game server needs. This is especially helpful for beginners.
Does Zap hosting have a good user interface?
Yes. Zap hosting has a very clear and well structured web interface that helps you with the settings of your server.
Do I have to pay game server monthly?
Most of the time yes. Zap One-Time is an exception. This is a special option with the game server provider Zap-Hosting, paying for certain products, for example Minecraft game servers, only once and receiving your own game server for life. Especially over a long period of time, this is significantly cheaper than paying a monthly fee for your game server.
Where can I find German game servers?
With a German provider like Zap-Hosting. The server location Germany is currently the cheapest there.
Do I need DDoS protection for my game server?
Yes. If you want to host a game server, it should have good DDoS protection. It is best to find out from your hosting provider whether this is included in the price.