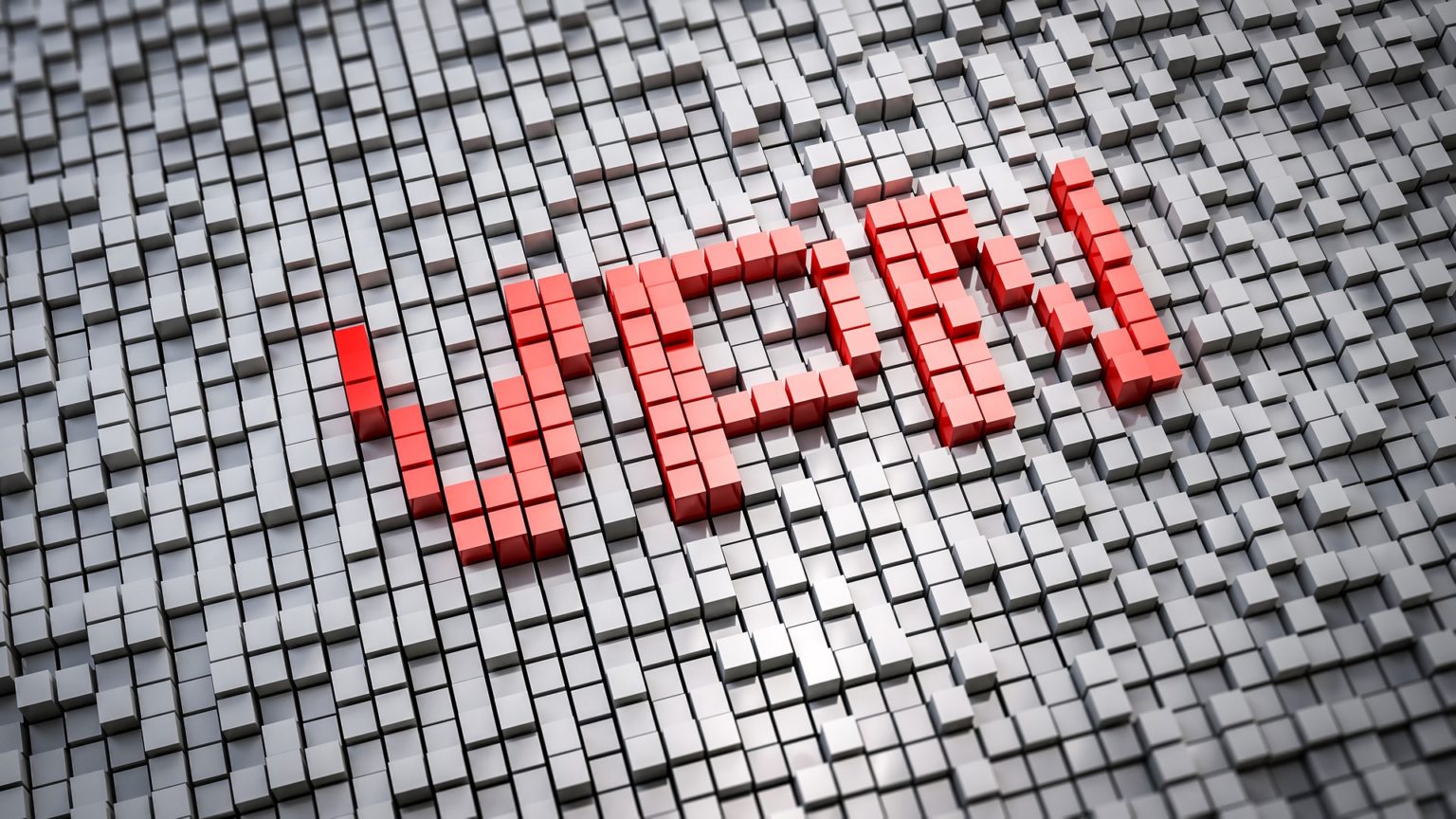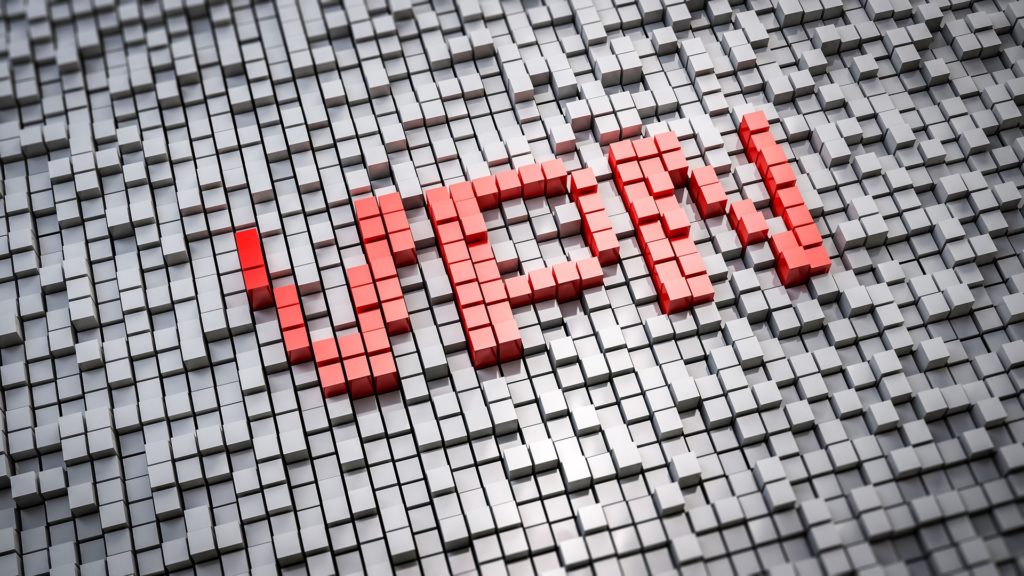 As an internet user, you certainly already have VPNs heard. Especially in times when your own Privacy and the Privacy Policy play an increasingly important role, many have become aware of the dangers of the Internet. And we are repeatedly made aware of this in the media and social networks. Whether that's attacks from cybercriminals are, Malwarethat can cause significant damage to the computer or that Publication and dissemination of your own data to third parties. The internet is no longer a safe place. It is all the more important to deal with this topic - so one primarily asks: What is VPN?
A VPN may seem complicated at first if you haven't dealt with it before. However, the fact is that VPNs are quite easy to install and are to be used. When it comes to your own security and anonymity on the Internet, a VPN as standard equipment belong to your computer or cell phone. But what is a VPN actually? Wie funkktioniert es? Why do you need a VPN? These are the questions we deal with in this guide.
Content
Best VPN provider

Extensive server selection: 5800 VPN servers in 59 countries
Support of the most common operating systems: Windows, MacOS, iOS, Android, Linux
High security & anonymity: No log policy, kill switch, double VPN and much more.
Diverse functions: Streaming tools, P2P sharing and much more.
What is VPN?
A VPNOr Virtual Private Network, allows you to have a Establish a secure connection to the Internet via another network. VPNs are mainly used to run your own Privacy protect and surf the Internet anonymously, without leaving any traces. Furthermore, you can use a VPN to visit restricted or blocked websites, to use cross-border streaming services, or to keep your own surfing and purchasing behavior anonymous.
VPNs are becoming more popular with internet users these days, but not for the reason they were originally created for. The first VPNs were used to connect companies securely with one another or to establish a secure connection from home to the company network. This is still a great feature of VPNs, but more and more end users are using VPNs to protect their privacy.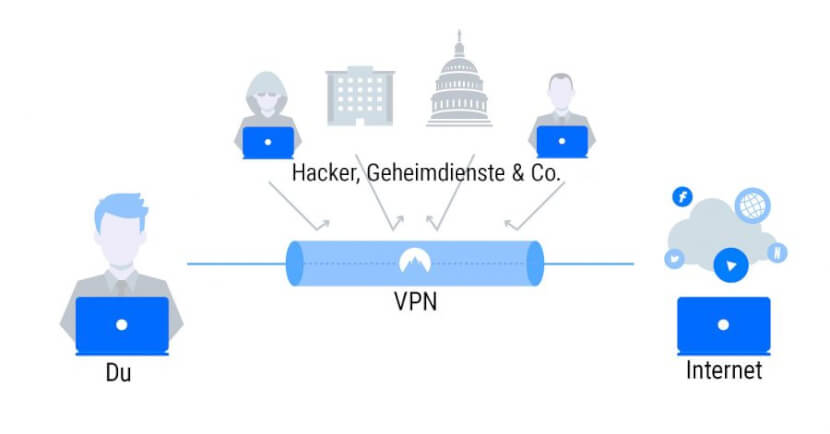 Every Internet user is assigned an IP address via his ISP (Internet Service Provider), at which he can normally be identified and recognized. A VPN server acts as it were as a middleman between your PC and the internet, your IP address is hidden. In addition, data that may be intercepted in the transmission process becomes illegible and uncontrollable until it has found its destination.
In short, all of your internet connections will be through one VPN tunnel through a secure network guided - and that is the greatest advantage. In this way, you can access content in the local network remotely and bypass censorship on the Internet.
Benefits of a VPN
Using a VPN has several advantages and is becoming increasingly popular with end users, especially when it comes to data protection and privacy.
Absolute anonymity and protection of your privacy
As soon as you connect to the Internet without a VPN, you reveal your data to third parties. With the help of your IP address, you can be clearly identified for other services, websites or even cybercriminals. Furthermore, your internet provider can track which websites you have visited at any time. Other websites can also use cookies to read your Internet activities and use them or sell them to third parties (for example to annoy you with annoying advertising).
With a VPN connection you stay anonymous and secure. It is important to choose a provider that not only hides your IP address, but also one strict no-log policy brings with it. In other words, not even your VPN provider stores your data, surfing or buying behavior.
Bypassing country blocks ("geoblocking")
Some websites are only accessible through IP addresses from the respective country. These are mostly streaming services, of course UAF YouTube Videos or content from international news agencies. By selecting a specific location, you can access websites that may be in your country blocked are. It is important to choose a provider who also offers servers in the desired target country. Thanks to a VPN connection, you also have the option of Streaming provider that are only available in other countries. For example, you can use a VPN for Netflix here. .
Protect your sensitive data
A VPN guarantees that your passwords, login details and banking information are protected. These remain encrypted and secret after a VPN connection is established. If you don't use an encrypted connection and make purchases, log into social networks or fill out forms, all of this information can be intercepted by hackers.
If you are in public WiFi networks log in, you should definitely use a VPN - these networks are often insecure and just out to get their hands on your data.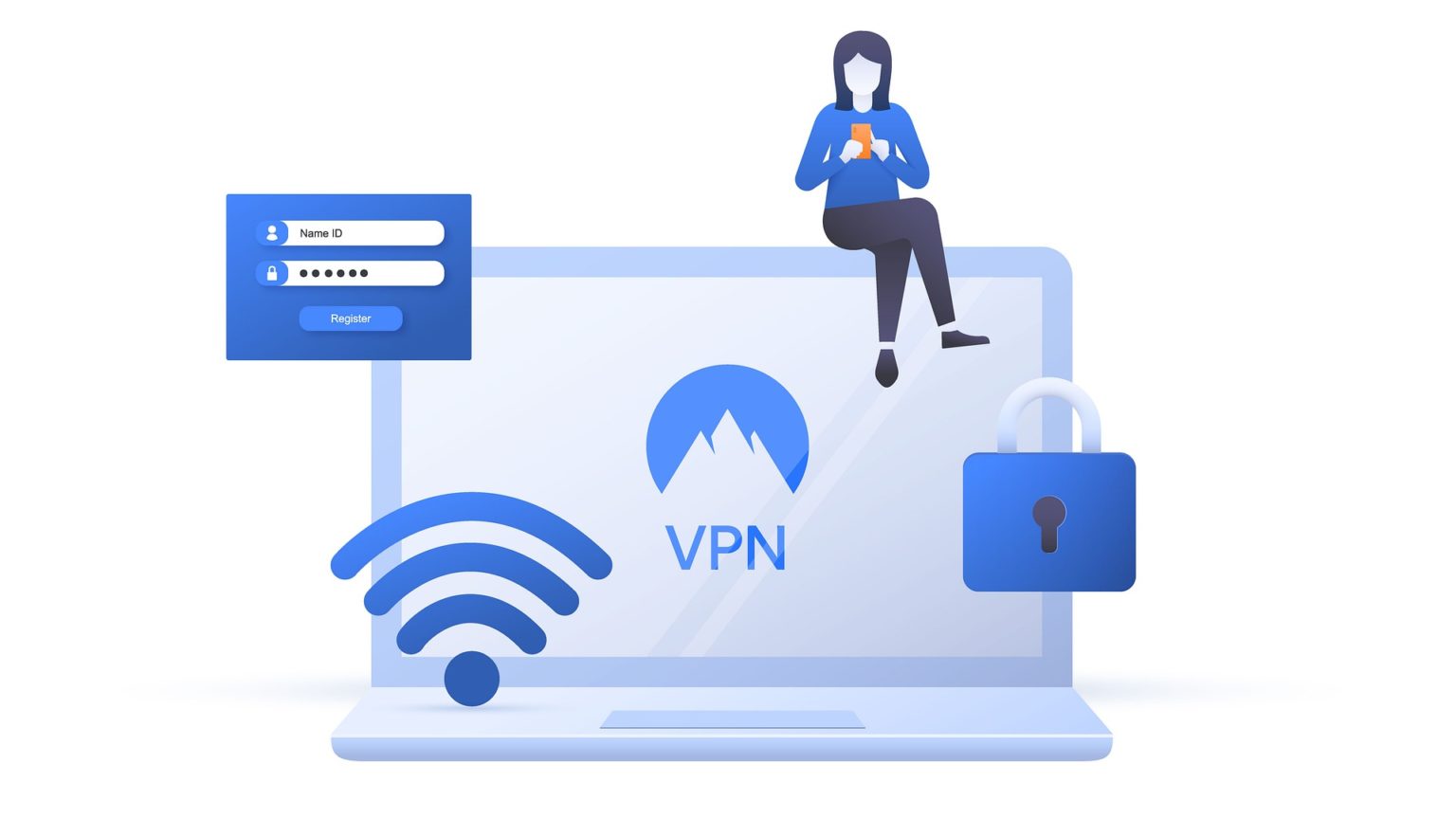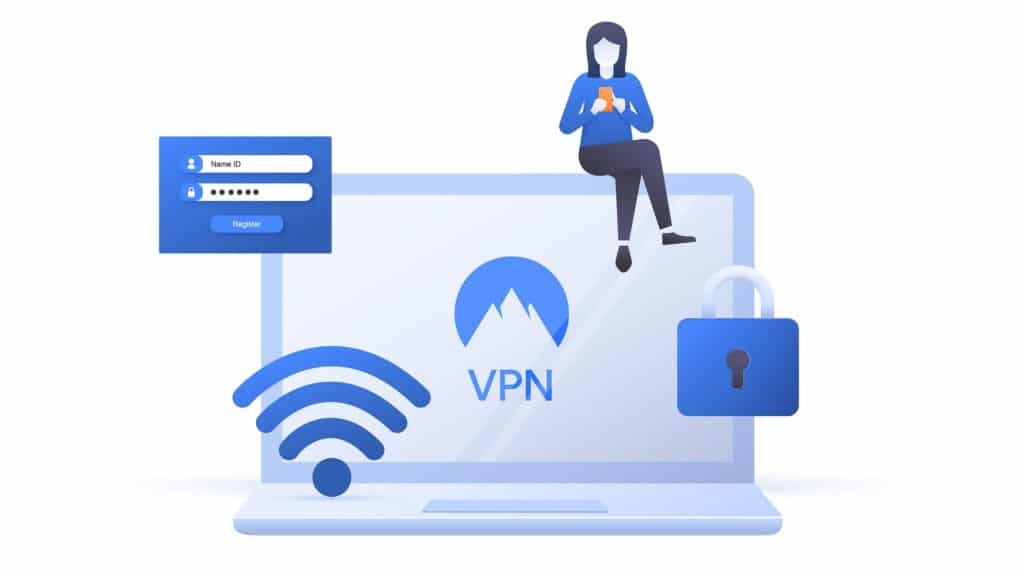 Cons of a VPN
A VPN connection can also have disadvantages. Thanks to the constant updates of the VPN software, security gaps, bugs and general errors are often eliminated very quickly. However, the following problems can arise:
Slow speed
This could either be because the server you selected too many connections has or too far away is. Also check your regular internet connection and test yours Internet speed without a VPN. If this is slower than usual, the speed with VPN will also be slow. This often helps here Reboot your router and I baked the Clean up your computer (by clearing your internet history, cache and cookies).
Not all devices support VPN
Before you decide on a VPN service, check whether your end devices support VPN. If you have devices that don't support VPN, you can still set up a VPN service on your router or get a VPN router. How you do it, we have here. put under the microscope for you.
VPN services cost money
If you don't want to compromise on speed and security, you should use a paid provider. Free VPN services often reduce speed and data volume. Furthermore, free VPN providers often use insecure protocols. However, if you are interested in a free VPN provider, we have it here. tested the best providers for you.
Most premium VPN providers now offer a wide range of servers, high speeds, and high-grade security protocols. Accordingly, you enjoy with providers like UltraVPN, NordVPNOr CyberGhost all the advantages of a VPN.
What does a VPN connection work?
To set up a VPN connection, you first have to choose a VPN provider. Which provider meets your requirements is entirely up to you. We have tested the best VPN providers for you, you can find out more here. read.
So that you can visualize it: This is what your connection to the Internet looks like when you no VPN used:

All your data, inclusive IP address, location, surfing and purchasing behavior are therefore for your ISP (Internet Service Provider) and third party providers visible. Many websites save your data and sell it to other websites and services. Depending on which website you visit, leave most of them behind Cookies, and these are exchanged with other servers. This means that you will receive, for example, advertising about products that interest you or that you have been looking for. That sounds great, but it's a Invasion of your privacy. Even with online banking, e-mails and sensitive data, a connection without a VPN can be tricky - and in the worst case, it can lead to cyber criminals accessing your data.
So in order to protect your privacy and your data, you should definitely use a VPN. Your connection to a VPN service would then look like this:


If you use a VPN service, you will all your data encrypted to your ISP and then to a VPN server. And this VPN server then connects you to the internet. This will protect you and your data, because:
Websites only see the VPN server and the IP address that your VPN server gave you - and not your actual IP address
Third parties cannot (simply) identify you or see what you are doing exactly (which websites you have visited, which data you have transferred, etc.)
Your connection to the VPN server is encrypted - So if someone should see your data transfers and your surfing behavior, they can only be seen in encrypted form
As you can see, a VPN connection is much more secure than if you were to connect to the Internet without a VPN.
How safe is a VPN?
One of the most important factors for a VPN is of course its security. As already mentioned, the encryption must work with a VPN connection. All VPN providers encrypt their users' data, but they use it different protocols:
PPTP L2TP / IPSecSSTPIKEv2OpenVPN
This protocol is one of the oldest protocols in existence and was originally developed for Microsoft. This protocol is particularly popular among Windows users, but is less secure by today's standards. VPN services that only use this protocol should therefore be avoided.
This is a combination of PPTP and Cisco's L2F protocol. The execution is solid because the data is encrypted at both end nodes, but the execution of the protocol is not secure enough.
This is another protocol developed for Microsoft. The connection is established with SSL / TLS encryption (which is the standard encryption of websites nowadays anyway). This protocol is particularly useful for companies with Microsoft devices, as it also allows remote access to the company network.
Another Microsoft protocol that is far more secure than its predecessor. It is one of the newest protocols that offers the best security - but at a very high cost.
OpenVPN with TCP and UDP is the best protocol when it comes to price-performance ratio. Since this protocol is open source, it is constantly being further developed and can offer the highest level of security at the best possible speed.
So when it comes to the security of a VPN, one should always make sure to choose a provider that SSTP and OpenVPN unterstützt.
How do I set up a VPN?
You have two options here: Either installing a software / app or setting up a browser plug-in.
Install VPN software
Setting up a VPN is quick and easy with most providers. When you have decided on a provider, you register and then download the respective software. After logging in, you can then choose a server and connect. We'll explain how to set up a VPN in this one Article. Most VPN providers also support use with one Router. If you have a macOS device, you can here. find detailed instructions. You also have the option of equipping your smartphone or tablet with a VPN, regardless of whether you Android or iOS used.
VPN browser plugins
Another very common solution is to use a VPN service with your own browser plug-in. Most providers support this Chrome or Mozilla Firefox. These plugins can also be installed via the VPN provider's website, once you have to log in with your personal user data. How to install a plugin, we have in this one Instructions exactly described.
Which VPN software is the best for me?
Which VPN service you ultimately choose depends on many factors, including:
Speed
Number and location of servers
Security & data protection
Supported devices & operating systems
Streaming and peer-to-peer functions
Price-performance ratio
We have already tested the most common VPN providers for you and have found a clear test winner regardless of the device or operating system: UltraVPN. This is a solid, fast, and secure provider that you can't go wrong with. UltraVPN offers you a large number of servers, a high level of security and at a very fair price. In our test, however, we also put other providers to the test. Click here see the best VPN providers in comparison.
Summary
Nowadays, anyone who wants to surf the Internet securely without revealing their data cannot avoid a VPN. This is how you can prevent revealing your identity on the Internet and prevent sensitive data from falling into the wrong hands. However, you should find out in advance which VPN service is best for your own needs is. If you want to enjoy all-round protection at a fair price, we recommend UltraVPN. This provider convinced us in full length for all operating systems. But we can warmly recommend other providers as well.
FAQs
Am I 100% anonymous with a VPN?
Despite the constantly improving technologies, you cannot guarantee 100% anonymity despite a VPN. However, security and data protection are guaranteed with a VPN. If you really want to be on the safe side, you can share a VPN with Tor.
Can I set up a VPN even as a beginner?
Yes! Whether you're a beginner or an expert in network security, setting up a VPN is easy and straightforward. You have to be a pro to install a VPN. Just follow the instructions of the desired provider.
Is a VPN legal?
In countries like North Korea or Iraq, VPNs are illegal to circumvent censorship. In other countries, such as Russia or China, you can use them if the VPN provider has a license from the government. However, in all other countries, including Germany, using a VPN is completely legal.