GoDaddy has been one of the biggest names in web hosting, domain registration, and online marketing for decades. GoDaddy offers a variety of services to meet all of your internet needs.


If you already have our comparison of the best web hosting Know your provider, you know GoDaddy is a great choice. The company offers everything you could wish for. Whether shared web hosting, VPS web hosting, dedicated web hosting or WordPress web hosting.
Contents
What hosting services does GoDaddy offer?
Finding the right web host for your needs is important. However, the respective web hosting services and providers differ greatly. Shared web hosting is often much cheaper but less powerful than dedicated web hosting. GoDaddy offers a variety of web hosting products, which we will now take a closer look at.
Shared web hosting
If you don't want to spend a lot of money on web hosting, shared hosting is the right choice. This form of cheap web hosting places your website on a server with other websites. This means that your website shares the server resources with others, but also the costs. However, since the websites share the server, they compete for resources.
GoDaddy has a number of shared Linux or Windows-based servers. The different shared hosting plans at GoDaddy indicate exactly how much storage space you get.
In general, however, we like the shared web hosting offers from SiteGround significantly better than GoDaddy's in our review.
VPS web hosting
VPS (Virutal Private Server Hosting) means you pay for storage space on a shared server, similar to shared web hosting. The difference with VPS web hosting is that your website is virtually separate from the other websites on the same server. With VPS web hosting, there is less competition for server resources. At GoDaddy, these plans start at just $ 19,99 a month.
Dedicated web hosting
If your website requires a lot of system resources, dedicated web hosting is the best choice. With dedicated hosting, your website is on its own server and uses the entire performance of the server. GoDaddy's dedicated servers are available in Linux or Windows configurations and start at $ 89,99 per month. As you can easily see, dedicated web hosting is significantly more expensive than shared or VPS web hosting.
WordPress webhosting
GoDaddy offers both managed and unmanaged WordPress web hosting. With managed WordPress web hosting, you give up a little control and let GoDaddy's staff take care of server security and updates. The prices for managed or unmanaged WordPress web hosting servers are the same. The managed servers are particularly interesting at GoDaddy because they get thousands of WordPress themes and plug-ins as a little extra, as well as nightly backups and automatic WordPress software updates.
If you already know that you are looking for WordPress web hosting, we recommend that you Kinsta to take a closer look. Kinsta as a company specializes in WordPress web hosting and convinces us more than GoDaddy for WordPress hosting.
Benefits of GoDaddy web hosting
As a veteran among web hosting providers, GoDaddy has many advantages that we learned to appreciate in our test. You can find out which advantages we particularly liked here.
High speeds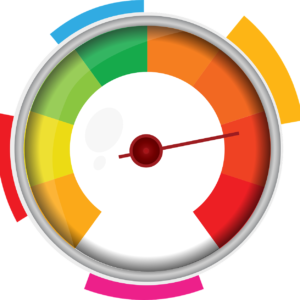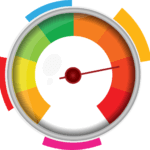 First things first: GoDaddy's websites load quickly. No matter which hosting option you choose, in our test the average loading time from GoDaddy was 890 ms, i.e. less than a second. However, other providers like Kinsta and SitegGound are a bit faster.
The speed of your website influences both your search engine ranking (SEO) and the satisfaction of your customers. These are two extremely important factors if you are to host a successful website. Especially if you want to generate income through them. In fact, an analysis by Google shows that 53% of all users leave your website if it does not load within 3 seconds.
If you have a website with a lot of media files such as pictures or videos, the loading time can quickly become significantly slower. So make sure that your images are always compressed and use a content delivery network (CDN) if possible.
User-friendly operation
Choosing your hosting plan is very easy with GoDaddy. You simply select the plan you want and all the add-ons that are of interest to you. The only add-on selected by default is website backup. A couple of add-ons that we recommend are site security and an SSL certificate for HTTPS.
After your package has been set up, you will be taken to a simplified interface. From here you can set up your email address, create a website and access the cPanel control panel of your website. Everything in this area of ​​the website is very clean and simple, and is ideal for new users.

Once you get into the cPanel area things get a little more confusing. Unfortunately, GoDaddy still uses the classic cPanel, which new users often take getting used to. Nevertheless, the design is clearly understandable after a few minutes of getting used to it. You can also see interesting statistics for your website here. Such as data usage, available storage and much more.
GoDaddy also has its own drag and drop website builder. This is clearly understandable and guides you through the creation process. It's an excellent tool for beginners who want to create their first website. Unfortunately, in his role he is like other providers Wix very limited.
Strong uptime
The availability of your website is one of the most important aspects of a hosting company. If your website is not available, customers will not be able to find it or purchase products or services from it. The higher the uptime / availability, the better. The uptime of a good website should be at least 99.9 percent. A downtime of 99% versus 99.9 doesn't sound like a big difference at first. However, consider that calculated over a year, a downtime of 0.01% is approx. 53 minutes, while a downtime of 0.1% is 8,5 hours.
In our test, GoDaddy consistently offers very good uptime values. In fact, there has hardly been a failure in the website we tested in the last few months. GoDaddy also offers a 99.9% uptime guarantee. If the uptime is below 99.9%, you will receive a 5% discount for this month. Unfortunately, compared to what other providers like SiteGround offer, 5% discount is relatively little.
Customer service
GoDaddy's customer service is satisfactory. Around the clock phone and live chat support is offered. In different tests, we called at different times and usually only waited a few minutes before speaking to a customer service representative.
During the same test, with the live chat, we had a greyed out chat window in some attempts, which indicates that all employees are currently busy.
Therefore, we liked the telephone support best in our test. In addition to the options to speak to customer service, there is also a sophisticated self-help program.
GoDaddy's Knowledge Center should be your first stop for any problem, and it has simple solutions to common problems.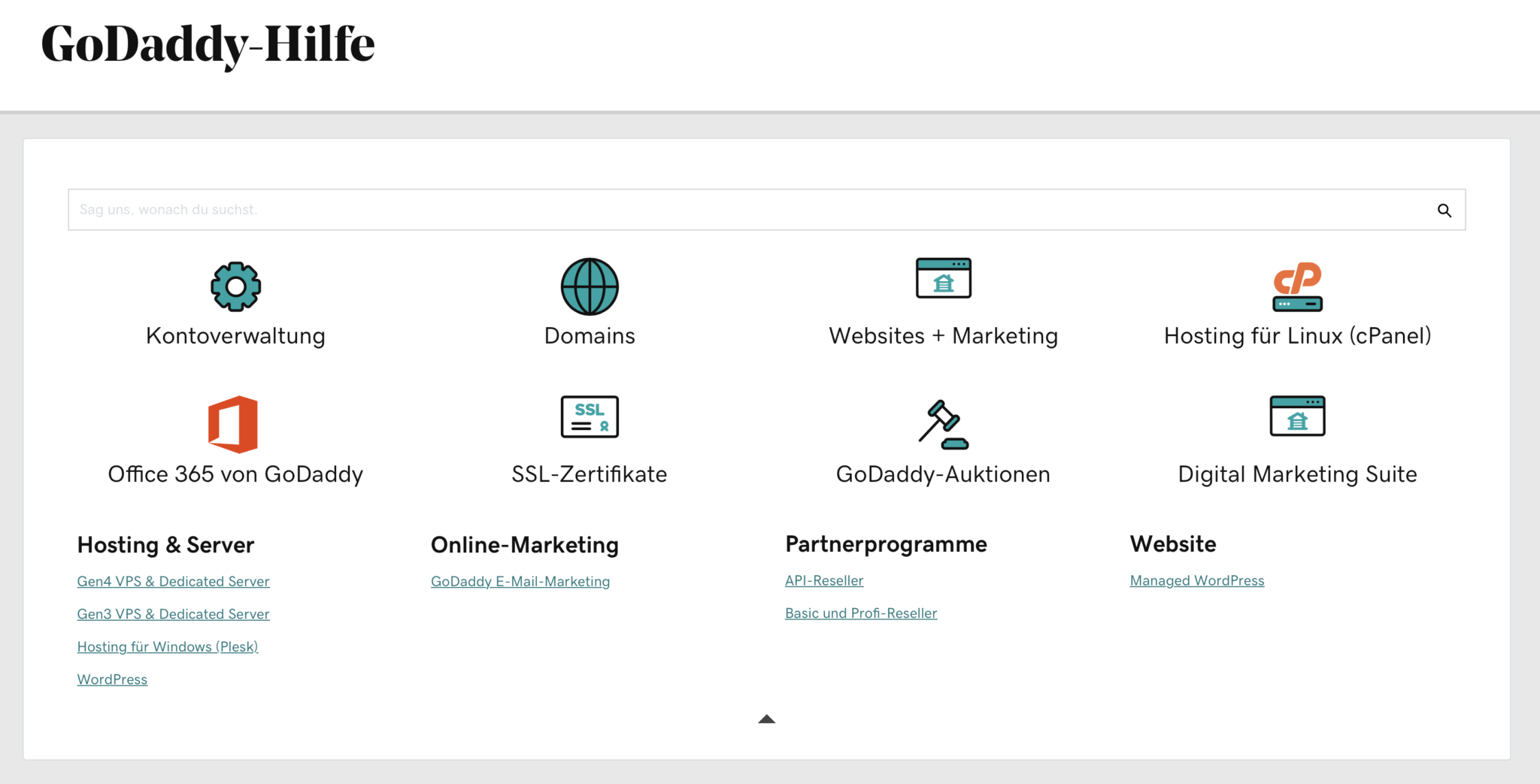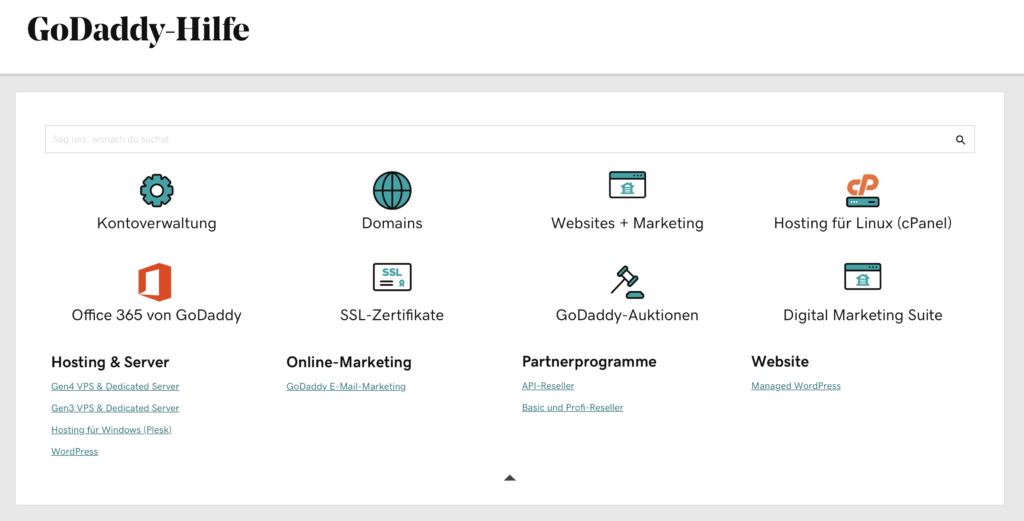 Typical problem categories include questions about domains, cPanel, account management and SSL certificates. After selecting the rough problem, GoDaddy will help drilldown until you find the article that is specific to your problem.
security features
GoDaddy offers its own website security service. According to GoDaddy, this includes automatic malware scanning, continuous security monitoring, a WAF (web application firewall) and a content delivery network (CDN).
The security functions are designed to proactively prevent malware and malicious code from reaching your website and actively protect you from DDoS (Distributed Denial of Service) attacks. If the security of your website is important to you, you can also purchase a Secure Sockets Layer certificate for $ 69,99 a year. This software is often found at financial service providers and is represented by a green lock in the web browser.
An SSL certificate is also included free of charge in many tariffs, at least for the first year. Google Chrome actively warns users if the website they are trying to reach does not have an SSL certificate set up. SSL protects all information sent between the user's device and the website, including personal information such as IP addresses or credit card numbers. Hence, this is where Chrome looks for the best interest of web users. In other words, that makes SSL certificates a basic requirement on all websites today.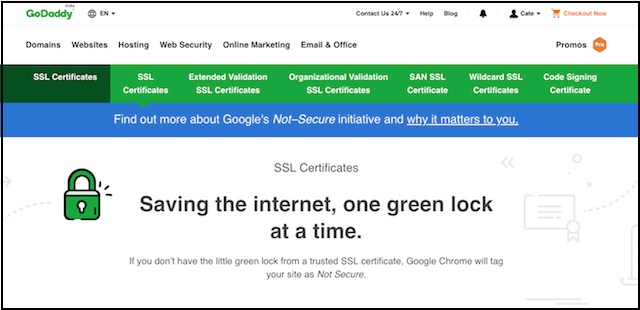 Refund warranty
GoDaddy offers a 45-day money-back guarantee. This is longer than the standard 30-day money-back guarantee from other providers. So if you're looking for a good web hosting provider, there's nothing wrong with trying GoDaddy and using the money-back guarantee in an emergency.
The most important functions
Similar to low-cost airlines, many providers seem very cheap at first glance, but then charge a lot of money for every little extra. GoDaddy, on the other hand, has all the basic features you need. The basic plan even offers a free domain (provided you register for a year or more).
If you choose a shared hosting plan, GoDaddy even offers a free annual subscription to Microsoft Office 365 business email, which is usually $ 60 a year. The bandwidth is also unlimited in all tariffs, which we really like.
Automatic backups, protection against malware and website recovery functions are also included in all GoDaddy plans.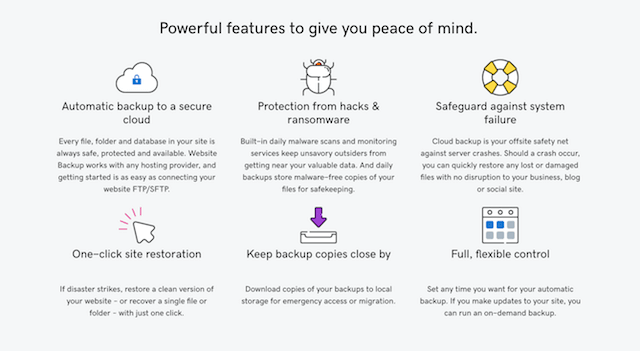 Cons of GoDaddy web hosting
Even though GoDaddy offers a lot of good services and is a satisfactory web hosting provider, our test revealed a few things that we didn't like that much.
High renewal rates
GoDaddy's low rates are very affordable. That makes them very attractive at first glance. Unfortunately, a closer examination shows that the prices increase significantly after the first contract. Unfortunately, this trick is the same for almost all web hosting providers. They grab your attention with a very affordable introductory price, only to double or even triple the price next year if you want to renew.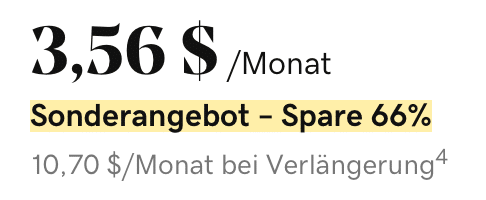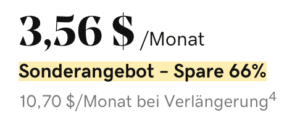 Also many extras from GoDaddy are no longer included after the first year, such as the Microsoft Office e-mail service. The best solution to work around this problem is to choose the longest contract term. In this way, you can secure cheap tariffs for as long as possible.
server locations
Unfortunately, it is not transparent where GoDaddy's data centers are located. Unfortunately, we also cannot see which safety precautions are being taken.
After some research and support inquiries, we found out that most of GoDaddy's shared hosting servers are located in North America or in various locations in Europe. Unfortunately, we couldn't find out where exactly. It is very important that you be careful during the ordering process to select the server location within the EU or in North America, as a later change is chargeable. The lack of transparency about the exact location of the servers bothers us a lot here.
Uptime guarantee with a catch
Most web hosting providers limit their guarantees with extra clauses. The operating time guarantee usually did not take into account any failures caused by natural disasters, for example.
Unfortunately, GoDaddy goes a little further. Many different scenarios for failure are excluded. Also, a 5% discount with an uptime below 99,9% is very little. You can find out more in the GoDaddy's Service Level Agreement (SLA). Unfortunately, this limits the uptime guarantee considerably and is a little disappointing.


GoDaddy tariff overview
In the following section we will focus on GoDaddy's shared hosting offering. In general, the tariff structure is relatively similar for all offers.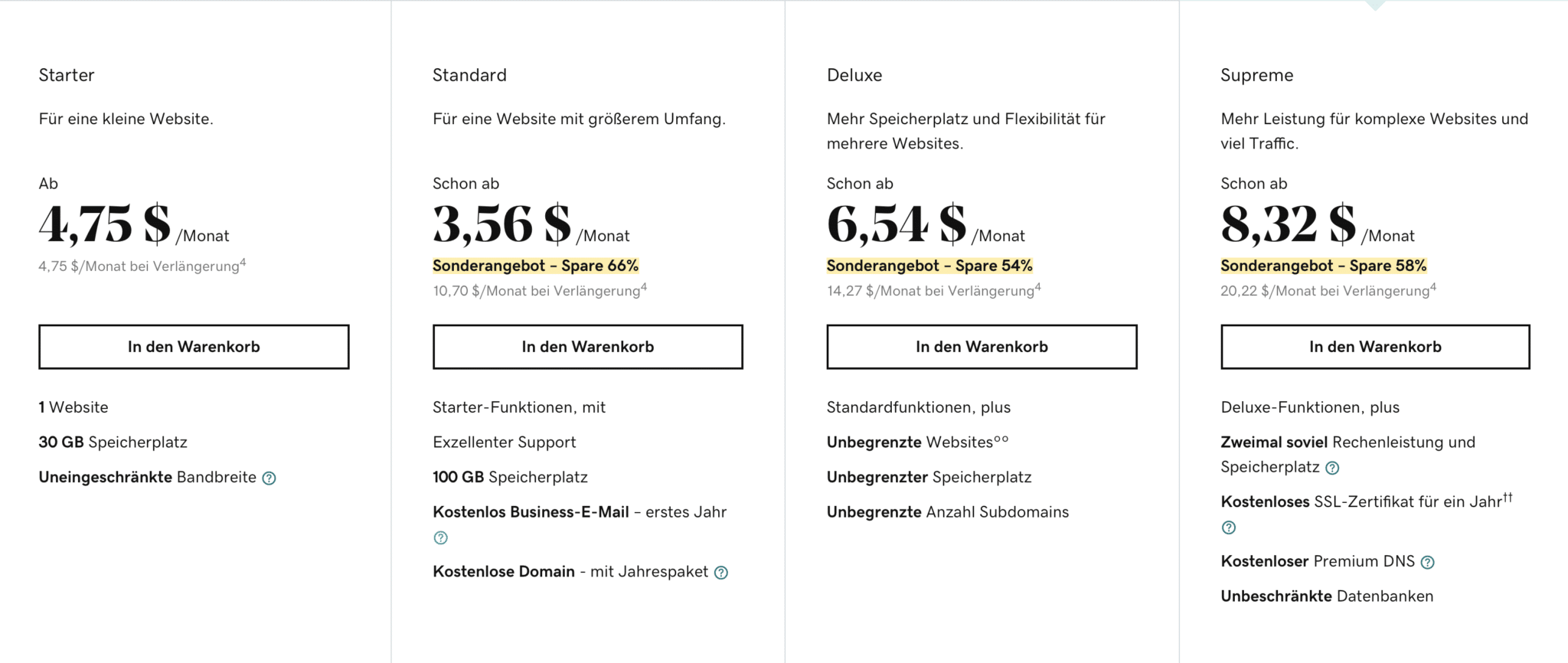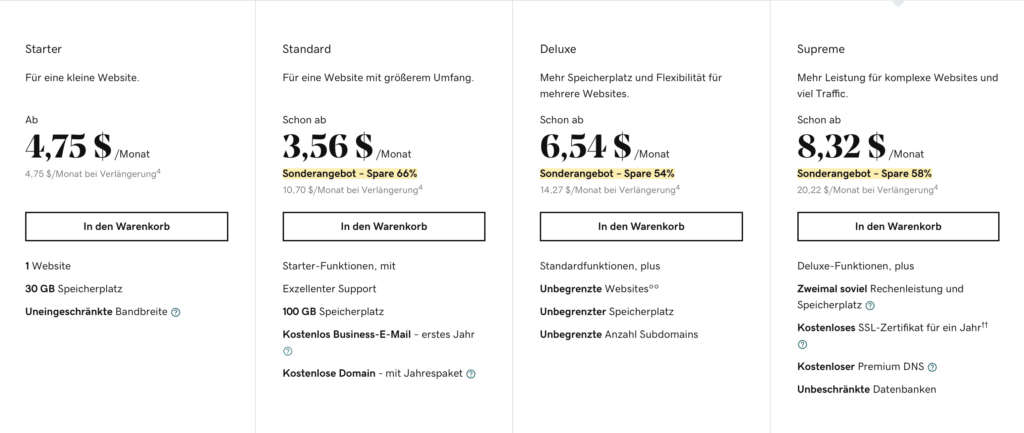 In fact, we doubt that GoDaddy can still keep track of its tariff structure itself with so many offers and services. The "cheapest" tariff "Starter" with $4,75 per month currently costs more than the "Standard" tariff with $3,56 per month. However, the standard rate increases to $10,70 upon renewal, almost tripling the price.
Free domains (with annual package) and free business email are included in the standard tariff. For unlimited storage you need the deluxe tariff, which starts at $ 6,54 and increases to $ 14,27 after renewal. The deluxe tariff also includes an unlimited number of websites and subdomains.
The Supreme Contract is the first contract to provide information about the computing power of the GoDaddy servers. So here you get 1 GB of RAM. There is also a year of free SSL certificate. For the Supreme contract you initially pay $ 8,32 per month and $ 20,22 per month after renewal.
Bottom line on GoDaddy web hosting
In our test, GoDaddy was able to convince at first glance in many situations. Unfortunately, a closer look at the offers throws up some downsides. The advertised uptime guarantee with only 5% discount is hardly worth mentioning.
The low transparency of the server locations and the complicated tariff overview bothers us. On the positive side, the speed of the servers and the customer service are positive. The selection at GoDaddy is also very good. Whether shared hosting, WordPress hosting or dedicated servers - there is almost something for everyone.
In summary, while we can recommend GoDaddy web hosting, we think other providers are a better alternative. So we advise for shared hosting too SiteGround and for WordPress web hosting too Kinsta. But if you really want to use GoDaddy Hosting, we are sure that you will be happy here too.
Frequently asked questions about GoDaddy web hosting
Is godaddy good?
Yes. GoDaddy is one of the most famous and oldest web hosting providers. The long company history speaks for the company. However, we found in our test that other providers like Kinsta and SiteGround offer a little more for your money.
How expensive is GoDaddy?
GoDaddy offers a variety of hosting plans. The cheapest shared web hosting plan starts at a very affordable $ 3,56 per month. Attention: The shared hosting plans increase significantly with renewal. The cheapest plan is $ 10.75 per month when you renew. In addition to shared hosting, VPS hosting plans, dedicated server hosting, and WordPress web hosting are also offered.
Does GoDaddy have a money back guarantee?
Yes. GoDaddy offers a 45 day money back guarantee. You can cancel within this period and receive a full refund.
Which GoDaddy plan is best for me?
The standard GoDaddy tariff is perfectly adequate for most users. It offers 100 GB of storage space, free business e-mail and a free domain.
Does GoDaddy use cPanel?
Yes. Unfortunately, GoDaddy still uses the classic cPanel. We are not the biggest fans of cPanel and find that it is too confusing, especially for beginners.
Is GoDaddy Safe?
Yes. GoDaddy has sophisticated systems in place to block malicious bots and hackers. They promise excellent protection for your website
Who is GoDaddy?
GoDaddy was originally founded in 1997 by Bob Parson as a domain registrar and offers not only domains but also web hosting tariffs. The company now has around 18.5 million customers and over 7000 employees worldwide.
Does GoDaddy have German servers?
Unfortunately we don't know. Unfortunately, GoDaddy has no transparent information about their sever locations. After our research we only know that they have servers in North America and Europe.